A customized print-friendly version of this recipe is available by clicking the "Print Recipe" button on this page.
Self-Rising Chocolate Chip Cookies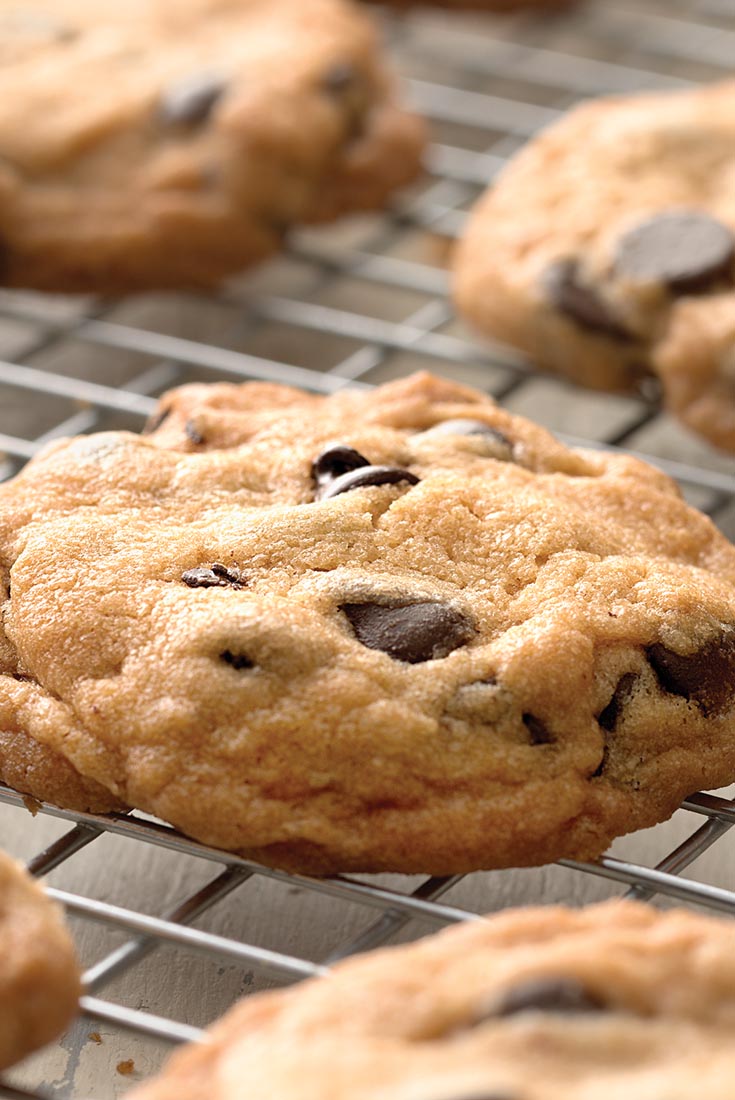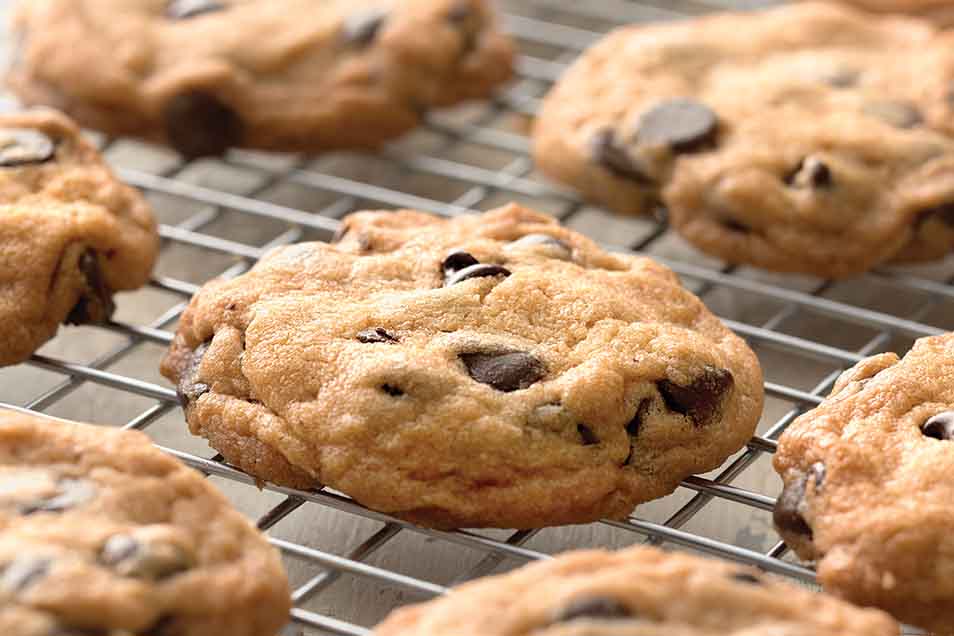 The mellow protein level of our self-rising flour makes the edges of these cookies light and crisp, a delightful contrast to their soft, chewy middles.
Instructions
Preheat the oven to 375°F. Lightly grease (or line with parchment) two baking sheets.

In a large bowl, combine the brown sugar, butter, shortening, corn syrup, and vanilla and almond extracts, beating until well blended.

Beat in the egg. Scrape the bottom and sides of the bowl with a spatula to make sure everything is thoroughly combined.

Mix in the flour, then the chips and nuts ( if you're using them).

Use a spoon (or a tablespoon cookie scoop) to scoop 1 1/4" balls of dough onto the prepared baking sheets, leaving 2" between them on all sides; they'll spread.

Bake the cookies for 11 to 12 minutes, until their edges are lightly browned. Their tops will stay light golden, almost blonde.

Remove them from the oven, and cool on the pan until they've set enough to move without breaking. Transfer to a rack to cool completely.

Repeat with the remaining dough. Cool cookies completely, and wrap airtight. Store at room temperature for up to a week or so; freeze for longer storage.

Yield: about 3 dozen 2 1/2" cookies.
Reviews
Worst cookie recipe ever! Straight to the garbage pail I am an expierenced baker these cookies were horrible

We're so sorry to hear it, Mike, and would love the opportunity to get to the bottom of where things went so wrong. We encourage you to give our free Baker's Hotline a call at 855-371-BAKE to troubleshoot. Mollie@KAF
Crisp on the outside, soft on the inside. I served 4 cookies to "Pop" (my husband of 52 years), with a cup of peaches and pears, and a cup of milk, and he asked for seconds on the cookies. I loved them also. Will definitely make them again and again. I added walnuts, left out the almond flavoring, left out the vegetable shortening. I made 1/2 of the recipe, but still used 1 whole large egg. Used a measuring tablespoon, and dropped a rounded tablespoon full on the cookie sheet, and ended up with 3 dozen cookies. They stayed rounded, did not spread out, cooked for 12 minutes. This recipe will definitely be at our family get togethers, and taken to our potluck dinner gatherings at church.
Ahh.. No. Not a keeper. This recipe made cookies that were too dry and caky. Like Bisquick (without the shortening), self-rising flour makes good biscuits and shortcakes. I bought more than I needed for biscuits, so I thought I would expand my use of it. Some of the worst cookies I have baked. They did not spread or even rise much. They just kind of baked to the same consistency of the biscuits (and taste) I purchased the flour for. None of the caramelized brown sugar flavor that makes a Toll House Cookie so appealing. These were just blah. I'd like to try self-rising flour pancakes, but I see commentators with experiences like mine making pancakes with this flour. I think I will reserve my self-rising flour for biscuits and shortcake.
We are sorry this recipe did not meet expectations. The cookies may need to be pressed down prior to baking for better results. But, if the flavor is not what you are looking for, please try the recipe called simply, Chocolate Chip Cookies. Happy baking! Elisabeth@KAF
One of my favorite recipes! I don't like the way all butter cookies spread (e.g. Toll House). I usually use half butter and half shortening and this turned out perfect for me. I use mint chocolate chips found only at Christmas time that have become a big hit. I live at 6K feet so baking is never what I want but this recipe doesn't fail.
While these cookies are very simple to make, I found them a bit dry and not nearly as enjoyable as the Toll House recipe. I actually thought I missed an ingredient, as they were quite bland. After reviewing the recipe I thought it was perhaps the lack of white sugar. They stayed in clump and did not spread at all. The last two batches I flattened with a sugar coated juice glass bottom. It helped, but not enough to want to use this recipe again. I agree with another reviewer that they need perhaps a half cup of white sugar in the batter.
Preparation was really easy but my cookies never spread, crumbled as soon as you touched then as if powder and tasted just OK. Definitely not a recipe I'll be doing again.
I'm sorry this recipe did not meet your expectations, but do appreciate your feedback. If you'd ever like help with any of our recipes, please give our Baker's Hotline a call at 855-371-2253. Barb@KAF
Easy to make, my four year old and I mixed them up easily and chilled overnight. They didn't spread very much at all for me, which is my preference. Their texture was surprisingly sandy, like shortbread. I have a chewier chocolate chip cookie recipe that I like. This was different. I'll make them again for anyone that is a shortbread fan.
This was a fast and easy recipe that I threw together in minutes just before dinner. I liked the fact they didn't spread. I don't like thin chocolate chip cookies. I refrigerated the dough before baking as I always do to get thick fat cookies which are my preference. I use lard for the shortening and added walnuts. After dinner I baked around 9 cookies in my toaster oven and stored the rest of the batter for tomorrow. I use pasteurized shell eggs so I feel pretty safe storing dough in the fridge. My husband prefers his cookies hot out of the oven so I rarely bake all the dough at once. I would give this recipe high marks because of the ease and because it is delicious. It isn't my favorite recipe though which is the standard toll house or the Neiman's faux folklore cookies. Still I was happy to find something that was fast to throw together and I didn't get any complaints at all. Thank you again King Arthur Flour!
Great recipe! Great appearance when baked. Had never used self-rising flour and can't believe the ease and how good they are. I went to the new King Arthur cookbook I just bought and was disappointed in that I couldn't find any recipes in the book for self-rising flour. A great new experience using self rising flour. Had it not been so late I wanted to make another batch! Am making dozens and dozens of cookies for a meal at a homeless shelter on Jan. 1 (250 people) so needed a quick, easy, great looking and tasty cookie recipe.
These were a big hit at the office. I'll be making them again!