A customized print-friendly version of this recipe is available by clicking the "Print Recipe" button on this page.
100% Whole Wheat Cinnamon Swirl Bread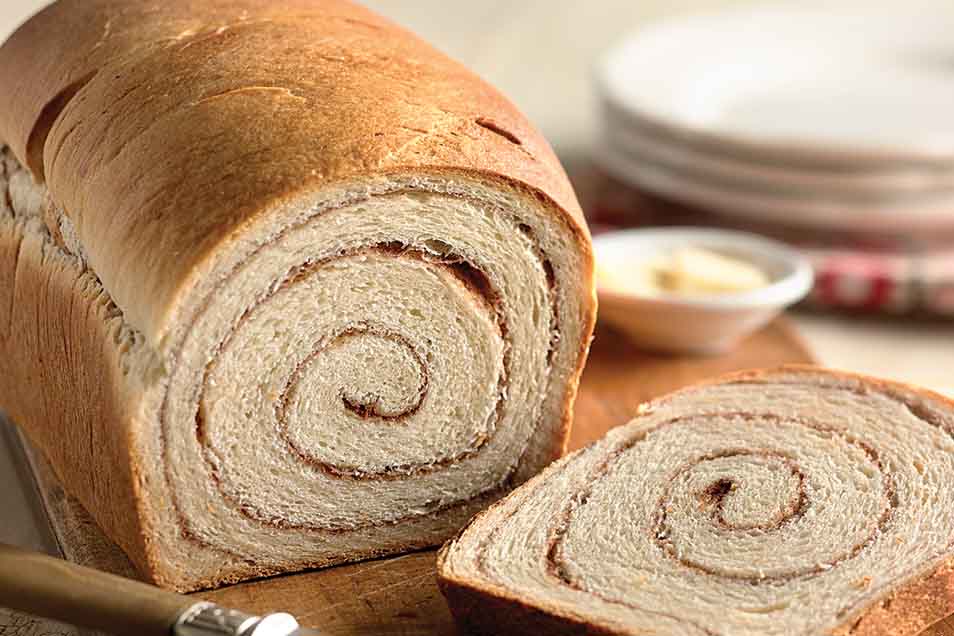 Moist, aromatic, delicious cinnamon-swirl bread — it doesn't HAVE to be a white loaf, you know! Cinnamon-swirl bread made with whole wheat flour makes the best toast on earth; the nuttiness of the wheat and the earthy, assertive flavor of cinnamon play very nicely together.

Looking for our recipe for 12-Grain Cinnamon Raisin Bread? We've lost our source for 12-Grain Flavor, so have stashed the recipe away for the time being. In the meantime, we suggest you might enjoy this recipe instead.
Ingredients
Dough
2 1/2 teaspoons instant yeast or active dry yeast
1/2 cup lukewarm milk
1/2 cup orange juice*
5 tablespoons melted butter
1 1/2 teaspoons salt
3 tablespoons sugar
1/4 cup Baker's Special Dry Milk or nonfat dry milk
1/4 cup potato flour or 1/2 cup instant mashed potato flakes
2 3/4 cups King Arthur White Whole Wheat Flour or King Arthur Premium Whole Wheat Flour
*Use 2 tablespoons less orange juice in summer (or in a humid environment), 2 tablespoons more in winter (or in a dry climate).
Instructions
To make the starter: In a mixing bowl, combine the water, flour, and yeast, stirring until the flour is evenly moistened. Cover the bowl, and let the starter rest overnight at cool room temperature, for up to 16 hours or so; it'll become a bit puffy, and flatten out.

Add the remaining dough ingredients to the starter in the bowl, and mix and knead — by hand, mixer, or bread machine — until you've made a cohesive dough. If you're using a stand mixer, knead at low speed for about 7 minutes. Note that 100% whole wheat dough will never become smooth and supple like dough made with all-purpose flour; it'll feel more like clay under your hands, and may appear a bit rough.

Place the dough in a lightly greased bowl, cover the bowl, and allow the dough to rise until it's expanded and looks somewhat puffy, about 90 minutes. Note that dough kneaded in a bread machine will rise faster and higher than bread kneaded in a mixer, which in turn will rise faster and higher than one kneaded by hand. So if you're kneading by hand, you may want to let the dough rise longer than 90 minutes.

To make the filling: Whisk together the sugar, cinnamon, and flour.

Gently deflate the dough, and transfer it to a lightly oiled work surface. Shape the dough into a long, thin rectangle, about 16" x 9".

Brush the dough with some of the beaten egg. Sprinkle the filling onto the dough. Note: Scramble or microwave any egg you don't use; the dog will appreciate it!

Beginning with a short edge, gently roll the dough into a log. Pinch the side seam and ends closed. Pat the log gently to shape it into a smooth 9" cylinder, and place it in a lightly greased 9" x 5" loaf pan.

Tent the pan with lightly greased plastic wrap or a shower cap, and allow the loaf to rise until it's crowned over the rim of the pan by about 3/4", about 90 minutes. Don't let it rise too high; it'll continue to rise as it bakes. Towards the end of the rising time, preheat the oven to 350°F.

Bake the bread for 10 minutes. Lightly tent it with aluminum foil, and bake for an additional 40 to 45 minutes, or until the center registers 190°F on an instant-read thermometer. Remove it from the oven, and turn it out of the pan onto a rack.

Run a stick of butter over the top of the hot loaf, if desired, for a softer crust. Allow the bread to cool completely before slicing.

Yield: one 9" x 5" loaf.
Nutrition Information
Serving Size

59g

Servings Per Batch

18
Amount Per Serving:
Calories

150

Calories from Fat

35

Total Fat

4g

Saturated Fat

2g

Trans Fat

0g

Cholesterol

20mg
Sodium

210mg

Total Carbohydrate

27g

Dietary Fiber

4g

Sugars

6g

Protein

5g
* The nutrition information provided for this recipe is determined by the ESHA Genesis R&D software program. Substituting any ingredients may change the posted nutrition information.
Tips from our bakers
Why orange juice? Well, it doesn't add its own flavor to the bread, but will mellow any potential bitterness in the whole wheat. Don't bother heating it to lukewarm; you can use it straight out of the fridge.
If you're kneading bread by hand, it's tempting to keep adding flour till the dough is no longer sticky. Resist the temptation! The more flour you add while you're kneading, the heavier and drier your final loaf will be.
The amount of liquid you use to make the "perfect" dough will vary with the seasons. Flour is like a sponge; it absorbs water during the humid days of summer, and dries out during the winter. Your goal should be making the dough as it's described (e.g., cohesive, soft but not sticky), rather than sticking religiously to the amount of liquid.
When making yeast bread, let the dough rise to the point the recipe says it should, e.g., "Let the dough rise till it's doubled in bulk." Rising times are only a guide; there are so many variables in yeast baking (how you kneaded the dough; what kind of yeast you used) that it's impossible to say that bread dough will ALWAYS double in bulk in a specific amount of time.
Why use a starter to make this bread? It's not sourdough, not particularly "artisan..." We find that a simple overnight starter both enhances bread's flavor AND its keeping qualities; the short amount of "extra" fermentation raises the bread's acidity level just enough that it stays fresher longer.
Reviews
I made this without the swirl and it made a very good sandwich-type whole wheat loaf. I also substituted water for the liquid milk and orange juice because I don't usually have either on-had and the recipe came together fine. Using white whole wheat the flavor was noticeably wheaty, but not that strong. The butter, dry milk, and sugar add a little richness and sweetness. I don't think I the starter in the flavor, but it's a quick and easy step if you plan ahead. I have tried other recipes with white whole wheat in various proportions and this was definitely the lightest and highest rising 100% whole wheat bread recipe. However, the texture was slightly crumbly, but not to the point of being troublesome. I'm not sure if the crumb is due to my water substitution or just an inherent part of making bread with whole wheat. I did knead the dough until elastic and passed windowpane test ex. a few spots where bran bits interfered. I'd definitely make this again with my omissions/substitutions or as-written, but I'll probably try the 100% whole wheat sandwich bread recipe on this site first for comparison. The ingredients are similar, but proportions are a bit different and it's made without a starter. I suspect my ideal everyday wheat bread recipe will be one of these, or perhaps a mash up of the two, e.g. sandwich bread recipe + starter.
So i have made this recipe several times. I have loved this bread. It has been about 6 months since I have made it as I've been moving etc, and now it looks like the recipe has changed? I don't remember orange juice or the potato in the original recipe. Has this been changed and why??

Hi Joy! We've looked back on our website archives as far as we could (2012) and the recipe was the same. It's possible that if you got the recipe earlier than 6 years ago that there could be some changes, or, perhaps, that it was a different recipe. Annabelle@KAF
Delicious and easy to bake. My children loved it too.
I have made this bread three times now and each one was discouraging and frustrating. The first loaf was brick-hard, the second was an amorphous mess, and the third was the worst. The liquid to dry ratio seems so sensitive that I was never able to find the "sweet spot." All my ingredients were fresh, I weighed them in grams, and was very vigilant about proofing the dough. Yet, each baked loaf had that sad, sunken look with not even a hint of ovenspring. PJ must have magical powers to have had her loaf rise so "precipitously." On the other hand, the flavor was fine, but still there is a faint aftertaste of failure.

Ann, we're impressed with your determination to make this loaf turn out well, and we'd like to help as best we can in this endeavor. After you've weighed out all your ingredients and the dough has been mixing for 2-3 minutes, take a moment to stop and feel the surface. It should feel just slightly tacky to the touch, and at this point you should feel empowered to add additional water or flour to the dough until you achieve this consistency. We also hope you'll consider giving our bakers on the hotline a call (855-371-2253), so we can help walk you through any sticky spots. Kye@KAF
Whole grain enhancer. Get it. Buy 2. It's amazing. You cannot tell this loaf is whole grain. It's foodporn perfect. My question is can I double this recipe? Can I combine starters or create 2 separate batches to add?
Danielle, we're so glad to hear that this recipe was a winner for you. It's fine to double all the ingredients and you either create two separate starters, or do a combined one. Barb@KAF
This is a flavorful wheat bread with a nice squishy texture. I used about 2/3 white whole wheat flour and 1/3 regular whole wheat flour. The only change I'd make in the recipe would be to turn down the heat by 25 degrees because my bread pan is on the dark side.
I made this bread last night and it didn't turn out as I had hoped...but I think it's due to my technique as this really was my first experience baking a yeast bread like this. I used my stand mixer to knead the dough, next time I think I'll do it by hand. Especially after watching that incredibly helpful video link Elisabeth posted in an earlier review. There were so many extra nice tips, too, like using parchment paper, using egg substitute for the egg wash step and spooning flour into the measuring cup instead of dipping it in. I also thought, at first, that the cinnamon filling was way too much so I didn't add it all - mistake...the swirl was wimpy so next time I will add the entire amount. I'll keep trying and hopefully can post a happier updated review soon! b

Jessica, thank you so much for the candid feedback, and we really hope you try again and have better results. Remember, we're here if you need any more tips or tricks! Bryanna@KAF
I ended up with a dense loaf that had a slightly funny taste to it. Not quite alcoholic but something off. The rising did take a long time, due to the house being a drafty 65-68ish, so maybe that was responsible? I used a 9x4x4 pan because that's what I had. I measured using a combination of weights and volume, based on what was most convenient, and used potato flakes instead of flour. All the mixing and kneading was done by hand. I'm not sure if I'll try it again; it didn't seem good enough to take out and share with anyone not my husband.... On the good side, the cinnamon swirl was nice, not gummy or sticky like someone else had trouble with. The bread itself was a warm yellowish color and the top browned nicely and was soft even though I didn't run butter over it when it came out of the oven. I did just buy the proofer and a 9x5 pan so maybe I'll try again with those things and see if it makes a difference.

We're sorry this didn't come out well enough to share, Jenn! It sounds possible that your whole wheat flour has expired -- this can lead to the sort of "off" flavor you describe -- so it may be worth checking before using it in another batch. Please also feel free to give our friendly Baker's Hotline a call at 855-371-BAKE if you'd like to troubleshoot any further - we're here to help! Mollie@KAF
Nice cinnamon swirl loaf with Traditional Whole Wheat. Looking forward to trying it again with White Whole Wheat.
I've done this once before. Trying it today, using weight instead of volume, it appears to be very light on flour. My mix is quite liquidy. Any advice?
Ken, it's possible that you added a bit too much flour when you were measuring by volume (which is easy to do if you scoop your flour into the cup). When measuring flour by volume, we recommend fluffing the flour, spooning it into the cup and then leveling the cup. The weight amount for the flour is correct, but it's fine to add a bit more flour to bring your dough to a nice consistency. It's also helpful to let a whole wheat dough rest for 30 minutes after mixing all the ingredients, but before beginning to knead. This pause allows the flour to fully hydrate and will lead to a less sticky dough and a more productive kneading process. Barb@KAF