A customized print-friendly version of this recipe is available by clicking the "Print Recipe" button on this page.
100% Whole Wheat Sandwich Bread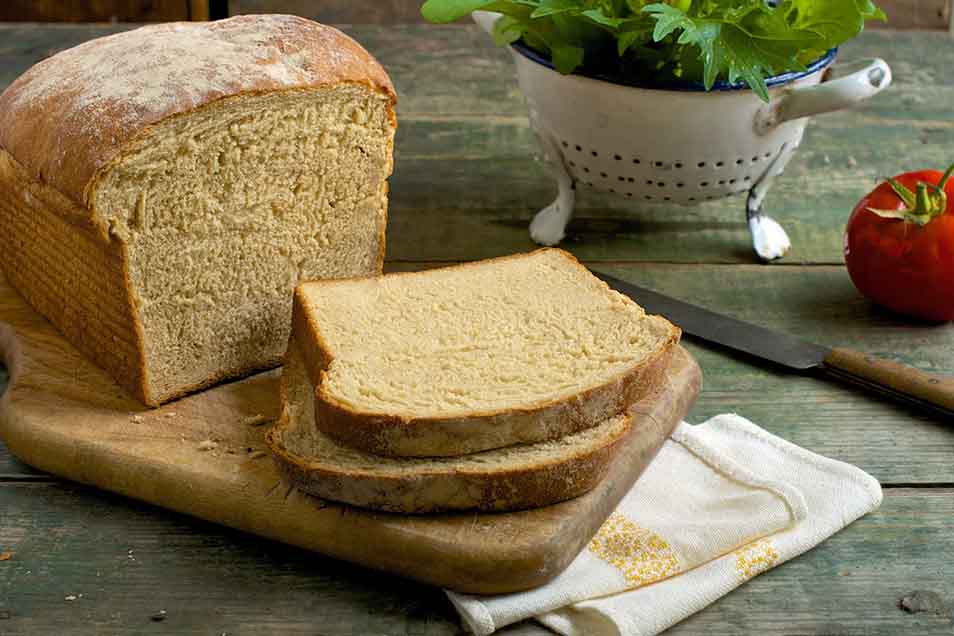 Moist, easy to slice, and 100% whole wheat — no, these are NOT contradictory phrases! This whole-wheat loaf is the ideal everyday bread, perfect for sandwiches, toast, and French toast or grilled cheese sandwiches. Note: For those of you looking for our Whole Wheat Nut and Seed Loaf recipe, this is it: we've simply freshened it up with a new name and photo.

Our guarantee: This bread will rise 3 1/2" to 4" tall at its center, and will have a moderately fine, even texture inside. It'll taste strongly of whole wheat...
Ingredients
2 1/2 teaspoons active dry yeast or 2 1/2 teaspoons instant yeast
1/2 cup lukewarm water*
1/2 cup lukewarm milk
1/2 cup orange juice
5 tablespoons melted butter
1 1/2 teaspoons salt
3 tablespoons sugar
1/4 cup nonfat dry milk
3/4 cup instant mashed potato flakes
3 3/4 cups King Arthur Premium 100% Whole Wheat Flour or King Arthur White Whole Wheat Flour
*Use 2 tablespoons less water in summer (or in a humid environment), 2 tablespoons more in winter (or in a dry climate).
Instructions
Dissolve the yeast in the lukewarm water with a pinch of sugar. Allow it to rest for 15 minutes, till it becomes puffy. If you're using instant yeast, you can skip this step.

Combine the yeast/water with the remaining ingredients, and mix and knead—by hand, mixer, or bread machine—until you've made a cohesive dough. If you're using a stand mixer, knead at low speed for about 7 minutes. Note that 100% whole wheat dough will never become smooth and supple like dough made with all-purpose flour; it'll feel more like clay under your hands, and may appear a bit rough.

Place the dough in a lightly greased bowl, cover the bowl, and allow it to rise till it's expanded and looks somewhat puffy, about 60 to 90 minutes. Note that dough kneaded in a bread machine will rise faster and higher than bread kneaded in a mixer, which in turn will rise faster and higher than one kneaded by hand. So if you're kneading by hand, you may want to let the dough rise longer than 90 minutes.

Lightly grease a 9" x 5" loaf pan. Gently shape the dough into a smooth log, and settle it into the pan, smooth side up.

Tent the pan with lightly greased plastic wrap, and allow the loaf to rise till it's crowned over the rim of the pan by about 3/4", about 75 minutes. Don't let it rise too high; it'll continue to rise as it bakes. Towards the end of the rising time, preheat the oven to 350°F.

Bake the bread for 10 minutes. Lightly tent it with aluminum foil, and bake for an additional 30 to 35 minutes, or until the center registers 190°F on an instant-read thermometer. Remove it from the oven, and turn it out of the pan onto a rack.

Run a stick of butter over the top of the hot loaf, if desired, for a softer crust. Allow the bread to cool completely before slicing.
Nutrition Information
Serving Size

1 slice (55g)

Servings Per Batch

18
Amount Per Serving:
Calories

140

Calories from Fat

35

Total Fat

4g

Saturated Fat

2g

Trans Fat

0g

Cholesterol

10mg
Sodium

230mg

Total Carbohydrate

23g

Dietary Fiber

4g

Sugars

4g

Protein

5g
* The nutrition information provided for this recipe is determined by the ESHA Genesis R&D software program. Substituting any ingredients may change the posted nutrition information.
Tips from our bakers
Don't bother heating the orange juice to lukewarm; you can use it straight out of the fridge. The orange juice won't add its own flavor to the bread, but will mellow any potential bitterness in the whole wheat.
If you're kneading bread by hand, it's tempting to keep adding flour till the dough is no longer sticky. Resist the temptation! The more flour you add while you're kneading, the heavier and drier your final loaf will be.
The amount of liquid you use to make the "perfect" dough will vary with the seasons. Flour is like a sponge; it absorbs water during the humid days of summer, and dries out during the winter. Your goal should be making the dough as it's described (e.g., cohesive, soft but not sticky), rather than sticking religiously to the amount of liquid.
When making yeast bread, let the dough rise to the point the recipe says it should, e.g., "Let the dough rise till it's doubled in bulk." Rising times are only a guide; there are so many variables in yeast baking (how you kneaded the dough; what kind of yeast you used) that it's impossible to say that bread dough will ALWAYS double in bulk in a specific amount of time.
Reviews
Now that I have realized that the weights for anything other than water and flour were not accurate (1/2 cup of water doesn't weigh the same as 1/2 cup of milk), this is the most beautiful sandwich loaf I have baked so far. Potato flakes seem to be the key to a nice soft crumb. I am pretty sad to know all the bread I've baked so far could have been a bit better had I just weighed the flour and used measuring cups for everything else. I tend to use recipes that are all mass and mls. Since so many people are successful though I'm probably the rare person who wants to be able to weigh everything. I just made the assumption that density was factored into the conversion between measurement types for all ingredients. It is not. Looking forward to being more successful from here on out.
I love this bread, it's on my permanent rotation. Easy, Delicious. Fresh whole wheat flour isn't bitter, so if you're confident that your flour is fresh, you can skip the orange juice(don't skip the liquid!). I like the orange flavor so I often add a splash of orange oil, some nuts and golden raisins or craisins. YUM. In the tip section it says: "it's tempting to keep adding flour till the dough is no longer sticky." Resist the temptation! next tip: "the dough as it's described (e.g., cohesive, soft but not sticky)" for gluten development especially in whole grains,you need to a soft wet (sticky is fine)dough plus kneading and extra time. "Platinum" instant yeast has dough enhancers, and it works perfectly with this recipe.
This is the first wholewheat loaf I've cooked. It worked out well. I was a bit skeptical as I was squeezing fresh orange juice into the mixing bowl, but having followed many of the KAF recipes, I had confidence that it would work out well if I followed the instructions, and it did. It doesn't rise as much as a white loaf does, but it had all the wholewheat flavour that I wanted. I rubbed the butter over the top after cooking, to soften the top, and it was a lovely, soft, moist loaf of bread. My son and wife enjoyed it which is always a good test for me. I find it hard to judge my own cooking immediately after I've made something, but I toasted some the next morning, buttered it and ate it with a slice of cheese, and it was delicious. I'll be making it again. Thanks KAF.
I've submitted a review twice and this is the last time I'll try. Later reviews by myself of other recipes have since posted, as has other folks of this one. Don't know why mine keeps getting ignored. I made this twice. First time in February, I didn't add the additional suggested water because it had been warm, but I guess it was still winter-dry. I got a good first and second rise, but no additional rise in the oven and didn't reach the promised height. The dough had felt rougher than I expected, but there were so many warnings in the recipe, I ignored that. It still tasted good. I made it a second time with the added water and got the full rise and promised height. Much better. The one question I have had is that in the intro, it claims that this is the update to the whole wheat nut and seed loaf, but it doesn't contain any nuts nor seeds! I wonder if this intro belongs on the other whole wheat sandwich bread recipe on your site (called King Arthur's 100% Whole Wheat Sandwich Bread) which does have nuts and seeds (and is also quite good).
I prefer the nutrition of full whole wheat bread so this recipe was a great find. I didn't have powdered milk so I put an equal amount of my vanilla protein shake mix and crossed my fingers. BEST BREAD EVER. I always buy only King Arthur flour now because of the consistency of results. My rise times are very long and in the really cold winter a warmed oven with the light on is my go-to, with the loaves by the vent for the 2nd rise while the oven preheats. I did use a towel for the first rise and got a crusty top which I turned to the inside bottom for the second rise to soften. Also, the extra butter rub right out of the oven is no longer optional. It's just a few calories but makes slicing so easy.
I've tried this recipe many times but unfortunately have had inconsistent results. The taste is great but the rise is tricky. I had wonderful success one time so I immediately baked another loaf and had even butter success - the loaf rose so nicely and so high in the oven I had to remove the top rack!! What I don't understand is why I had 2 great loaves but all the others never really rose as high. What could be causing the inconsistency?

It's hard to pinpoint one thing, GG because yeast breads are affected by so many different factors. It could have been than on the days it didn't rise as high that it was under or overprooved, that there was a little more flour added, or that the air in the room was dryer. Bread is a sensitive creature! We encourage you to reach out to our friendly Baker's Hotline staff to help troubleshoot at 855-371-BAKE (2253). Annabelle@KAF
I'm a confident baker and bake daily, especially breads, rolls, pastries. I usually go to my Whole Wheat Bread recipe from Bob's Red Mill flour package. It never fails me. However, it has equal parts whole wheat and white flour. I've wanted to try a recipe with only whole wheat flour so gave this a try using my Kitchen aide mixer with dough hook and ample time for the kneading/mixing. It never rose to "puffy" even with 2 1/2 hours (in a warm spot covered with lightly greased saran wrap) of time. Only rose slightly and was a heavy looking dough. Being experienced with baking I could tell this isn't the desired outcome and tossed it in the trash deciding not to invest anymore of my time. Without added leavening agents or a split ratio of white flour to whole wheat I doubt if this will work for most. Surprised it has as many high reviews as it does?!? When I did a search on at KAF for the 100% Whole Wheat Sandwich Bread, a newer recipe appears as King Arthur 100 % whole wheat sandwich bread. This recipe suggests adding Whole Grain Bread Improver, 12 oz. for a higher rise and less density. Yeah I think this also needs editing to include this added ingredient as well. I'd suggest you try the new recipe with a better end result and savings on time, money, and efforts for this one. r

We're sorry to hear this recipe was a disappointment to you and thank you for letting us know. We encourage you to reach out to our friendly Baker's Hotline staff to help troubleshoot at 855-371-BAKE (2253). Kindly, Annabelle@KAF
Baked my first loaf of this recipe and the bread is FABULOUS! I can't wait to make it again!
The bread had a nice rise and is tender and perfect slicing. I do taste orange and would reducing it in half and using water change anything? I can try the classic next. I would add 1/4 OJ to it, to counter the wheat bitter taste. I used KAF, milk and weighed my ingredients in this recipe. I only had 1/3 c potatoe flakes so mashed a baked potato to fill 1 cup measure. Left everything else the same. Thank you for the great recipe. I reduced the salt 1/2 tsp.

Judy, if your taste buds pick up on the orange flavor in this bread and you'd rather not detect it, you're welcome to reduce the orange juice to 1/4 cup as you suggested and use 1/4 water instead. The texture won't change, only the flavor subtly. (You can also consider omitting the orange juice entirely too.) We hope that helps, and happy baking! Kye@KAF
Made it for the first time today-- Very taste! Will definitely make it again. Planning to double it next time. Too good to only make one. I make the Harvest Grain Bread regularly but this is great new option.