A customized print-friendly version of this recipe is available by clicking the "Print Recipe" button on this page.
100% Whole Wheat Sandwich Bread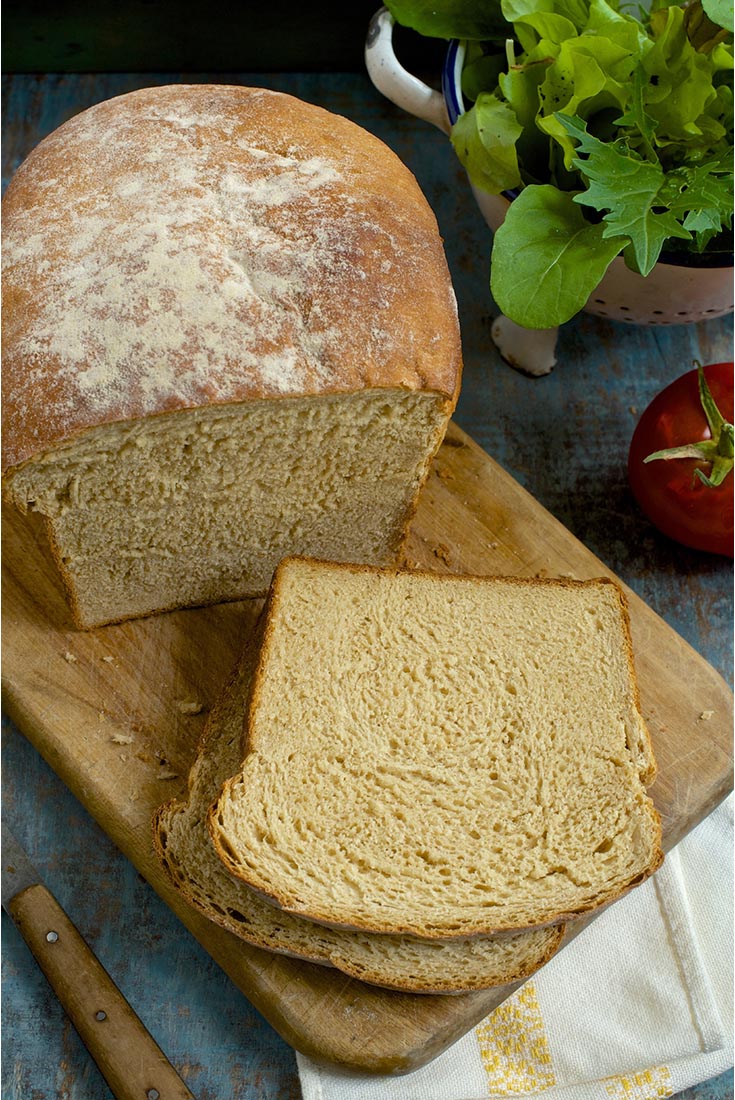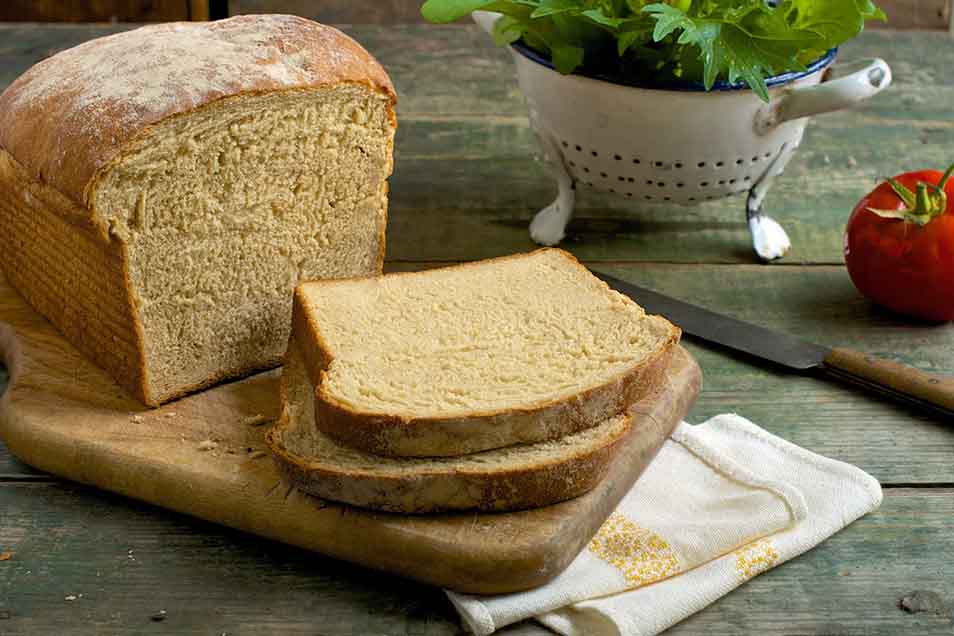 Moist, easy to slice, and 100% whole wheat — no, these are NOT contradictory phrases! This whole-wheat loaf is the ideal everyday bread, perfect for sandwiches, toast, and French toast or grilled cheese sandwiches. Note: For those of you looking for our Whole Wheat Nut and Seed Loaf recipe, this is it: we've simply freshened it up with a new name and photo.

Our guarantee: This bread will rise 3 1/2" to 4" tall at its center, and will have a moderately fine, even texture inside. It'll taste strongly of whole wheat...
Ingredients
2 1/2 teaspoons active dry yeast or 2 1/2 teaspoons instant yeast
1/2 cup lukewarm water*
1/2 cup lukewarm milk
1/2 cup orange juice
5 tablespoons melted butter
1 1/2 teaspoons salt
3 tablespoons sugar
1/4 cup nonfat dry milk
3/4 cup instant mashed potato flakes
3 3/4 cups King Arthur Premium 100% Whole Wheat Flour or King Arthur White Whole Wheat Flour
*Use 2 tablespoons less water in summer (or in a humid environment), 2 tablespoons more in winter (or in a dry climate).
Instructions
Dissolve the yeast in the lukewarm water with a pinch of sugar. Allow it to rest for 15 minutes, till it becomes puffy. If you're using instant yeast, you can skip this step.

Combine the yeast/water with the remaining ingredients, and mix and knead—by hand, mixer, or bread machine—until you've made a cohesive dough. If you're using a stand mixer, knead at low speed for about 7 minutes. Note that 100% whole wheat dough will never become smooth and supple like dough made with all-purpose flour; it'll feel more like clay under your hands, and may appear a bit rough.

Place the dough in a lightly greased bowl, cover the bowl, and allow it to rise till it's expanded and looks somewhat puffy, about 60 to 90 minutes. Note that dough kneaded in a bread machine will rise faster and higher than bread kneaded in a mixer, which in turn will rise faster and higher than one kneaded by hand. So if you're kneading by hand, you may want to let the dough rise longer than 90 minutes.

Lightly grease a 9" x 5" loaf pan. Gently shape the dough into a smooth log, and settle it into the pan, smooth side up.

Tent the pan with lightly greased plastic wrap, and allow the loaf to rise till it's crowned over the rim of the pan by about 3/4", about 75 minutes. Don't let it rise too high; it'll continue to rise as it bakes. Towards the end of the rising time, preheat the oven to 350°F.

Bake the bread for 10 minutes. Lightly tent it with aluminum foil, and bake for an additional 30 to 35 minutes, or until the center registers 190°F on an instant-read thermometer. Remove it from the oven, and turn it out of the pan onto a rack.

Run a stick of butter over the top of the hot loaf, if desired, for a softer crust. Allow the bread to cool completely before slicing.
Nutrition Information
Serving Size

1 slice (55g)

Servings Per Batch

18
Amount Per Serving:
Calories

140

Calories from Fat

35

Total Fat

4g

Saturated Fat

2g

Trans Fat

0g

Cholesterol

10mg
Sodium

230mg

Total Carbohydrate

23g

Dietary Fiber

4g

Sugars

4g

Protein

5g
* The nutrition information provided for this recipe is determined by the ESHA Genesis R&D software program. Substituting any ingredients may change the posted nutrition information.
Tips from our bakers
Don't bother heating the orange juice to lukewarm; you can use it straight out of the fridge. The orange juice won't add its own flavor to the bread, but will mellow any potential bitterness in the whole wheat.
If you're kneading bread by hand, it's tempting to keep adding flour till the dough is no longer sticky. Resist the temptation! The more flour you add while you're kneading, the heavier and drier your final loaf will be.
The amount of liquid you use to make the "perfect" dough will vary with the seasons. Flour is like a sponge; it absorbs water during the humid days of summer, and dries out during the winter. Your goal should be making the dough as it's described (e.g., cohesive, soft but not sticky), rather than sticking religiously to the amount of liquid.
When making yeast bread, let the dough rise to the point the recipe says it should, e.g., "Let the dough rise till it's doubled in bulk." Rising times are only a guide; there are so many variables in yeast baking (how you kneaded the dough; what kind of yeast you used) that it's impossible to say that bread dough will ALWAYS double in bulk in a specific amount of time.
Reviews
Baked my first loaf of this recipe and the bread is FABULOUS! I can't wait to make it again!
The bread had a nice rise and is tender and perfect slicing. I do taste orange and would reducing it in half and using water change anything? I can try the classic next. I would add 1/4 OJ to it, to counter the wheat bitter taste. I used KAF, milk and weighed my ingredients in this recipe. I only had 1/3 c potatoe flakes so mashed a baked potato to fill 1 cup measure. Left everything else the same. Thank you for the great recipe. I reduced the salt 1/2 tsp.

Judy, if your taste buds pick up on the orange flavor in this bread and you'd rather not detect it, you're welcome to reduce the orange juice to 1/4 cup as you suggested and use 1/4 water instead. The texture won't change, only the flavor subtly. (You can also consider omitting the orange juice entirely too.) We hope that helps, and happy baking! Kye@KAF
Made it for the first time today-- Very taste! Will definitely make it again. Planning to double it next time. Too good to only make one. I make the Harvest Grain Bread regularly but this is great new option.
Fabulous bread! I've been searching for a whole wheat sandwich bread for quite some time. This one is a keeper. My two kids loved it and my husband and I just polished off the last piece. No need to purchase bread anymore! Thank You KAF!
I made this bread today and shared it with my roommates and we all love it! I have decided to stop buying bread from the grocery store and to only make my own. I followed the recipe and let it rise for maybe just 15 minutes longer for the first rise since here in Vermont I'm in the middle of a dry winter. I also had to add an extra tablespoon of water. The bread came out perfect and wasn't dry or too crumbly. Wish I could share pics too. Fluffing the flour instead of doing a deep dive with the measuring scoop definitely helped (something I learned from taking a baking class at KAF)
Hi! I've been trying to get a whole wheat recipe down and substituted some white flour for some of the wheat. I did the kneading by machine though normally I knead by hand. I had two problems I don't know how to solve :( One: the loaf is golden brown everywhere except the top which is lighter and Two: the loaf sank - fell flat - in the middle - I think it's a common problem but don't know how to solve either

Lisa, we'd love to help! Try brushing the top of the loaves with an egg wash (scramble a whole egg) or milk or before putting it in the oven; this will help the top brown. As for your loaves collapsing, it sounds like they were over-proofed (left to rise for too long). Next time, be sure the loaves rise at room temperature just until they crest the side of the pan. Good luck! Kye@KAF
KA bread recipes are the best! I have tried out various recipes from the KA collection on my new Oster bread machine, and they come out great! I am having trouble making KA WW sandwich bread on the bread machine though. I followed the measurements listed in the recipe. I used water instead of OJ and skipped potato flakes altogether. I set the bread machine to Whole wheat, 1.5lb, thin crust setting. The bread rises well, but to my disappointment, it shrinks/falls during the bake cycle causing a huge dent in the middle of the bread. What am I doing wrong? Also, the bread seems to get very dry and crumbly the next day. I store the bread in the fridge. How can I retain its moisture?

Next time, try reducing the yeast by 1/4 teaspoon to avoid the rising and falling action you're seeing. The potato flakes are a critical ingredient for keeping the bread moist and tender for longer. Rather than storing the bread in the fridge which can cause the bread to dry out, keep it at room temperature in an airtight bag or container. Toasting before serving can do wonders to help bread come back to life. Hope this helps! Kye@KAF
I wanted to start making 100% whole wheat sandwich bread for my husband to pack in his lunch. He's quite picky about his bread... It can't taste bitter and it needs to have a good deal of softness so it's doesn't crumble while he eats his sandwich. I've made this recipe four times now and we really like the flavor of this bread, but I'm having trouble with getting it to rise. After those first two tries, I tried substituting 1/4 cup of gluten flour to help with give it an extra soft texture, because hubby wasn't so impressed yet. It seems to have helped with the crumbling, but I still can't get it to rise 4" like I'd hoped. I follow the directions pretty closely each time, but use instant yeast so I mix it right in to the dough. I use all fresh ingredients. It's dry here in the winter so I add an extra 2T of o.j. I let the batter sit a few min prior to kneading, since I knead by hand and it seems to help a bit to let it sit. After kneading (about 7-10 min), I let it rise in a covered, greased bowl til puffy, about 1 hour. It's super puffy by then. Shape into a log and let rise a second time in greased 9x5 pan. The second rise goes pretty good too, it crowns 3/4" by 60 min and I put in the pre-heated oven at 75 min. Bake 10 min, cover and bake 35-40 min more til center reads 190. And to my disappointment, they shrink! ...to maybe only 1/4" crowned. Tastes wonderful, but what am I doing wrong? Should weigh my flour instead of measure? I'm lost. Help!

Kay, we always recommend measuring your flour by weight if you have a scale available, as it will help give you the most accurate results. If your loaf is shrinking or falling in the oven, it may be over-proofed. Try reducing the amount of time you let the dough rise both the first and second time; this way the loaf will still have some oven-spring when it goes into the oven. We also hope you'll consider giving our Baker's Hotline a call at 855-371-BAKE(2253) so we help troubleshoot further. Kye@KAF
I started baking bread three weeks ago. I tried a quick rising wheat bread recipe that a lady at the wheat store emailed to me. It was a total flop. Then I tried the classic 100% whole wheat recipe from King Arthur Flour. It end up rising a little bit better and giving me some hope that I could bake bread after all. But I wasn't completely satisfied. I searched around the internet and there were several possibilities on some blogs that I considered, but I decided to stick with King Arthur Flour's recipes since I've had some success so far. This recipe did not disappoint! It rose so well and tastes wonderful!! I feel like a bona fide bread baker now. I did double the recipe (but not the yeast) and used "Honest Earth" All Natural Cream Mash instant potatoes from Costco. I was a little worried about that since the ingredients also include butter and salt, and I forgot to use less salt to correct for that, but the bread still tastes great. Also, I grind my own hard white wheat berries. I wasn't sure if that would ruin the recipe, since the protein content might be slightly different than King Arthur Wheat Flour, but I added 3 tablespoons of whole wheat vital gluten to the doubled recipe and that probably helped even out any differences. I will be using this recipe again and again!!