A customized print-friendly version of this recipe is available by clicking the "Print Recipe" button on this page.
100% Whole Wheat Zucchini Chocolate Chip Bread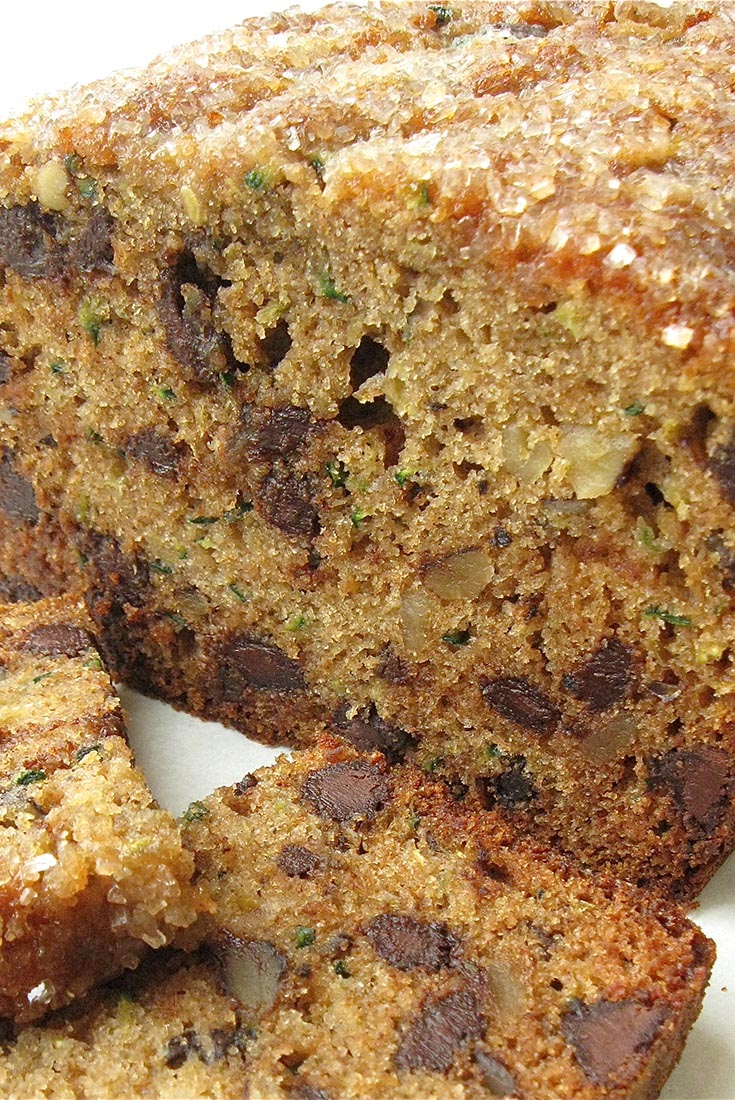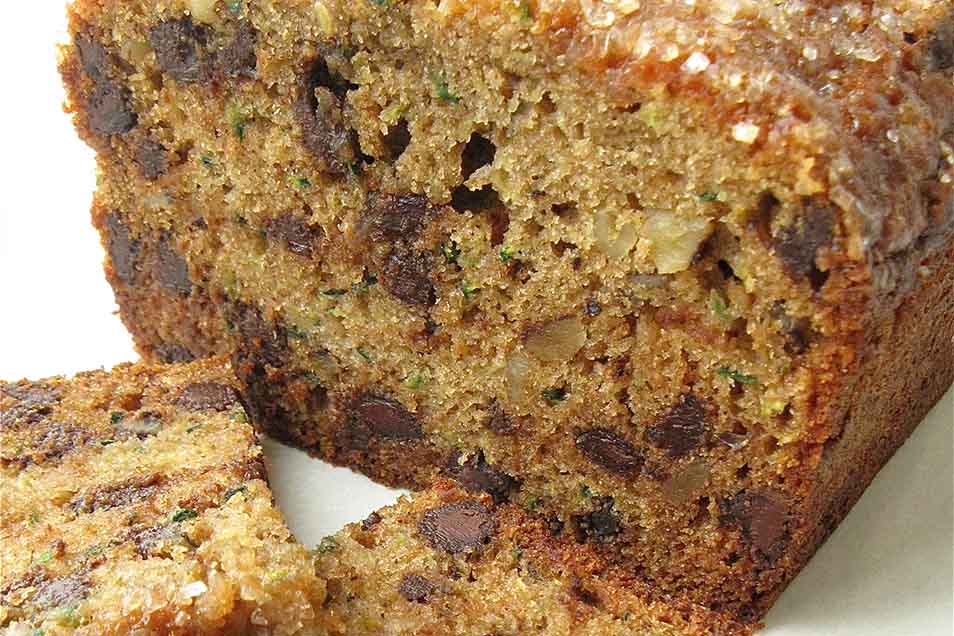 Facing a zucchini surplus? This moist, dense bread, with its mild hint of cinnamon, offers a sweet surprise: chocolate chips. Never thought of adding chocolate chips to zucchini bread? Give it a try; the rich flavor of chocolate marries perfectly with the earthiness of zucchini and brown sugar.
Ingredients
2 large eggs
1/3 cup molasses or honey
1/2 cup vegetable oil
1/3 cup brown sugar
1 teaspoon vanilla extract
2 cups King Arthur White Whole Wheat Flour or Premium Whole Wheat Flour
1 teaspoon salt
1/2 teaspoon baking soda
1/2 teaspoon baking powder
1 teaspoon ground cinnamon
2 cups shredded, unpeeled zucchini (about 1 small/medium zucchini)
1 cup chocolate chips
3/4 cup chopped walnuts, optional
Instructions
Preheat the oven to 350°F; lightly grease a 9" x 5" loaf pan.

In a large mixing bowl, beat the eggs, molasses or honey, oil, sugar, and vanilla until smooth.

Add the flour, salt, baking soda, baking powder, and cinnamon, mixing until well combined.

Stir in the zucchini, chocolate chips, and nuts.

Pour the batter into the prepared pan.

Bake the bread for 55 to 60 minutes, until the loaf tests done (a toothpick or cake tester inserted into the center will come out clean, save for perhaps a smear of chocolate).

Remove the bread from the oven, and let it cool for 10 to 15 minutes before turning it out of the pan onto a rack.

Cool completely before slicing; store well-wrapped, at room temperature.

Yield: one 9" x 5" loaf.
Tips from our bakers
Want to make this bread gluten-free? Substitute 2 cups King Arthur Gluten-Free Flour for the whole wheat flour; add an additional 1 large egg and 1/2 teaspoon xanthan gum; let the batter rest for 15 to 20 minutes before pouring it into the pan; and bake for an additional 10 minutes, or until it tests done with a toothpick. Also, make sure the vanilla extract you use is gluten-free.
Reviews
Hello, I tried this recipe the other day and it was delicious. I shared it with my friends and they liked it. But instead using oil i used homemade applesauce and instead chocolate chips i used raisins. It came out delicious too.
Just made this bread using your quick bread pan. Perfect! Used honey, whole wheat. So glad I chose this recipe. Loved taste and texture. Thank you
So yummy! Hits that perfect spot between hearty and sweet/indulgent.
I made this with molasses. Ithe was good but I thought it masked the flavor of everything else. I think it's a great, easy recipe but I will try again with honey. Thanks KAF!
I made 2 smaller loaves. I left out the chocolate chips and nuts since i didn't have any on hand. Neighbors and my husband and daughter and her family loved it!
Fantastic. I've made it once with all purpose flour (accidentally, just forgot) and honey, which was yummy. The other times used white whole wheat and blackstrap molasses. This is my favorite! Always a hit! Also used the gluten free directions, and it was also a hit! I feel like this recipe can't steer me wrong! Haha. This last time I put it back in the baking pan after cooling for awhile, and drizzled melted chocolate on top for my son's birthday cake. SO GOOD. THE BEST SO FAR! I woll never go back to regular birthday cake! Back in the baking pan kept it more moist, which was a bonus. Thank you for making such a great recipe.
I have made this recipe several times. Our grandsons love it! First as written, then I changed to blueberries, mixed honey and molasses. The last time I ran out of zucchini and used one cup of grated zucchini, one cup grated beets and a little orange rind--delicious and such a pretty color. I do bake it a little longer and when I put it into two smaller pans, I only bake it for 40 minutes. My question is I have sorghum, can it be substituted for the honey or molasses?

Donna, your variations sound delicious! Sorghum and molasses can be used interchangeably in this recipe. Enjoy! Kye@KAF
I baked this recipe to take as a gift to our friend's home when invited for several days to visit.. I was embarrassed by how unappealing it was in taste (slightly bitter) and texture (heavy and dense). I had picked the zucchini fresh from the garden on the day of baking the loaf. I used molasses rather than honey which may explain the slightly bitter taste. To make it palatable it needs help from sweet jam or frosting. I will not use this recipe again.

We're sorry to hear that this well-loved recipe didn't hit the spot for you, Letty. It is a denser quick bread by design, but we typically find this balances well with how moist it is. Using molasses will result in a slightly less sweet version, and the type of molasses used can also make a difference. Unless indicated otherwise, we generally use an unsulphured molasses, and a sulphured or blackstrap would naturally produce a more bitter taste. A bitter taste could also be attributable in part to whole wheat flour that has gone rancid. For best results, we recommend storing whole wheat flour in the freezer and checking for a fresh, neutral smell before using. If we can help troubleshoot any further or help you find another recipe that might better fit your tastes, please feel encouraged to give our Baker's Hotline a call at 855-371-BAKE. Mollie@KAF
When I made this recipe it was EXTREMELY dry--it looked more like a cookie dough, and a stiff one at that. Maybe it was the molasses? I ended up adding milk until it resembled a "normal" quick bread consistency. Baked up just fine after adding the milk.

We're glad you found a way to make this recipe work, Tybates. More often than not, the culprit of a dry batter is a heavy cup of flour -- something that's really easy to get when measuring flour by volume. For this reason we recommend measuring by weight whenever possible. If you are measuring by volume, we recommend fluffing up the flour and sprinkling it into the measuring cup to achieve a lighter cup. For more detail about this method, check out our video tip on "How to Measure Flour". Mollie@KAF