A customized print-friendly version of this recipe is available by clicking the "Print Recipe" button on this page.
100% Whole Wheat Zucchini Chocolate Chip Bread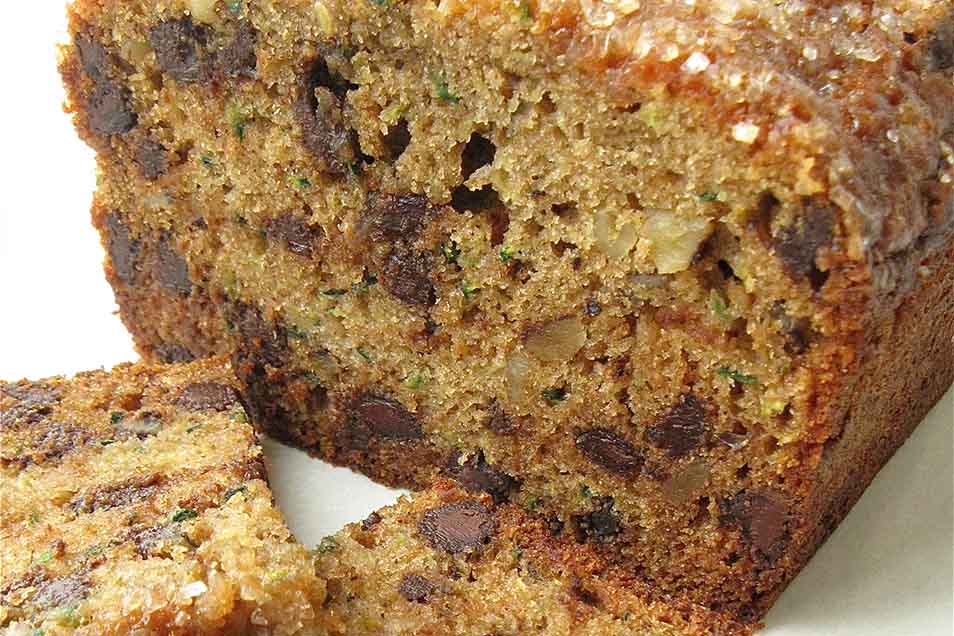 Facing a zucchini surplus? This moist, dense bread, with its mild hint of cinnamon, offers a sweet surprise: chocolate chips. Never thought of adding chocolate chips to zucchini bread? Give it a try; the rich flavor of chocolate marries perfectly with the earthiness of zucchini and brown sugar.
Ingredients
2 large eggs
1/3 cup molasses or honey
1/2 cup vegetable oil
1/3 cup brown sugar
1 teaspoon vanilla extract
2 cups King Arthur White Whole Wheat Flour or Premium Whole Wheat Flour
1 teaspoon salt
1/2 teaspoon baking soda
1/2 teaspoon baking powder
1 teaspoon ground cinnamon
2 cups shredded, unpeeled zucchini (about 1 small/medium zucchini)
1 cup chocolate chips
3/4 cup chopped walnuts, optional
Instructions
Preheat the oven to 350°F; lightly grease a 9" x 5" loaf pan.

In a large mixing bowl, beat the eggs, molasses or honey, oil, sugar, and vanilla until smooth.

Add the flour, salt, baking soda, baking powder, and cinnamon, mixing until well combined.

Stir in the zucchini, chocolate chips, and nuts.

Pour the batter into the prepared pan.

Bake the bread for 55 to 60 minutes, until the loaf tests done (a toothpick or cake tester inserted into the center will come out clean, save for perhaps a smear of chocolate).

Remove the bread from the oven, and let it cool for 10 to 15 minutes before turning it out of the pan onto a rack.

Cool completely before slicing; store well-wrapped, at room temperature.

Yield: one 9" x 5" loaf.
Tips from our bakers
Want to make this bread gluten-free? Substitute 2 cups King Arthur Gluten-Free Flour for the whole wheat flour; add an additional 1 large egg and 1/2 teaspoon xanthan gum; let the batter rest for 15 to 20 minutes before pouring it into the pan; and bake for an additional 10 minutes, or until it tests done with a toothpick. Also, make sure the vanilla extract you use is gluten-free.
Reviews
My loaf's currently in the oven, but I wanted to write a quick review of some modifications I made. First, I used organic blackstrap molasses for the liquid sweetener, my oil of choice was grapeseed, I used Just Panela's Organic unrefined cane sugar in place of the brown sugar, I used Bob's Red Mill Organic Whole Wheat Pastry Flour since I didn't have any other flours, Himalayan pink salt, a heaping tsp. of cinnamon, with ginger, cloves, cardamom, and nutmeg added for some extra flavor. I toasted some raw, organic sunflower seeds in the oven in lieu of the nuts b/c of nut allergies and, since some other reviewers said the loaf was a little bit too sweet, I swapped out the chocolate chips for organic cacao nibs. My only concern, however, is that I may have packed too much flour into my measuring cups because, when I mixed it in with the liquid ingredients, the mixture was more like a dough than a batter. I decided to roll with it (no added liquid to try and thin the batter) and just put in the oven after everything was in it and hope for the best. I'm sure this is a great recipe, and one that I intend to use again (correctly!), so I'm going to give it five stars no matter what the end result is. I'm just taking it as a learning experience that I should ALWAYS measure the flour via weight, not volume.
Tasty and perfect loaf. This is my new favorite! It was light and moist even with 100% white whole wheat flour. I substituted 1/2 C. mashed banana plus 2 T olive oil for the 2 C of oil, (no way would I add 2 C of oil!) I also used the honey and brown sugar. In the future, I'll try cutting back on the sugar as the bananas already add sweetness.
Made 2 loaves using this recipe, one with chocolate and one without. Both loaves also had 1 cup of barley flour substituted for the whole wheat. They were delicious, though I preferred the loaf without chocolate.
I made some adjustments to make it healthier. Reduced sugar by 25% to 1/2 c. total and used only brown sugar, used 1/4 c. applesauce, 1/4c. butter, and 3 Tablespoons ground flax seed. Its not very sweet, which I like. I hate when a breakfast bread tastes like cake. My husband also enjoyed it. I will make this again!
Moist, hearty, easy to prepare. Everyone at work loved it too.
The bread was dry and not very sweet or flavorful. We will be looking for another recipe to enjoy our zucchini surplus.

We're sorry to hear that this well-loved recipe didn't do the trick for you, Sarah. If we can help pick out a recipe that better fits your tastes, please give our Baker's Hotline a call at 855-371-BAKE. Annabelle@KAF
Hello, I tried this recipe the other day and it was delicious. I shared it with my friends and they liked it. But instead using oil i used homemade applesauce and instead chocolate chips i used raisins. It came out delicious too.
Just made this bread using your quick bread pan. Perfect! Used honey, whole wheat. So glad I chose this recipe. Loved taste and texture. Thank you
So yummy! Hits that perfect spot between hearty and sweet/indulgent.