A customized print-friendly version of this recipe is available by clicking the "Print Recipe" button on this page.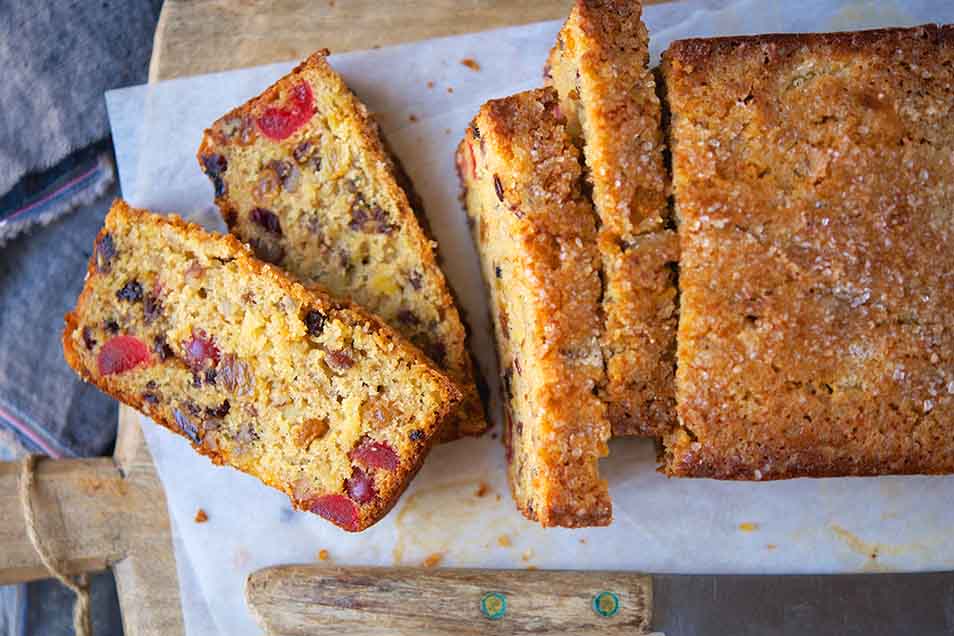 Fruitcake... or fruit bread? This quick and easy batter bread is packed with fruit and nuts, but is less sweet and very mildly spiced, unlike traditional fruitcakes. This is a great cake to bake if you feel obliged, by the holiday spirit, to have a fruitcake in the house.
Ingredients
1/2 cup butter
3/4 cup granulated sugar
1 teaspoon ground cinnamon
1/2 teaspoon ground ginger
2 teaspoons baking powder
1/2 teaspoon salt
1 teaspoon vanilla
2 large eggs
1 1/2 cups King Arthur Unbleached All-Purpose Flour
1 cup crushed pineapple, undrained (1 small can)
1 cup mixed dried fruits of your choice
1/2 cup diced walnuts or pecans
1/2 cup red candied cherries, each cut in half
1 1/2 tablespoons coarse white sparkling sugar, for topping, optional
Instructions
Preheat the oven to 350°F. Lightly grease a 9" x 5" loaf pan.

Place the butter, granulated sugar, cinnamon, ginger, baking powder, salt, and vanilla in a bowl, and beat till smooth.

Add the eggs one at a time, beating well after each addition.

Add the flour, stirring to combine.

Stir in the undrained crushed pineapple.

Stir in the fruits, nuts, and candied cherries.

Spoon the batter into the prepared pan, smoothing the top.

Sprinkle with coarse white sparkling sugar, if desired.

Bake the cake for 60 minutes, then tent it with aluminum foil. Bake for an additional 15 minutes, or until a cake tester inserted into the center comes out clean.

Remove the cake from the oven, and after 20 minutes loosen its sides, and turn it out of the pan onto a rack to cool.

Cool the cake completely before slicing.
Tips from our bakers
For 30-minute fruitcake cupcakes: Prepare the cake batter according to the recipe instructions, and scoop a heaping 3 tablespoons of batter into the wells of a baby bundt pan (a jumbo cookie scoop heaped with batter works well here) — you'll be baking another batch, so about half the batter will remain. Bake the cakes for 15 to 18 minutes, until a cake tester or toothpick inserted into the center of one comes out clean. Transfer the pan to a rack, and after 5 minutes turn the cakes out onto the rack to cool completely. Repeat with the remaining batter. Yield: 22 to 24 cakes.
Reviews
I made this for my family last week. Everyone loved it, including my daughter and my husband who claims to hate fruitcake. Thanks for the great recipe!
I made it in a 8x8 square pan because I didn't want the loaf shape. Then I basted it with simple syrup (1/2 cup) instead of using brandy or rum. This made it not crumbly at all and even more flavorful.
Taste good,but turned out crumbly and on thr dry side. I think next time i will add extra butter or some cooking oil.

Ruby, it sounds like your fruitcake may have had a touch too much flour, which is a super common issue for folks who measure their ingredients by volume rather than weight. As you said, adding a little butter or oil would also work well if you find that things are feeling a little dry as you mix the ingredients together. We hope your next fruitcake is just as moist and delightful as the one you've been dreaming of! Kat@KAF
I made this yesterday and it did not last through the day. It was so easy to make. It was enjoyed by people who claim not to care for fruit cake and they raved along with the those who enjoy fruit cake. This recipe has been added to my list of holiday season baking. KAF has another winner here!
I only gave this 4 stars due to the fact the cake is very crumbly.My fruitcake was moist and delicious. I would love to make as mini loaves for Christmas.Any solution to the crumble issue?

Marianne, thanks for reaching out to us with your question! A lot of the added "stuff" in a fruitcake inhibits gluten formation, which means that crumbling isn't unexpected. If you reduce the amount of some of your mix-ins, that can help it hold together a bit better. You'll also want to make sure that they're baking to an internal temperature of 205° in case you're getting some crumble from a slightly underbaked fruitcake. Happy baking! Kat@KAF
Don't know why I needed to make a fruitcake this year but something came over me and I had no other choice in the matter. My only issue is that I am allergic to Wheat and needed to use a gluten-free one-to-one flour. I am pleased to report that you would NOT know that it was gluten-free and it came out great. It is more of a bread than "cake"; not sure if this is due to the recipe or the fact that i used gluten-free flour. Regardless I was pleasantly surprised. I dusted the fruit with a small amount of the flour called for in the recipe before I stirred them into the mix to keep them from falling to the bottom. The fruit came out perfectly distributed. It's a great afternoon snack with a good cup of tea. We've also toasted a slice and had it for breakfast.
My husband and I are in love with this recipe. It is just delicious and so easy to make!
I made 4 mini loaves with this recipe and they are delicious! The only problem is that they don't hold together very well. They are crumbly... but not at all dry. Strange... But it tastes so good I am willing to give it another try!
In my previous review, I should note that I used a 20 oz can of pineapple which is slightly more than 2 cups (for a doubled recipe). Again, I added the whole can undrained because I wanted to add a little extra moistness. This is because a few of the reviewers had mentioned that the recipe was a bit dry.
Oh my! This is one fantabulous recipe! I have made it three times during the holidays. I only made a few minor changes. First of all, I doubled the recipe. One loaf will never be enough!!!! With the doubled recipe, I added one whole can of crushed pineapple which measures out to be over 2 cups -- about 2-1/4 cups or slightly less. After reading some of the reviews noting that the recipe was dry, I decided to add some extra liquid. Also, I used 2 tsp rum extract and 1 tsp orange extract. I would have added some orange zest, but I didn't have any oranges in the house. In my oven, they were done in 57 minutes (the cake tester came out clean), so make sure and check because ovens temperatures vary. I covered them with foil during the last 10 minutes. These loaves taste better after about 24 hours. When they were mostly cooled down, I wrapped them in foil and let them sit for 24 hours before slicing. Make sure and use a very sharp serrated knife. I used my bread knife to get clean slices without crumbling.