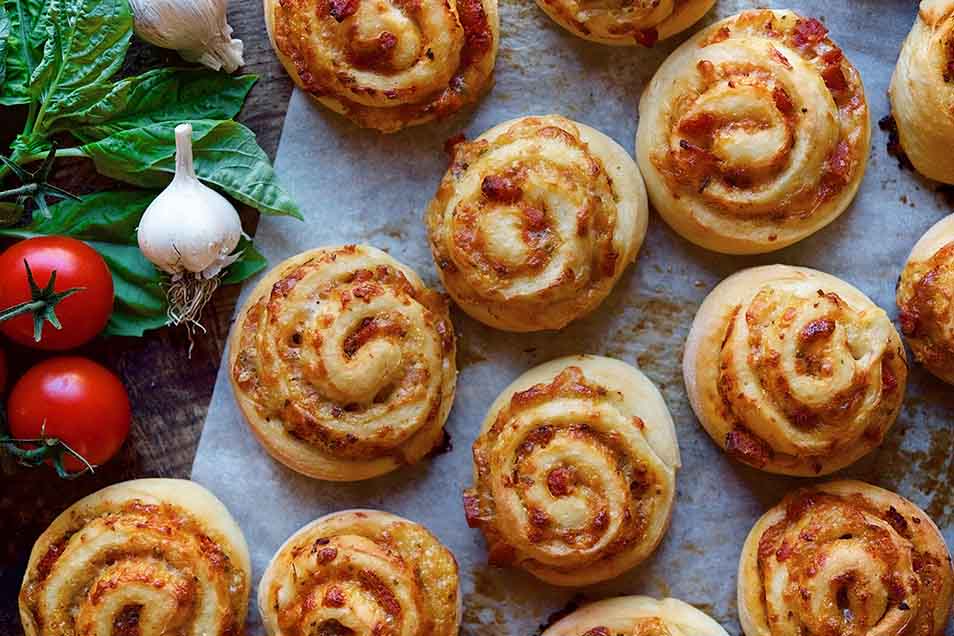 At a Glance
Prep

25 mins. to 35 mins.

Bake

30 mins. to 35 mins.

Total

2 hrs 55 mins. to 4 hrs 10 mins.

Yield

12 buns
Sticky buns, cinnamon buns... pizza buns? Substitute pizza topping ingredients for a sweet roll's typical cinnamon and sugar, and you've got a super-tasty savory bun, perfect for parties, picnics, or snacking on the go.
Filling
4 ounces of your favorite pizza sauce
8 ounces shredded mozzarella or Monterey Jack cheese, Cabot preferred; or the pizza cheese of your choice
4 ounces chopped or shredded pepperoni
Directions
Place all of the dough ingredients into a bowl, and mix and knead the mixture — by hand, using a stand mixer, or in a bread machine — to make a smooth, soft dough.

Place the dough in a lightly greased bowl, cover it, and allow it to rise until doubled, 60 to 90 minutes.

Gently deflate the dough, and transfer it to a lightly greased work surface.

Roll the dough into a 12" x 18" rectangle.

Spread evenly with the sauce, cheese, and pepperoni.

Starting with a long end, roll the dough into a log. Cut the log into 12 to 18 pieces, depending on how large you want the buns to be.

Space the rounds on two parchment-lined or lightly greased baking sheets. If you've cut 12 rounds, flatten them gently to about 1" tall.

Cover the pan(s), and allow the buns to rise for 60 to 90 minutes, until they're nicely puffed. Towards the end of the rising time, preheat the oven to 350°F.

Bake the buns for about 25 to 30 minutes, until they're a light golden brown.

Remove the buns from the oven, and serve warm, with additional pizza sauce on the side if desired.

Store any leftovers in the refrigerator. Reheat for about 10 minutes, covered, in a 350°F oven; or very briefly in a microwave.
Tips from our bakers
For an added burst of flavor, add 4 teaspoons Pizza Dough Flavor to the dough along with the other dry ingredients.
Feel free to replace the pepperoni with about 1 cup of your favorite cooked pizza toppings. It helps to chop chunky toppings like sliced mushrooms or peppers, rather than leave them whole.