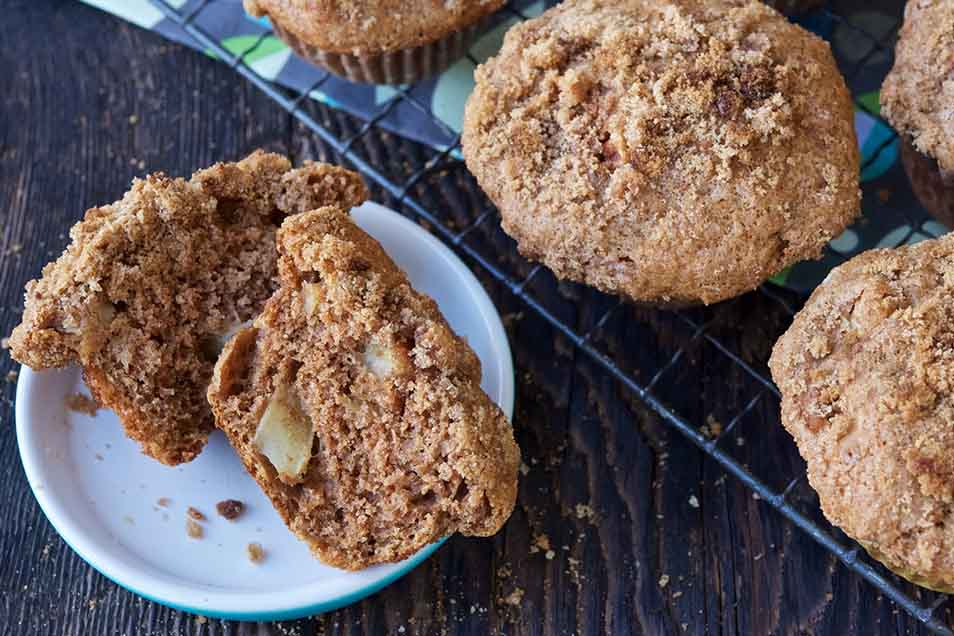 At a Glance
Prep

10 mins. to 20 mins.

Bake

25 mins. to 30 mins.

Total

35 mins. to 50 mins.

Yield

12 muffins
These moist, tender muffins, studded with fresh apple and sporting a crown of crunchy brown sugar, will keep well for several days. You don't even need to heat them up to enjoy them, which makes them a perfect after-school snack.
1/2 cup (8 tablespoons) unsalted butter, at room temperature
1/2 cup granulated sugar
3/4 cup brown sugar, divided
1 large egg
1 cup buttermilk; or 1 cup plain (not Greek-style) yogurt; or 3/4 cup Greek-style yogurt + 1/4 cup milk
1 cup (4 ounces) King Arthur White Whole Wheat Flour
1 teaspoon baking powder
1 teaspoon baking soda
1/4 teaspoon salt
1 tablespoon ground cinnamon
2 cups peeled, cored, and chopped apples; about 2 large apples, about 3/4 pound whole apples
Directions
Preheat the oven to 375°F. Grease and flour a 12-cup muffin pan, or line with papers and grease the insides of the papers.

Mix together the butter, granulated sugar, and 1/4 cup of the brown sugar, beating until fluffy.

Add the egg and mix well, stopping once to scrape the sides and bottom of the bowl.

Gently mix in the buttermilk or yogurt.

Stir in the flours, baking powder, baking soda, salt, and cinnamon.

Fold in the chopped apples.

Divide the batter evenly among the prepared muffin cups, sprinkling the remaining 1/2 cup brown sugar on top.

Bake the muffins for 25 to 30 minutes, or until a toothpick inserted into the center of a muffin comes out clean.

Remove the muffins from the oven, cool them for 5 minutes in the pan, then turn them out onto a rack to finish cooling completely.

Yield: 12 muffins.