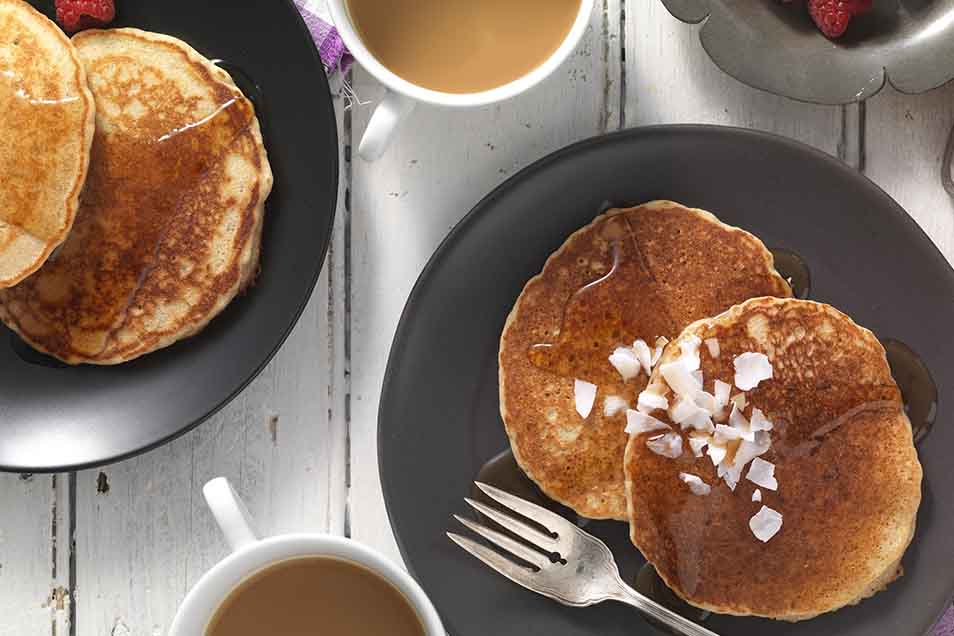 At a Glance
Prep

13 mins. to 18 mins.

Bake

4 mins. to 6 mins.

Total

20 mins. to 27 mins.

Yield

12 (4") pancakes
Leftover cooked quinoa is a delicious and protein-packed addition to pancakes. It adds wonderful texture, without any added taste. An added bonus? They're so easy to change from gluten-full to gluten-free! These pancakes can be flavored and topped however you'd like. From coconut to lemon and raspberry, have fun making this tasty breakfast treat.
1 1/2 cups King Arthur Unbleached All-Purpose Flour or Gluten-Free Multi-Purpose Flour
1 cup cooked quinoa
1 tablespoon malted milk powder (omit for gluten-free version)
2 tablespoons brown sugar
2 teaspoons baking powder
1 teaspoon cinnamon
1/2 teaspoon salt
1 cup milk
2 large eggs
1/4 cup vegetable oil
1 teaspoon vanilla
1/4 teaspoon flavor or 1 teaspoon extract of your choice
*These pancakes work well with any flavor or extract. We enjoy making them with anything from maple or coconut flavor to almond or lemon extract.
Directions
Stir together the flour, quinoa, malted milk powder, brown sugar, baking powder, cinnamon, and salt in a medium bowl until well blended.

In a separate bowl, whisk together the milk, eggs, oil, vanilla, and extract or flavor until combined.

Add the wet ingredients to the dry, whisking all the while until well combined. The batter will have texture because of the quinoa, but shouldn't have dry lumps.

Heat a heavy frying pan over medium heat, or set an electric griddle to 375°F, and lightly grease. The pan or griddle is ready if a drop of water skitters across the surface, evaporating immediately.

Drop 1/4 cupfuls of batter onto the lightly greased griddle. Bake on one side until bubbles begin to form and break, about 2 minutes; then turn the pancakes and cook the other side until brown, about 1 1/2 to 2 minutes. Turn over only once. Serve immediately.

Yield: 12 (4") pancakes
Tips from our bakers
For pancakes without the added texture, substitute 1/2 cup of quinoa flour for the 1 cup of cooked quinoa.