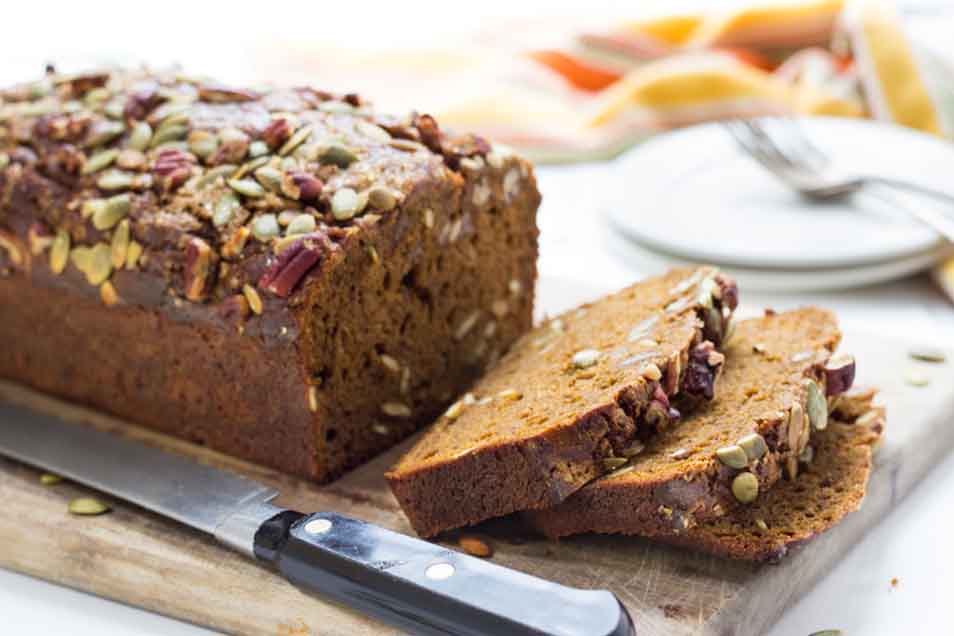 At a Glance
Prep

15 mins.

Bake

60 mins. to 1 hrs 5 mins.

Total

1 hrs 15 mins. to 1 hrs 20 mins.

Yield

one 9" loaf, about 18 servings
This moist, nicely spicy pumpkin loaf is so good, you'd never suspect it's both gluten-free and dairy-free.
4 large eggs
2 tablespoons molasses
1 can (15-ounce) pumpkin purée
1/3 cup vegetable oil
1 3/4 cups King Arthur Gluten-Free Flour or brown rice flour blend*
1 cup sugar
2 teaspoons baking powder
1/2 teaspoon xanthan gum
1/2 teaspoon salt
2 teaspoons pumpkin pie spice, or substitute 1 teaspoon ground cinnamon, 1/2 teaspoon ground ginger, and 1/4 teaspoon ground cloves.
up to 1 cup chopped nuts, chocolate chips, or other add-ins
*See recipe for this blend below.
Directions
Preheat the oven to 350°F. Grease a 9" x 5" loaf inch pan.

Whisk together the eggs, molasses, pumpkin purée and oil. Set aside.

Whisk together the gluten-free flour or brown rice flour blend, sugar, baking powder, xanthan gum, salt, and pumpkin pie spice.

Add the egg mixture about half at a time, whisking until combined after each addition. Stir in any desired add-ins.

Scoop the batter into the prepared pan, and let it rest for 10 minutes. Sprinkle with sparkling sugar, if desired.

Bake the bread for 60 to 65 minutes, until the middle springs back when lightly touched and a toothpick inserted into the top-center comes out clean. Remove it from the oven and let it rest for 10 minutes before removing from the pan. Cool completely for easiest slicing.

Store, well-wrapped, at room temperature for several days; freeze for longer storage.

Yield: 1 loaf, about 18 servings.

*Make your own blend
Many of our gluten-free recipes use our King Arthur Gluten-Free Flour, which includes ingredients that reduce the grittiness sometimes found in gluten-free baked goods. Our flour also increases the shelf life of your treats, keeping them fresh longer.

The following make-at-home blend, featuring stabilized brown rice flour, works pretty well when substituted; and it tastes better than a blend using regular brown rice flour.

Whisk together 6 cups (28 1/2 ounces) King Arthur stabilized brown rice flour; 2 cups (10 3/4 ounces) potato starch; and 1 cup (4 ounces) tapioca flour or tapioca starch. Store airtight at room temperature. Note: You can substitute white rice flour for the brown rice flour if you like; it'll make your baked goods grittier (unless you manage to find a finely ground version).