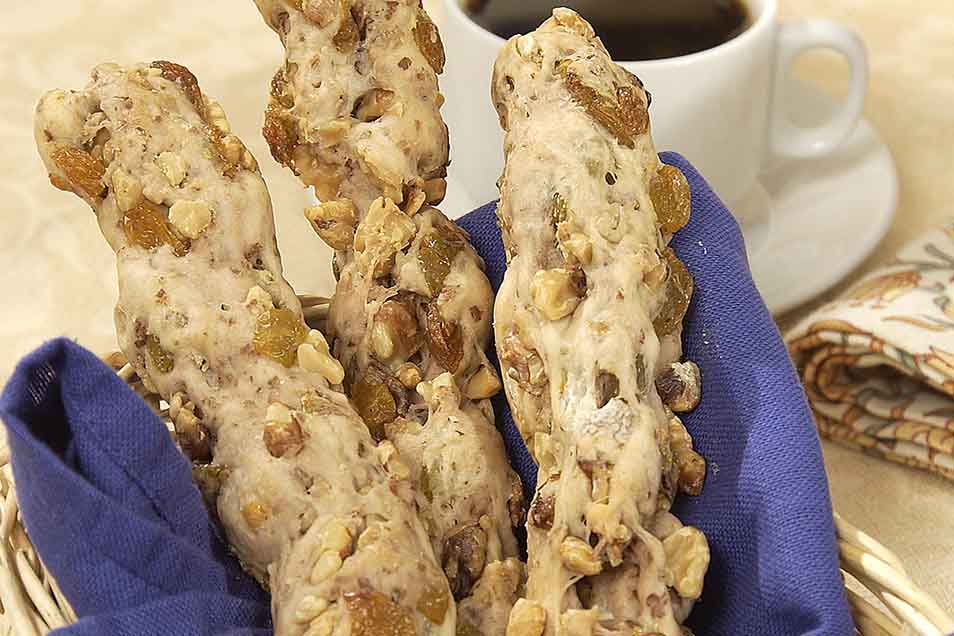 At a Glance
Prep

30 mins.

Bake

32 mins. to 49 mins.

Total

4 hrs 32 mins. to 4 hrs 49 mins.

Yield

twelve 10"-flutes
These chewy, dense, fruit-and-nut filled sticks are a specialty of Le Pain Quotidien, a bakery chain with select outposts across America. The flutes are flavorful on their own, but like everything in life, they're even better with a smear of cheese or butter.
Directions
To make the starter: Combine the starter ingredients, cover, and let rise at cool room temperature overnight, until expanded and bubbly.

Preheat the oven to 350°F.

Place the hazelnuts in an ungreased 9" x 13" pan. Bake them for 24 minutes, or until they're a light golden brown. Set them aside. If you're using walnuts, bake them for about 12 minutes. Turn the oven off.

To make the dough: Combine the starter, flour, salt, water, and yeast, mixing and kneading to make a soft dough.

Knead it for several minutes. The dough will be sticky, but try to avoid adding more flour.

Place the dough in a lightly greased bowl, cover, and let rise for 45 minutes.

Gently deflate the dough, turn it over, and let it rise an additional 45 minutes.

Knead the nuts and raisins into the dough. Yes, this is a LOT of fruit and nuts to try to knead in, just keep working at it. The finished breadsticks are more fruit and nuts than dough!

Divide the dough into 12 equal pieces.

Working on a floured surface, stretch and roll the pieces 10" long. Place the flutes 2" apart on two lightly greased or parchment-lined baking sheets, six to a sheet.

Cover with lightly greased plastic wrap, and let them rise for 2 hours at room temperature.

Preheat the oven to 375°F.

Bake the flutes for 10 minutes.

Gently lay a sheet of aluminum foil over each pan. Bake for an additional 20 to 25 minutes, rotating the pans in the oven (top to bottom, bottom to top) midway through the baking time. The finished flutes will be set and barely beginning to turn golden.

Store, well-wrapped, for up to 3 days at room temperature, or freeze for up to a month.
Tips from our bakers
To avoid the potential of burned raisins on the bottom of the flutes, bake each pan separately, placing it in the upper third of the oven. Or bake pans at the same time, but for 30 minutes only, even if the flutes haven't yet begun to brown.