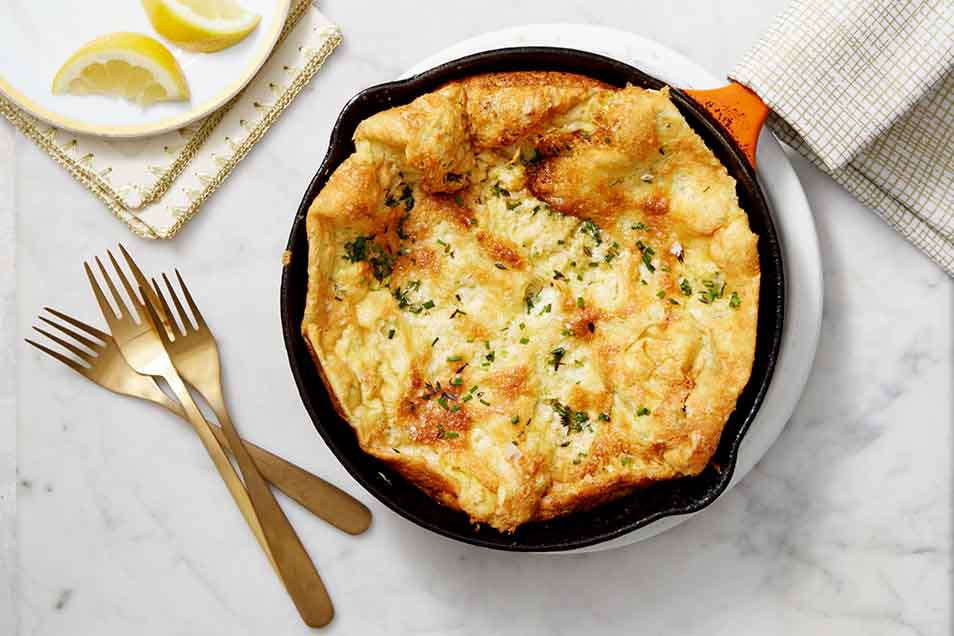 At a Glance
Prep

15 mins.

Bake

20 mins. to 25 mins.

Total

35 mins. to 40 mins.

Yield

one 12" Dutch baby
This updated take on a traditional brunch dish is from Melissa Clark, who relies on it when serving company. She says, "Golden, crunchy, and covered in a salty, frico-like layer of baked Parmesan, this is sort of like a giant gougère-style cheese puff meets Yorkshire pudding, with a crisp outer crust and a soft, cheesy, custardy interior. You can serve this for dinner with a big salad or try it for brunch."
1 cup + 2 tablespoons King Arthur Unbleached All-Purpose Flour
1/2 teaspoon kosher salt or 3/8 teaspoon table salt
1/2 teaspoon freshly ground black pepper
8 large eggs
3/4 cup whole milk
2 tablespoons finely chopped fresh thyme
2 tablespoons minced fresh chives (or tarragon)
4 tablespoons unsalted butter
3/4 cup grated Parmesan cheese
flaky sea salt, for garnish
sriracha and/or lemon wedges, for serving
Directions
Preheat the oven to 425°F.

In a large bowl, combine the flour, salt, and pepper.

In a separate bowl, whisk together the eggs and milk. Whisk the eggs/milk into the flour mixture until just combined. If the mixture is lumpy, use an immersion blender to smooth it out.

Stir in the thyme and chives (or tarragon).

Melt the butter in a 12" cast iron or other oven-safe skillet over medium-high heat. Continue to cook until the butter smells nutty and turns brown, 5 to 7 minutes; then swirl the skillet so the butter coats the bottom of the pan.

Pour the batter into the skillet and scatter the cheese and flaky sea salt over the top. Bake until the Dutch baby is puffed and golden, 20 to 25 minutes. Baking it a little less gives a softer interior, though less rise; baking it a little more gives you more puff and a drier interior; both ways are good.

Serve immediately, with sriracha and/or lemon wedges on the side, if desired.

This is best served the day it's made, but if there are leftovers store them in the refrigerator, well wrapped, for up to three days.