A customized print-friendly version of this recipe is available by clicking the "Print Recipe" button on this page.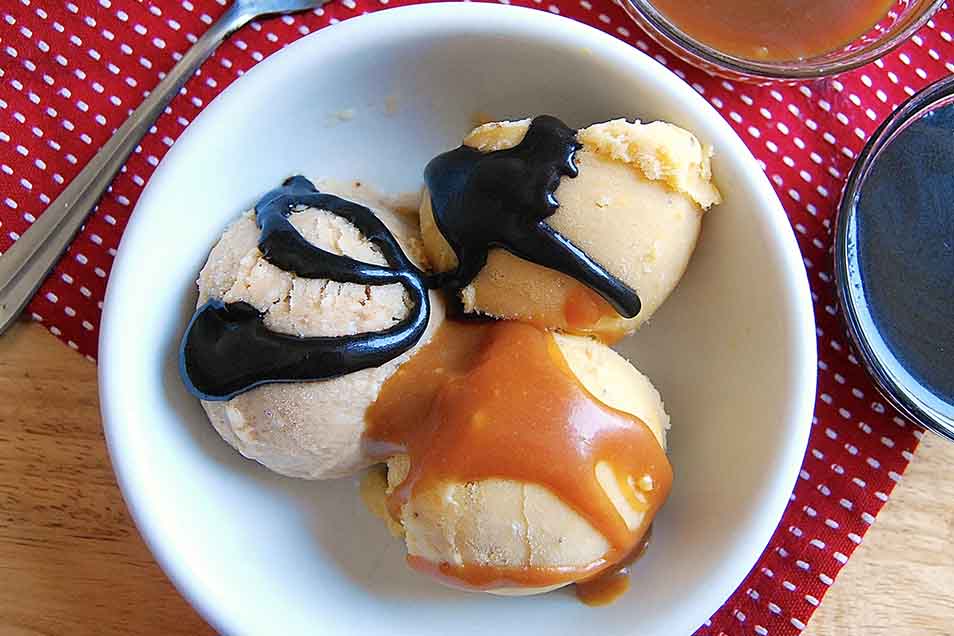 Homemade ice cream sundaes deserve rich, delicious hot fudge and caramel sauces. Do you choose 1) an inexpensive bottled topping whose taste reflects its price, or 2) a "gourmet" bottled topping whose price puts it outside your budget, or 3) a delicious, rich homemade topping whose price is "just right"? Hmmmm....

For caramel sauce, you'll start with sugar, butter, salt, and cream. Add heat. Finish with vanilla or the complementary flavor of your choice (or a spoonful of rum). The result? Thick, rich caramel sauce. The directions for this sauce look a bit fussy at first glance, but follow them carefully and you'll do just fine.

As for hot fudge, this deep-dark sauce is more suitable for discerning adults than kids, who probably won't appreciate its bittersweet bent. Made with black cocoa, espresso powder, and unsweetened chocolate, it's the perfect complement to rich, creamy vanilla ice cream.
Ingredients
Caramel sauce
1 cup sugar
1/4 teaspoon salt
2 tablespoons cold water
6 tablespoons butter, melted
1/2 cup heavy cream or whipping cream
2 teaspoons vanilla; or 1/4 teaspoon butter-rum or butterscotch flavor; or 1 tablespoon rum
Hot fudge sauce
1/4 cup (4 tablespoons) butter
1 1/2 ounces unsweetened baking chocolate
1/2 cup half & half or light cream
3/4 cup sugar
1/3 cup unsweetened cocoa powder*
1 teaspoon espresso powder, optional; for enhanced chocolate flavor
dash of salt
2 teaspoons vanilla extract
*See "tips," below.
Instructions
To make the caramel sauce: Place the sugar, salt, and water in a deep, heavy-bottom saucepan; it should be at least 2-quart capacity, as the syrup will bubble up during preparation. Stir to combine, and heat over medium-high heat, stirring to help it along, until the mixture starts to bubble.

When the mixture comes to a boil, reduce the heat to medium and watch carefully. The syrup will begin to turn golden around the edges. Shake the pan in a swirling motion to keep the syrup moving, and to prevent the edges from burning before the center colors. Stir the edges in towards the center occasionally.

After a couple of minutes, the syrup will begin to darken. If it looks like it's getting dry/crystallized on top, stir until it's syrupy again. As soon as it's a rich amber color, remove it from the heat and stir in the butter; the whole cooking process, start to finish, will probably take no more than 5 to 10 minutes, so don't walk away.

Once the butter has been absorbed, stir in the cream. Stir until smooth; don't worry, it'll seem lumpy at first, but will smooth out. Add the vanilla or flavor of your choice; butter-rum is tasty. Or stir in a tablespoon of rum.

When the sauce is smooth, let it sit in the pan for a couple of minutes before pouring it into a glass or ceramic container to cool. Cool to room temperature, and store in the refrigerator. Reheat briefly before serving.

To make the hot fudge sauce: In a small saucepan set over medium-low heat, melt the butter with the chocolate, stirring until smooth. Stir in the half & half or cream.

Whisk together the sugar, cocoa, espresso powder, and salt, and stir this mixture into the chocolate. (Whisking the cocoa with the other ingredients prevents it from forming lumps in the sauce.)

Stirring constantly, bring the mixture just to a boil, and remove it from the heat. Stir in the vanilla. Cool the sauce to room temperature, then store it in the refrigerator. To serve, reheat over low heat, or in the microwave.
Reviews
I made the caramel sauce with rum, to use with the caramel cheesecake recipe on this site. The recipe worked beautifully, with a great consistency after refrigeration. No candy thermometer necessary. The rum was a strong boozy flavor, so if you are looking for something less assertive, use the vanilla.
Very easy to make! Next time I may use a touch more butter for the caramel sauce, or try s different type of butter to get a more buttery taste. I used black cocoa for the fudge sauce and it was delicious! The portions were large enough to have leftovers that I poured into mason jars and tucked away in the fridge until the next sundae night party.
I made the Caramel Sauce the other day to go over the ice cream for Apple Pie Ala Mode night at square dancing. Did not turn out at all. I was not able to get it to turn golden. It seized up, so I added more water - twice. Once it liquified again I added the butter, which did not blend in well, then added the cream. Put back on the heat again, added the Pralines & Cream flavoring to give it a bit of color. Cooked awhile longer to thicken some. Finally removed from the heat and cooled. The taste was fine, but certainly not Caramel. Now the left over sauce has gotten sugary again. Debating about trying it again. The whole process took 45 plus minutes. I am an experienced cook, that's why I was able to save what I had even though I had to adapt.

We're sorry to hear you had so much trouble with the caramel sauce, Sharon. If it would be helpful to troubleshoot with another baker before starting a second batch, please don't hesitate to give our free and friendly Baker's Hotline a call at 855-371-BAKE. We'd be happy to talk things over with you. Mollie@KAF
We really liked it, how long will it keep in the refrigerator?

Hi Dale, honestly these sauces tend to disappear within a few days, so it's hard to say exactly how long they'll last for. If you store them in lidded glass jars in the fridge, they would likely still be good for weeks, as sugar is a reliable preservative. We'll be impressed if your batches last that long, though! Kye@KAF
Made this for my nephew who was visiting from Switzerland and can't get enough of hot fudge sundaes so I put this on my 4th of July dessert menu with local farm stand ice cream . I would have liked this sauce a bit thicker. Any ideas on how to make this come out thicker? I used my KA semi-sweet chocolate bits because that is what I had on hand, but I cut back the sugar a tad. The taste was incredible and everyone loved it. My nephew asked me for the recipe, and I was able to convert to grams, and told him he has access to the best chocolates, cream and butter so his sauce should come out perfect. Where they live the cows produce a cream which is so thick it looks like whipped cream. It is incredible. I would love to taste that sauce!

Hi Gigi, it sounds like this sauce was a hit! Bonus: many of our recipes can be converted to grams by simply clicking on the "grams" button below the ingredients header. To make a thicker sauce, reduce the amount of light cream of half & half to 1/3 or even 1/4 cup. This should give you a consistency that's just about what you're looking for. Enjoy! Kye@KAF
Great caramel sauce, but be careful adding rum or any other alcohol. I used a teaspoon of Meyers Dark Rum and it ended up tasting VERY boozy. Cooking it off a bit improved the taste, but I'll definitely be using half or a quarter teaspoon next time.
The hot fudge made as directed is sublime. Perfect!
Fantastic chocolate sauce! I kind of modified it with what I had on hand and personal preference, but the recipe was easy to follow and came out perfect for those dry, homemade brownies hiding in the freezer. I used 1 cup coconut milk instead of 1/2 cup cream. I wanted it a bit creamier for the kids and the coconut milk had a different consistency. Perfect! I used semi-sweet baking chocolate. It was on hand. Turned out great. A little sauce went a long way!
Don't know if the problem was the weather (it started to storm as I was making this) or what. After the sugar melted and started to boil, it completely recrystallized and never melted enough to make a smooth sauce. I was left with a baseball sized lump of hard caramel which never integrated into the rest of the mixture. The sauce that remained was delicious, but I wonder if the measurement of the water was sufficient?

Caramel can be a tricky sauce to make because you are aiming to bring the sugar to a narrow range of temperatures or else you will pass the "soft ball stage," and go straight to burnt caramelization...which can then turn into a hard ball of sugar. Albeit delicious, it's not what you want here! Be sure that you do not stir as the sugar mixture heats over medium heat, uncovered, until it turns a warm chestnut brown--it should reach 350 degrees on a candy thermometer. You can swirl the pan slightly, and be sure to watch closely at the very end to prevent it from seizing up. 5-7 minutes should do. For additional pointer, see our blog called "Super Bowl Sundae," which includes step-by-step pictures of how to make both sauces. Happy baking! Kye@KAF
I never tried to caramelize sugar before but this worked fine as long as I kept stirring. Finished sauce seems a bit thin but flavor is fantastic.