A customized print-friendly version of this recipe is available by clicking the "Print Recipe" button on this page.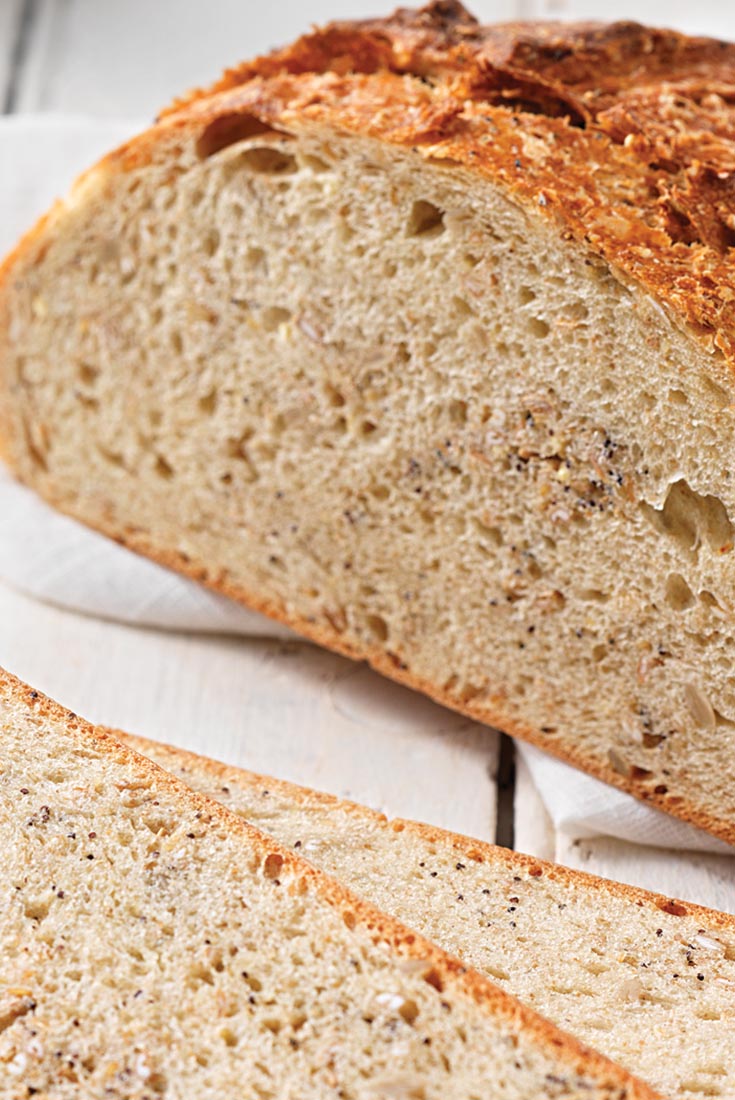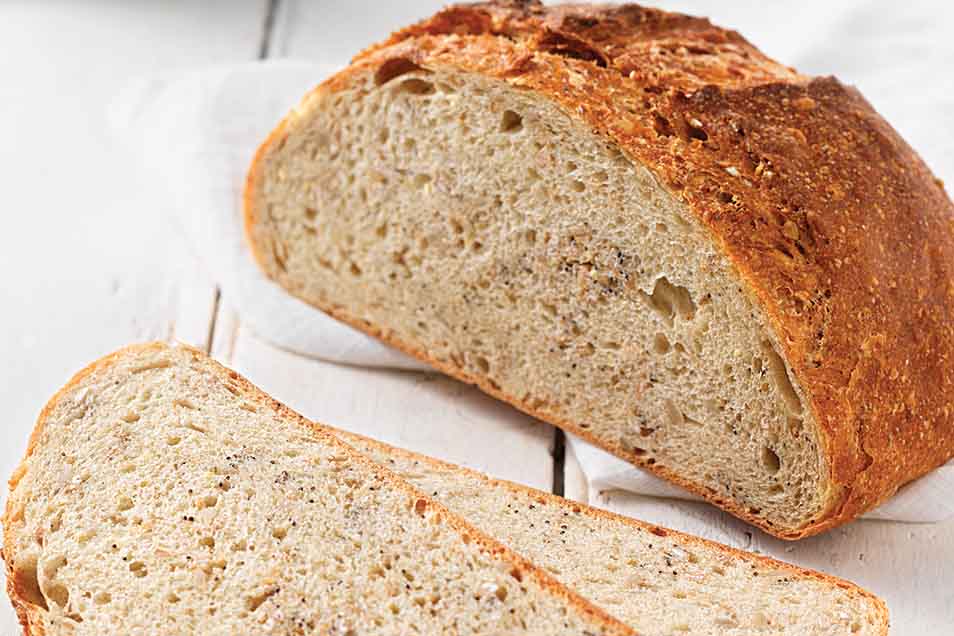 Using a sponge (starter) to create this bread increases its flavor and enhances its texture.
Instructions
To make the sponge: Mix the sponge ingredients together, and let rest at room temperature, covered, for 3 to 4 hours, or overnight.

To make the dough: Stir down the sponge, and add the salt and flour. Mix and knead the dough until it's smooth and elastic. Knead in the Harvest Grains Blend or your choice of seeds. Place the dough in a greased bowl, turning to coat its surface with oil. Cover and let rise in a warm spot for 1 1/2 to 2 hours, until doubled in size.

Turn the dough out onto a lightly greased surface, and form it into a ball. Place on a lightly greased or parchment-lined baking sheet, or into an ovenproof crock. Cover and let rise for about 1 hour. Towards the end of the rising time, preheat the oven to 450°F.

Uncover the loaf, and gently but firmly slash it across the top, then spritz it with water. Bake the bread for 30 to 35 minutes, until it's deep golden brown. Remove it from the oven and place it on a rack to cool. Cool completely before slicing.
Nutrition Information
Serving Size

51g

Servings Per Batch

16
Amount Per Serving:
Calories

120

Calories from Fat

10

Total Fat

1g

Saturated Fat

0g

Trans Fat

0g

Cholesterol

omg
Sodium

260mg

Total Carbohydrate

23g

Dietary Fiber

2g

Sugars

og

Protein

4g
* The nutrition information provided for this recipe is determined by the ESHA Genesis R&D software program. Substituting any ingredients may change the posted nutrition information.
Reviews
This worked very well in a standard loaf pan. One of the wonderful Bakers' Hotline helpers advised me to back the temperature down to 425F and to bake until an internal temperature of 190-200 was reached. I tested the internal temp at 35 minutes and decided to bake it 10 minutes longer, with foil protecting the top crust. This was the perfect amount of time, internal-temperature-wise, and the bread turned out beautifully! I brushed with water instead of spritzing before baking, and I poured hot water into a broiler pan on the lowest rack at the beginning of the baking time to create steam. I will definitely make this bread again!
I recently made this bread replacing all of the rye in the formula for 106grams of liquid starter. I omitted the seeds but kept everything else the same. 18 hours later I had a beautiful loaf with a great crust and a fantastic ear. Thank you!
This is recipe was easy to make, and produced a very professional loaf. I used KA Rye blend instead of pumpernickel flour, but otherwise followed the recipe exactly. Instead of spritzing the loaf, I heated a cast iron skillet in the oven as it preheated and filled it with boiling water just after I placed the loaf in the oven. It resulted in a crisp, crackly crust and chewy interior. I will be making this again!
I'm very new at this. I have one question, may I use boxed bread mixes with this , bread baker with the cover or the baking bowl? I'm wanting to order one or the other, help please, and thank you.

Hi Donna, we'd love to help get your bread baking started in the right direction. To make sure we understand your question and which products you're considering, we encourage you to give our friendly bakers on the hotline a call at 855-371-BAKE(2253). This is the best way to ensure you get the information you're looking for. We look forward to your call. Kye@KAF
Crunchy crust, tender inside -- a perfect bread. I do not add seeds but replace the seeds with an equivalent amount of grams of all-purpose flour and I prefer to shape it into a batard (long oval), baking it at 450 F. for 25 minutes at most (beyond that, the top starts to brown too deeply).
Beginner alert here. Now a quick word of advice for those of you just starting out like me. Make this loaf exactly as is. This got rave reviews (easily the best thing I've baked other than cookies) from everyone who tried it. I even won over a couple "I don't eat bread" people. It rises well. If you haven't scored a loaf yet, don't be shy about that. Also, I've had the best results by letting the sponge go overnight on the counter, temps in the house have been about 70 overnight. I've also left the sponge for a full 24 hours and that doesn't seem to mess it up. Then start using this as a base. I made it with Rye instead of pumpernickel, also awesome. I mixed up the seeds, also awesome. I crusted it with asiago and used fresh parsley, good but I am working out ratios on that one, and the asiago might be a bit strong for this. Still, this is a great recipe to have in your arsenal if for nothing more than creating new riffs on it. It's great with butter, it makes a killer ham and swiss melt, it keeps well and it won't need to. Make it.
This is the tastiest bread I've ever baked. Mixed fennel, sesame and poppy seeds into the crumb and coated the outside with sesame and poppy. I followed the recpies weight recommendations and after letting the sponge go 14 hours I only needed to add a small amount of water.
I thought for sure I had reviewed this recipe, it has become one of our favorites! I am almost ready to put a loaf of it in the oven for tonight's dinner. I make it pretty much as written except I make my own mixture of nuts/seeds, and it varies depending on what I have on hand. Some of my favorites are sesame seeds, sunflower seeds, pumpkin seeds, fennel, caraway, poppy seeds and walnuts. I also like brush the loaf with an egg wash and sprinkle some of the nut/seed mixture over the top before slashing the loaf. I usually add in a little dried minced garlic and sea salt on the top as well. I've made it at least a dozen times and its been delicious every single time without fail. Thanks for a great recipe!
I made this recipe yesterday. I used Fleischman's yeast, and substituted millet flour and stone ground corn meal. For the Harvest Grains I used sunflower seeds, almonds and golden flax meal all ground fairly fine. Following directions I let the sponge develop for four hours, and then I couldn't wait any more! Spritzed loaf a few times while baking for 30 minutes, and let cool as long as possible. It made a lovely fine grain with beautiful thin crust, and the family votes three thumbs up
I have made this recipe as listed, as well as with various modifications several times. I must say, this is a very good recipe on its own, although I will say that I usually up the salt content to 2.5 tsp to give just a touch more flavor. Keep in mind this will affect the rising times. This is a great recipe to modify according to your tastes, once you learn how to make it as listed. I often double it in order to make two loaves. I have used this as a base for an sun-dried tomato and rosemary bread by omitting the seed/grain mix and adding 1 tbsp chopped sun-dried tomatoes, 1 tsp garlic powder, and 1 tsp dried rosemary. I have used various whole grain flours to substitute for the pumpernickel flour (including oatmeal flour, as another reviewer suggested). I have also used this with sourdough starter in lieu of yeast. I highly recommend mastering this recipe and then using it as a basis for your own experiments. I use a banneton rising basket to help the loaf rise and give it a nice look, although a regular bowl works pretty well too. Overall, this is a great, and very easy/forgiving recipe. I think I would consider this moderate in terms of difficulty -- maybe not ideal for the extreme novice baker, but once you have a loaf or two of something easier under your belt, give this recipe I shot. I am sure you won't be disappointed. Happy bread baking!