A customized print-friendly version of this recipe is available by clicking the "Print Recipe" button on this page.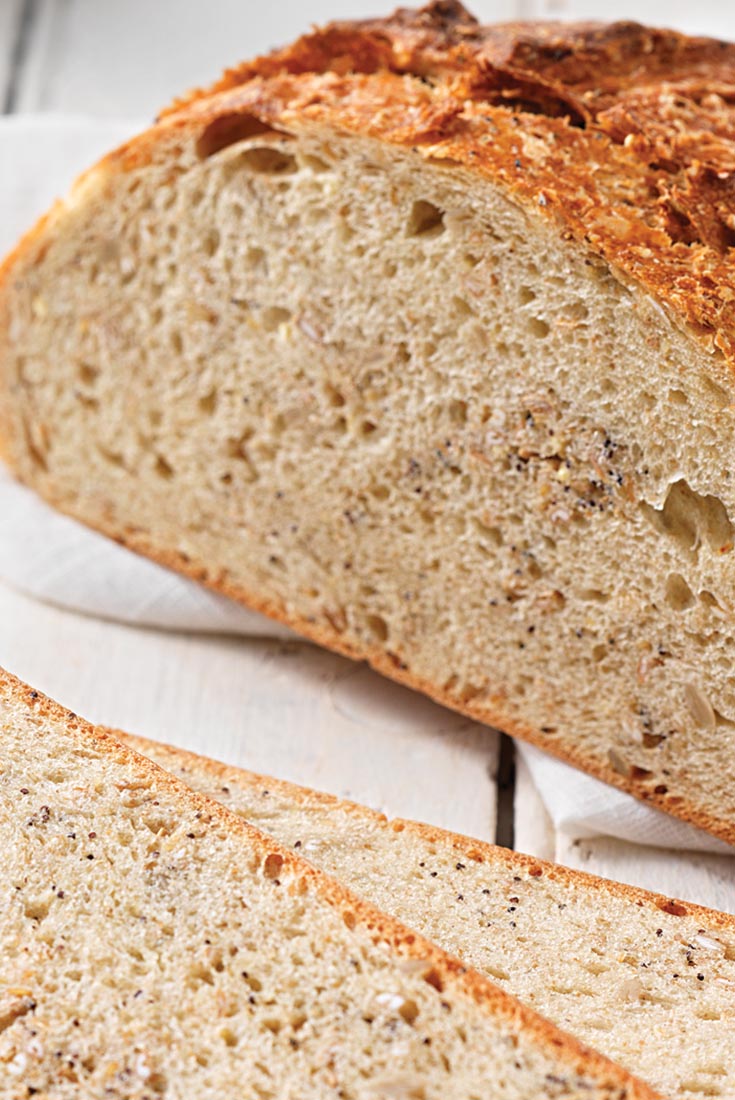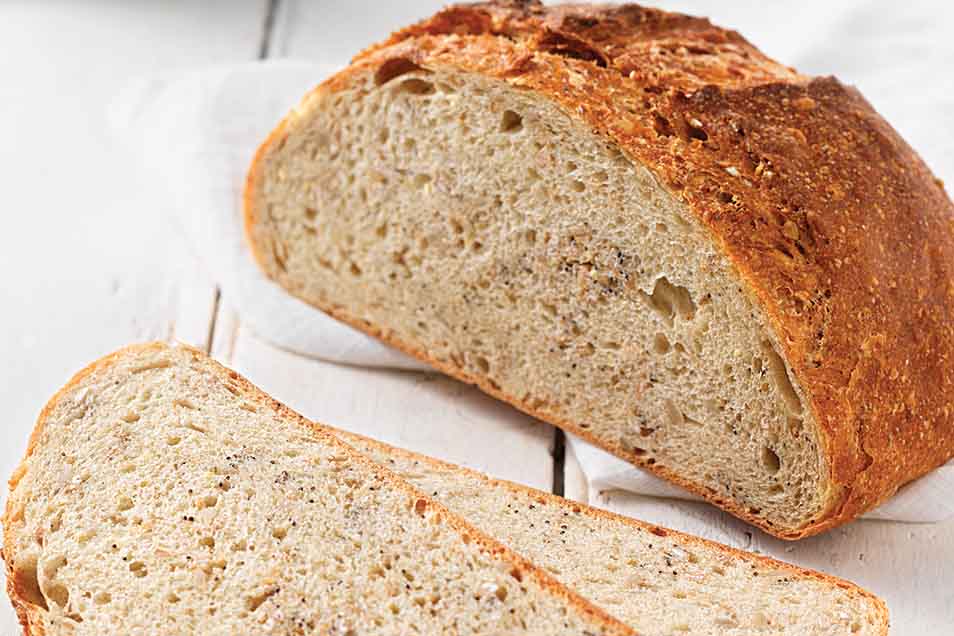 Using a sponge (starter) to create this bread increases its flavor and enhances its texture.
Instructions
To make the sponge: Mix the sponge ingredients together, and let rest at room temperature, covered, for 3 to 4 hours, or overnight.

To make the dough: Stir down the sponge, and add the salt and flour. Mix and knead the dough until it's smooth and elastic. Knead in the Harvest Grains Blend or your choice of seeds. Place the dough in a greased bowl, turning to coat its surface with oil. Cover and let rise in a warm spot for 1 1/2 to 2 hours, until doubled in size.

Turn the dough out onto a lightly greased surface, and form it into a ball. Place on a lightly greased or parchment-lined baking sheet, or into an ovenproof crock. Cover and let rise for about 1 hour. Towards the end of the rising time, preheat the oven to 450°F.

Uncover the loaf, and gently but firmly slash it across the top, then spritz it with water. Bake the bread for 30 to 35 minutes, until it's deep golden brown. Remove it from the oven and place it on a rack to cool. Cool completely before slicing.
Nutrition Information
Serving Size

51g

Servings Per Batch

16
Amount Per Serving:
Calories

120

Calories from Fat

10

Total Fat

1g

Saturated Fat

0g

Trans Fat

0g

Cholesterol

omg
Sodium

260mg

Total Carbohydrate

23g

Dietary Fiber

2g

Sugars

og

Protein

4g
* The nutrition information provided for this recipe is determined by the ESHA Genesis R&D software program. Substituting any ingredients may change the posted nutrition information.
Reviews
I made this for the first time late last week. My family loves it and requested a second load this week. I really like the pumpernickel sponge and I am a big fan of Harvest Grains. I usually use sourdough for bread along, but I have been venturing into some non-sourdough recipes in part because I can finish a. Load in less time than I need for sourdough. So far I have not left the pumpernickel overnight, but it is delicious even with a 4 hour fermentation.
Totally love the taste of this bread, made it twice already by omitting the harvest grains. But the only issue is that the crust is just not turning brown from below. Can you please help with what could be the issue here team.

Hi Seema. If you have a stoneware or cast iron pan you can bake your bread in, or a pizza stone you can bake it on, that will give it a browner bottom. The stoneware holds a very nice, even heat, and gives breads a lovely brown crust on the bottom. If you ever have questions when baking, we encourage you to reach out to our free and friendly Baker's Hotline at customercare(at)kingarthurflour(dot)com. Annabelle@KAF
Hi team, I want to try out this bread, but I don't have certain ingredients and wanted help on substitutions. Can I replace the pumpernickel flour in the sponge with 53gms of all purpose flour? Also can I leave out the harvest grains blend or do I have to substitute it with 74gm of all purpose flour?

Hi Seema.You can use all-purpose flour in place of both the pumpernickel and harvest grains blend, but we'd recommend holding back about 1/4 of the water in the dough, drizzling it in as needed, because all-purpose flour absorbs a lot less than pumpernickel or the harvest grains. Annabelle@KAF
Hello, I just want to double check: NO sugar is added to the overnight sponge, right? And there is no sugar in the recipe at all, right? My first attempt yielded a hearty, if dense loaf. Whatever flaws it had are likely due to my poor baking skills. This is a kind of recipe I want to try again and again, experimenting with mixtures of different flours and seeds.

Hi Jeremy, there isn't any sugar called for in this recipe either in the starter or the final dough. It's not a necessary addition, and we'd be sure to list it if it were. We hope you do continue to experiment until you get just the right texture you're looking for in the final bread. Please feel encouraged to give our Baker's Hotline a call (855-371-BAKE(2253)) to talk about tips and adjustments you may want to make based on the results you're looking for in your next loaf. Happy baking! Kye@KAF
Novice bread maker!! I've tried this three different times with three different results. The first time, I followed the recipe exactly--I used all the recommended flours and weighed all my ingredients in grams. I kneaded it for like an hour before any kind of elasticity was achieved and wound up with a loaf that tasted great, but looked a little dull and had split in the side (I think I under-proofed it?). The second time I did everything the same except for I lost my patience with the kneading (about 45 minutes in) and the dough was too sticky to handle after the first rise and the second rise was a blob-shaped mess that I threw in the trash can before crying myself to sleep. The last time I did this, I used bread flour instead of all-purpose (still used the rye flour) which only required 40 minutes of kneading rather than the hour I spent on the first loaf. I went to bake it covered with a little steam in the oven for the first half of baking, then uncovered for the last half. I wound up with a beautifully browned loaf with a crunchy crust and great flavor. The only problem is that it seemed a little flat (no cracks on the side, though) and had a very tight crumb to it. Was there something I should have adjusted when I switched to bread flour? Does this recipe really require an hour of kneading and I'm just weak-willed? Also, is there perhaps a different recipe that yields an equally crusty loaf with perhaps less crying and cursing involved?

Oh my goodness, Melanie we're sorry this has been so frustrating! It definitely only needs about 10 minutes of kneading by hand, or 5-7 minutes in a stand mixer. We'd really love to be able to chat with you about this recipe and come up with some ideas on how to make it easier with our friendly Baker's Hotline staff at 855-371-BAKE (2253). We want your next loaf to be tasty and simple! In the meantime, take a look at our recipe for No-Knead Crusty White Bread. Kindly, Annabelle@KAF
This worked very well in a standard loaf pan. One of the wonderful Bakers' Hotline helpers advised me to back the temperature down to 425F and to bake until an internal temperature of 190-200 was reached. I tested the internal temp at 35 minutes and decided to bake it 10 minutes longer, with foil protecting the top crust. This was the perfect amount of time, internal-temperature-wise, and the bread turned out beautifully! I brushed with water instead of spritzing before baking, and I poured hot water into a broiler pan on the lowest rack at the beginning of the baking time to create steam. I will definitely make this bread again!
I recently made this bread replacing all of the rye in the formula for 106grams of liquid starter. I omitted the seeds but kept everything else the same. 18 hours later I had a beautiful loaf with a great crust and a fantastic ear. Thank you!
This is recipe was easy to make, and produced a very professional loaf. I used KA Rye blend instead of pumpernickel flour, but otherwise followed the recipe exactly. Instead of spritzing the loaf, I heated a cast iron skillet in the oven as it preheated and filled it with boiling water just after I placed the loaf in the oven. It resulted in a crisp, crackly crust and chewy interior. I will be making this again!
I'm very new at this. I have one question, may I use boxed bread mixes with this , bread baker with the cover or the baking bowl? I'm wanting to order one or the other, help please, and thank you.

Hi Donna, we'd love to help get your bread baking started in the right direction. To make sure we understand your question and which products you're considering, we encourage you to give our friendly bakers on the hotline a call at 855-371-BAKE(2253). This is the best way to ensure you get the information you're looking for. We look forward to your call. Kye@KAF
Crunchy crust, tender inside -- a perfect bread. I do not add seeds but replace the seeds with an equivalent amount of grams of all-purpose flour and I prefer to shape it into a batard (long oval), baking it at 450 F. for 25 minutes at most (beyond that, the top starts to brown too deeply).