A customized print-friendly version of this recipe is available by clicking the "Print Recipe" button on this page.
All-American Ham and Cheese Roll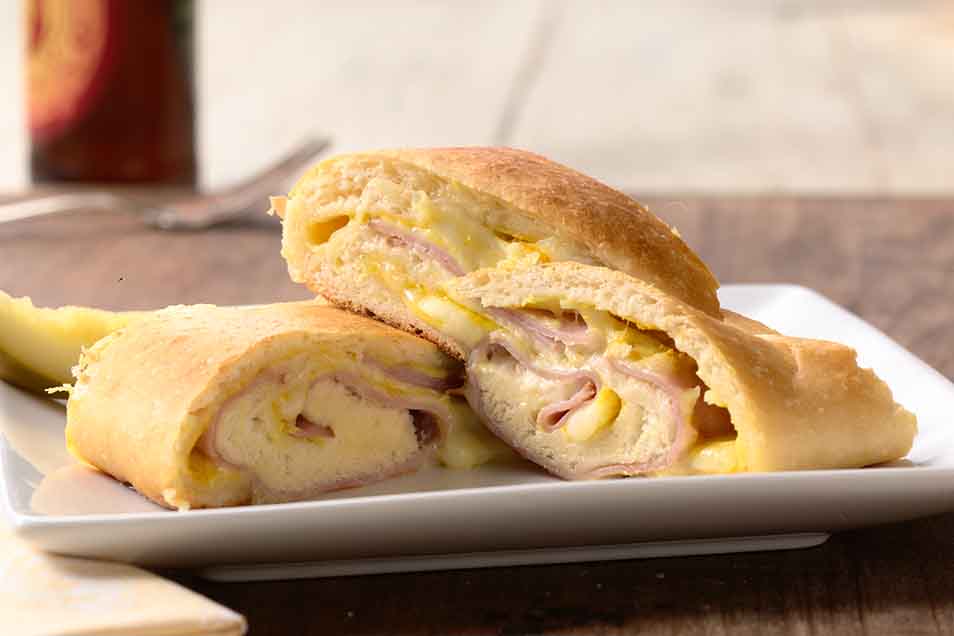 Looking for a sandwich you can grab and eat with one hand, WITHOUT the filling sliding out? You've found it. Ham and cheese are rolled in a sheet of yeast dough and baked, yielding a stuffed sandwich that's a treat to eat.
Ingredients
Filling
mustard
1/2 pound thin-sliced ham
1/2 pound thin-sliced Swiss, Muenster, or American cheese (or the cheese of your choice)
Instructions
Combine all of the dough ingredients, and mix and knead them together — by hand, mixer, or bread machine — until you've made a soft, smooth dough. Allow the dough to rise, covered, for 1 hour.

Roll the dough into a 12" x 18" rectangle.

Brush all over with mustard, leaving a 1" mustard-free zone all around the edge.

Add the cheese in a single layer, then the ham; again, leave the border bare.

Starting with a long edge, roll the dough into an 18" log. Pinch the long seam closed, then fold the ends over and pinch them closed, too.

Curve the log into a horseshoe shape on a lightly greased or parchment-lined baking sheet, seam-side down.

Cover the sheet, and allow the roll to rise for 1 1/2 to 2 hours; it should look puffy, though not doubled. Towards the end of the rising time, preheat the oven to 375°F.

Slash the roll crosswise, about 1/2" deep, at 3" to 4" intervals along its length. There's no need to use a knife for this; making snips with a pair of scissors works just as well.

Bake the roll for 35 minutes, until it's golden brown, tenting it lightly with foil if it appears to be browning too quickly. Remove it from the oven, and allow it to cool for 20 minutes before serving.
Reviews
This is such a great recipe. I use ham slices, raisins, and sliced pimento stuffed olives for the filling. Excellent dough formula. Thank you King Arthur!!!
I have made this recipe many times and it is one of our family favorites. It's a great recipe to make before camping, backpacking, or road trips because it keeps well for a couple of days in a cooler and slices into perfect premade sandwiches. I like adding different herbs to the dough and trying new fillings. The ham and american cheese is fantastic, and it's also great with roasted veggies or stromboli fillings.
Can you tell me how to adapt this recipe to your Gluten-Free Flour of Baking Mix?

This recipe isn't suited to being made with our Gluten-Free Baking Mix, but if you're looking for a tasty cheese-filled bread that's also gluten-free, consider making our Gluten-Free Brazilian Cheese Bun recipe. Or another option is making biscuits using the recipe on the back on the Gluten-Free Baking Mix box and adding in diced ham and cheese to evoke the same flavors in the recipe here. I hope that helps! Kye@KAF
This worked out great after all was said and done. I had a bit of trouble rolling the dough thin enough to get a 12x18 rectangle. It really wanted to shrink back, but I kept at it. Perhaps my dough was a bit dry. I used a bit less water due to it being VERY humid summertime here in South FL. After awhile, I finally had it, a nice thin rectangle. Filled it with stone ground mustard, turkey and cheddar. It made a nice presentation and was delicious too! Even my picky 2 year old, who avoids meat at all costs, ate her little pinwheels with joy. I would give this one ten stars if I could! Thanks again KAF!
Made this for dinner tonight, with a few little changes. Didn't have pizza seasoning so I used some garlic powder, rosemary, thyme and basil. Made the dough in the bread machine, then once it was done, instead of making one big roll, I made two calzone-type things. Used ham and Cabot white cheddar, with stone ground mustard. Tasted quite good.
This was awesome! Aside from my struggle to find potato flour (I ended up using potato flakes-- not ideal, but okay in a pinch), it was super easy to make and so delicious. There's just something about melted American cheese. I hate to love anything that processed, but I do. I'll be using this recipe regularly with a variety of fillings from now on.
I made this type of bread back in the 90's when I was a baker at a university. This & spinach gruyere was very popular. Also made it with brioche. These flavors as well as cinnamon rolls! Very decadent!
Would like to have this recipe in ounces and then I'd try it.
Hi Thom. Our recipes published prior to 2008 didn't have weights, and are in the process of being converted to our current format. It's quite a mountain but a truly delicious task! ~ MJ
In Philly, we roll our dough with thinly sliced pepperoni and sharp provolone. This is a staple at all Eagles games. Of course, Italian sausage, roasted peppers and onions are another popular game food.
This recipe is tasty, hearty, and makes a great homey presentation for our dear family on cold winter nights. My only suggestion, being of German decent, is to try using a horseradish mustard. Really adds a depth of flavor without being overpowering..