A customized print-friendly version of this recipe is available by clicking the "Print Recipe" button on this page.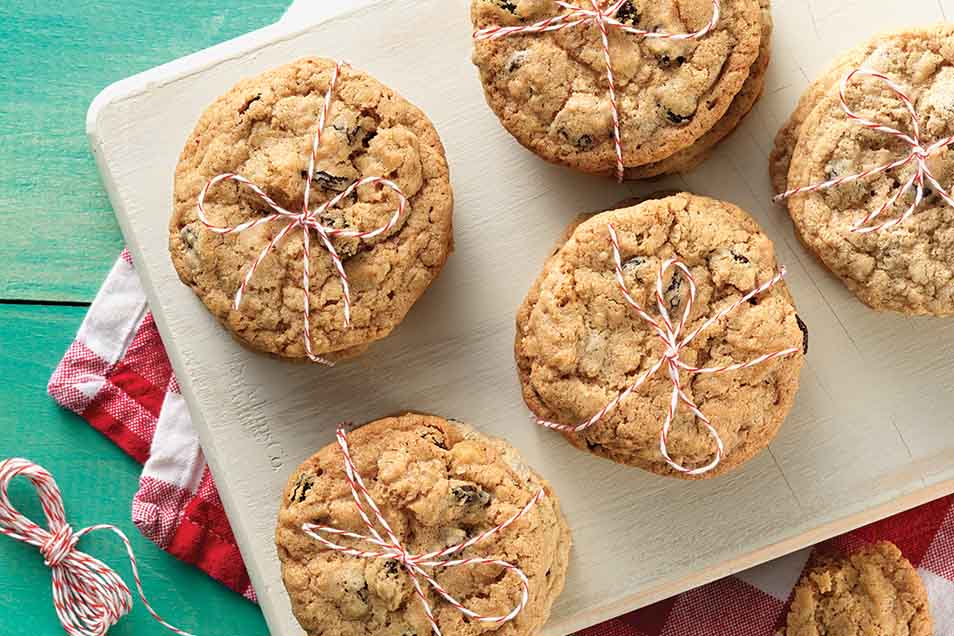 (a.k.a. Cranberry Chocolate Chunk Oatmeal Drops, a.k.a. Kids' Choice Chip & Fruit Oatmeal Cookies ...)

Kids and cookies go together like — well, like kids and just about anything sweet. Given kids' affinity for sugar, you might as well temper it with some of the "good stuff" — in this case, oats with their soluble fiber, and whole wheat flour, with its extra vitamins, minerals, and bran. Trust us: the kids won't know they're getting anything "healthy" in their favorite cookie!


Ingredients
1/2 cup (8 tablespoons) butter, right from the fridge, or at room temperature
1/2 cup vegetable shortening
1 cup brown sugar, light or dark
1/3 cup granulated sugar
2 teaspoons vanilla extract
3/4 teaspoon salt
1 tablespoon cider or white vinegar
1 large egg
1 teaspon baking soda
1 cup quick-cooking rolled oats
3 cups chips, chunks, dried fruit, and/or nuts of your choice
Instructions
Preheat the oven to 350°F. Lightly grease (or line with parchment) two baking sheets.

In a large mixing bowl, beat together the butter, shortening, sugars, vanilla, salt, and vinegar.

Beat in the egg, then the baking soda, flour, and oats. Stir in the chips.

Drop the dough, by tablespoonfuls, onto the prepared baking sheets.

Bake the cookies for 12 to 14 minutes, until they're golden brown. Remove the cookies from the oven, and cool on a rack, or right on the pan. Lighter-colored cookies will be chewier; darker-colored, crunchier.
Tips from our bakers
If you bake the cookies for 12 minutes; they'll be crunchy around the edges, with a slight bend at the center. If you bake for the full 14 minutes, till they're almost a light mahogany color, they'll be crisp/crunchy all the way through.
For smaller cookies (great for smaller kids!), drop the dough by teaspoonfuls onto the prepared cookie sheets, and bake for just slightly less time: 30 seconds to 1 minute less than the larger cookies. Yield: about 7 dozen 2" cookies.
What's vinegar doing in a chocolate chip cookie recipe? Ah-HA! Vinegar is our secret weapon. It tempers cookies' sweetness just a tad, and reacts with the leavener to give them a bit more rise, making them lightly crunchy/chewy rather than hard.
Want to make the dough now, freeze, and bake later? Scoop the dough in tablespoonfuls onto the baking sheet; place them close together to save space. Cover the sheet with plastic wrap, and place in the freezer for about 2 hours, until the dough balls are frozen. Put the dough balls in a plastic freezer bag, removing the air as best you can. A drinking straw, inserted into the almost-closed bag, can be used to suck out air and effectively shrink-wrap the cookies. Keep frozen for up to a month before baking. When you're ready to bake, place as many dough balls as you like on a prepared baking sheet, and let them sit at room temperature while you preheat your oven to 350°F, for about 15 minutes. Bake partially thawed cookies for 15 to 17 minutes, until as brown as you like.
Reviews
I just made these cookies. What a disappointment! They melted more than baked. I used room temp butter and Crisco shortening. For add ins, I used toasted, chopped pecans; dried cherries; and bittersweet chocolate morsels. After the first batch, I tried refrigerating the dough until it was some what firm. That made no difference. They still turned into a thin, spread-out mess. What went wrong? By the way, I just finished baking over 100 dozen cookies this past weekend for my church's Boar's Head Festival and had no problems.

We're genuinely surprised to hear that this well-loved recipe didn't work well for you, Kris. We'd love the chance to talk through the recipe with you, so we encourage you to reach out to our free and friendly Baker's Hotline staff to help troubleshoot at 855-371-BAKE (2253). Kindly, Annabelle@KAF
Absolutely delightful! I baked the cookies for 14 mins as suggested for a bit of crispness. I added approximately 100 grams of chopped walnuts, which was a good choice. I will try adding toffee bits (ex. Heath bar) next time. A great choice for folks who do not favor chocolate.
I made these with a bag of Heath toffee bits as the add in , so I added in slightly less than 2 cups of them. I used a #100 scoop and it made 86 cookies. I also added a teaspoon of Vietnamese cinnamon for a little complexity, and used all butter. I put the butter in the mixer cold and baked off the cookies for 12 minutes. They got golden brown and spread to about 2.5" so they're quite flat, but I have another small batch in the fridge that I'll bake later for comparison. I scooped the rest of the dough on a baking sheet and put them in the freezer so I can bake them as I want them. I was a little worried because I couldn't smell them as they were baking which is very weird to me. Normally I can actually tell by the smell when they should come out of the oven (more weird than not smelling these I know haha) But now that they're out of the oven, they have a lovely smell and I couldn't wait to dive into them! The centers are quite soft, and the edges are crispy. The toffee and cinnamon are such a great combination - I don't think you could pick out the cinnamon if you didn't know it was there but it lends a lovely little oomph. This recipe is certainly a keeper! As baked they're only about 72 calories each and if I'd have left out the toffee bits they'd only be 50. A nice little "decadent" snack!
Any other optional ingredients for vegetable shorthening?

Teresa, feel free to use butter in place of the vegetable shortening in this recipe if you like. The cookies will spread more and be slightly more crisp around the edges. You may want to try chilling the dough for 30 minutes before baking to help control the spread if you end up using all butter. Happy baking! Kye@KAF
What a wonderful recipe. I added 2 cups pecans and 1 cup choc. chips. Perfect! I have not been disappointed yet with a recipe from this website. Thank you!
Way too sweet! I made the recipe as written. 'Cider doesn't temper the sweetness. There is not enough oatmeal consistency & flavor. Ther amount of sugar negates the nutritional value of the whole wheat & oatmeal fiber.
Love this recipe. I have made it with chocolate chips and pecans; butterscotch chips and walnuts (with 1/2 tsp cinnamon, 1/4 tsp nutmeg, and 1/4 tsp ground cloves), and with white chocolate chips and dried cranberries. Cookies are wonderful every time. Adults and kids love them!
Awesome cookie. I have made them several ways. My favorite is dried cherries, dark chocolate chips and walnuts. I also used 1 tsp vanilla and I tsp almond flavor. A fun recipe because you can change it around numerous ways and simple to make.
This recipe is by far the best oatmeal cookie that I have ever made. I like to divide the dough in half, add white chocolate chips and dried cranberries to one half, and butterscotch to the other half. Baked for the lesser time and --DELISH!!! Best cookies ever! - Also, they do freeze well before baking, scooped into balls.
What a great cookie!! I added 1 c pecans, 1 c craisins, and 1 c white chocolate chunks. The whole family loved these chewy/crunchy cookies. I think these are my new favorites!