A customized print-friendly version of this recipe is available by clicking the "Print Recipe" button on this page.
Almond-Dark Chocolate Butter Cookies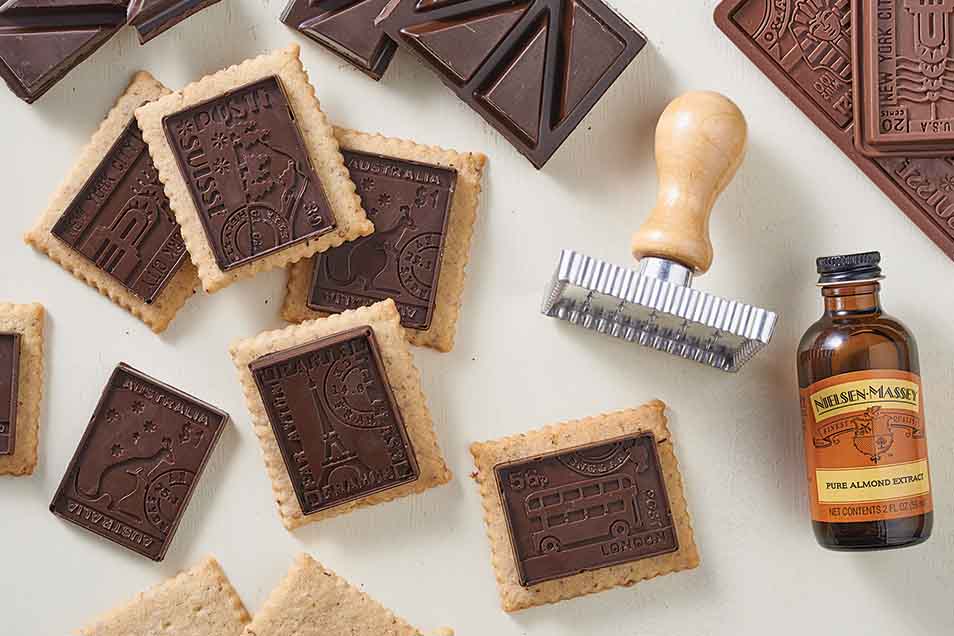 Dressed to impress with beautifully ornate chocolate centerpieces, these crisp/tender, buttery almond cookies are sure to be the show-stopper of your holiday baking assortment this year. The recipe is generous enough that you'll have plenty of cookies for everyone on your "nice list." While the cookies pictured were made with the help of a butter cookie set, you can make them as simple cutouts spread with melted chocolate, if desired.
Ingredients
Topping
3 to 4 cups chopped bittersweet chocolate
Instructions
Beat together the butter, salt, sugars, extracts, egg, and yolk until light and creamy.

Add the flours and mix until well combined.

Divide the dough in half, shape each half into a rectangle, wrap in plastic, and chill for 1 hour or longer.

While the dough is chilling, make the chocolate topping: Heat 2 cups of the bittersweet chocolate in the top of a double boiler (or in a microwave in 30-second increments) until very soft; when you stir it, it should be almost fully melted.

Add an additional 1 cup of the chocolate, stirring until smooth and fully melted; this is a basic way of tempering the chocolate, which will keep it shiny as it sets. See "tips," below.

Place the chocolate molds from your butter cookie set on a baking sheet, and spoon the melted chocolate into the molds. You'll need about a heaping teaspoon of chocolate per mold.

Once all the molds are filled, gently tap the pan to help remove any bubbles in the chocolate. Allow the chocolate to set until hard; refrigerating the molds will help speed up this process.

Once the chocolate is hard, gently remove each piece from its mold then refill the molds with chocolate (re-tempering it if necessary).

Repeat the process five more times, using up the remaining chocolate, until you have 48 chocolate pieces.

To bake the cookies: Preheat the oven to 350°F. Lightly grease (or line with parchment) two baking sheets.

Place one piece of dough on a lightly floured work surface, and roll it 1/8" thick.

Cut out rectangles of dough using the cookie stamp from a butter cookie set; it helps to dust the stamp with extra flour. Place the cookies on the prepared baking sheets.

Bake the cookies for 10 to 12 minutes, until they're just starting to turn golden.

Remove the cookies from the oven, and allow them to cool completely.

To assemble the cookies: Gently spread a thin layer of melted chocolate on the back of each chocolate piece (to act as glue), then place one on top of each cookie.

Allow the chocolate pieces to harden in place before serving or gifting.

Store cookies, covered, at room temperature for up to several days.
Tips from our bakers
If you don't have a butter cookie set, these can be made as simple cutout cookies coated in melted dark chocolate.
For more detailed instructions on tempering, see our blog, Flourish.