A customized print-friendly version of this recipe is available by clicking the "Print Recipe" button on this page.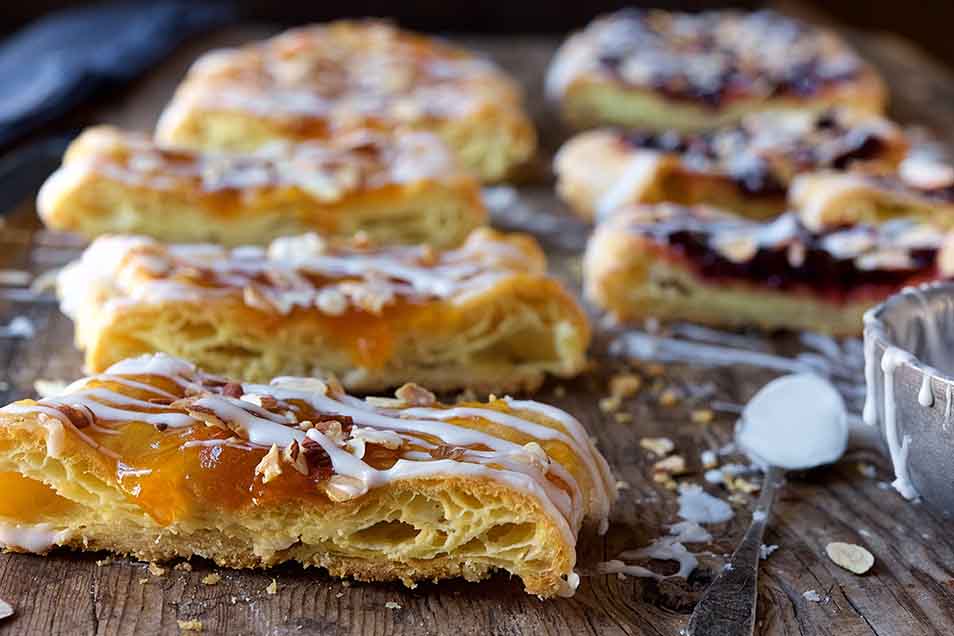 The recipe for this buttery, flaky, tender confection has been around for years and years but, like all fine classics, its beauty never fades. It's incredibly easy to make, yet tastes and looks as though a professionally trained pastry chef might have labored over it for hours. Hey, a little subterfuge never hurts any bakers' reputation!

Baking gluten-free? For great results, substitute King Arthur Gluten-Free Measure for Measure Flour for the all-purpose flour in this recipe; no other changes needed.
Ingredients
Bottom layer
1/2 teaspoon salt
8 tablespoons (1/2 cup) cold butter*, cut into pats or 1/2" cubes
1/4 cup ice water
*Reduce salt to 1/4 teaspoon if you use salted butter.
Top layer
1 cup water
1/2 teaspoon salt
8 tablespoons (1/2 cup) butter*
3 large eggs, at room temperature; warm them, in the shell, in hot tap water for 10 minutes if they're cold from the fridge
1 teaspoon almond extract
*Reduce salt to 1/4 teaspoon if you use salted butter.
Topping
2/3 cup jam or preserves
1/2 to 2/3 cup slivered or sliced almonds, toasted in a 350°F oven for about 7 to 10 minutes, or until they're a light golden brown
Icing
1/2 cup confectioners' sugar
pinch of salt
1 teaspoon vanilla extract or 1/4 teaspoon almond extract
1 to 2 teaspoons milk or water (approximately)
Instructions
Preheat the oven to 350°F. Lightly grease a large baking sheet, or line it with parchment.

To make the bottom layer: In a medium-sized mixing bowl, combine the flour and salt, then work in the cold butter with a pastry blender or fork, your fingers, or a mixer. Mix until everything is crumbly, then stir in the water. The dough will become cohesive, though not smooth.

Divide the dough in half; if you're using a scale, each half will weigh about 5 1/8 ounces. Wet your hands, and shape each piece of this wet dough into a rough log. Pat the logs into 10" x 3" rectangles on the sheet, leaving at least 4" (but preferably 6") between them, and 2" on each side. These puff up in the oven (hence the name), and you need to leave them room for expansion.

To make the top layer: In a medium-sized saucepan, bring the water, salt, and butter to a boil. Make sure the butter is completely melted. Add the flour all at once. Stir the mixture with a spoon or heatproof spatula until it thickens, begins to steam, and leaves the sides of the pan; this will happen very quickly.

Transfer the stiff batter to a mixing bowl, or the bowl of an electric mixer. Beat it at medium speed for 30 seconds to 1 minute, just to cool it down a bit.

Add the eggs one at a time, beating well after each addition; beat until the batter loses its "slippery" look, and each egg is totally absorbed.

Mix in the almond extract.

Divide the batter in half. Portion half the batter onto one of the dough strips, half onto the other dough strip; if you have a scale, each half of batter will weigh about 9 1/2 to 10 ounces.

Working on one dough strip at a time, use a spatula (or your wet fingers) to spread the batter until it completely covers the dough, including its edges. Smooth out the top as best you can.

Bake the pastries for 50 to 65 minutes, or until they're a deep golden brown. If you've used Gluten-Free Measure for Measure Flour, bake for the full 65 minutes. Remove the pastries from the oven, and transfer them to a rack.

To make the topping: If the jam or preserves are very thick, warm briefly in the microwave or on the stovetop. Spread each warm pastry with about 1/3 cup of the jam or preserves. Any flavor is fine, but our favorites are raspberry and apricot. For best results, use something that's fairly smooth, without overly large pieces of intact fruit.

Sprinkle the toasted almonds atop the jam. By this time, your beautifully puffed pastries are probably starting to sink; don't worry, this is all part of the plan. Allow the pastries to cool completely, then drizzle with icing.

To make the icing: Stir together the sugar, extract, and enough milk or water to form a thick but pourable icing. Start with 1 teaspoon liquid; add more, bit by bit, only until the icing is thin enough to drizzle.

Drizzle the icing atop the pastries.

Cut into squares or strips to serve.

Store at room temperature, lightly tented with plastic wrap, for a day or so; freeze for longer storage. Pastry is best served the same day it's made. If you plan on serving it the next day, rewarm briefly in a preheated 350°F oven, then add the jam, nuts, and icing just before serving.
Nutrition Information
Serving Size

79g

Servings Per Batch

16
Amount Per Serving:
Calories

240

Calories from Fat

130g

Total Fat

15g

Saturated Fat

8g

Trans Fat

0g

Cholesterol

65mg
Sodium

20mg

Total Carbohydrate

25g

Dietary Fiber

1g

Sugars

9g

Protein

4g
* The nutrition information provided for this recipe is determined by the ESHA Genesis R&D software program. Substituting any ingredients may change the posted nutrition information.
Tips from our bakers
Avoiding tree nuts? Try topping the pastry with flaked or shredded toasted coconut in place of the toasted almonds.
Want to make this dairy free? Substitute vegan butter for the butter in the pastry; and use water or a vegetable-based milk (soy, almond, etc.) in the icing.
Reviews
This was a hit at Easter. It was my first time making it and I was surprised at how easy it was! I baked it a full hour last night and it ended up just right. As the recipe recommended I waited u til just before serving it today to top it with a strawberry apricot jam, toasted slivered almonds and the drizzle of icing. I'll be making it again!
As other reviewers have said, I have had trouble with this recipe. The top puff layer was not cooking through and even though much of it baked and puffed, there was a raw layer. I discovered that the same recipe appears many, many times on the internet (with many people referring back to the Betty Crocker recipe). So, since so many people love it, I decided to try again using hints I gathered from many sites. It seems to be a very popular vintage recipe. And I have made progress getting it right. First, in my situation, it needs to be baked a full 65 minutes. But I think the thing that has made the biggest difference for me is that most of the sites say to shape the pastries longer - up to 3 x 13 inches. The longer pastries results in a thinner layer of the puff topping and the puff bakes through much better. I have also been careful to be sure I spread the puff layer evenly to encourage even baking. The results have been good. At least that is my experience.

Hi there, Sandy! Thank you so much for sharing your experience with this recipe and the tips you've gleaned during your researching. We're glad that you're having better luck these days but if we can help further or talk through this recipe with you, you can always feel free to give our friendly Baker's Hotline folks a call at 855-371-BAKE (2253). Happy baking! Morgan@KAF
in my opion I never had luck with it .however I keep trying and every time it fails don't know what I am doing wrong . my top layer never rises and bakes thoroughly its like scrambled egg on top. someone please tell what I could possibly be doing wrong I just hate to give up on it

We'd love the chance to talk through this recipe with you, Diane, and get some details, so we encourage you to reach out to our free and friendly Baker's Hotline staff to help troubleshoot at 855-371-BAKE (2253). Kindly, Annabelle@KAF
Hi I just making this today. But I thought more crispy finishing, but end up pretty much not so much 100 % baking inside, that is still , kind a still law inside........even I was baking for 60 minutes ! I wonder why............... It is so much effort to make this recipe , and end up this result...............I am so disjointed.

This sounds like the temperature of your oven might be low or fluctuating during the bake, either because the temperature reading is off (not uncommon at all in home ovens) or because the oven door was opened repeatedly during the process. If you have an external oven thermometer and neither of these was an issue, we'd encourage you to give our Baker's Hotline a call at 855-371-BAKE (2253) so that we can help you troubleshoot further. Happy baking! Kat@KAF
This is tasty and beautiful as reviewers have said although cutting cold butter into flour has never been a favorite of mine. I've made Danish Puff for years and using the softened butter method that is in that recipe is far easier!
I've had this recipe in my lineup for quite a while. I was a little afraid of it, for reasons unknown. Maybe it was the apricot jam that was recommended in the Bakealong challenge. I'm not a fan of apricots, but I bought it anyway. Finally had an occasion to make it yesterday. Wow! It's phenomenal! It's very simple to make, even though there are a few steps to it. I accidentally placed mine on the baking sheet the wrong way, and I worried it would turn into one big puff, but thankfully, each puff behaved and stayed separated. I do recommend wetting your hands when manipulating each segment. You can really handle it well when your hands are wet. I chose strawberry preserves for one, and mixed berry jam for the other, nixing the apricot jam in taste tests. Also, I misread the recipe for the icing and added 1 teaspoon of almond extract instead of the 1/4 teaspoon called for. On its own, the icing was awful, and I didn't realize my mistake until I had already drizzled both puffs with it. I considered throwing it all away and beginning again, but I stuck with it and brought it to church this morning. There weren't any strawberry slices left, and the extra almond flavor really pairs well with the preserves, though I don't recommend going that heavy-handed on purpose. The mixed berry wasn't as popular, so from now on, I'll stick with strawberry preserves. I do recommend weighing out the pie dough and the puff dough, so that your puffs are equally divided. I also use a ruler to make sure everything is uniform in size. Try this. You'll love it!
PJ, I read about this recipe and you were right, it's definitely a fave. Your recipes have always been my go-tos and I'm gonna miss you. Good luck on your next endeavor ;)
I had my doubts about this recipe, but it turned out great! I used almond paste instead of the jam and also did not put the icing on it because my daughter in-law does not like her breakfast pastry too sweet!! The recipe was a little complicated (for me) but I persevered!
Another awesome recipe!!! Used homemade blueberry and strawberry jam and it was a hit at church fellowship. Everyone thinks I'm super baker thanks to these wonderful recipes. And so simple!
thought it was great, until I made the glaze and it was too strong with that amount of vanilla in it. I looked it up in your cookbook and they used less vanilla and a full cup of the xxx sugar. will try again