A customized print-friendly version of this recipe is available by clicking the "Print Recipe" button on this page.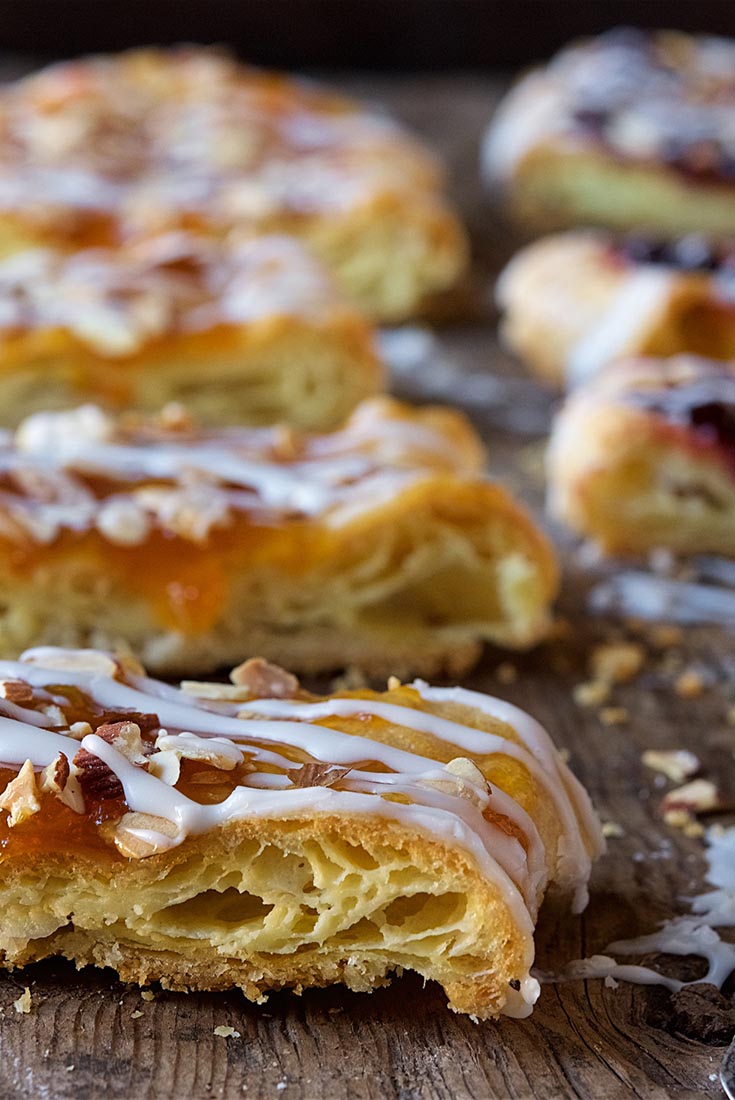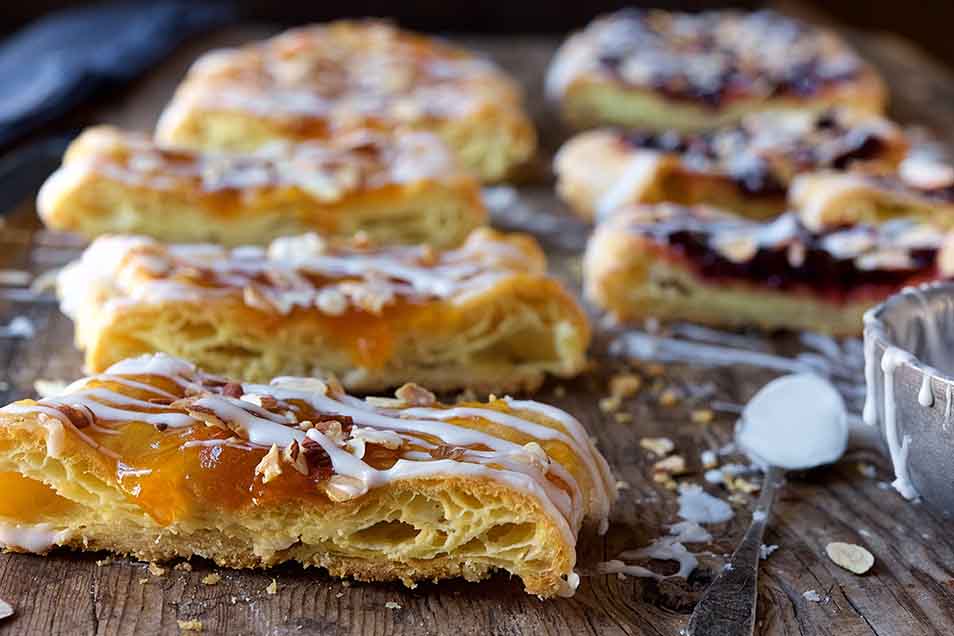 The recipe for this buttery, flaky, tender confection has been around for years and years but, like all fine classics, its beauty never fades. It's incredibly easy to make, yet tastes and looks as though a professionally trained pastry chef might have labored over it for hours. Hey, a little subterfuge never hurts any bakers' reputation!

Baking gluten-free? For great results, substitute King Arthur Gluten-Free Measure for Measure Flour for the all-purpose flour in this recipe; no other changes needed.
Ingredients
Bottom layer
1/2 teaspoon salt
8 tablespoons (1/2 cup) cold butter*, cut into pats or 1/2" cubes
1/4 cup ice water
*Reduce salt to 1/4 teaspoon if you use salted butter.
Top layer
1 cup water
1/2 teaspoon salt
8 tablespoons (1/2 cup) butter*
3 large eggs, at room temperature; warm them, in the shell, in hot tap water for 10 minutes if they're cold from the fridge
1 teaspoon almond extract
*Reduce salt to 1/4 teaspoon if you use salted butter.
Topping
2/3 cup jam or preserves
1/2 to 2/3 cup slivered or sliced almonds, toasted in a 350°F oven for about 7 to 10 minutes, or until they're a light golden brown
Icing
1/2 cup confectioners' sugar
pinch of salt
1 teaspoon vanilla extract or 1/4 teaspoon almond extract
1 to 2 teaspoons milk or water (approximately)
Instructions
Preheat the oven to 350°F. Lightly grease a large baking sheet, or line it with parchment.

To make the bottom layer: In a medium-sized mixing bowl, combine the flour and salt, then work in the cold butter with a pastry blender or fork, your fingers, or a mixer. Mix until everything is crumbly, then stir in the water. The dough will become cohesive, though not smooth.

Divide the dough in half; if you're using a scale, each half will weigh about 5 1/8 ounces. Wet your hands, and shape each piece of this wet dough into a rough log. Pat the logs into 10" x 3" rectangles on the sheet, leaving at least 4" (but preferably 6") between them, and 2" on each side. These puff up in the oven (hence the name), and you need to leave them room for expansion.

To make the top layer: In a medium-sized saucepan, bring the water, salt, and butter to a boil. Make sure the butter is completely melted. Add the flour all at once. Stir the mixture with a spoon or heatproof spatula until it thickens, begins to steam, and leaves the sides of the pan; this will happen very quickly.

Transfer the stiff batter to a mixing bowl, or the bowl of an electric mixer. Beat it at medium speed for 30 seconds to 1 minute, just to cool it down a bit.

Add the eggs one at a time, beating well after each addition; beat until the batter loses its "slippery" look, and each egg is totally absorbed.

Mix in the almond extract.

Divide the batter in half. Portion half the batter onto one of the dough strips, half onto the other dough strip; if you have a scale, each half of batter will weigh about 9 1/2 to 10 ounces.

Working on one dough strip at a time, use a spatula (or your wet fingers) to spread the batter until it completely covers the dough, including its edges. Smooth out the top as best you can.

Bake the pastries for 50 to 65 minutes, or until they're a deep golden brown. If you've used Gluten-Free Measure for Measure Flour, bake for the full 65 minutes. Remove the pastries from the oven, and transfer them to a rack.

To make the topping: If the jam or preserves are very thick, warm briefly in the microwave or on the stovetop. Spread each warm pastry with about 1/3 cup of the jam or preserves. Any flavor is fine, but our favorites are raspberry and apricot. For best results, use something that's fairly smooth, without overly large pieces of intact fruit.

Sprinkle the toasted almonds atop the jam. By this time, your beautifully puffed pastries are probably starting to sink; don't worry, this is all part of the plan. Allow the pastries to cool completely, then drizzle with icing.

To make the icing: Stir together the sugar, extract, and enough milk or water to form a thick but pourable icing. Start with 1 teaspoon liquid; add more, bit by bit, only until the icing is thin enough to drizzle.

Drizzle the icing atop the pastries.

Cut into squares or strips to serve.

Store at room temperature, lightly tented with plastic wrap, for a day or so; freeze for longer storage. Pastry is best served the same day it's made. If you plan on serving it the next day, rewarm briefly in a preheated 350°F oven, then add the jam, nuts, and icing just before serving.
Nutrition Information
Serving Size

79g

Servings Per Batch

16
Amount Per Serving:
Calories

240

Calories from Fat

130g

Total Fat

15g

Saturated Fat

8g

Trans Fat

0g

Cholesterol

65mg
Sodium

20mg

Total Carbohydrate

25g

Dietary Fiber

1g

Sugars

9g

Protein

4g
* The nutrition information provided for this recipe is determined by the ESHA Genesis R&D software program. Substituting any ingredients may change the posted nutrition information.
Tips from our bakers
Avoiding tree nuts? Try topping the pastry with flaked or shredded toasted coconut in place of the toasted almonds.
Want to make this dairy free? Substitute vegan butter for the butter in the pastry; and use water or a vegetable-based milk (soy, almond, etc.) in the icing.
Reviews
It was difficult for me to spread out to 10 inches. I rolled the second one in a cylinder before patting down which helped a bit.
I just made this with the measure for measure gluten free flour. It was a complete failure for me. I had way too much of the choux pastry layer. I should have followed my instinct, and just used less, but I used most of it and the layer was too thick. It puffed, but I wouldn't say it was dramatic. It's mostly kind of raw on the inside, so really not edible. I tasted some around the edges and it was okay tasting - but I think the blandness is because the jam and icing would add so much sweetness. I really don't understand how I wound up with so much choux. I saw another review has this issue but she was encouraged to use weight measuring. Like her, I followed the recipe precisely and I measured very carefully. I'm disappointed it didn't come out for me and of course such a waste of ingredients. But I'll keep trying the MFM flour as having to give up gluten really took the joy of baking away from me.

We're genuinely surprised to hear this didn't turn out well using the Measure for Measure Flour. When we tested it, it made two surprisingly puffy layers. We found that when the dough was split in two before spreading it into the 10" x 3" rectangles, each half of the batter weighed around 4 5/8 oz. We hope you'll give this recipe another try, and our friendly Baker's Hotline staff is available to troubleshoot at 855-371-2253. Kindly, Annabelle@KAF
I have never made a choux pastry or pie style of crust before but this turned out delicious. I used raspberry preserves for the topping. Hopefully, I used teaspoons instead of tablespoons in the icing but I found it far too thin and ended up nearly doubling the amount of sugar before I found a consistency that I liked. I used it sparingly so as not to make it oversweet. As it was thicker it drizzled over the pastry beautifully. Overall everyone loved it and it was gone before I knew it. I will certainly make this recipe again. Next time I might add a small stripe of pastry cream alongside the preserves to make it perfect.
I had been eyeing this recipe for quite sometime and finally made it for a holiday gathering. It seemed intimidating but it was relatively simple. Would it be possible to make a gluten free version? If so, which gluten free flour would you suggest?

Great question, Amelia. We've had excellent success using our Measure for Measure Flour as a 1:1 sub in our Butter Pecan Kringle recipe, which is quite similar to this one, and suspect that it would work beautifully here too. Give it a try and let us know what you think? Mollie@KAF
I made this for my church coffee hour and there wasn't a crumb left. One person even sought me out to say how much he enjoyed it. My question is has anyone tried to put a cream cheese topping on it. I love a cheese danish with the jam but was not sure if that would work. I can't wait to try other options apple jam with walnuts comes to mind
This tasted delicious and I had compliments on it. However it didn't work as depicted for me. The crust turned out to be more like a very short pastry crust rather than "puffy". Although a head scratcher that was okay. My question about the recipe is the middle layer. I had about twice as much as would fit on the 10 x 3 inch crusts. I followed the ingredient list but just had extra. Didn't notice this in any other reviews. Can you point me toward some other recipes in which I can use my leftovers? Thanks

Hi Maribeth, the bottom layer of the Almond Puff Loaf is a bit like pie dough crossed with puff pastry--it's not incredibly light and flaky but instead provides a semi-sturdy base for the other layers. If your first layer wasn't tender or didn't rise at all, it may be that the butter was cut too small. Try leaving it in pea-sized chunks, ensuring that all your ingredients are very cold in order to maximize puff.

The top layer is more like choux pastry, which should indeed puff in the oven. Be sure you're using King Arthur All-Purpose Flour for the best structure, and measure your ingredients by weight using a scale if possible. For a detailed tutorial of how to make this element, check out the article on our blog called "Cream puffs and Eclairs." We hope this helps! Kye@KAF
This was excellent when it was warm but I made it early in the day to serve that evening. The bottom of the pastry became very wet. Did I do something wrong? I want to love this as much when it cools as when it is warm. Please help!

Lucille, to prevent a soggy bottom, be sure your pastry cools completely on a cooling rack instead of a baking sheet or a plate. This will allow the heat to escape without creating condensation. You can also always reheat the pastry slightly in the oven, tented with foil, before serving if you like! Kye@KAF
This was disappointing. I expected more of an almond flavor and even added some grated almond paste to the second layer. Just not delicious enough to make again. It's more of a carrier for the sweet preserves that you put on top, than an almond pastry as the name implies...to me. It needs the preserves, doesn't stand up well on it's own.

Hello Shery- almond is a classic background flavor for many jams, and we're sorry it wasn't nutty enough for you. You did the right thing by adding more almond to it, but there are many other recipes that may please you more on the site, and we'd be happy to help you find one if you'd like. Laurie@KAF
Very good. The second time I made it, I cut back on the amount of jam because it overwhelmed the more subtle flavors of the pastry, but otherwise it was perfect as written. Freezes well.
I HAVE BEEN BAKING THIS RECIPE FOR OVER FORTY YEARS. FRIENDS FROM WAY BACK STILL ASK ME TO BAKE IT FOR THEM. I'VE NEVER HAD IT FAIL EVEN AT HIGH ALTITUDE. EASY TO MAKE AND LOVED BY EVERYONE.