A customized print-friendly version of this recipe is available by clicking the "Print Recipe" button on this page.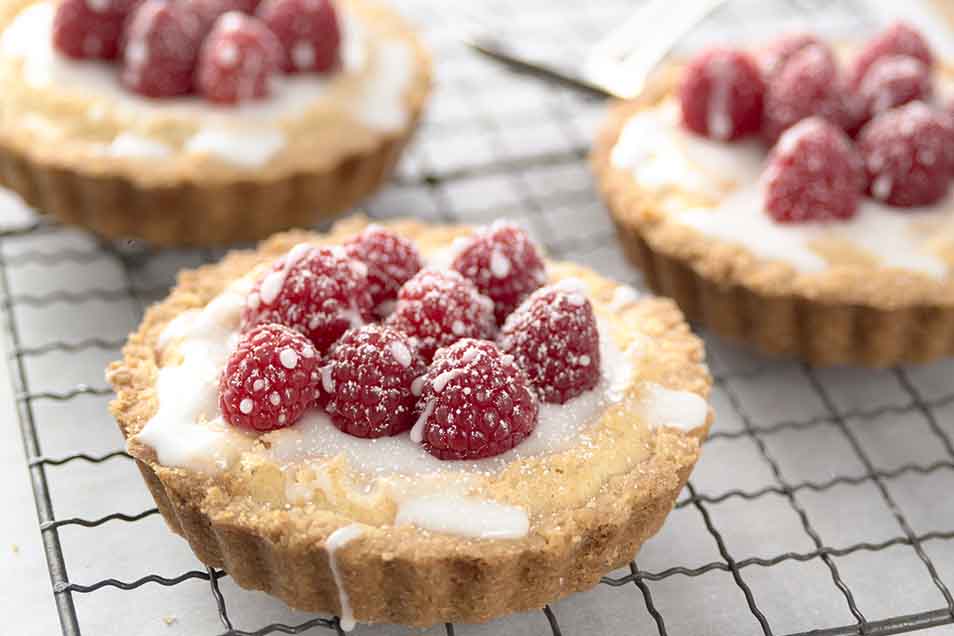 These tasty little tarts, with their sweet, ground almond filling, are a wonderful finish to a light summer meal. Serve with sliced fresh peaches and whipped cream to make them extra-special.
Ingredients
Glaze
1 cup glazing sugar or confectioners' sugar
2 tablespoons milk
raspberries, for garnish
Instructions
Preheat the oven to 350°F.

To make the crust: Beat together the sugar, butter, salt, and extracts.

Add the flours, stirring to make crumbs that cling together when squeezed.

Press the crumbs into the bottom and up the sides of six 4 1/2" mini tart pans (or a full-size tart pan; see tips, at left); prick them all over with a fork.

Freeze the crusts for 15 minutes, then bake them until they're just beginning to brown on the edges, 10 to 12 minutes. Remove from the oven and cool while you make the filling.

To make the filling: Beat together the butter, salt, sugar, flour, and extracts.

Beat in the eggs, then add the almond flour, stirring just to combine. Spread the filling into the crusts.

Bake the tarts for 18 to 24 minutes, until their tops are lightly browned. Remove from the oven, and cool in the pans.

To make the glaze: Stir together the sugar and milk until smooth.

Spread the glaze over the cooled tarts, and top with fresh raspberries or sliced peaches.

Yield: 6 mini tarts.
Tips from our bakers
Want to make one large tart? Press the crust into the bottom and up the sides of a greased 9" fluted tart pan. Prick all over with a fork and freeze for 15 minutes. Bake the crust for 18 to 22 minutes, add the filling, then bake the filled tart for another 35 to 40 minutes, until the top is golden and set.
Reviews
Easy recipe to follow with great results and easy to change with equally good results. First time followed exactly, very moist and delicious. Second time added ground almonds, more almond extract, less sugar, organic blueberries and topped with slivered almonds, better and not as sweet. Third time tripled recipe, made same way as second time but with no vanilla. This recipe is a keeper, love it with the blueberries and extra almonds.
I made the apple fragipane tart on the site and noticed this one was slightly different so I wanted to try it out. It was just as delicious and even cuter since they're tartlets. I did notice the crust was a bit too crumbly so I added a splash of milk. For 6 tarts I weighed out my dough (450 grams) into balls of 75 grams each and it was the perfect amount, rather than just shaping the tarts at random. Added a bit of ginger jam on the bottom as well.
Delicious with a layer of raspberry jam under the almond filling--like a Bakewell tart. I sprinkled sliced almonds on top before baking, and dusted with powdered sugar after cooling, which makes a very pretty tart. I do the 9" tart pan version. This has a permanent place at our thanksgiving table
I made the crust recipe several times, experimenting with more almonds, less flour, more butter, adding heavy cream, etc., since the crust recipe was a bit dry. After weeks of experimentation (I needed to get it right since I'm using this crust recipe to enter a dessert in a contest :), here were the final modifications I made - Kept the flour/almond ratio as stated in the original recipe, however, i used 9 tablespoons of butter yielding a moister and more well behaved crust mixture. I also wanted more of a pronounced almond flavor. I lightly toasted my almonds then ground them to retain the oils. I also increased the almond extract to 3/4 tsp. and decreased the vanilla to 3/4 tsp. The result was wonderful.
Very tasty....but had to modify the recipe to make it work (I've had to do this with several KA recipes...not sure why). I made the crust with exact proportions according to the recipe but I could not get the dough to hold together. I added 2 T vodka and 2 T beaten egg and then it came together nicely. For both the dough and the filling I reduced the amount of sugar by about 1/4, as my preference is a less-sweet European style pastry. I didn't have time to fuss with a bunch of tartlets so I made one 9" tart. End result was DELICIOUS! With the addition of the egg, the crust was very much short bread-like. We omitted the glaze and served it simply with vanilla ice cream and fresh berries.
I made the large tart in a 9' fluted tart pan and followed the directions with fresh raspberries. It came out perfect!
Excellent recipe and flexible. I made this recipe, but made a few changes: using a foil-lined half sheet rather than a proper tart pan, used almonds ground at home in the food processor, and baked it with the convection setting ON in the oven. I had to eyeball it a little bit and drop the temp to 325 and cut the time, but the tart was still excellent and had a crispy crust with a toothsome filling.
These are really easy and a lovely dessert. I added the raspberry jam like suggested, but I'm wondering if melted chocolate would work.
So easy to make and very delicious. I've been looking for a recipe similar to fern tarts sold in Scottish bakeries. These are perfect!
I only used the crust recipe, along with an almond cream and some nice pears, but I will make the recipe as written here soon. Speaking for the crust (for now), it was really excellent.