A customized print-friendly version of this recipe is available by clicking the "Print Recipe" button on this page.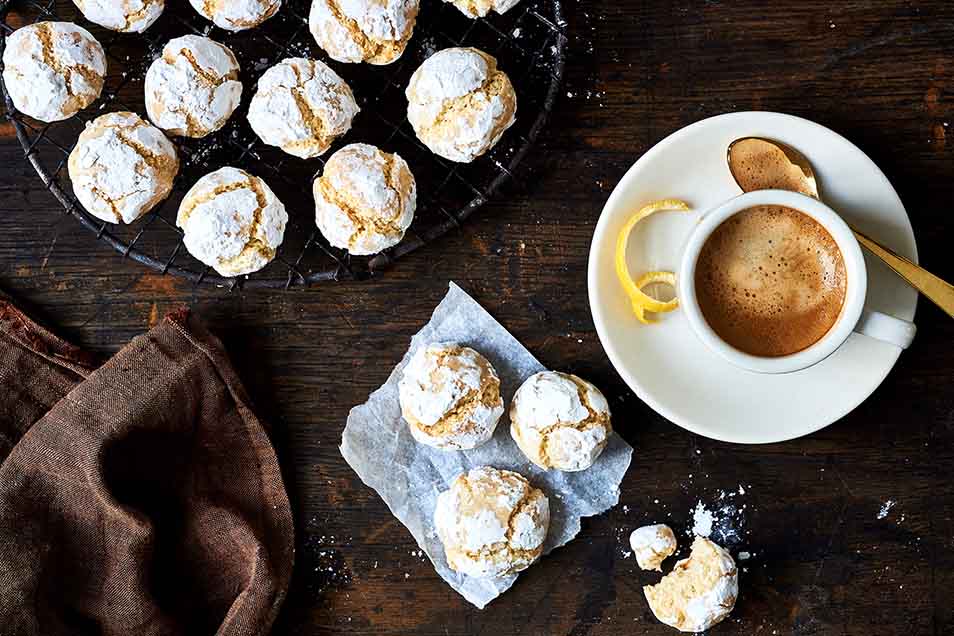 Traditional to Saronno, Italy, these cookies are an amaretto (almond-flavored) variety of France's macarons. When fresh out of the oven and eaten the day they're made, they're somewhat soft, with a slight crunch; they become crispier and crunchier the longer they sit. No matter when you choose to eat them, they're a delightful treat served alongside a morning or afternoon espresso, or cup of frothy cappuccino or latte.
Ingredients
3 cups almond flour
2/3 cup granulated sugar
6 tablespoons confectioners' sugar; plus extra (1 cup or so) for coating
1/4 teaspoon salt
2 large egg whites
1/2 teaspoon almond extract
Instructions
In a large mixing bowl, combine the almond flour, sugars, and salt.

Add the egg whites and the almond extract, mixing until the dough becomes cohesive.

Form the dough into a disk, wrap it in plastic, and refrigerate for at least 1 hour.

Preheat the oven to 325°F. Lightly grease a baking sheet, or line it with parchment.

Scoop the dough into 1" balls; a teaspoon cookie scoop works well here.

Put the extra confectioners' sugar into a shallow bowl. Drop the dough balls into the sugar as you go. Once about five or six are in the bowl, shake and toss the bowl to coat the balls with sugar.

Place the dough balls onto the prepared baking sheet, spacing them about 1 1/2" apart. Gently press down on each ball to flatten just slightly.

Bake the cookies for 25 to 30 minutes, until they've cracked slightly and are a deep golden brown beneath the sugar, but are still slightly soft when pressed.

Remove the cookies from the oven, and allow them to cool for 5 minutes on the pan, then transfer them to a rack to cool completely.
Nutrition Information
Serving Size

15g

Servings Per Batch

36
Amount Per Serving:
Calories

70

Calories from Fat

40

Total Fat

4g

Saturated Fat

0g

Trans Fat

0g

Cholesterol

0mg
Sodium

20mg

Total Carbohydrate

6g

Dietary Fiber

1g

Sugars

5g

Protein

2g
* The nutrition information provided for this recipe is determined by the ESHA Genesis R&D software program. Substituting any ingredients may change the posted nutrition information.
Reviews
Cookies came out 'good' but not great and not what I hoped for. Followed directions perfectly. And with recommended 1 inch balls was only able to get 24 cookies. Will continue to search for that illusive amaretti recipe that I remember from childhood.

We're sorry to hear that this well-loved recipe didn't do the trick for you, Loretta. If we can help pick out a recipe that better fits your tastes, please give our Baker's Hotline a call at 855-371-BAKE (2253). Kindly, Annabelle@KAF
This is one of those recipes that's easy to make and never fails to impress. In making it, I form the dough into a block and cut it into 36 (reasonably equal) pieces. I have found that I get better coverage (and less waste) by rolling them in a half cup of confectioner's sugar. Also, I bake them on silicone baking sheets, the reusable alternative to parchment.
This was a good recipe with just a couple of quick changes. I didn't have time to read all the reviews so someone else may have commented on this already. If so, sorry! I only baked my cookies for about 20 minutes (my oven is kinda wonky and doesn't heat evenly on a consistent basis. I would think 22 minutes might be ok for others who have a dependable oven. Also, rather than rolling the balls into the powdered sugar and then baking, I baked the cookies first and them, while they were still pretty warm, I dipped just the tops into the powdered sugar. I've made tons of Pfeffernuese cookies in my lifetime and learned early on that the bottoms of the cookies will get a very hard coating from the baked powdered sugar. You'll do yourself a favor, too, because it's less work this way and also less mess. I set the bowl of powdered sugar in the sink and had a piece of waxed paper (or parchment works, too) right handy to set the cookies on because they're going to be quite warm. My grandkids loved these!
I made these a few times and even doubled up on the recipe. I always get people asking me for the recipe. I have even replaced the real egg whites with the ones from a carton and that also worked out really well! So easy to make without using a lot of tools and makes little mess. I will definitely be making these whenever I have a function. Good all year round pleaser. BTW, these cookies have a soft, chewy texture like a pignioli cookie has but without the pignioli nuts. Yum!
I love this recipe, as it comes together in just a few minutes, and the result is a tasty treat! I did only bake mine for 20 minutes, per other reviews that they came out too hard at the full bake time. Mine had crunchy bottoms and edges, and chewy centersperfect, according to my taste!! They are a good option for when entertaining gluten-free guests.
Made these today while the kids were home for a snow day. Delicious - I remember these cookies from when I was a kid. Very light, delicate and full flavored. Super easy to put together - luckily I had enough Almond flour - I usually keep it on hand for KAF's Caribbean Rum Cake (wow!). We're not a GF family but I would imagine these would be a welcome treat.
Yum! I added more egg white to get the dough a little stickier and I doubled the amount of almond extract, which might have been too much. Cooked for 25 minutes exactly, and the cookies came out great! Soft in the inside, hard on the outside, no burnt bottoms! Delish! (And also- these cookies, in Italy, are supposed to be hard as rocks, like biscotti, so they soften up nicely with your coffee. I took mine out when they were soft because I generally like things squishy.)
So easy and perfect! I baked for 28 minutes. The edges are crispy and the centers are a little chewy. These are going on the Christmas platter! Great GF cookie.
I made this recipe recently as we had a guest coming over who couldn't have gluten. They turned out great! Everyone enjoyed them, even those who didn't need to eat gluten free. Stored them in a plastic tub, and they stayed mostly soft for nearly a week. I actually enjoyed the chewiness after the first day. About to make these again!
This recipe has a huge error regarding the baking time. I've always enjoyed baking with KAF recipes which hadn't disappointed me until now. the cookie dough looked good out of the fridge after several hours then I started putting cookies into my oven and waited 25 minutes. unfortunately cookies turned out horrible. they were burned on the bottom and rock hard on the top. I guess those were definitely overbaked by far. I suggest to adjust the baking time in the recipe - maybe 15-20mins or less? any suggestions on accurate baking time?

Ahra, we're sorry to hear you were disappointed with the outcome of these cookies. They are supposed to be somewhat dry by design, which is typical in the Italian cookie word since they're often used in other baked goods. However, it sounds like your oven may have been running hot if they were burned, so try reducing the oven temperature to 300°F and check for doneness about five minutes earlier. Also bake the cookies on doubled-up pans to prevent the bottoms from getting too much direct heat. This will give you the slightly softer cookie you are looking for. (Also try dunking them in a cup of coffee!) I hope this helps. Kye@KAF