A customized print-friendly version of this recipe is available by clicking the "Print Recipe" button on this page.
American Irish Soda Bread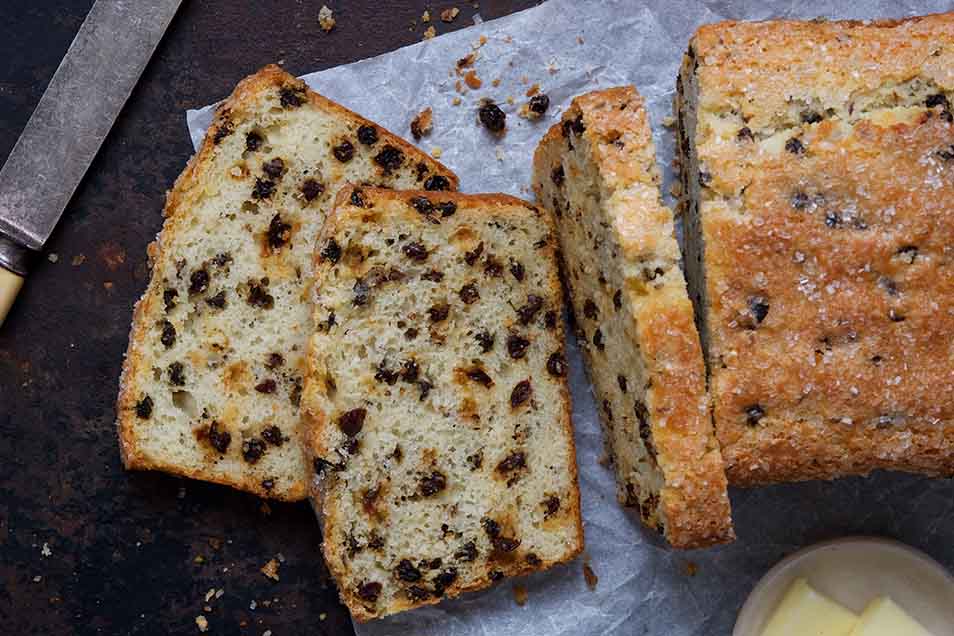 This sweeter, richer version of Irish soda bread is more in tune with American tastes than the traditional Irish bread, which simply combines flour, baking soda, salt, and buttermilk. Still, it's not as sweet as many American soda breads; chewy and light, most of its sweetness comes from its currants, and a crackly-crunchy sugar crust.
Ingredients
Bread
3 cups Pastry Flour Blend or King Arthur Unbleached All-Purpose Flour
1 tablespoon baking powder
1/4 teaspoon baking soda
3/4 teaspoon salt
heaping 1/2 cup granulated sugar
1 cup currants or raisins
1 tablespoon caraway seeds, optional
1 large egg
1 3/4 cups buttermilk*
4 tablespoons butter, melted
*No buttermilk in the house? Substitute 1 cup milk + 3/4 cup (one 6-ounce container) plain or vanilla yogurt
Instructions
Preheat the oven to 375°F. Lightly grease a 9" x 5" loaf pan.

In a large bowl, whisk together the pastry blend or flour, baking powder, baking soda, salt, sugar, currants, and caraway seeds.

In a separate bowl, or in a measuring cup, whisk together the egg and buttermilk (or milk and yogurt).

Quickly and gently stir the wet ingredients into the dry ingredients.

Stir in the melted butter.

Spoon the batter into the prepared pan. Draw your finger around the edge of the pan to create a "moat." Drizzle the bread with the 1 tablespoon of milk; the moat will help prevent the milk from running down the sides of the loaf. Sprinkle with the coarse sugar.

Bake the bread for 50 minutes to 1 hour, or until a cake tester inserted into the center comes out clean; the interior of the bread will measure 200°F to 210° on an instant-read thermometer.

Remove the bread from the oven, loosen its edges, and after 5 minutes turn it out onto a rack to cool. Cool completely before slicing. Wrap airtight and store at room temperature.

Yield: 1 loaf.

This recipe reprinted from The Baker's Catalogue, Spring through Summer 2001.
Reviews
My Irish MIL gave me a recipe very similar to this one. Less butter, more raisins and baking soda, no caraway seeds. I make it for the family now that she's passed. She did tell me a secret to making it taste better that she found out by accident, but I can't tell you, otherwise it wouldn't be a secret! <g> But did you know that buttermilk last a lot longer than the sell by date on the carton? A LOT LONGER!
My parents are from Ireland. I grew up in America eating my mother's Irish soda breads and other Irish breads and cakes. I made this American Irish soda bread recipe today and my parents loved it. It's delicious. We shared it with some Irish neighbors and after just a few hours out of the oven the bread is almost gone. My mother wants me to bake another one tomorrow. I'll add more raisins to that one. It's not a traditional Irish soda bread (as the recipe says) but it's delicious and will be added to my family's various Irish soda bread recipes.
An excellent version of soda bread. I used a little less sugar (1/4 cup) and a few more raisins than the recipe calls for and it came out perfect. Very moist. The entire family loved it.
Fantastic recipe! The bread turned out perfectly. Sweet but not too sweet. I did use whole wheat pastry flour for the pastry flour blend, and maple sugar for the white sugar. Thank you KA!
I made this bread for St. Patrick's Day. It was so easy and delicious. I will definitely mak it again.
Well KA you did it again. This was excellent. Had company over for St.Pattys day and everyone loved it. This is so easy to make and just tastes great. Not too sweet which is great. Again I used gram measurments which for me works so well. I really like that you give us the options. I did take baking in culinary school so I do know that weighing out ingredients is more accurate.
This may not be traditional Irish Soda Bread, but it is delicious. I used the yogurt/milk combination (since I make my own yogurt, I always have several jars of plain yogurt in the refrigerator), and it worked very well. I didn't put the sugar topping on the loaf, since it was already sweet enough. The only trouble is that with just two of us now, the bread does begin to dry out before it is done. I discovered that if a slice is buttered on both sides and grilled in a frying pan, it is a delicious breakfast!
Delicious, I softened the raisins first
I baked this for our St. Patrick's Day family dinner and everyone loved this bread!
I baked 2 loaves of this last night. I omitted the caraway seeds and used raisins. I didn't have any icing sugar, but I did have some drying up brown sugar, so I did the milk moat, and crumbled the brown sugar up with my fingers as I sprinkled it over the milk. I was worried when I took the loaves out of the oven, because even though my thermometer said they were fully baked, they still felt a little squishier inside than I liked. But I let them cool overnight, sliced them both open this morning, and they looked and tasted great. No, this isn't the "true" Irish soda bread, but it's absolutely delicious!