A customized print-friendly version of this recipe is available by clicking the "Print Recipe" button on this page.
New England Anadama Bread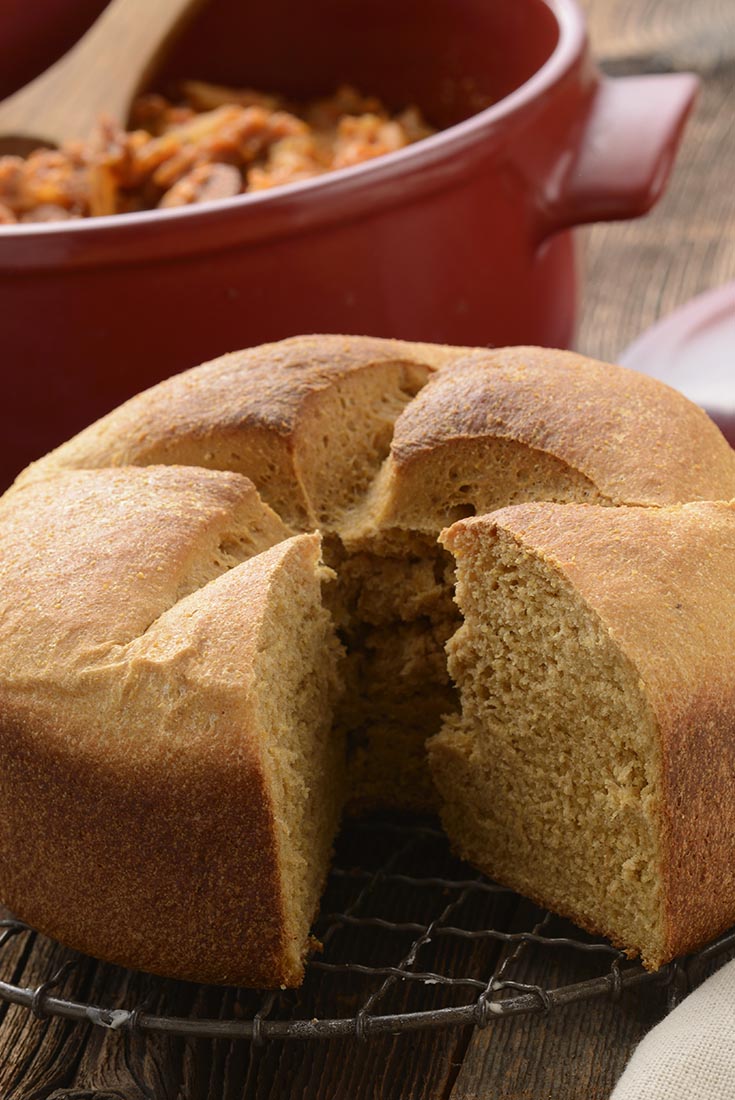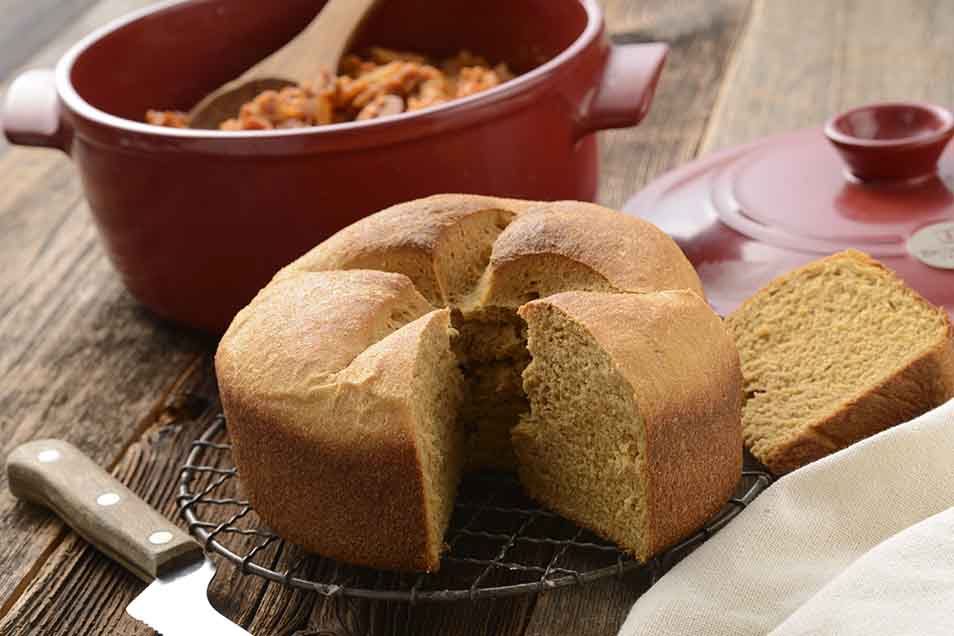 There are many versions of how this bread came into being. They're all similar, but each varies slightly. The general consensus is that a New England woman named Anna provoked her husband — some say through laziness, others say from baking the same bread daily, or for not finishing her bread-baking. The husband either threw a bag of cornmeal at her and missed, but spilled it into the dough; or he grabbed cornmeal instead of flour and tried to finish her bread. He muttered, "Anna, damn her!"

The story's origin may be confused, but this simple loaf of flour, cornmeal, yeast, and molasses has graced New England kitchens for years. This hearty bread is great for sandwiches, and good with any number of soups.
Instructions
Whisk together the cornmeal and salt.

Add the butter and molasses to the bowl.

Pour in the boiling water, stirring until the butter has melted and the mixture is smooth. Let the mixture cool to lukewarm, about 15 minutes.

Mix in the dry milk, flours, and yeast. Let the dough rest for 20 minutes; this gives the flours and cornmeal a chance to absorb the liquid.

Knead the dough for about 7 minutes at medium speed of a stand mixer, until it's smooth. It'll be quite stiff, but still fairly sticky on the surface. Cover the bowl, and let the dough rise until it's just about doubled, about 1 hour.

Gently deflate the dough, and shape it into an 8" log. Place the log in an 8 1/2" x 4 1/2" loaf pan, cover the pan, and let the dough rise until the center has crested at least 1" above the lip of the pan, about 90 minutes.

Towards the end of the rising time, preheat the oven to 350°F.

Bake the bread for 35 to 40 minutes, until an instant-read thermometer inserted into the center registers at least 190°F. You may want to tent the bread loosely with aluminum foil for the final 15 minutes of baking, if you prefer a lighter crust.

Yield: 1 sandwich loaf.
Reviews
I've tried to make this recipe twice before I tried King Arthur's version and failed miserably. I did have a few hiccups. The dough was a dry but I added a bit of water as per the suggestion and it worked out fine. It also took a look longer for the dough to rise but being zero degrees outside I assume my house was colder than normal. Patience paid off. The loaf turned out great. This will be a great for my huevos rancheros!
Great loaf of bread. Rose *really* fast in the pan (probably due to weird weather plus maybe a kitchen full of happy yeasts--have been baking a lot of bread in there lately!) and I had to rush to get the oven pre-heated in time to bake it. We loved it warm with butter and honey and it makes great toast too.
This is the second time I have made this bread, and have been disappointed in the results. Bread did not rise at all (and yes, yeast was fresh). I got identical results (not good) from both times with this bread.

We have a full team of friendly bakers on the hotline who are here are ready to help, Jayne. We'd love to hear more about your ingredients and methods so we can come up with a way to improve the results of this classic New England favorite, Anadama Bread. Give us a call when you're ready to chat: 855-371-BAKE(2253). Kye@KAF
Made the sourdough version of this bread in the 200th anniversary cookbook. I really like this bread. Makes great tuna fish sandwiches. I enjoy it just toasted with butter to. I will be making this again and again. If you make the sourdough version, make sure you have plenty of time. Started the bread at 9 am and it did not go into the oven until 10:30 pm that night.
My Mom always made Anadama bread. My husband had never had it until he met my Mom. I bake alot but never much with yeast. Well my Mom has passed and I decided I would give it a try. Although nothing will compare to mom's, I must say I am very pleased with the outcome as is my husband. i will definately be making this again... and soon, as the first loaf disappeared so quickly.
This is a tasty bread. I used KA whole wheat flour rather than white whole wheat which yielded a lovely, dark loaf. I'll definitely make this bread again.
This bread is delicious and easy. Well worth the effort!
Nice, rich, flavorful. Following up on the "dry" discussion, I did not have milk powder, but I had whole milk. Figured 8 oz water + 1 oz milk powder = 9 oz milk. Also, instead of boiling the liquide and pouring over the cornmeal mixture, I heated it in a pan, whisked the cornmeal in, and gently stirred for a minute or two as if I was making polenta. I figured the point of the boiling water was to eliminate the uncooked taste and activate enzymes, and this seemed to do the trick. I have always enjoyed the Anadama recipe in Bernard Clayton, but this is the new standard. Thanks, Kaf.
Fabulous sandwich bread. Took no liberties with the recipe -- it's terrific as is!
Followed exactly and did have the dry problem. So, performed a little experiment. If most people like me, measured the water and then boiled, it will be dry due to the amount of water lost to steam when the water boils! I measured one cup of water before and after boiling and yep, significant loss! Simply a matter of physics. Suggest measuring water after boiling. I put my bowl on a scale, zeroed it out and then poured in the water by volume. Be careful as it is hot or simply add a bit of wTer as others did to the dough to get the required texture to the dough. Amazing what a little science can solve!
Great thinking, Sandra! Careful flour measurement is also key and we're glad to hear that you use the scale for best accuracy with your ingredients. Thanks for sharing your recipe success - happy baking! Irene@KAF