A customized print-friendly version of this recipe is available by clicking the "Print Recipe" button on this page.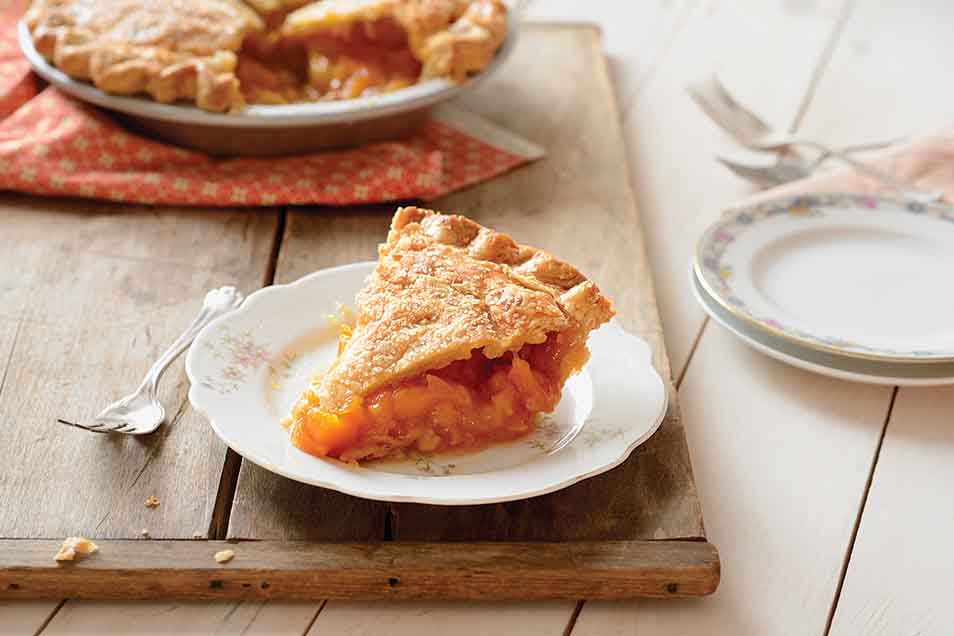 Enhanced with dried apricots, or made half-and-half with frozen raspberries, you'd never know this luscious peach pie is made from frozen fruit. Enjoy it at any time of the year.
Ingredients
Filling
two 16-ounce bags frozen peaches, partially thawed, about 6 cups sliced peaches
1 cup chopped dried apricots
3/4 cup sugar
6 tablespoons Pie Filling Enhancer or 3/4 cup King Arthur Unbleached All-Purpose Flour
1 teaspoon vanilla extract
1/8 teaspoon almond extract, optional
1/8 teaspoon salt
3 tablespoons fresh lemon juice
2 tablespoons butter, melted
Instructions
Preheat the oven to 425°F. Get out a 9"-diameter pie pan that's at least 1 1/4" deep. Or use a 9" to 10" cast iron skillet.

Coarsely chop the semi-thawed peaches; a few pulses in a food processor makes short work of this.

Mix the peaches with the remaining filling ingredients, stirring till thoroughly combined.

Roll half the crust into a 13" circle, and lay it in the pie pan or cast iron skillet.

Spoon the filling into the crust.

Roll out the remaining crust, and lay it atop the filling. Press the edges together, and crimp.

Brush the crust with milk, and sprinkle with coarse sparkling sugar, if desired. Cut several slits in the top, to allow steam to escape.

Bake the pie for 15 minutes. Reduce the oven heat to 350°F, and bake the pie for an additional 30 minutes, till the edge of the crust is brown. Cover the edge with a crust protector, or with strips of aluminum foil, to prevent over-browning.

Bake the pie for 15 to 20 minutes more, till the top crust is browned and the filling is bubbly.

Remove the pie from the oven, and allow it to cool completely, preferably overnight, before cutting.

Yield: 9" pie, 8 to 10 servings.
Tips from our bakers
For a tasty, pretty garnet-colored filling, substitute a 12- to 16-ounce bag frozen raspberries for half the frozen peaches.
There are many different thickening options available for fruit pies, from flour to cornstarch to Instant ClearJel and more. For an easy guide to thickener substitutions, see our Pie Filling Thickeners Guide.
Reviews
Confessions; "I used store bought crust."The crust was a little soggy on bottom. Could have been the inferior crust or... my pie plate is a thick pottery one. Maybe not good for fruit pies? But the peaches were frozen last summer and they were superb! So I took a chance on this pie. I had frozen the peaches in 2 qt zip bags. I could tell from past experience this was going too way overfill my pie plate so I set aside a cup for snacking. Used tapioca instead of flour for thickener, about 1/8 cup. I loved the wonderful fruity flavors of peach apricot plus that little almond flavor! Next time I'll perfect the crust!

Hi Fleur! If possible, we'd recommend using a metal pie pan as it does a much better job of crisping up the crust. Check out our blog article "How to get pie crust to brown on the botton" for many tips on preventing the dreaded soggy bottom. Annabelle@KAF
Fantastic recipe! I did 5 cups frozen peaches and 1 cup rasberries, and it was perfect. I, like other reviewers, was hesitant about the amount of flour, but it we just right. Brushed with milk and sprinkled with sugar for theblast 5 mins of baking made a perfectly browned and sparkly crust. Thank you for the great recipe! Will definitely be making it again!
I was a bit skeptical about 3/4 cup flour mixed in the filling, because I tasted it before filling the pie with it, and found it to be a bit much. It tasted like paste. But everything absorbed and blended, and it was absolutely delicious!
I love peach pie and now I can make it any time of the year. I used the KAF Pie Filling Enhancer and the filling was wonderful. Fresh peachy taste and I also used the KAF Classic Double Crust recipe. All in all this was a delicious combination.
My family had a hankering for a peach pie. But this not being that two-week window in August when you can get "real" peaches, I didn't know what to do. Thank goodness for the nice folks at King Arthur who pointed me to this recipe. The frozen peaches worked just fine and were full of flavor, and the dried apricots (I chopped them up in the food processor too) added a nice firm texture to the filling. This recipe is definitely a keeper!
A delicious way to have summer on a plate in the winter-time. I have made this with store bought frozen peaches, and this summer I remembered how good it was and measured out 6 cups of fresh peaches and froze them with a little Fruit Fresh to keep the color. I used Instant Clear Jel instead of the flour/pie enhancer as I read below in other comments and it was marvelous. I used my food processor to chop up the dried apricots as well and I liked the small texture of that compared to cutting by hand. This pie was a home run!!
Even though it's peach season here in the Carolina's, I decided to try this recipe to take to a get together tonight because, quite honestly, I was too lazy and tight on time to want to peel and pit peaches. ;) I did take the time to try the crust recipe though, and I must say, it was worth the effort. I usually don't care for fruit pies...often gummy, or too runny...I enjoyed that this pie didn't ooze everywhere and kept it's shape well after cutting, without the gumminess. (I used the 3/4 cup KAF AP flour rather than pie enhancer.) I used 1/2 cup of chopped dried apricots as well as 1/2 cup dried blueberries. I thought both were delightful. I expected the apricots to get a little softer while baking, but the difference in texture was nice. Needless to say, I didn't bring home any leftover pie. Thanks!!
This recipe makes a really pretty pie and I appreciate the fact that it is made with frozen peaches so it can be made year 'round. My family did not care for the addition of the dried apricots. The apricot flavor overwhelmed the peaches. I might try it again without the apricots.
Excellent pie, and I usually don't like peaches! The crust really wasn't big enough for a 10" skillet. It just came to the sides. I was, though, able to push the sides in to crimp the top crust to the bottom. Next time, however, I will use 2/3 of the crust dough for the bottom, and 1/3 for the top. Or make more crust dough. I'm new to cast iron pans. We moved from CA, where the kitchens were much smaller. I didn't know anyone who had cast iron in their limited cupboard space. Now that I've moved to a larger kitchen, I bought my first one. Lodge Cast Iron is made near here. I love the crust made in this pan, not soggy at all! Thanks for the email that mentioned this recipe. I love a pie where you don't have to chop a lot!
I wonder if you could use ClearJel as the thickener? Yummy!
Sure, use 1 tablespoon of ClearJel per cup of peaches used. ~Amy