A customized print-friendly version of this recipe is available by clicking the "Print Recipe" button on this page.
Apple Cider Baked Doughnuts with Maple Glaze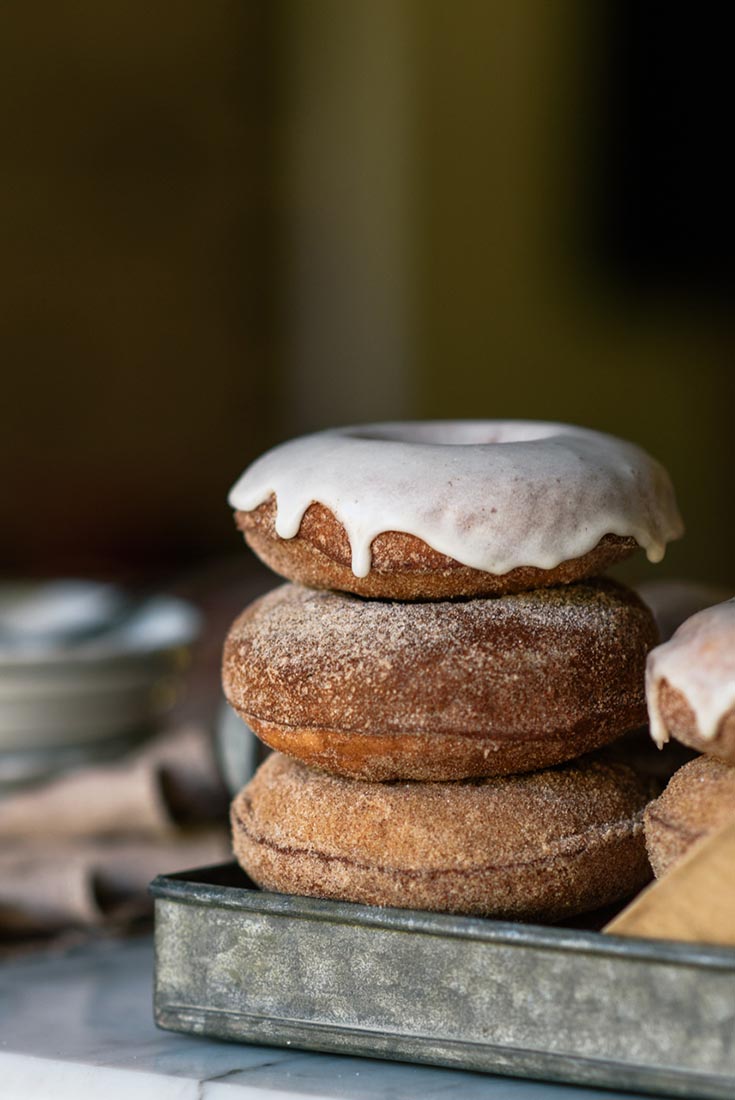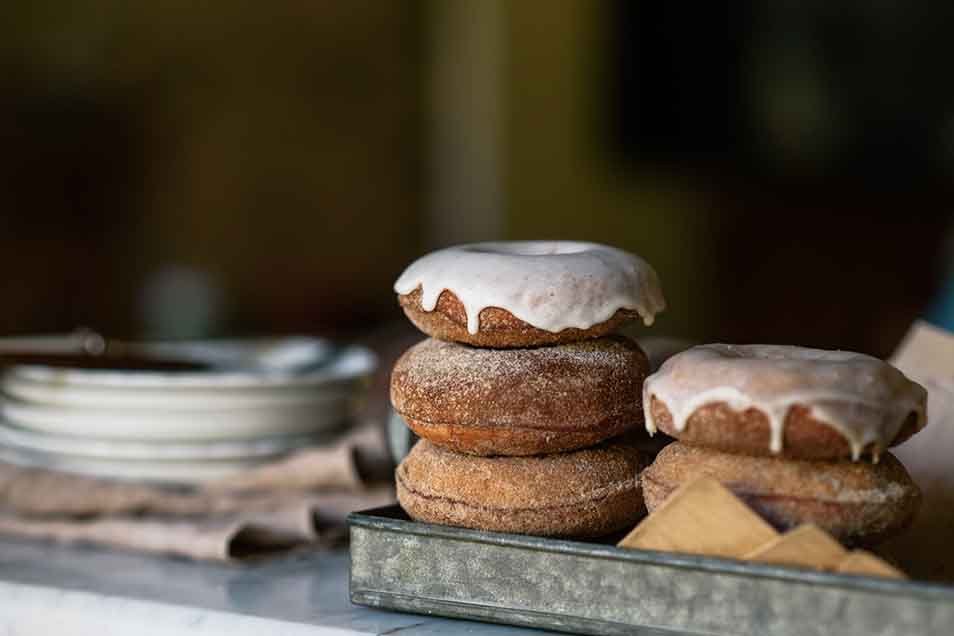 Boiled cider — apple cider boiled until it's thick as molasses — lends its wonderful flavor to these tender, moist cake doughnuts. Better still, the doughnuts are made with 100% whole wheat flour; and they're baked, not fried, so no need to stand over a pot of spattering oil. A thick maple (or cider) glaze is the perfect final touch, but feel free to simply dust with cinnamon-sugar instead, if desired.

Recipe update: Thanks to reader feedback, as of 11/30/17 we've reduced the salt in this recipe and increased the boiled cider/applesauce, both to improve the doughnuts' flavor.
Ingredients
Doughnuts
1/3 cup vegetable oil
3 large eggs
1 1/4 cups granulated sugar
1 cup applesauce, unsweetened preferred
1/4 cup boiled cider; or 6 tablespoons additional applesauce
1 1/2 teaspoons vanilla extract
1 teaspoon ground cinnamon
1 teaspoon salt
1 1/2 teaspoons baking powder
2 cups +2 tablespoons King Arthur White Whole Wheat Flour or 2 cups King Arthur Unbleached All-Purpose Flour
*See "tips," below.
Glaze
1 1/2 cups confectioners' sugar
3 tablespoons maple syrup*
3/4 teaspoon maple flavor, optional; for enhanced flavor
pinch of salt
2 teaspoons milk or 1 tablespoon heavy cream; enough to make a spreadable glaze
*For apple cider glaze, see "tips," below.
Instructions
Preheat the oven to 350°F. Lightly grease two standard doughnut pans. If you don't have doughnut pans, you can bake these in a standard muffin tin; they just won't be doughnuts.

Beat together the oil, eggs, sugar, applesauce, boiled cider, vanilla, cinnamon, salt, and baking powder until smooth.

Add the flour, stirring just until smooth.

Fill the wells of the doughnut pans nearly to the rim; use about 1/4 cup of batter in each well. If you're making muffins, fill each well about 3/4 full; the recipe makes about 15, so you'll need to bake in two batches (unless you have two muffin pans).

Bake the doughnuts for 15 to 18 minutes, or until a cake tester inserted into the center of one comes out clean. If you're making muffins, they'll need to bake for 23 to 25 minutes.

Remove the doughnuts from the oven, and loosen their edges. After about 5 minutes, transfer them to a rack.

While the doughnuts are still warm (but no longer fragile), gently shake them, 1 or 2 at a time, in a bag with the cinnamon-sugar. If you've made muffins, sprinkle their tops with sugar. Allow the doughnuts or muffins to cool completely before glazing.

To make the glaze: Mix together all of the glaze ingredients, stirring until smooth.

Spread the doughnuts with glaze (or dip tops in glaze); return to the rack until the glaze is set.
Nutrition Information
Serving Size

107g

Servings Per Batch

12
Amount Per Serving:
Calories

310

Calories from Fat

60g

Total Fat

7g

Saturated Fat

1g

Trans Fat

0g

Cholesterol

45mg
Sodium

370mg

Total Carbohydrate

60g

Dietary Fiber

3g

Sugars

44g

Protein

4g
* The nutrition information provided for this recipe is determined by the ESHA Genesis R&D software program. Substituting any ingredients may change the posted nutrition information.
Tips from our bakers
To make apple cider glaze: Follow the maple glaze instructions, substituting boiled cider for the maple syrup, increasing the sugar by 1/4 cup, and omitting the maple flavor.
The maple glaze formula is written for real maple syrup; if you use imitation syrup, start with 2 tablespoons instead of 3; artificial syrup is thinner than real syrup.
Reviews
These were AH-MAZING! We had some leftover apple butter and used that instead of boiled cider, but think it would've turned out about the same either way. Super light, not an overpowering taste, and not super sugary. Rose perfectly and were less dense than a store bought cake donut.
Just got this bundle and was seriously disappointed. I agree with the sawdust description of the flavor. Glad to hear it wasn't just me. I'm willing to give it another try with modifications

We're sorry to hear you were disappointed with these baked doughnuts, Carol. It might be hopeful to hear that we updated this recipe in November 2017 and have found that some of the adjustments brought about a more pleasant flavor and texture, which were noted in earlier reviews. It sounds like at this point, you just may not like the prominent whole wheat flavor or texture in the doughnuts. If you're willing to give this recipe another try, consider using all-purpose flour or our Pastry Flour Blend. This will give the doughnuts a tender and moist cake-like texture, and the robust apple flavor of the boiled cider should shine through more readily. We hope this helps make your next batch just perfect! Kye@KAF
These are great! I made them as written except I reduced the cinnamon and added 1/4 tsp. nutmeg. I used the boiled cider glaze, a sweet and tangy finish!
I agree with previous bakers. Was looking forward to an apple flavor. The whole wheat flour just overtook all. I wish I had followed my instincts and used regular white flour. Now for a muffin maybe ...... but cake donut, not!

Thanks to your feedback and that of several other bakers, we're realizing that not everyone enjoys the whole wheat nature of these doughnuts. To help, we've added a tip at the end of the recipe for subbing All-Purpose Flour instead, which we hope will help to make for more happy bakes. Our Test Kitchen Team also continues to look for ways to ensure a better all-around flavor experience, and we'll be sure to share any finds here. Mollie@KAF
This makes a nice crumb donut or nice texture donut, however, the flavor is yuck. Even with the boiled cider it has little apple flavor and more baking powder flavor, not what you are looking for in a donut. I might try it again substituting the oil for butter and using just plain flour. Probably will just stick to cake recipes.

Gary, we're genuinely sorry to hear about your less-than-ideal baking experience using this recipe. It's our hope that all of our recipes please your palate both in flavor and texture. We've asked our test kitchen bakers to take another look at this recipe and see if we can provide another version for those folks who might prefer a lighter, more tender baked good. In the meantime, those bakers who'd like to try this version: use 2 cups of all-purpose flour without making any other changes. We hope this helps. Kye@KAF
Ugh. I followed this recipe to a T, using the boilded cider in the donut batter, etc., and the whole wheat flour. I'm so disappointed. The donuts looked beautiful when they were all finished and I couldn't wait to take a bite. My first impression, and second and third, is that they taste like sawdust. Not that I've ever eaten sawdust (at least, not knowingly). The whole wheat flour totally colored the entire flavor (even though I used orange juice, as the recipe recommended), and I wish I had used KAF all purpose white instead. I couldn't taste any apple flavor whatsoever. Do people actually like these with wheat flour??

We're sorry to hear your taste buds don't enjoy the flavor of whole wheat baked goods, Bloudelouie. We find that White Whole Wheat Flour is more mild in taste, but it sounds like your palate is still sensitive to this ingredient. You're welcome to use all-purpose flour in its place if you know this is something you'd prefer; you might also consider using our recipe called Cider Doughnuts, which is designed to use all-purpose flour and has a delightfully apple-y taste. We hope that helps make your next bake more pleasant. Kye@KAF
I used 3 TBSp of the Boiled Cider rather than orange (which I didn't have). I will try again with that. It left a lingering apple-ish taste but not a sweet pleasant one. More bitter like others have described. I used APF due to mistake at time of baking and wonder whether the wheat would have counteracted that apple bitterness. I've seen other recipes that I will try . Finally, the salt here seems high. It didn't taste salty but for most things I bake, the salt content/percent is lower.

Hi Alan, we like using a bit of orange juice in the batter for these doughnuts because it naturally cuts any potentially bitter flavors. We wonder if you'd like the results better using this adjustment. Also, we've taken note that other bakers also prefer the doughnuts to be less salty, so we've asked our Recipe Team to take another look at the ratios here. We'll be sure to make note if another amount seems to yield better results. Kye@KAF
I made these as a treat for my husband tonight. I followed the recipe as written with unsweetened apple sauce, booked apple cider and orange juice. I also made the maple glaze per instructions minus the maple spice because I didn't have any. They came out delicious and my husband loved them. Thanks for another wonderful recipe KAF!
These are very tasty donuts/cakes. Based on other reviews I reduced the salt to 3/4tsp and that worked well. I also used AP KA flour and 4T boiled cider in lieu of orange juice following their substitution guidelines. In retrospect, I can see how the citrus might break up the monotone apple flavor and brighten the donuts in an unexpected way, so next time I will try the OJ. I lacked a donut pan so I tried 3 other pans: mini bundt, mini muffin and madeline. All 3 worked well with 18 min, 10 min and 14 min bake times respectively. These certainly satisfied my apple cider donut from CT craving and the mini-bundts with glazed tops set up to be lovely little gifts.
Was inspired to bake these for my mom, who often goes on about not enjoying doughnuts at all, save the apple cider doughnuts she used to get back east. While these weren't quite a blast from the past, she did enjoy them and I rather loved them - addictive yet filling. I will admit to making some alterations based on what was at hand. Used whole wheat pastry flour in place of white wheat; 2 jumbo eggs; additional boiled cider in place of the OJ; cut back to ~1/2tsp fine sea salt; mix of melted butter and coconut oil, and grapeseed oil; switched up the spice mix to include nutmeg, allspice and ginger; and I used scant measurements for the sugar (could have gone even lighter, for my family's taste). I found this made one full 12-unit muffin tin (I didn't pay attention to how long these were in the oven. ~16 minutes), plus 7 doughnuts from my heart-shaped Wilton pan (which bakes 6 doughnuts, and thus had to go in for a second trip. These took about 11 minutes). Once the trays were tested for done-ness and deemed baked, each cake-let was brushed with a mix of two tbsp more boiled cider, 1 tbsp real maple syrup (grade B/grade A: dark color and robust flavor), and a couple tablespoons melted butter (note: this made too much, but tastes great over a bit of toast, and I'm sure a multitude of other uses) before going for a toss in some cinnamon sugar. These are delicate, sweet, while the cider gives a bit of mild tartness, and very autumnal. They also come together very quickly which adds to their delightful-ness. I imagine I will make again soon,