A customized print-friendly version of this recipe is available by clicking the "Print Recipe" button on this page.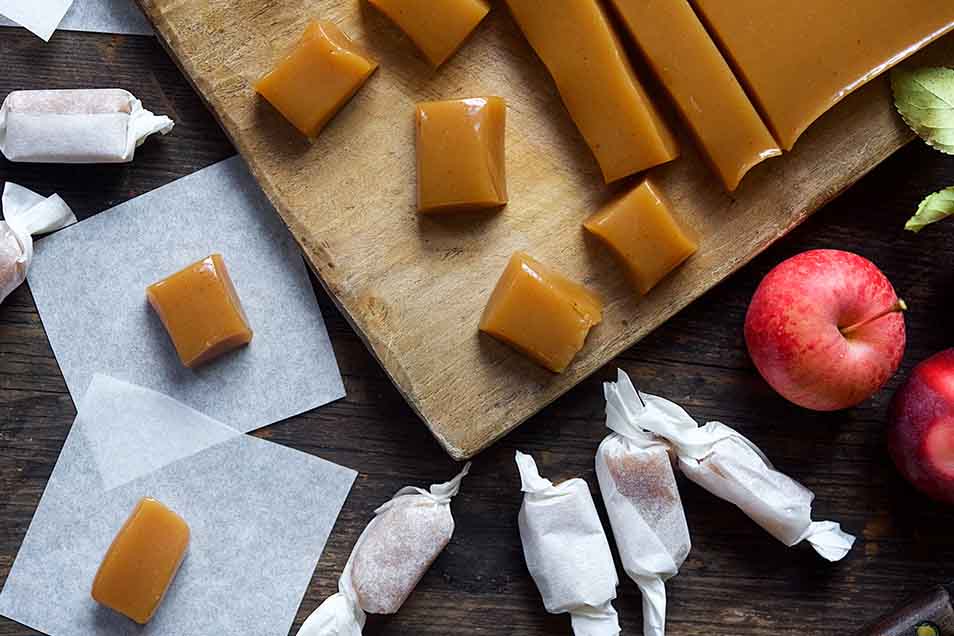 Apple pie meets caramel in these soft, chewy candies. When wrapped in parchment they're the perfect homemade treat to hand out on Halloween.
Ingredients
2 cups (1 pint) heavy cream or whipping cream
1 cup light corn syrup
2 cups sugar
3/8 cup (6 tablespoons) butter, salted or unsalted
1/2 cup boiled cider
1/2 teaspoon salt
1 teaspoon Apple Pie Spice*
*No Apple Pie Spice? Substitute 1/2 teaspoon cinnamon, 1/4 teaspoon ginger, and 1/4 teaspoon nutmeg or allspice
Instructions
Lightly grease an 8" x 8" baking pan and line with parchment paper, leaving an overhang on opposite sides.
Combine the cream, corn syrup, sugar, butter, and boiled cider in a 4-quart, heavy-bottom, deep saucepan. Bring the mixture to a boil over high heat, stirring to dissolve the sugar. Reduce to medium-high heat and cook, without stirring, until the mixture reaches 248°F on a candy thermometer, 20 to 30 minutes, depending on your particular stove. Want to make a softer caramel? See "tips," below.

Remove the pan from the heat; stir in the salt and spice.

Pour the hot mixture into the prepared pan. Let it stand for 12 to 18 hours at room temperature before cutting into 1" squares.

To wrap the caramels, use 6" squares of parchment paper. Place one caramel in the center of each square; wrap the opposite edges of the paper around the caramel and twist the exposed edges to close.
Nutrition Information
Serving Size

22g

Servings Per Batch

64
Amount Per Serving:
Calories

80

Calories from Fat

35

Total Fat

3.5g

Saturated Fat

2.5g

Trans Fat

0g

Cholesterol

10mg
Sodium

25mg

Total Carbohydrate

12g

Dietary Fiber

0g

Sugars

11g

Protein

0g
* The nutrition information provided for this recipe is determined by the ESHA Genesis R&D software program. Substituting any ingredients may change the posted nutrition information.
Tips from our bakers
For softer caramels, boil the mixture until it reaches 242°F to 245°F. You'll need to refrigerate the caramels once they're completely cool. Remove them from the refrigerator about 15 minutes prior to cutting and wrapping. Wrap in squares of waxed paper or parchment.
To make apple cider caramel sauce, start by cutting all of the ingredient amounts in half. Boil the mixture to about 226°F to 230°F ("thread" stage on your candy thermometer). The sauce will be a spreadable consistency (like peanut butter) direct from the fridge; softer at room temperature; and will become pourable when you heat it. Store sauce for a few days at room temperature; refrigerate for longer storage. Yield: about 1 3/4 cups sauce.
For a "salty caramel" experience, sprinkle the caramels with large-grain (moderately coarse) sea salt about 20 minutes after pouring the caramel into the pan. The salt will disappear from view, but you'll taste it in the finished candy.
Reviews
My mom's caramels are always perfect, but when I make them they just don't taste as good. So this year I decided to try something else and looked for a recipe that would be distinctly different AND that wouldn't require my mom's love to taste perfect. KA to the rescue! These caramels are easy and have a great burst of Apple flavor. Happily, I mistakenly bought double the amount of cream so there will be a second batch for the office Christmas cookie exchange.
I made these caramels yesterday and wrapped them today. It was my first attempt at making caramels and they turned out great! I used the Vermont Boiled Cider from KAF and the taste is delightful! I plan to make more for holiday gifts.
Help! Not a review, just a question. I boiled my cider down to 1/2 cup. The cider is now very thick with a slight foam on top. Is this how it's supposed to turn out after boiling?

Hi Anita, the answer to your question depends on how much cider you began with. Typically 1 gallon of cider boils down to between 1 and 2 cups of boiled cider. The foam is usually a good sign; when you see copper-colored foam, it has reached the right consistency. You don't want to continue cooking it much past this point. It should be the consistency of thin maple syrup. Check out the article on our blog called "Homemade boiled cider," for more details. We hope this helps! Kye@KAF
These were very easy to make and quite yummy. With that said, I didn't individually wrap them and now I have a mass of stuck together caramels. I'm thinking maybe I could turn them into caramel sauce. Any suggestions? Maybe melt them down again and add cream and apple cider until it is sauce consistency. Would that work?

Hi Polly! You have a few different options on how to tame the mound. If the mound is poured out on a sheet tray and just not cut, you should be able to still cut them with either a sharp knife or a bench knife. If it's tough to cut through, pop that sheet tray in a low oven — about 200°F — just for 2 or 3 minutes, then it should be easier. If it's a mound in the pot, slowly warm it on the stove until it's pourable again, no need to add any ingredients, then pour it out in a pan to cut. Annabelle@KAF
Directions were great and caramel is now sitting for the required 12-18 hrs. I dribbled the last bit on a piece of waxed paper, so I could do a taste test--- Yummy!!!
How long do the caramels keep?

Hi Susan. They'll keep well for a couple of months. After that, they start to dry out. Happy baking! Annabelle@KAF
I make them exactly as instructed. I made them for our holiday bazaar last December and had some small pieces out to sample and people just raved about them. My oldest daughter is a huge fan. She just texted me from college and asked me to make some for her and her friends so I know what I'm doing tomorrow! I was also instructed to make them for the bazaar again!
I made the recipe exactly as written the first time. They're perfect. Great bright flavour and dead easy to make. Then I started playing. I boiled down some peach nectar for the boiled cider and added bourbon, vanilla, and pumpkin pie spice to make Peach Bourbon Caramels. I substituted amaretto coffee syrup for half of the corn syrup, used more of the boiled peach nectar, left out the spices, and added 1/4 c of amaretto liqueur for Peach Amaretto Caramels. They taste like a fresh peach! Because I can't leave well enough alone, I added vanilla, 1/2 tsp cinnamon, and 1/4 c of cinnamon whiskey to the apple cider caramels. They are craveworthy. Thank you soooo much for a perfect template for my creativity!
Made this as a sauce for apple cake. I cooked it to about 234 so that it kept its shape after being drizzled. Also I did not have any boiled cider so I used apple juice concentrate. They are very sweet and while they will not replace my normal Christmas Carmels this recipe did just like it was supposed to do.
These are amazing! I got about 120 of them. We thought the small size was plenty. I boiled 4 cups of cider until it was 1/2 cup. The recipe is very easy. The hardest part is waiting. Waiting for it to get to temperature. Then waiting for them to set up. I ended up using a Dutch oven. I was afraid it would boil over in the 4 quart pan. I wonder if I could omit the cider and make a straight caramel with the recipe? It's by far the easiest caramel I've ever made.

We're glad to hear you were met with fantastic results after using this recipe, Melissa! If you're looking to make regular caramels (or salted caramels), we recommend using the recipe called Mom's Caramels. It follows a similar process and ingredients, and the results are just as delightful. Find it by entering "Mom's Caramels," into the search box at the top of this page. Enjoy! Kye@KAF