A customized print-friendly version of this recipe is available by clicking the "Print Recipe" button on this page.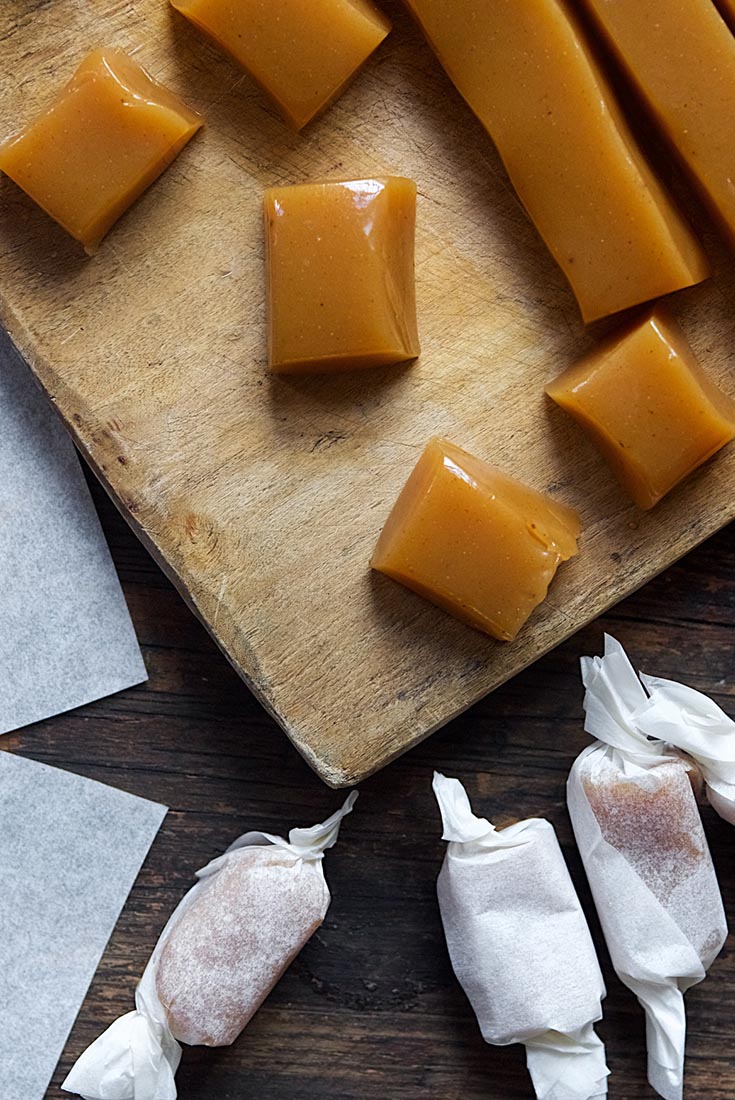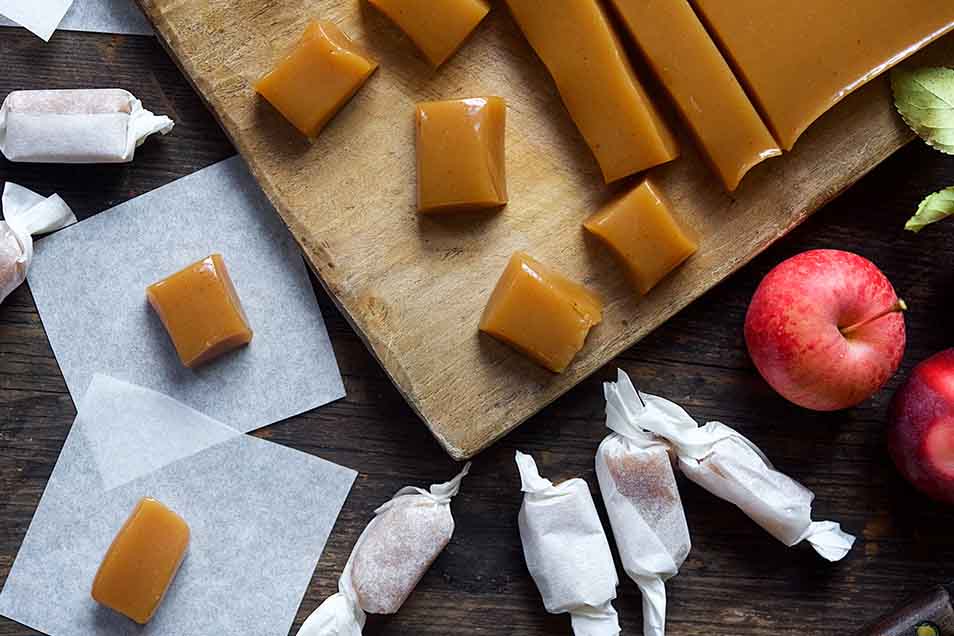 Apple pie meets caramel in these soft, chewy candies. When wrapped in parchment they're the perfect homemade treat to hand out on Halloween.
Ingredients
2 cups (1 pint) heavy cream or whipping cream
1 cup light corn syrup
2 cups sugar
3/8 cup (6 tablespoons) butter, salted or unsalted
1/2 cup boiled cider
1/2 teaspoon salt
1 teaspoon Apple Pie Spice*
*No Apple Pie Spice? Substitute 1/2 teaspoon cinnamon, 1/4 teaspoon ginger, and 1/4 teaspoon nutmeg or allspice
Instructions
Lightly grease an 8" x 8" baking pan and line with parchment paper, leaving an overhang on opposite sides.
Combine the cream, corn syrup, sugar, butter, and boiled cider in a 4-quart, heavy-bottom, deep saucepan. Bring the mixture to a boil over high heat, stirring to dissolve the sugar. Reduce to medium-high heat and cook, without stirring, until the mixture reaches 248°F on a candy thermometer, 20 to 30 minutes, depending on your particular stove. Want to make a softer caramel? See "tips," below.

Remove the pan from the heat; stir in the salt and spice.

Pour the hot mixture into the prepared pan. Let it stand for 12 to 18 hours at room temperature before cutting into 1" squares.

To wrap the caramels, use 6" squares of parchment paper. Place one caramel in the center of each square; wrap the opposite edges of the paper around the caramel and twist the exposed edges to close.
Nutrition Information
Serving Size

22g

Servings Per Batch

64
Amount Per Serving:
Calories

80

Calories from Fat

35

Total Fat

3.5g

Saturated Fat

2.5g

Trans Fat

0g

Cholesterol

10mg
Sodium

25mg

Total Carbohydrate

12g

Dietary Fiber

0g

Sugars

11g

Protein

0g
* The nutrition information provided for this recipe is determined by the ESHA Genesis R&D software program. Substituting any ingredients may change the posted nutrition information.
Tips from our bakers
For softer caramels, boil the mixture until it reaches 242°F to 245°F. You'll need to refrigerate the caramels once they're completely cool. Remove them from the refrigerator about 15 minutes prior to cutting and wrapping. Wrap in squares of waxed paper or parchment.
To make apple cider caramel sauce, start by cutting all of the ingredient amounts in half. Boil the mixture to about 226°F to 230°F ("thread" stage on your candy thermometer). The sauce will be a spreadable consistency (like peanut butter) direct from the fridge; softer at room temperature; and will become pourable when you heat it. Store sauce for a few days at room temperature; refrigerate for longer storage. Yield: about 1 3/4 cups sauce.
For a "salty caramel" experience, sprinkle the caramels with large-grain (moderately coarse) sea salt about 20 minutes after pouring the caramel into the pan. The salt will disappear from view, but you'll taste it in the finished candy.
Reviews
I LOVE this recipe! I've made it for my friends and neighbors for Christmas gifts the past few years. I've also undercooked the recipe and made it into a caramel sauce for apple pies and ice cream. Whenever I give these to people, they are always asking what the secret ingredient is. Boiled cider is amazing!
I made this candy and gave a bag to my daughter by request. She took it home where her brother in laws friend found them and ate most of them, then everyone at her mother in laws finished them. They could not stop raving about them. Best recipe ever!
I followed the recipe exactly and they turned out perfect. Even my son who doesn't like caramel loved these! I will be making them again and again.
This is the second time I have made these, the first time I did not cook them long enough and wound up with a delicious caramel sauce. I made them again and I cooked the recipe for 55 minutes (I live at 6000 ft) and the recipe turned out amazing! My daughter, husband and I are all floored with the flavor and the texture. I will be making them again and again. This is an amazing recipe!
I made this recipe before as written, but altered it a bit to make DARK CHOCOLATE CARAMELS. I was going for a 'Riesen' type of a flavor. So what I did was, I added 1/4 cup half & half to the cream in the caramel pot. I held back a cup of the cream, and warmed it in a small saucepan with 4 oz. bittersweet baking chocolate and 2 oz. semi-sweet chocolate (Ghirardelli). Once melted and combined, I kept that saucepan warm and to the side. Once the caramel came up to 238F, I added the cream/chocolate mixture, gave a quick little stir so that the chocolate wouldn't sit on the bottom of the pan and scorch, and brought the whole thing up to 248F. As soon as it came up to temperature, I added the salt and 1 tsp. vanilla extract, gave another quick stir, and poured it out into the pan. Gorgeous! I am delighted with the results. And of course, I didn't add the boiled cider!
I tried to make these the the caramel was a bit too soft, I recommend taking it up to 255F, for chewier texture and easy-handling. Also, although I purchased the boiled cider, I did not purchase the apple pie spice. I followed the recipe for the apple pie spice substitution but my caramel turned out disgusting. I researched a bit online and noticed that the substitution called for ground ginger, while ground ginger was not listed as an ingredients for the KAF apple pie spice. Ground ginger is also not listed as part of apple pie spice in many other prominent baking websites. So could that be the culprit? If so, why is it listed as part of an appropriate substitution?

As our recipe developers like to say, there's no baking police. That means that we encourage bakers to make adjustments based on their taste preferences. If you don't like the flavor of ground ginger, feel free to leave it out (in this recipe and others). While there's no ginger added to our custom blend of Apple Pie Spice, we like to keep things interesting when we bake and use different spices to get a well-rounded flavor. You can use any brown, warm spice in your apple pie spice blend to achieve the flavor you're looking for. We'd need to hear more about how the caramels tasted to deduce what caused the off flavor. Consider giving the Baker's Hotline a call at 855-371-BAKE(2253) so we can chat further. Kindly, Kye@KAF
I made these this morning, and followed the recipe down to the letter. Came out PERFECT! Also, I love the fact that once the syrup boils, you no longer have to stir. Temperature came up to 248F in about 20 minutes, on a Wolf range. I made my own boiled cider by boiling down a half-gallon of local apple cider until it reduced down to about 1.5 cups. These caramels had a lovely, subtle flavor, and the boiled cider addition gave it an unexpected but lovely tartness. Didn't top with additional salt - wasn't sure that apple + saltiness would be a good combo. Will definitely make again.
This recipe is the best caramel recipe- hands down! I made my own boiled cider and followed the recipe exactly. With an altitude adjustment in the final temperature of the mixture, it turned out perfectly. I'll be making a variation of this for Christmas.
These are so good and easy to make. The recope is right on. I bought the boiled cider just for this recipe but plan to use it in my apple strudel.
My second review. I made the recipe with a good grade of maple syrup in place of the boiled cider. For the add-ons at the end of cooking 1/4t popcorn salt (dissolves easy) 1t pure maple extract 1/2 t Winterspice and 1/2 cup finely chopped toasted pecans..TO DIE FOR. working on a chocolate version..will keep you posted.