A customized print-friendly version of this recipe is available by clicking the "Print Recipe" button on this page.
Apple Cinnamon Baked Oatmeal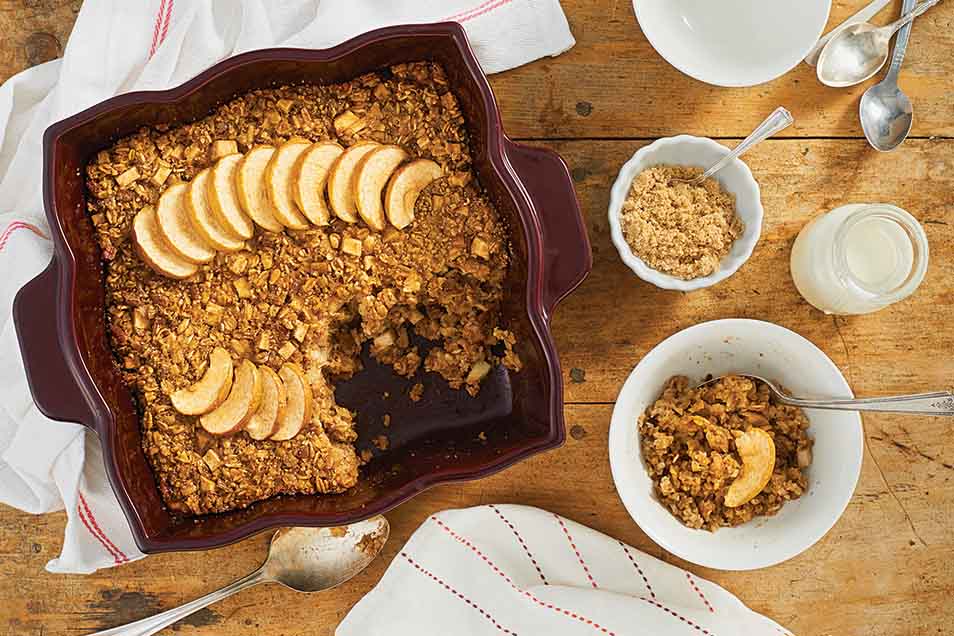 Baked oatmeal is a simple, quick way to have a hearty, warming breakfast ready every morning of the week. Seasonal fall flavors, along with two varieties of oats, apple pieces, and crunchy nuts soak overnight in a bath of lightly sweetened milk, then are baked into creamy, tender perfection. It's a hot breakfast just waiting for those first chilly fall mornings.
Ingredients
Oatmeal
2 cups rolled oats*
1/2 cup steel-cut oats*
2 tablespoons golden flax meal, optional
1/4 cup light brown sugar
2 teaspoons Vietnamese cinnamon
2 teaspoons Apple Pie Spice; or substitute 3 to 4 teaspoons cinnamon
1/2 teaspoon salt
2 1/4 cups milk
1/3 cup boiled cider
1/2 cup applesauce
2 tablespoons unsalted butter, melted
1 teaspoon vanilla extract
2 medium baking apples, peeled, cored, and cut into 1/2" cubes (about 2 1/2 cups)
3/4 cup walnuts or pecans, chopped or whole
*Substitute a total of 2 1/2 cups rolled oats fo the rolled oats and steel-cut oats, if desired.
Topping
1 medium apple, cored but unpeeled; sliced into thin 1/4" wedges
Demerara sugar, for sprinkling on top; optional
Instructions
Lightly butter a 9" square baking dish.

In a large bowl, combine the oats, flax, sugar, spices, and salt. Set aside.

In a separate bowl or large measuring cup, mix together the milk, boiled cider, applesauce, butter, and vanilla.

Stir the wet ingredients into the dry until evenly moistened. Stir in the apple cubes and nuts.

Spoon the oatmeal mixture into the prepared pan, spreading it into an even layer.

Cover the pan with plastic and refrigerate the oatmeal overnight.

Next morning, preheat the oven to 350°. Top the oatmeal decoratively with the thinly sliced apple and sprinkle with Demerara sugar for extra sweetness and crunch, if desired.

Bake the oatmeal for 55 to 65 minutes, until the edges are bubbly; the center will still appear slightly wet. The apples on top should be tender.

Remove the oatmeal from the oven, and allow it to cool for 5 to 10 minutes before serving.

Store baked oatmeal in the refrigerator and reheat individual servings with a little water or milk in a microwave or over a burner.