A customized print-friendly version of this recipe is available by clicking the "Print Recipe" button on this page.
Apple Cinnamon Cupcakes with Cider Frosting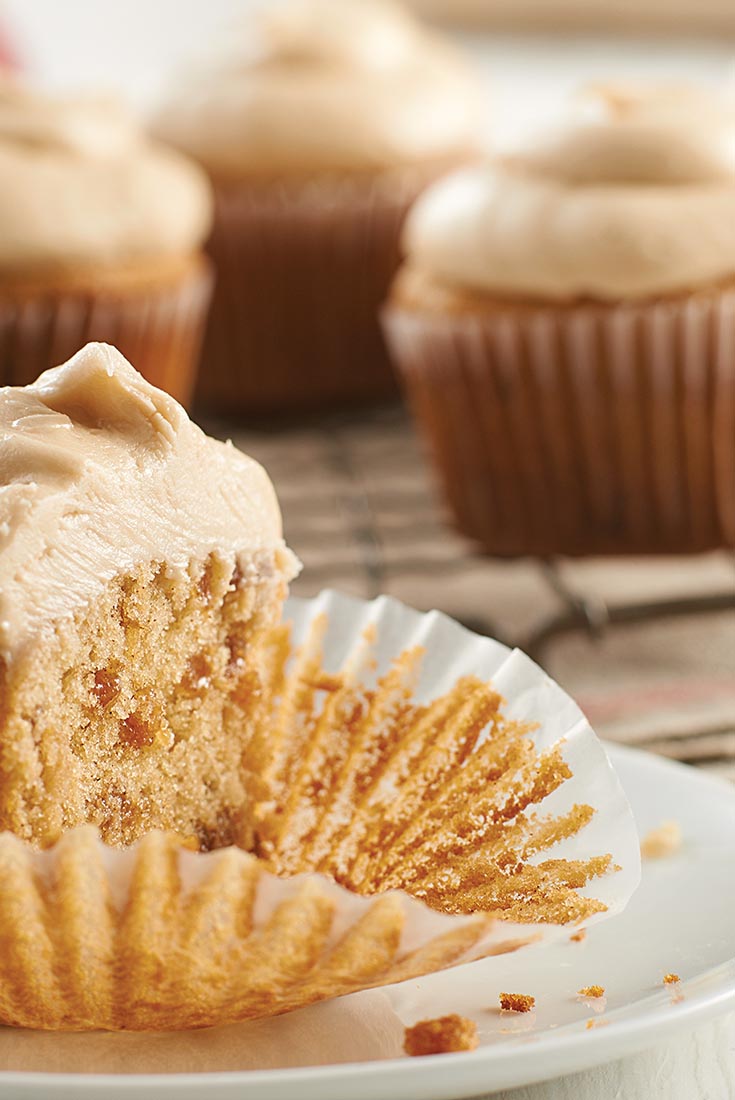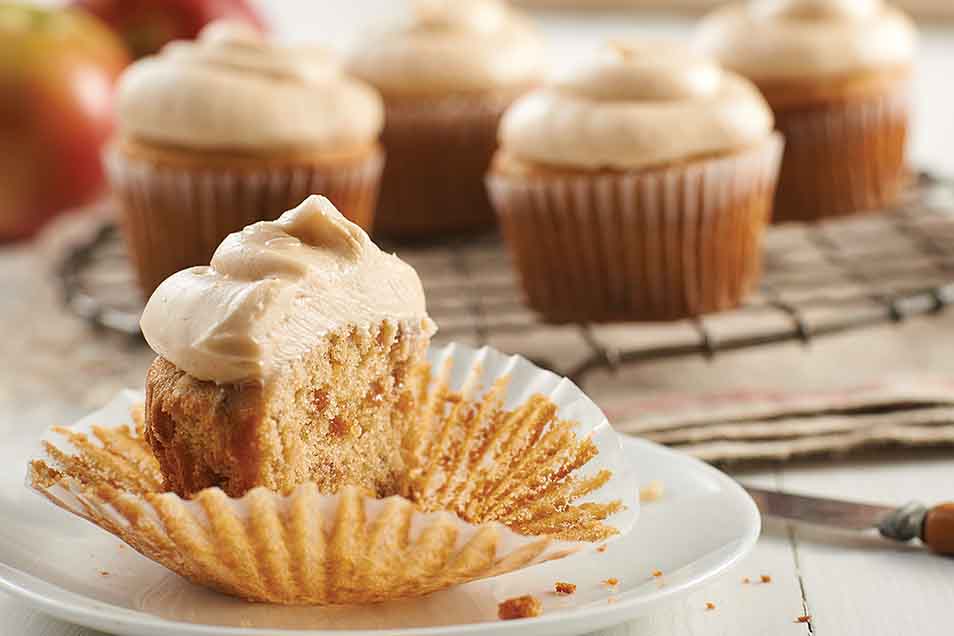 If you have a sweet tooth and a love for autumn's favorite flavor duo, these cupcakes are for you. The light, tender, mildly sweet cakes, accented with apple and cinnamon, are the perfect base for the robustly sweet/tart, creamy frosting. Although they're optional, the jammy bits add a tasty punch of flavor.

While we advise using boiled cider in this recipe, you can substitute undiluted apple juice concentrate for similar (though not quite as flavorful) results.
Ingredients
Frosting
6 tablespoons unsalted butter, softened
1 tablespoon meringue powder, optional; for holding power
1/8 teaspoon salt
3 tablespoons boiled cider*
3 cups confectioners' sugar
1 tablespoon milk, optional
*see tip below
Instructions
To make the cupcakes: Preheat the oven to 375°F, and position a rack in the center of the oven. Line a 12-cup muffin pan with papers and spray the insides, or lightly grease the pan.

In a medium bowl, beat the butter, vegetable oil, and sugar together until the mixture lightens in color and texture, 60 to 90 seconds.

Beat in the cake enhancer, salt, baking powder, baking soda, spices, and boiled cider.

Beat in the eggs one at a time, scraping the bottom and sides of the bowl after each addition.

Weigh the flour, or measure it by gently spooning it into a measuring cup and sweeping off the excess. Gently mix in the flour, alternating it with the milk.

Fold in the jammy bits.

Spoon the batter into the prepared muffin pan — a scone and muffin scoop works well here.

Bake the cupcakes for 17 to 20 minutes, until they're very light brown and a cake tester inserted into the center of one comes out clean.

Remove the cupcakes from the oven and after 5 minutes, transfer them to a rack to cool completely.

To make the frosting: Beat together the butter, meringue powder, salt, and boiled cider until fully combined.

Gradually add the sugar, beating until the frosting is light and fluffy. Add the milk, if necessary, to make the frosting nicely spreadable.

Spread or pipe the frosting onto the cooled cupcakes.

Store unfrosted cupcakes in an airtight container at room temperature for up to 2 days, or in the freezer for up to 1 month. Store frosted cupcakes, covered, in the refrigerator for up to 2 days.
Tips from our bakers
The boiled cider in this recipe adds a nice touch of tartness to match the flavor of the jammy bits. If you're looking for a cupcake that's more sweet than tart, reduce the amount of boiled cider in the cupcake to 2 tablespoons and the amount in the frosting to 1 or 2 tablespoons.
Reviews
i didn't bother with the over-priced jammy bits, but folded in some grape jam. it was fantastic. also you don't have to grease muffin papers, the cupcakes come out just fine. and finally, i used swan's down cake flour (or whatever it's called) and it was delicious.
I just made these. The only change was I substituted cinnamon chips for the jammies. OH, MAN, are they good! I haven't frosted them yet and am not certain they need frosting. A dusting of powedered sugar might be enough!
I made these with a few changes and OMG - I love them! So here are a few changes I made. Instead of Vegetable Oil, I used Canola oil (it's what I had on hand) I used 1/3 sugar instead of 2/3's. For salt, I use pink Himalayan sea salt, I used a dash or so, I didn't measure it. I used regular King Arthur Flower, not cake flower - instead of 1/2 cup milk (I don't use milk) I used 1/2 cup sour cream, I did not buy the apple jammy bits - but used two good sized apples (one Fuji and one Topaz), I also used a bit of vanilla extract - all other ingredients I used as directed. For the icing I used one full stick of unsalted butter- dash of salt - (did NOT add the milk or sour cream- nor did I use the meringue powder) and again some vanilla flavoring (everything else I used as directed) and these cupcakes were delicious! My boyfriend tried one and as soon as he bit into it was like WOW- These are Amazing. Brought them to work for a fund raiser and they were a hit here as well. I'm totally making these again with the same adjustments. YUMMO!
I reviewed this recipe previously on 10/12/17....after some research on my own I figured out you have to use King Arthur cake flour. I used Swan's Down the first time and the jammy bits sunk to the bottom! I made them again using King Arthur Cake Flour and followed the recipe exactly! The results were perfect. Thanks for another great recipe!
I think this is a very good recipe. A very nice fall variation flavor, kind of like a spice cake. I made these to take to work for a birthday celebration and everyone loved them! I followed the recipe with using the update on boiled cider amounts. I used 2 tablespoons for the cupcakes and 1 tablespoon plus 1 tsp. for the frosting. This gave a very nice taste to the cupcakes. I baked the cupcakes at a temperature of 360 until done, very moist and delicious! Thank you King Arthur Flour for another great recipe!
I'm a broke college student, but my friend's birthday was coming up and I wanted to make unique cupcakes for her. I had a half-gallon of apple cider in my mini fridge from the orchard trip my dorm had organized, and so when I saw this recipe, I decided to try it out. Now, boiled cider and regular apple cider made for drinking are two entirely different things, but I did not have the skills, supplies, or money to make or buy the real deal. That being said, these cupcakes, and the icing, turned out great! They still had a delicious apple flavor along with the cinnamon and nutmeg spices, and the icing had a delicious hint of apple to it as well. My friends all adored the recipe so much that I made them again. 10/10 would recommend to friends and family, it's a simple and easy to follow recipe that gives delicious results!
I liked these cupcakes and they got several compliments. Not as sweet as you might expect. I like the tartness in the frosting.
I made these cupcakes for my friend's birthday. The taste was good and the icing was great!! However, I had the same exact problems as the previous review. The jammy bits sunk to the bottom and the batter peaked like a volcano which I covered with the frosting. The bottom layer of jammy bits actually tasted pretty good!!! Also it seemed I ran a little short on batter for 12 cupcakes. A few questions: I have always added baking powder, salt, etc. with the flour when making cakes. I was wondering if I over mixed those ingredients when following the recipe exactly. And, would it help to toss the jammy bits in flour before mixing in. I used Swans Down cake flour. Would really like to try these again and make more batter for bigger cupcakes. Please advise!!!

Hi Betty, we went back to the test kitchen to see if we could replicate and remedy the problems that you shared with us. Swans Down Cake Flour is much softer than the Cake Flour used to develop this recipe; it has about half of the protein content meaning the batter will be quite soft and runny, which resulted in the jammy bits sinking to the bottom of the cupcakes (although we're glad they tasted good!). You shouldn't need to toss them in flour before adding, but you're welcome to try that if you wish. To make the cupcakes rise more and achieve a larger volume, try baking them in the middle of your oven at a lower temperature (350°F) for a bit longer to see this helps. Kye@KAF
Love these! Highly recommend this recipe. I also followed the recipe to the T - including all optional ingredients. I made these as mini cupcakes, and found that they were fluffy and incredibly moist. My oven tends to be too hot, so I watched them closely, but they rose up beautifully and browned very nicely. The frosting had a wonderfully light, smooth consistency (likely thanks to the meringue powder). Neither the cake nor the frosting was too sweet, and the flavor was incredible. I love, love, love the boiled cider. Cider does have a tartness to it - that is to be expected - but it wasn't overpowering at all. Honestly I didn't have high hopes after reading the other reviews, but this is also KAF, and I really trust them, and I'm very pleased with these results. The recipe was easy to follow and came together in a snap. I will absolutely make these again.