A customized print-friendly version of this recipe is available by clicking the "Print Recipe" button on this page.
Apple-Cinnamon Pull-Apart Rolls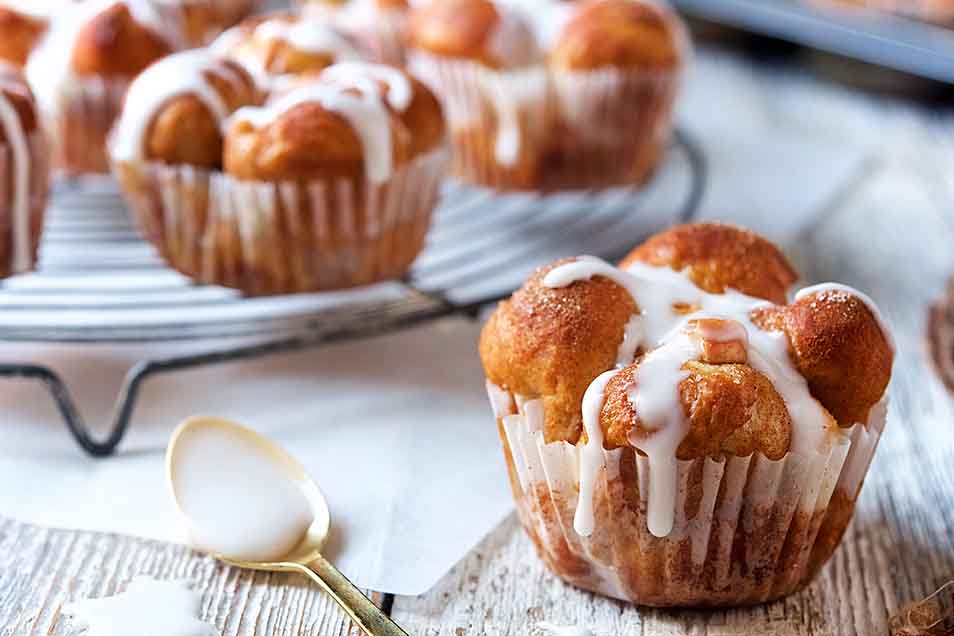 These miniature "monkey breads" feature fresh apple and raisins nestled among miniature rounds of cinnamon-sugar bread. A simple white glaze takes them over the top — and an optional drizzle of boiled cider makes them ethereal!
Ingredients
Dough
1 1/4 teaspoons salt
3 tablespoons potato flour or 1/3 cup instant potato flakes
3 tablespoons brown sugar
1/2 teaspoon baking soda
2 1/4 teaspoons instant yeast
1/4 cup (4 tablespoons) butter
1/2 cup lukewarm milk
1/2 cup lukewarm water
*Substitute 1 cup all-purpose flour for the whole wheat flour, if desired.
Topping
1 heaping cup cored, chopped apple, peeled or unpeeled
raisins, optional
cinnamon chips, optional
boiled cider, optional
Glaze
2/3 cup confectioners' sugar
pinch of salt
1 tablespoon milk
boiled cider, optional
Instructions
To make the dough: Combine all of the dough ingredients, mixing and kneading to make a smooth, soft dough. It may seem dry at first, but as you knead it'll soften up.

Place the dough in a greased bowl or greased 8-cup measure, cover it, and let it rise for 60 to 90 minutes, until it's noticeably puffy (though not necessarily doubled in bulk).

Lightly grease paper muffin cups, and use them to line the 12 cups of a standard muffin tin. The recipe makes 16 rolls; but if you don't have a second pan, don't stress — we'll give you an alternative.

Gently deflate the dough, and divide it into 16 pieces; each will be about 1 1/2 ounces (44g). Round each piece into a flattened ball.

Working with one piece at a time, use a bench knife (or regular knife) to cut the dough into 8 wedges. Don't worry about being precise; pieces can vary in size.

Roll or shake the dough pieces in cinnamon-sugar, and place four of them into a muffin cup.

Sprinkle with raisins and chopped apple (and cinnamon chips, if desired); top with the remaining four pieces of dough.

Repeat with the remaining balls of dough, raisins, and apple. When you run out of room in the muffin tin, section the remaining four dough balls, and make them into a small pull-apart bread. Or make individual rolls by placing them in doubled-up aluminum foil muffin cups, set in a cake pan or on small baking sheet.

Sprinkle any remaining cinnamon-sugar atop the rolls. Cover them lightly, and let them rise for about 2 hours, until they're noticeably puffy. Toward the end of the rising time, preheat the oven to 350°F.

Uncover the risen rolls, and bake them for 15 to 17 minutes, until they're a light golden brown. Don't let them darken too much; they'll be dry.

Remove the rolls from the oven and drizzle each with some boiled cider, if desired; this will add flavor, and a nice stickiness.

To glaze the rolls: Mix the glaze ingredients together. Drizzle over the cooled rolls.

Yield: 16 rolls.
Tips from our bakers
Ever had a Cobblestone muffin at Panera? These rolls are our King Arthur clone.
If you demand precision in a recipe, this one probably isn't for you. How many raisins, exactly, do you use for each roll? As many as you like. How many pieces of apple? Up to you. How much cinnamon-sugar? Enough to coat the dough. While baking often does demand exact amounts of ingredients, the filling for these rolls is more intuitive. If it looks good to you, it's right.
Why baking soda — isn't this a yeast bread? It's not critical, but we feel it gives the rolls a bit of extra "pop" in the oven.