A customized print-friendly version of this recipe is available by clicking the "Print Recipe" button on this page.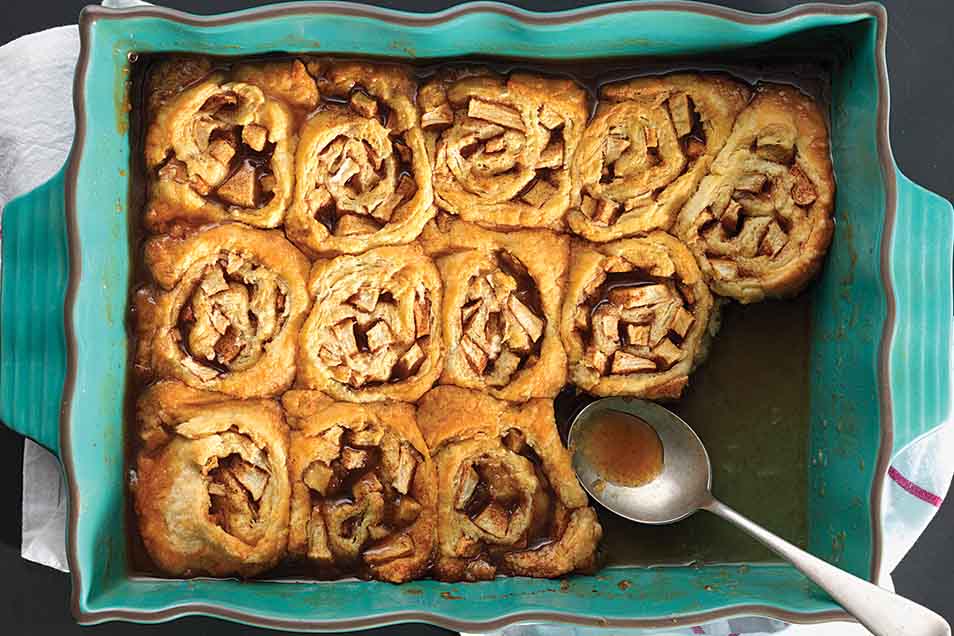 This delicious autumn apple dish hovers somewhere between dumplings and sticky buns and pie and cobbler, combining the best aspects of each. Tangy-sweet, soft and buttery, it's true comfort food.
Ingredients
Syrup
4 tablespoons (1/4 cup) unsalted butter
1 to 1 1/2 cups water*
1 to 1 1/2 cups sugar*
1/2 cup boiled cider, optional*
*See "tips," below.
Filling
2 cups peeled, diced apple, from about 2 medium apples
1 teaspoon cinnamon
Dough
6 tablespoons cold unsalted butter
1/2 cup milk
Instructions
Preheat the oven to 350°F. Melt the 4 tablespoons butter for the syrup in a 9" x 13" baking dish; glass or ceramic is preferable. Set the dish aside.

To make the syrup: In a medium-sized saucepan, heat the water and sugar until the sugar melts. Remove the pan from the heat and stir in the boiled cider. Set aside.

To make the filling: Mix together the cinnamon and apples. Set aside.

To make the dough: Combine the flour and butter in a medium-sized mixing bowl. Work the butter into the flour with a mixer, your fingers, a pastry blender, or pastry fork, until the mixture is crumbly.

Stir in the milk, and mix until the dough just comes together and leaves the sides of the bowl.

Turn the dough out onto a floured surface and knead it gently, until it's somewhat cohesive.

Roll the dough out gently until it's a rectangle about 10" x 15"; rolling the dough out onto a piece of parchment paper is helpful here. Scatter the apples evenly over the surface of the dough.

Starting with a long side, gently roll the dough into a log, pinching the edges together to seal. It may tear, but don't worry; just mend it as best you can. If you've rolled the dough out on parchment paper, it can help prevent the tearing.

With a bench knife or serrated knife, cut the log into 16 slices, starting in the middle and moving out towards the edges.

Arrange the slices atop the melted butter in the baking dish as artfully as possible. The slices may want to fall apart, but again, not to worry. The finished product will look just fine.

Pour the syrup over the apple dumpling slices and carefully transfer the pan to the oven.

Bake the dumplings for 40 to 45 minutes, until the biscuits are lightly browned on top, and the syrup is bubbling. Be careful moving the pan, as the hot liquid can slosh from one end of the the pan to the other very easily.

Let the dumpling slices cool a bit, then serve them with syrup spooned over the top.

Store, loosely covered, at room temperature for a day or so. Freeze for longer storage.
Nutrition Information
Serving Size

106g

Servings Per Batch

16
Amount Per Serving:
Calories

243

Calories from Fat

Total Fat

9.5g

Saturated Fat

Trans Fat

Cholesterol

27mg
Sodium

173mg

Total Carbohydrate

13g

Dietary Fiber

1g

Sugars

25g

Protein

1g
* The nutrition information provided for this recipe is determined by the ESHA Genesis R&D software program. Substituting any ingredients may change the posted nutrition information.
Tips from our bakers
We recommend using boiled cider for more pronounced apple flavor. If omitting the boiled cider, or you like your dumplings extra sweet and syrupy, use 1 1/2 cups each sugar and water. If using boiled cider, and you want dumplings that are a little less sweet but still sticky and gooey, use 1 cup each sugar and water.
Because self-rising flour is much lower in protein than regular unbleached all-purpose flour, you can knead with a bit more abandon without danger of the dough becoming tough.
Reviews
The recipe came together easily, I don't understand how you put this in a 9x13 pan? I cut the slices 1.5 inches and only got 12 pieces, way to small for a pan that big. I moved it to a 8x8 pan and it came out great. Perhaps I am missing something,but the recipe is not very specific about thickness of slices. Looking for clarification!

Hi Mike, the Apple Dumpling Slices should be cut into about 3/4" thick slices so that you end up with 16 slices. (One tip is to start by dividing the dough in half, then divide each half into half, and then you'll have even quarters that can be sliced into 4 equal pieces.)

If you cut them thicker (about 1 1/2" thick) you may want to do just as you did and place them in a smaller 8" pan for a thicker final bake. If you opt for this route, you'll need to extend the baking time by about 5 to 10 minutes to ensure the dough cooks all the way through. Happy baking! Kye@KAF
Mind trip. Took me back to seated at my Mom's table eating apple dumplings. They are all of that. Country good.
This got an Mmmm-hmmm and *Bleeping* Awesome from my husband and brother-in-law....and there is none left. In my opinion, the Boiled Cider is not optional. No adjustments for high altitude.
Made this today...Wow!!! Absolutely loved it!!! Such a much simpler way of getting the full-on apple dumpling taste without all the hassle. The biscuit crust was so delicate and perfect. I found the recipe easy to follow and did find that when rolling the dough up and slicing it there was some cracking of the dough. But easily rectified by pinching closed. The dough is nice and soft and easy to repair. Besides when you put them in the pan and bake one would never know anything was cracked. I must admit I was a bit leery when all the liquid was poured on as thought there was no way this all would be absorbed and turn out correctly. But lo and behold it was perfect when took out of oven with just a nice thick gooey layer of sauce under the slices. I used the boiled cider with reduction of water and sugar as instructed and the cider gives the whole dish such a wonderful apple flavor. It is a bit sweet when eating it but otherwise is sooooo perfect. Will be serving this tonight as dessert and can't wait to put a scoop of vanilla ice cream on top!
Good advice on using parchment, but dough extremely delicate, even after baking. Would like to see more structure here, more dough maybe? They do bake up SMALL. They are very flavorful, good apple flavor with a nice toffee type taste. Loved by all, but not enough here for a crowd.

It sounds like to get the kind of dumpling you're looking for, you might want to increase the dough recipe by 1.5x and leave the fill as is. That way you can use a bit more dough per dumpling for a tender, larger final product. Happy baking! Kye@KAF
They were delicious; very apply and easy to make.
Love kaf. Not a fan of this recipe. Not sure why ppl rate 5 stars is they say its really sweet? Its crazy sweet and im not confident the liquids ratios are correct for this recipe. Cook every day to include yeast breads and biscuits, but there is something off in this recipe. Maybe its how some people might interpret the directions since some ppl say theyve had success?? If youre intent of making this recipe, only use enough water in your syrup to be able to stir the sugar, use brown sugar, not white, use half the recommended amount of sugar and do not use parchment to roll out dough - that was a mess.

Thanks for sharing your honest feedback with us, Kristen. We're surprised to hear you had a difficult time making this recipe, as it's one of our fall favorites. We do include a tip at the bottom of the recipe for making less sweet rolls (use 1 cup each of water and sugar), but you're welcome to reduce the sugar further if you're baking with sweet apples. The syrup is versatile and can be adjusted based on your taste preferences. We hope your next experience baking one of our recipes is more successful. Kye@KAF
I just made this recipe and it was amazing! I would recommend using brown sugar instead of white in the syrup as well as just putting the brown sugar and a cup of apple cider in the sauce pan instead of water, sugar, and cider. There is still enough syrup and it is very flavorful. About halfway through cooking, I also brushed some of the excess sauce at the bottom on the top which seemed to even everthing out as well. I would definitely make it again though!
Step 4 mentions "stirring in the milk" however there is no milk mentioned in the ingredient list. What am I missing? Don't want to try this without correct ingredients.

Thanks for bringing this to our attention, Nancy. 1/2 cup milk should now be visible under the "dough" ingredients. Hope you'll have the chance to give it a bake sometime soon! Mollie@KAF
Tasted good and easy to make but way too sweet. Next time, I will cut sugar back to maybe one cup