A customized print-friendly version of this recipe is available by clicking the "Print Recipe" button on this page.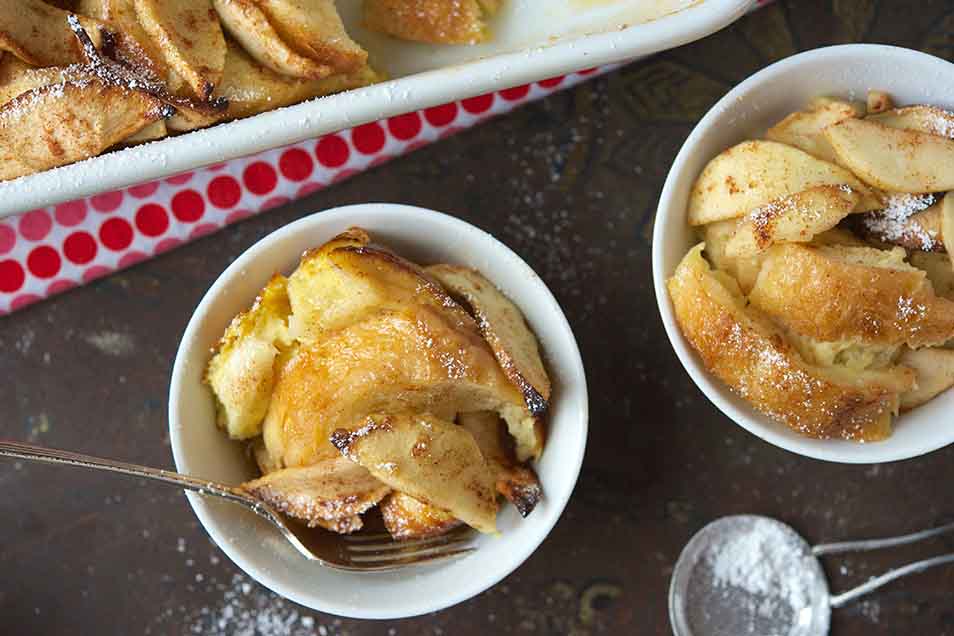 We love this prepare-ahead breakfast casserole for its creamy, warm insides and cinnamon-y apple topping. We also think that a layer of cooked breakfast sausage between the bread and the apples would be mighty tasty. Our thanks to longtime King Arthur friend Janet Matz for this recipe.
Ingredients
French toast
1 baguette, about 18" to 20" long
8 large eggs
3 cups milk
1/3 cup granulated sugar
1 tablespoon vanilla extract
1/4 teaspoon ground nutmeg
1/4 teaspoon salt
Topping
5 to 6 apples (1 3/4 to 2 pounds fresh apples), peeled and thinly sliced; Granny Smith is a good choice
1 tablespoon lemon juice
1/4 cup granulated sugar
1 teaspoon ground cinnamon
2 tablespoons maple syrup
pinch of salt
2 tablespoons melted butter
Instructions
Lightly butter a 9" x 13" baking pan or similar-sized casserole dish. Slice a day-old baguette into 3/4" to 1" slices, and lay them in the pan; you'll need about 21 slices to fill the pan, making a single layer.

In a medium-sized bowl beat the eggs, then whisk in the milk, sugar, vanilla, nutmeg and salt.

Pour this mixture over the bread, and let it soak in while you're preparing the topping.

Peel and slice the apples thinly. Toss them with the remaining topping ingredients, and spread them over the bread in the pan.

Cover the pan, and refrigerate overnight; or for up to 48 hours.

Remove the pan from the refrigerator, uncover it, and bake the French toast in a preheated 375°F oven for 45 to 55 minutes, until the apples are soft and the eggs set.

Remove from the oven, and sprinkle with the sugar of your choice, if desired; or drizzle with maple syrup.

Yield: about 8 to 12 servings.
Nutrition Information
Serving Size

2 1/4" x 4 1/2"

Servings Per Batch

12
Amount Per Serving:
Calories

310

Calories from Fat

Total Fat

9g

Saturated Fat

Trans Fat

Cholesterol

179mg
Sodium

375mg

Total Carbohydrate

31g

Dietary Fiber

3g

Sugars

18g

Protein

11g
* The nutrition information provided for this recipe is determined by the ESHA Genesis R&D software program. Substituting any ingredients may change the posted nutrition information.
Reviews
I tried this recipe but only wanted a small amount, so I made a third of a batch. It was tasty and I will make it again with a few tweaks. Does the day-old bread french need to be very dry to absorb the custard? Should I lightly toast it in the oven before using it? We ended up with a mushy dish that my kids didn't like consistency-wise. I may cook a little longer next time. Used Honeycrisp apples and was delish!

Great question, Elizabeth — dry bread really does make a difference! Letting your bread sit out on a cooling rack or sheet pan overnight in the kitchen will dry it out, or, toast it at a low temperature (250°F) in the oven for 10 minutes or so. Pull the bread out before it has any color — you just want it to be dried out a bit. It'll absorb the custard better but not become as mushy. Happy baking! Annabelle@KAF
I was disappointed because the finished product was mushy instead of custardy and also bland tasting. I mixed it up 48 hours ahead of time, and baked it in a convection oven. Part of the problem may have been the oven, this was the first time I used it and I may have set it wrong. Also, I used some Red Delicious apples I had on hand, which was a mistake, and I should have known better! I will try the recipe again, use less milk, and different apples. Not quite sure how to improve the taste without making it a lot sweeter - maybe use pumpkin pie spice instead of plain cinnamon.

Hi Daglige, we're glad to hear you're willing to try making this recpie again because we think with a few simple tweaks, you'll be able to achieve the flavor you're looking for. Do try using another kind of apple, perhaps something flavorful like Honey Crisp or Gala. You're also welcome to consider using a different kind of bread to get the texture you're looking for. A soft, enriched white bread like challah or brioche might give you that custardy consistency you describe. Last tip? Don't let the mixture sit for more than about 16 hours (overnight) in the fridge to ensure the final texture is still pleasant and not too mushy. Kye@KAF
made this for family brunch-So great to be able to make it ahead and not be stuck in the kitchen while the grandkids were here. Everyone loved it and even the picky 5 year old asked for more. I used almond milk and swapped out the sugar in the base for brown sugar.
This recipe is now on my holiday menu "must serve"! Our family, from young to old, enjoyed this recipe.
I made this for Christmas Brunch and it was a big hit! Recipe was easy to follow. The best and tastiest Baked French Toast that I've ever made. It probably has a permanent spot on my Christmas Brunch menu.
Made this recipe for the first time on Christmas Eve for Christmas morning breakfast. Instructions were very easy to follow and I love the fact that you can prepare ahead of time. I am gluten intolerant so I substituted the baguette for a gluten-free (GF) baguette. I've made gluten-free baguettes before but this time I opted to use a frozen store bought a gluten-free baguette. I thawed the frozen GF baguette on Saturday night and used it Sunday afternoon....it may not be the same as a day old baguette, but it worked for me. I know a few my family members do not like nutmeg, so I replaced it with cinnamon. My family loved this so much that they kept talking about it throughout the day! As a side note, I'm the only one in my family who is gluten-free but my gluten eating family loved it!
Very easy recipe and Very quick to make. I added raisins and walnuts. It tastes like an apple pie :)
Fantastic. I made a half recipe in a 9 x 9 pan, used soy milk, cut the sugar slightly and, in the topping, I substituted brown sugar for granulated and apple cider syrup for the maple syrup. Easy to make and the house smelled wonderful in the morning while it baked.
My husband made this recipe for this Christmas morning breakfast. Normally he fusses with eggs, biscuits, etc. and gets harried. This year, after I showed him this apple French toast bake, he was cool as a cucumber, having put the dish together a day and a half ago. Not only was it convenient, but delicious, served with bacon that he cooked in the oven along with the casserole. Next time he thinks he'll try a little more cinnamon in the casserole. Thanks for helping us have a calm and delicious Christmas morning!!
I made this today and was disappointed in the results so I checked my old recipe file and found a discrepancy in baking times for the exact same recipe. The recipe I had reviewed was .from 2001 . The baking time in the 2001 (35 to 40 minutes) recipe made more sense. Unfortunately I followed current copy which stated to bake the Apple French toast for 60 to 70 minutes which overcooked it (too brown and was difficult to remove from the baking dish) It was very disappointing for our Christmas Eve breakfast! The serving size was also discrepancy between the two versions of the same recipe.and was very difficult to remove from the baking dish.0 qqminutes which was too long and the bottom overcooked. Very disappointing for our Christm as Eve breakfsst!1

Hi Debbie, thanks for sharing your experience with us. We took a dive into our recipe archives and found that you're right; this recipe did used to call for a notably shorter bake time. We found that often times the French Toast Bake needed longer than the 35-40 minutes called for in order to bake all the way through. However, the baking time seems to vary widely based on if the eggs and milk are room temperature or cold from the fridge, as well as the kind of pan that's used. Our test kitchen team is taking a closer look at these variables to provide a more accurate range for the baking time to ensure perfectly baked results. For others who are concerned, start checking for doneness around 30 minutes, tenting the French Toast Bake with foil as needed to prevent it from browning too much. Kye@KAF