A customized print-friendly version of this recipe is available by clicking the "Print Recipe" button on this page.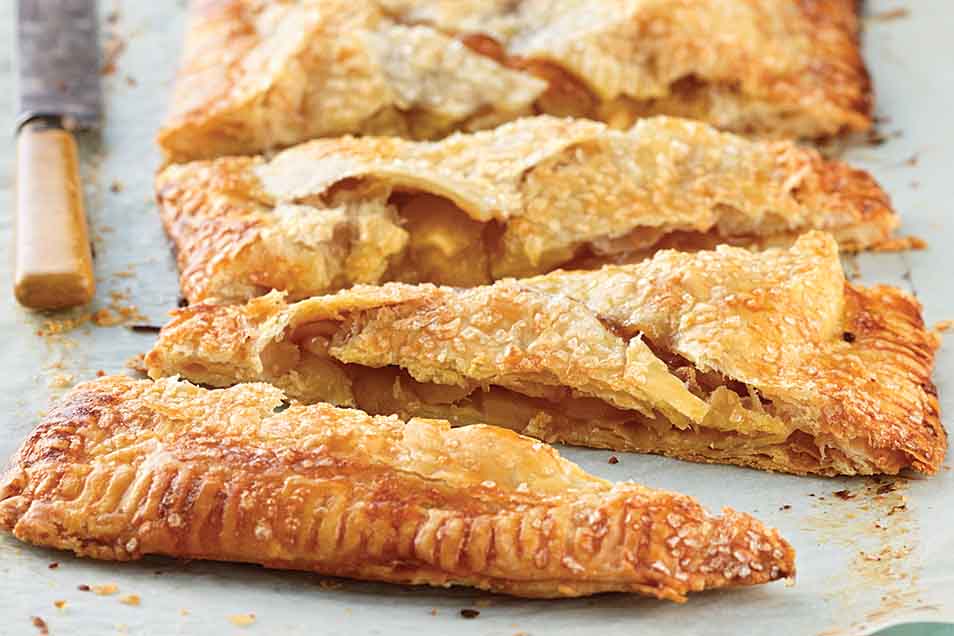 We've combined the tender, flaky pastry of our best apple pie with our favorite filling to create "pie bars" that offer as much crust as filling - perfect for all you crust-lovers out there. Topping the bars with Salted Caramel Sauce adds extra flavor.
Ingredients
Pastry
2 cups Pastry Flour Blend or King Arthur Unbleached All-Purpose Flour
1/2 teaspoon salt
1/2 cup (8 tablespoons) cold unsalted butter
4 to 6 tablespoons ice water
Filling
about 6 cup peeled, cored, and sliced baking apples; Granny Smiths are fine
1/3 cup sugar
3/4 teaspoon Apple Pie Spice
2 tablespoons boiled cider
3 tablespoons King Arthur Pie Filling Enhancer
pinch of salt
1 tablespoon lemon juice
1 large egg beaten with 1 tablespoon water (egg wash)
Instructions
To make the pastry: Combine the flour and salt. Work in the butter, then sprinkle in the water, mixing until cohesive.

Form the pastry into two rectangles; wrap in plastic, and refrigerate for 1 hour.

Preheat the oven to 425°F. Lightly grease a baking sheet, or line with parchment.

To make the filling: Mix all the ingredients except the egg.

Roll one piece of pastry into a 17" x 7" rectangle, trimming the edges. Roll the second piece into a 16" x 6" rectangle, trimming again.

Place the smaller rectangle on the pan and brush with egg wash. Spread the filling over the pastry, leaving 3/4"-wide bare edges.

Center the other piece of pastry over the apples and press down, crimping the edges to seal. Brush with the egg wash, and cut several vents, to allow steam to escape.

Bake for 15 minutes, then reduce the heat to 375°F and bake for an additional 12 to 14 minutes, until golden brown.

Yield: 16 to 20 servings.
Tips from our bakers
To ensure that no filling leaks out of the pie, bring the edges of the bottom piece of dough up over the top edges before crimping and sealing.
There are many different thickening options available for fruit pies, from flour to cornstarch to Instant ClearJel and more. For an easy guide to thickener substitutions, see our Pie Filling Thickeners Guide.