A customized print-friendly version of this recipe is available by clicking the "Print Recipe" button on this page.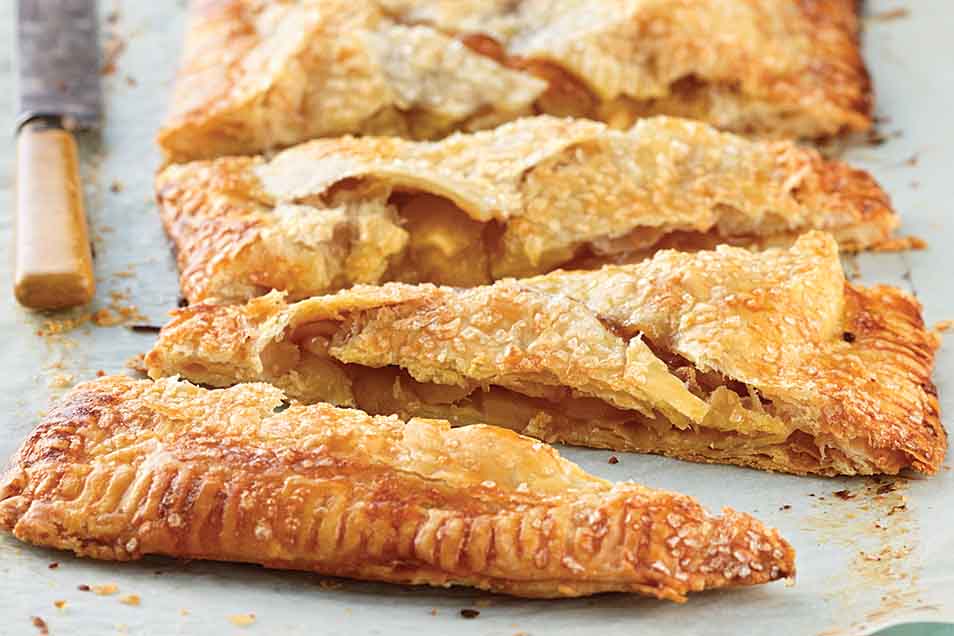 We've combined the tender, flaky pastry of our best apple pie with our favorite filling to create "pie bars" that offer as much crust as filling - perfect for all you crust-lovers out there. Topping the bars with Salted Caramel Sauce adds extra flavor.
Ingredients
Pastry
2 cups Pastry Flour Blend or King Arthur Unbleached All-Purpose Flour
1/2 teaspoon salt
1/2 cup (8 tablespoons) cold unsalted butter
4 to 6 tablespoons ice water
Filling
about 6 cup peeled, cored, and sliced baking apples; Granny Smiths are fine
1/3 cup sugar
3/4 teaspoon Apple Pie Spice
2 tablespoons boiled cider
3 tablespoons King Arthur Pie Filling Enhancer
pinch of salt
1 tablespoon lemon juice
1 large egg beaten with 1 tablespoon water (egg wash)
Instructions
To make the pastry: Combine the flour and salt. Work in the butter, then sprinkle in the water, mixing until cohesive.

Form the pastry into two rectangles; wrap in plastic, and refrigerate for 1 hour.

Preheat the oven to 425°F. Lightly grease a baking sheet, or line with parchment.

To make the filling: Mix all the ingredients except the egg.

Roll one piece of pastry into a 17" x 7" rectangle, trimming the edges. Roll the second piece into a 16" x 6" rectangle, trimming again.

Place the smaller rectangle on the pan and brush with egg wash. Spread the filling over the pastry, leaving 3/4"-wide bare edges.

Center the other piece of pastry over the apples and press down, crimping the edges to seal. Brush with the egg wash, and cut several vents, to allow steam to escape.

Bake for 15 minutes, then reduce the heat to 375°F and bake for an additional 12 to 14 minutes, until golden brown.

Yield: 16 to 20 servings.
Tips from our bakers
To ensure that no filling leaks out of the pie, bring the edges of the bottom piece of dough up over the top edges before crimping and sealing.
There are many different thickening options available for fruit pies, from flour to cornstarch to Instant ClearJel and more. For an easy guide to thickener substitutions, see our Pie Filling Thickeners Guide.
Reviews
I dislike apple pie so much that I won't eat it even warm from the oven, but I love this tart! This is especially saying something, since A) I particularly dislike crust and this recipe is touted "for crust-lovers" because of the higher crust:fruit ratio; and B) I didn't have the KA Pie Filling Enhancer (used 2T minute tapioca); boiled cider (used 1.5t vanilla); or pastry flour I did, however, add sugar to the crust (crust with no sugar at all sounds kind of ick) and upped the sugar in the fruit a bit, as well as sprinkling King Arthur Sparking Sugar on top of the egg-wash before baking, PLUS using a squirt bottle to decorate with homemade caramel sauce. Presented it whole in the pan for effect, but with score-marks for easier cutting. Having just made my second of these this week, I'm reminded that this recipe is a major time-suck. It says 40-50 minutes hands-on, but maybe they are thinking someone already peeled and sliced your apples ahead-of-time. Plus, there's a lot of clean up (my husband and I play chicken every time someone uses the Roul Pat, until one of us finally gives in and clean it after a few days). And crust sigh after 30-ish years of making pie crusts I really can't get it. I can make a crust that's flaky and tastes good, but aesthetically, my crusts look like a 4-year-old helped out. One trick I came up with over the years (other than just telling everyone that a 4-year-old helped out) is to make 50% more dough than the recipe calls for. That way, when I roll it out into the map of Scotland rather than a professional little rectangle, I can lop off all the edges and still have a rectangle that's big enough. That's what I did here and was super-glad I did. I also scored it with a pizza cutter or bench knife in a large diamond pattern, to function both as a cutting guide for the finished product, and to make some nicks for the steam. Final suggestions: I wouldn't try this without parchment in the pan myself, but what a pain trying to lay down the first crust with the parchment sliding all over the place! Maybe it would be good to grease the pan first, then stick the cut parchment to that, to hold it in place? Also, this tart does not hold up after a day. It gets super-soggy. Anyhow, everyone loves this. I first made this during apple season because I hate apple pie, and it was a winner. Then, I made it a couple days ago for a 4th of July party (the host asked me to make an apple pie because it's American. I passive-aggressively responded by making this giant apple pop-tart) and people went out of their way to find me to tell me how awesome it was. I made another today because my own kids never got to try it at the party. (Just came out of the oven and looks and smells absolutely amazing). I don't think I'd make this outside of a special occasion again though, because of the time commitment and kitchen-wreckage.
Wow! This pastry dough just flew together (I did use 2 extra tablespoons of water in addition to the maximum the recipe recommended) and was ever so FLAKEY. I didn't use apple pie filling but instead just threw in a blend of cinnamon, nutmeg, ginger, flour and cornstarch to add to the filling. My favorite pieces were the end pieces due to the layered, buttery crust...so my next goal is to tweak this recipe to make individual turnovers. Thank you KAF!
Very good apple pie variation. I used Jonathan apples and they tasted wonderful. I just ordered some boiled cider and definitely will try it when I make this recipe again. Very delicious dessert with a cup of tea! Thanks King Arthur Flour for a great recipe!
Baked this last night but was disappointed with the crust. It wasn't flaky at all and didn't have that "crisp" look my regular pie crust has. I know it must have been something I did, since every recipe I've made from this site has been perfect, chichis why I would still recommend it. I ordered the Pastry flour and Boiled Apple Cider to specifically bake this, and I weighed out ingredients. I did notice that the amount of dough I had wasn't going to be enough to roll out to the size it was suppose to be, so mine was closer to 12" x 6" and 13" x 7". FYI I used Instant ClearGel and the apples baked up really nice and no juice over flowed. The overall taste of the bars were delicious and between 4 of us, there was only 2 small slices left!

Sounds like everything in this recipe turned out well for you except the texture of the pie crust. It's important to use very cold ingredients and work the butter into the flour mixture only so that it holds together, but chunks are still visible. We recommend checking out the article on our blog called "Flaky, Tender, Pie Crust," for a full step-by-step walkthrough illustrating the secrets to success, and feel free to call our Baker's Hotline at 855-371-BAKE(2253) for additional tips. Happy baking! Kye@KAF
Right before Christmas I made the Nutty-Fruity Sourdough bread to take to a party. I made an apple jam to go with the bread but I had LOTS of the jam left over. So, I was thinking of how I could use up all the apple jam and I saw the Apple Pie Bar recipe and I was sure I could use the jam as the filling. This was really my first time making a pastry dough and it was pretty easy. I was worried about rolling out the dough the right size so I measured and cut parchment paper and rolled the dough out on the paper. It worked great and the filling worked perfectly. This pastry was fantastic. I will be sure to make it again and again and again!
So delicious. We used an apple peeler so we had uniform slices. That kept the filling nice and even so the top crust met up perfectly with the bottom.
At last, a bottom crust to love. Like so many home bakers, I've gone through most of the "tricks" to get crisp/flaky bottom crust on double crust pies. (I haven't yet tried placing the pie pan directly on my heated baking stone, but it's on my list. I'm also contemplating trying a USA pan.) I decided to try this recipe because I've been making lots of free form pastries lately. Instead of this pastry crust, I made my own recipe, which worked beautifully. Instead of pie filling enhancer, I used instant clear gel (a new favorite for me). Finally, I overstuffed it with as many apple slices as I could cram in while not tearing the top crust. It baked evenly and the bottom crust was perfection. Bottom line is that my hubby absolutely loved it. He has been asking for it every time I mention making a pie lately. As an FYI, half size works well too. It's really pretty as well, incorporating the rustic look of a galette with the look of a traditional pie.
Very tastey, although I would not use Granny Smith apples for it again, they turned into apple sauce. I like apple slices. The crust was very good, but I think too thin for the recipe if you like crust.
Oops! I left the last review, but sadly it was not for this recipe, it was actually for Crusty Apple Pie. So, if you want an amazing yummy dessert, look up the Crusty Apple Pie recipe and ENJOY the flaky crust and make sure to use a lot of the sparkling sugar, it is a must for this pie and is not hard to find in grocery stores if you don't have time to order from KAF. Sorry for the mixup in leaving the review on the wrong recipe :-)