A customized print-friendly version of this recipe is available by clicking the "Print Recipe" button on this page.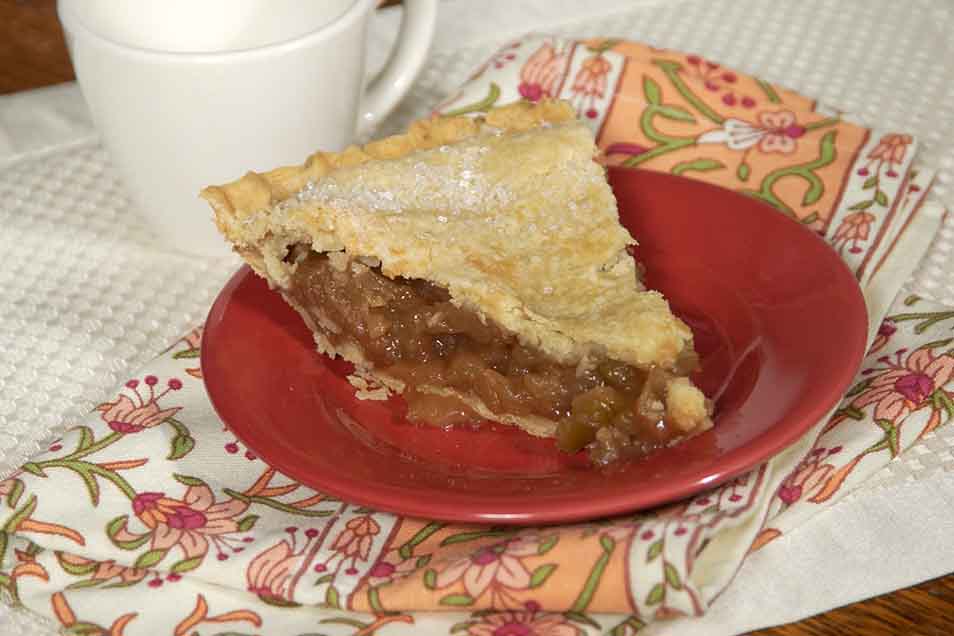 What's the most popular pie in America? You guessed it: apple. Despite its ancient history (written recipes for apple pie go back to at least the 1500s), apple pie definitely isn't old hat. It's a must-have at Thanksgiving, and a favorite restaurant dessert. If there were a comfort food hall of fame, apple pie would be a charter member. So what's the twist? Baking the pie for 2 hours, which gives it a rich gold, nearly caramelized filling, and spectacular crust, both top and bottom. Trust us: it works! Read our blog about this pie at Flourish.
Ingredients
Crust
2 1/2 cups King Arthur Unbleached All-Purpose Flour
1 teaspoon salt
1/4 cup vegetable shortening
10 tablespoons (1 stick + 2 tablespoons) cold unsalted butter
7 to 9 tablespoons ice water, enough to make a cohesive dough
Filling
8 cups lightly packed cored, peeled, and sliced Ginger Gold or Granny Smith apples (or your favorite pie apples); about 7 large apples
1 1/4 cups confectioners' sugar
1/4 cup boiled cider
1/4 teaspoon nutmeg
1 teaspoon cinnamon
1/4 teaspoon allspice
1/4 teaspoon salt
1 tablespoon vanilla extract
1 tablespoon fresh lemon juice
2 tablespoons butter, melted
6 tablespoons Pie Filling Enhancer OR 1/4 cup King Arthur Unbleached All-Purpose Flour
Instructions
To make the crust: In a medium bowl, whisk together the flour and salt.

Add the shortening, mixing till well combined.

Cut the butter into small cubes or pats, and work it into the dry ingredients (using your fingers, a pastry blender or fork, or a mixer) until the dough is unevenly crumbly.

Sprinkle in the ice water, continuing to mix until the dough is cohesive. Grab a handful; if it holds together willingly, and doesn't seem at all dry or crumbly, you've added enough liquid.

Divide the dough roughly in half, with one half slightly larger than the other. If you have a scale, the pieces will weigh about 11 ounces and 9 ounces.

Shape each piece of dough into a disk. Roll the edges along a floured work surface (as though the disk were a wheel), in order to smooth them out.

Pat each disk till it's about 1" thick, wrap in plastic wrap, and refrigerate for a minimum of 30 minutes. You may also chill the dough overnight, or for up to 3 days.

Remove the dough from the refrigerator. If it's been chilled longer than 30 minutes, allow it to warm a bit and become flexible, about 15 to 30 minutes. While the dough is warming, prepare the filling, and preheat the oven to 350°F.

To make the filling: Place the sliced apples in a medium mixing bowl, and stir in the sugar, boiled cider, spices, salt, vanilla, and lemon juice. As you stir, the mixture will become syrupy.

Add the butter and Pie Filling Enhancer or flour, and stir until everything is well blended. Set it aside.

Flour your work surface, and roll one piece of the dough into a 14" circle. Transfer the dough to a 9" regular (not deep-dish) pie pan that's at least 1 1/4" deep.

Spoon the filling into the crust.

Roll the top crust about into an 11" circle, and place it over the filling.

Fold the edge of the bottom crust up over the edge of the top crust, squeeze them together, and crimp nicely. Cut a decorative slit (or a quarter-sized hole) in the center of the crust, for steam to escape.

Place the pie pan on a cookie sheet (to catch any spills), and bake the pie for 45 minutes.

Gently place a sheet of aluminum foil atop the pie, covering its entire surface, and continue to bake for an additional 1 hour, 15 minutes, for a total of 2 hours, till the top crust is golden brown and the filling is bubbly.

Remove the pie from the oven, and allow it to cool overnight, for best texture. If you cut into it too soon, the filling will be watery, and will ooze out.

To serve warm, heat individual slices briefly in the microwave. Serve with vanilla ice cream, if desired.
Tips from our bakers
Substitute frozen apple juice concentrate for the boiled cider if you choose, but boiled cider gives the pie over-the-top great flavor.
Whoever heard of baking a pie for 2 hours?! Well, here's how it works: The pie won't burn, because the filling insulates the bottom crust, and the top crust is protected by the foil. Instead, both top and, more importantly, bottom crust end up beautifully browned. And the filling becomes a rich, deep brown as well, with an almost-caramelized flavor.
Because of the long bake, this pie demands a firm, crisp apple: Ginger Gold, or Granny Smith, or any apple that holds up well during baking (Rome Beauty, Winesap, Cortland, Northern Spy, Golden Delicious (NOT Red Delicious), Pippin... McIntosh apples are not a good choice here.
For a nice finishing touch, brush the top crust of the unbaked pie with milk, and sprinkle with coarse white sugar. Lovely sparkle; delicious crunch.
There are many different thickening options available for fruit pies, from flour to cornstarch to Instant ClearJel and more. For an easy guide to thickener substitutions, see our Pie Filling Thickeners Guide.
Reviews
I have been baking apple pies for...hum...a VERY long time but, without a doubt, this is the best recipe I have ever used. The only thing different was the Boiled Cider and WOW, what a difference it makes! Not only did it bring out the zing in the apples but, the fragrance from the baking lingered in my home for hours.
The crust is very tasty and tender. I did not cook this pie for the entire 2 hours - I took it out about 15 minutes early. I used Granny Smith apples. I have made this pie both with and without the boiled cider - the cider does make a difference. This is the apple pie that I will cook from now on.
I used three kinds of very firm apples in this pie -- Rhode Island greening, granny smith and Ida red. I was very pleased with the result and very glad I didn't use anything softer. I think even a cortland would have cooked down to mush after two hours. I used boiled cider and the flavor of the filling was deliciously zingy. After consulting the folks at KAF, I used 4 tsp. of instant clearjel instead of flour for the thickener (I don't have pie filling enhancer). Next time, I might use 5 tsp. The pie sat for 9 hours before I served it and was still a bit runny. The crust handled beautifully and was delicious.
This pie is wonderful! A friend who is from China came to learn to make this pie. It was their first time making a pie. I was terrified the crust would be tough from being over mixed but it was light and flaky! The flavor was also very good. I had limited resources so no lemon juice or boiled cider but it still turned out incredible! I ended up making two smaller pies and my Chinese friend ate one in a single sitting! That is quiet a complement! My friend now wants to buy an oven when they return home and I want to make another pie! I am all out! Thanks KAF!
Loved the taste of the filling, but didn't like the texture. Even though I used Northern Spy apples, the filling turned out mushier than I prefer. The crust was okay...not horrible but not spectacular either.
Wow! I use a gluten free pie crust on this. This is one of my most requested desserts. It's not overly sweet, just the way my family likes it. Unbelievable!
can not find info on preheating oven and pie baking temperatures
In step 8 it says to preheat your oven to 350 and in step 18 the baking time is 1 hr 15 min to 2 hrs. JMD @KAF
This is without a doubt the BEST apple pie ever. I did not have the boiled cider when I first tried it, so I boiled down some apple cider and then added 1/8 c. of the reduced cider and 1/8 cup of apple schnapps. WOW! The smell was amazing as it baked !!!!! Thank you for the recipe and for your wonderful products and web site!
This is the best apple pie recipe! I have made it many times and the filling is absolutely perfect every time. The additional cooking time and waiting time is so worth it!
I was very disappointed in the apple mush inside of the pie. The crust was also very tough. I think that King Arthur Flour should re-work this recipe and see what went wrong!
Mushy apple filling might be caused by the type of apples used. If you use a Macintosh, which is high in water, the result will be mushy after baking as well as the filling settling away from the top crust. Lengthy baking time may also effect this. Sorry the crust diasppointed as well. Hope you find a recipe that meets your needs before the big pie holiday. Irene @ KAF