A customized print-friendly version of this recipe is available by clicking the "Print Recipe" button on this page.
Apple Pie with Cranberries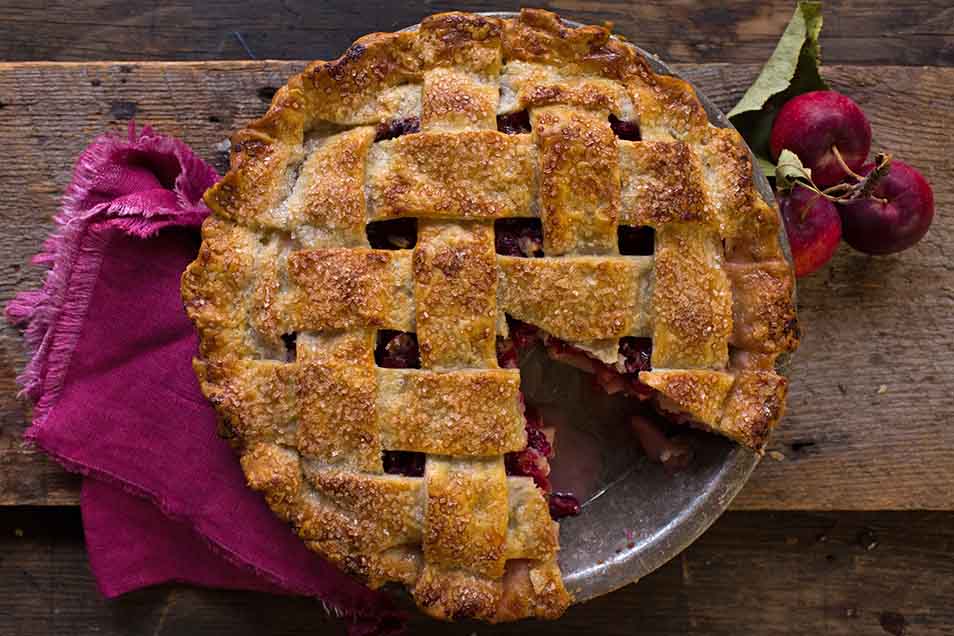 While apple and cranberries complement each other in taste, season and glowing colors, sometimes the consistency isn't quite right. Cooking the berries, sugar and orange peel with flour to thicken before pouring over the apples gives the pie a better texture and flavor.
Ingredients
Filling
1 1/2 cups chopped cranberries
1 cup sugar
1/2 teaspoon grated orange peel (zest)
1 tablespoon King Arthur Unbleached All-Purpose Flour
1/3 cup orange or cranberry juice
6 tablespoons chopped pecans
3 firm, tart apples sliced 1/4" thick
1/2 teaspoon cinnamon
1 tablespoon butter
Instructions
Preheat your oven to 425°F.

Divide the pastry into two pieces, one slightly larger than the other. Roll the larger piece of pastry into a 12" to 13" circle, and place it in a 9" pie pan.

To make the filling: In a medium saucepan, cook the cranberries with the sugar, orange peel, flour and juice until the mixture is slightly thickened.

Sprinkle half the pecans into the crust in the pan.

Layer the apples on top of the nuts. Sprinkle them with the cinnamon and dot with the butter.

Pour the cranberry mixture over the apples and sprinkle with the remaining pecans.

Roll the second piece of pastry into an 11' circle. Use the pastry to weave a lattice top crust.

Bake the pie for 30 minutes, or until the crust is golden and the berries are bubbly.

Remove the pie from the oven and allow it to cool before slicing.

Store, loosely covered, at room temperature for a day, or refrigerate for up to 5 days. Freeze for up to three months.
Tips from our bakers
Need some tips to make your pies perfect? Check out our Pie Baking Guide.
There are many different thickening options available for fruit pies, from flour to cornstarch to Instant ClearJel and more. For an easy guide to thickener substitutions, see our Pie Filling Thickeners Guide.
Reviews
Good pie. Used cranberry juice.
I rate the recipe a 5, but my pie a 4. While I used an all-butter crust, and it tasted great, there was a pool of juice at the bottom. Not sure why, but I still recommend the recipe :)
I have made a version of this pie for many years. In fact, ever since I made it in a KAF pie class! In that class, we did not cook the fruit and it turned out just great. So, I do skip that step. If you have trouble with pie crust and are in the area, I highly recommend this 3-hour weeknight class. I could not make crust to save my life but am the queen of pies in my family since the KAF class. This is my go-to apple pie recipe and I always receive compliments on its taste and appearance. Happy baking!
I've made this pie with two changes. First, I don't like nuts when they've become soggy -- so I didn't add the nuts. There's enough liquid in the pie filling to affect the nuts. Secondly, and this is a big improvement, I add finely chopped candied ginger. It's a great improvement to the pie. Of course, candied ginger is usually an improvement to most desserts.
The reason I chose this recipe was because I thought the combination of apples and cranberry would be delicious, and it sure was! The pie was relatively easy to make and it turned out great. I used KAF pie crust mix for the crust and it was delicious. Highly recommended!
my husband called this pie "refreshingly different" and went back for seconds (and thirds). i love the cranberries and pecans, as they give both the flavor and texture an overhaul on your normal apple pie! the only problem i had was with the crust recipe, which did not give me enough for the top crust, and was difficult to work with.
A delicious pie! We used four gala apples because that's what we had on hand. The pie was so easy to put together; the flavor combination and texture perfect! Excellent recipe.
my husband enjoyed this one. since apple season is upon us and i found a good deal on fresh cranberries i was looking for a recipe to combine them. this one fit the bill. i am needing to make another pie this year for thanksgiving besides my usual pumpkin and pecan. this is the one my husband has requested. the sweetness, tartness is just right, plus it is so pretty.