A customized print-friendly version of this recipe is available by clicking the "Print Recipe" button on this page.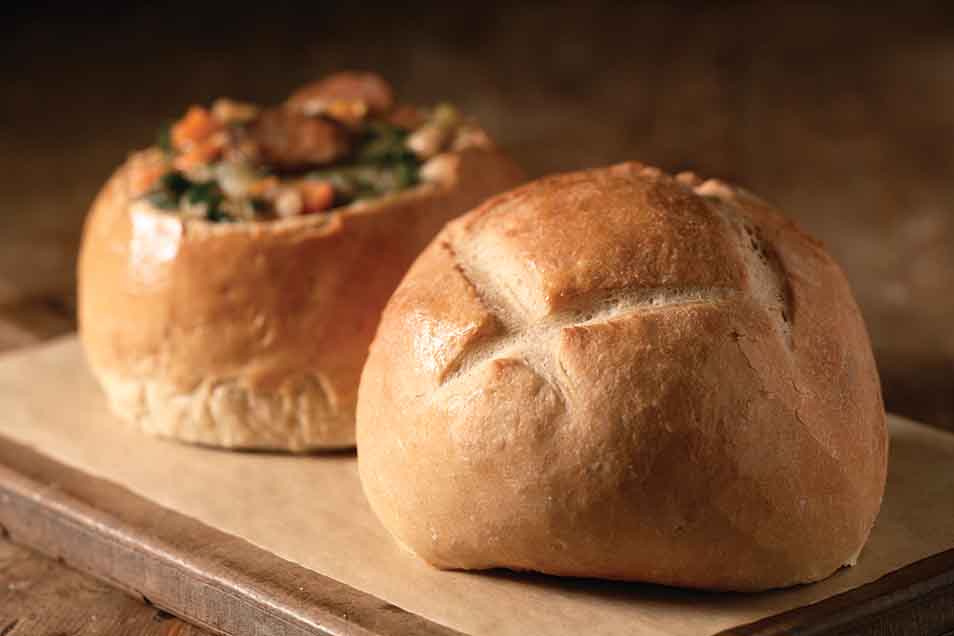 Hollow out the center of these tasty bread bowls, and fill with stew or chili.
Instructions
Mix and knead together all of the ingredients—by hand, mixer or bread machine—till you've created a smooth dough.

Allow the dough to rise, covered, for 45 minutes; it should become puffy.

Divide the dough into 5 pieces.

Roll each piece into a ball.

Place on a lightly greased or parchment covered baking sheet.

Cover the bread bowls with greased plastic wrap.

Refrigerate for 4 hours (or up to 24 hours); this step will give the bread bowls extra flavor, and a delightfully crisp-chewy texture.

Two or more hours before serving, remove the bread bowls from the refrigerator. Uncover, and let them sit for about 30 minutes while you preheat the oven to 425°F.

Just before baking, slash the top surface of the bowls several times to allow them to expand.

Bake for 22 to 28 minutes, until the bowls are deep brown, and sound hollow when thumped on the bottom.

Remove from the oven, and cool on a rack.
Reviews
As an experienced bread baker I was disappointed in this recipe. Followed it exactly but only gave it the 4 hours rest in the refrigerator. I actually had to let it proof for 2 hours before baking but even then the balls never doubled in size and never rose much more in the oven. My yeast is not outdated. The finished bowls measured 2" high and almost 4" across. Much too small for a bowl of broccoli cheddar soup. I will keep looking for a better recipe

We're sorry to hear this well-loved recipe gave you some trouble, Judy. We'd love the chance to talk through the recipe with you, so we encourage you to reach out to our free and friendly Baker's Hotline staff to help troubleshoot at 855-371-BAKE (2253). Kindly, Annabelle@KAF
Doubled the recipe with first batch added sourdough starter with just flour and water. Second batch portion added remainder of ingredients. Mixed batches together. Baked up at 400 for 25 minutes cored and added beef stew. Will make them again with broccoli cheddar soup as requested by my family.
I loved this recipe and would make it again. Used a little sourdough starter. I added 200 grams sourdough starter with the flour and water for one batch. The added the other ingredients to the other batch. Baked at 400 for 25 minutes. Cored them and added beef stew. Phenomenal! Will make again.
I recently made this recipe with a few changes and had marvelous results. I used garlic infused olive oil, added dry Italian seasoning, reduced the water by a half cup and used regular milk instead of the dry. Instead of whole grain flour I substituted whole grain rye. I did not divide the dough instead I made one large round loaf baked for 40 minutes at the reccomended temp. The loaf sliced perfectly, had delicious flavor and a fantastic crumb. I would give the recipe a 5 star rating but for some reason I could not. Spray the dough lightly with water before putting into the oven for a browner crisper crust.
Bread bowls were the size of large hamburger buns. I had to run to the store at the last minute to buy bread bowls the were big enough to serve my homemade clam chowder in. They ended up being a dry and crumbly texture, lacking in any depth of real flavor. I would not use or recommend this recipe.

We're genuinely sorry to hear that this recipe didn't turn out the way you hoped it would, Chris. If you'd like to troubleshoot further to see if there's something that caused the disappointing results, feel free to give our Baker's Hotline a call at 855-371-BAKE(2253). We'd love the chance to hear more of your feedback and see if we can help. Kye@KAF
I use oven proof bowls and turn upside down. Grease. Roll out dough about 1/2 inch thick. Cover the bowl. Let sit 30 minutes. Bake at 350 till golden brown. Remove bread bowl from oven proof bowl and cool slightly. You get a bowl shape every time. If edges are uneven you have an artistic bread bowl.
HOLY WOW! I made a few mistakes but they still turned out amazing! Crusty in the outside, perfectly chewy inside. I didn't put them in the refrigerator at all but I will do so the next time I make them (and there will be a next time very soon). I also completely forgot to slash the tops but they still expanded way more than I expected. I wanted bigger bowls so I only made three. Another absolute home run, KAF!
Followed the recipe to a "T" and they came out flatter than I had hoped. They look nothing like the picture. They were pretty tasty though, so I bumped it to 3 stars.

Jonathan, it sounds like your dough may have benefited from some additional flour or from some stretch and folds during rising. (Check out the video in the Baking Skills section of our website to see a demonstration of how to perform a stretch and fold if need be.) This helps add strength to the dough by organizing the gluten. You can also consider using Bread Flour next time too! Kye@KAF
These are awesome for stews and chilis (haven't tried them with soup). The bread is delicious all by itself. I'm not sure where other reviewers are going wrong, but I've never had any problems with the shape of my bread bowls - all I do is roll them into balls, set them on the cookie sheet, bake, and voila! The hardest part about these bowls is hollowing them out and not leaving a hole on the side!
I followed the recipe to the letter and they turned out perfectly! The dough was in my fridge for 18 hours. They were chewy on the outside and nicely browned as promised. The family loves them! I filled them with a cheddar ham soup. Yum.