A customized print-friendly version of this recipe is available by clicking the "Print Recipe" button on this page.
Artisan No-Knead Pizza Crust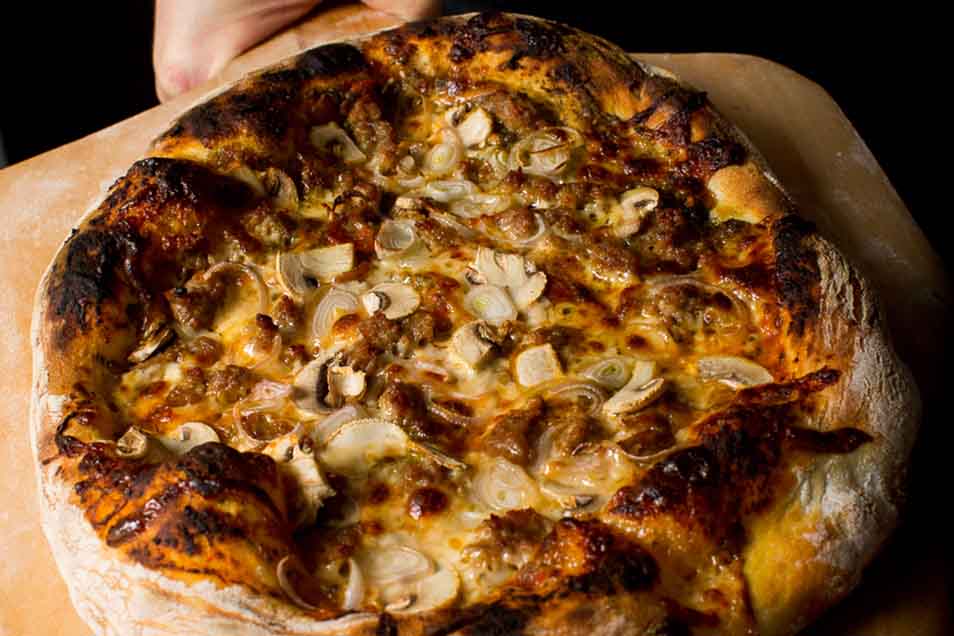 This Roman-style pizza is reminiscent of the artisan wood-fired pies that are all the rage on the West Coast. The pizza is light but not flat; substantial but far from bready, with a light and pillowy crust that's equal parts chewy gluten and air. In short, it's pizza perfection. Our thanks to Julia Reed, King Arthur Flour's visual media producer, for this delightful recipe.
Instructions
Mix the dry ingredients, then add the water. Stir until just combined.

Cover and allow the dough to rise at room temperature for 24 hours. To make dough with a longer rise, see "tips," below.

Place your oven rack on the center rung, and preheat the oven to 500°F to 550°F (if your oven goes to 550°F) with a baking steel or stone inside. The position of the rack inside the oven is especially important, particularly if you're using parchment paper — too close to the broiler (you need at least 8" clearance) and the top of your pizza (and the parchment) will burn before the bottom has had time to cook through.

Allow the oven to sit at temperature for 30 minutes before baking your pizza, in order for the steel or stone to fully preheat.

Divide the dough in half. Working with one piece of dough at a time, use a bowl scraper to transfer it to a well-floured surface. Stretch and fold it, as follows: holding onto the dough at both ends, pull one end away from the other, then fold it back onto itself. Repeat on the other side. The dough will likely be sticky — don't worry about it looking neat as you fold. Be sure to keep your hands floured as you work.

Repeat this process for the other side of the dough, so that all four corners of the dough have been stretched and folded.

Gently pull the ends towards the middle of the dough, then turn it over. Using your fingers, pull the dough under itself until the top is smooth, and the seams have been worked into the bottom of the dough.

Repeat with the second piece of dough, and place each ball seam-side down into a floured bowl.

Cover the bowls and allow the dough to proof (rise) for 45 minutes to an hour, while your oven preheats. In colder weather, place the bowls on the stove top to stay warm.

Generously flour a wooden peel, rubbing flour into the board to completely coat. If you're using a metal peel, or if this is your first attempt at homemade pizza, place a piece of parchment on your peel instead of using flour.

Scoop the proofed (risen) dough onto a well-floured work surface, using care to pool the dough in as round a shape as possible for easier stretching. If your dough feels wet, use a generous dusting of flour on top. For a dough that feels drier, use slightly less flour.

Using your fingertips, gently depress the dough, being careful not to touch the outer edge of the crust. This step is important — leaving the circumference untouched at this stage will result in a beautiful bubbly outer crust, post-bake.

Again, using care to not touch the outermost edge of the crust, lift the pizza from the work surface and use your knuckles to gently stretch the dough. If the dough is at all sticky, use more flour. Use two hands at once to gently move the dough in a circle, allowing gravity to perform the stretch. Gravity is your friend! Let it do most of the work for you, as pulling will stretch the center more than the edges. If you find your dough is difficult to stretch, set it down on a floured surface for 5 to 10 minutes to allow the gluten to relax.

Stretch the dough until it's approximately 10" to 12" in diameter. Move it to your well-floured peel (or floured sheet of parchment) and adjust the dough to fit the surface. Remember — if the dough is sticky when you put it on the peel, it will stick to the peel! Make sure it's well-floured.

If you're using parchment, trim the excess around the dough to prevent it from burning. We generally leave an inch around the dough, but to be safe we recommend trimming the paper flush with the dough, especially if your parchment's heat rating is below 500°F, as many are.

Lightly sauce the dough, then top with the cheese of your choice. Add the rest of your toppings.

Turn on the top broiler in your preheated oven, and transfer the pie to your preheated steel or stone. If you only have a bottom broiler (in a drawer underneath the oven), don't use it — there's not enough clearance (see "tips" below). But no worries; without using a broiler you may need to bake your pie for a few minutes longer, but with a steel or stone, it will still turn out just fine.

If you're using a wooden peel, jiggle the uncooked pizza back and forth until it moves easily on the peel before quickly transferring it to the steel. If you're using parchment, gently slide pizza and parchment onto the steel or stone. The parchment will blacken around the edges, but remain intact under the pizza.

Bake the pizza for approximately 6 minutes on the steel, 7 minutes on the stone (give or take), until bubbly and charred on the edges. Remove the pizza from the oven, and top it with freshly grated Parmesan, if desired.

Repeat with the remaining dough and toppings.
Tips from our bakers
To make dough with a longer rise (and more flavor), after letting it rest on the counter for 24 hours, refrigerate it for up to 6 days. Let it come to room temperature before shaping and baking.
Why use parchment instead of flour on a metal peel? Releasing the dough from a wooden board (even a generously floured one) takes some practice, and is even more difficult using a metal peel. Parchment is easier to use while you perfect your dough, and renders equally delicious crusts.
Parchment paper is rated to 500°F, so at 550°F the edges will char. We've never had any trouble with parchment catching fire when baking on the center oven rack, but be sure to keep a close eye on pizzas being cooked on parchment, just to be safe.
If you're using a wooden peel, be sure to apply your toppings quickly. The longer the dough sits on the peel, the more difficult it will become to release.
Make absolutely sure the pizza moves easily on the peel before you transfer it to the stone or steel. You want to be sure it isn't sticking before opening the oven; we learned the hard way that jiggling the pizza over a steel usually causes toppings to fly onto the steel, burning immediately and setting off smoke alarms.
Warning: DO NOT place your pizza under a broiler with less than 8" of space between it and the cooking surface (as is often found with bottom broilers.) This could cause a fire. Broiling instructions for this recipe are written for an oven equipped with a top broiler. If you have an oven where the broiler is on the bottom (usually in the bottom compartment of the oven) or on top in a smaller, separate compartment, make sure there's at least 8" between the broiler and the cooking surface. If there isn't, don't use the broiler. Your pizza will still be great without being broiled, though it may take a few more minutes to bake.
Reviews
Loved the crust, just what I was looking for however the instructions don't indicate high or low setting on the broiler. I used high but you really have to keep an eye on the pizza I found out. I would recommend this recipe to anyone.

Marty, that's a good question! If your pizza is placed lower in your oven, you'll probably want to use the high setting. If it's closer (but no closer than 8 inches, for safety!), you can choose based on your preferences. Either way will get you there! The important thing is to keep a very close eye on it and never walk away, as it can get overdone in a flash. Happy baking! Kat@KAF
Delicious, one of the best homemade pizza crusts I've ever made! Can this recipe be made by making only one pizza crust instead of dividing into two? The pizzas came out extremely small and was not enough for a meal. Also, can the recipe be doubled, to therefore make two larger pizzas, or even more?

Hi Ashley! Feel free to use the full batch of dough for one large pizza. You can double the recipe, but we wouldn't recommend going any larger than that, as ratios can get a little wonky. Annabelle@KAF
So easy and very tasty. I make this every Friday night. Love it
I made this tonight and loved the edges. They truly were like pizzeria pizza. The middle was soggy, though, and some of the toppings oozed off over the edge onto the stone. Does this mean I put too much cheese and sauce? Also, the dough didn't rise very much even though it sat for 22 hours. Could this have been a factor? It's winter time, so maybe I needed to let it rise even longer? I definitely want to try this recipe again, though,, because even with the problems, it was better than any other crust I've made.

Hi Heather! We're so glad to hear you were able to achieve pizzeria pizza right in your very own kitchen! I make this recipe at home a lot and have found that if I give the dough a quick knead before shaping, they rise better. I also bake them empty for about 15 to 20 minutes at 450°F (I just rub a little olive oil on top with my fingers) before adding my toppings. This ensures that the bottom isn't soggy, and then you only need to bake until your cheese is melted and your crust is golden brown. When you bake them empty, they'll puff a little bit and potentially you could get some bubbles, but you can deflate them when you add the toppings. Hope this helps! Annabelle@KAF
I didn't even follow the instructions due to needing some dough to use that day. I put it in my bread machine on the dough cycle. What resulted was the most heavenly pizza crust I've made to date. I can't even put into words how much I enjoyed it. I would like to make this again following the steps exactly, but I would like to use my sourdough starter instead of instant yeast. How much starter would I need? Would anything need to be done differently?

Hello! You can replace 120 grams of the flour and 120 grams of the flour with 240 grams of your ripe, bubbly starter, leaving out the yeast entirely. Other than that you can leave everything as-is. Annabelle@KAF
I absolutely LOVE this pizza dough, especially after a 5-6 day rise! My Husband and I watch it, lovingly, while it comes to life in the oven...haha! QUESTION~can this be frozen for future use?

We're glad it's such a hit, Kelly! We'd recommend partially baking the crust, until it's set but hasn't browned yet. This is usually about 6 or 7 minutes. After that, let it cool and freeze it for up to three months for pizza whenever you need it! Annabelle@KAF
Where can I find the dough-stretching video that people are talking about?

You can find all of our videos either on the King Arthur Flour Youtube channel or in the Learn section of our website under "Videos." If you'd like assistance, our friendly Customer Support team would be happy to help out at 800-827-6836. Kindly, Annabelle@KAF
I made this this week, swapping 150g of my 100% hydration sourdough starter for 75g each flour and water. I did also add the 1/8 tsp of yeast. The rise and texture were not what I had hoped for, but it had a beautiful, very pronounced sourdough flavor which I liked, but my husband did not. I'll be following the recipe exactly next time, and expect that it will make both of us happy. Don't skip reading the linked-to blog post, as the photos, video, and extra instructions are very helpful.
I wonder if the yeast can be replaced with a sourdough starter and if so how much? I have seen the recipe on this site for pizza dough made with discard, but I like the looks of this one much more, and I would like to use my starter.

Without commercial yeast, the final texture of your pizza dough may vary from what's shown here and you also might need to adjust the timeline of steps. (Sourdough starter takes longer than commercial yeast to make the dough rise.) Try using 1 cup (8 ounces) of fed sourdough starter and reducing the water by 1/2 cup (4 ounces) and the flour by 1 scant cup (4 ounces). Add additional flour or water as necessary to make a smooth, slightly tacky dough. Good luck and happy baking! Kye@KAF
I was really worried about how the dough/mixture should look before letting it sit for 24 hours. I followed the recipe to a T & I found the mixture quite shaggy and dry perhaps because it rained earlier that day. But I simply added some more water until I felt it came together as a sticky dough. I let it sit for around 20 hours (because I was rather impatient to wait any longer than that, haha) & let it "rise" for 30 minutes on the stove top while the oven was preheating. I didn't have a pizza peeler, so I improvised using parchment paper (trimmed closely all around the pizza dough) on top of a cookie sheet & used that to slide my unbaked pizza onto the pizza stone. I was worried about broiling it because the parchment paper I used said not to be used at temperatures above 400 degrees, but I figured it wouldn't hurt since there wasn't much parchment paper sticking out. Thankfully, the parchment didn't even char. Oh & before the second "rise" when it came to stretching, I honestly felt like a pro after watching the video which is quite surprising, because I'm awfully terrible at stretching pizza dough. So the instructions along with the videos were incredibly helpful! Thanks to the King Arthur Flour crew!! After 7 minutes on broil, the results were amazing. My favorite part is the pizza crust. Tastes so much better than the restaurant pizzas! Hands down my favorite pizza recipe.