A customized print-friendly version of this recipe is available by clicking the "Print Recipe" button on this page.
Asparagus Strata with Sourdough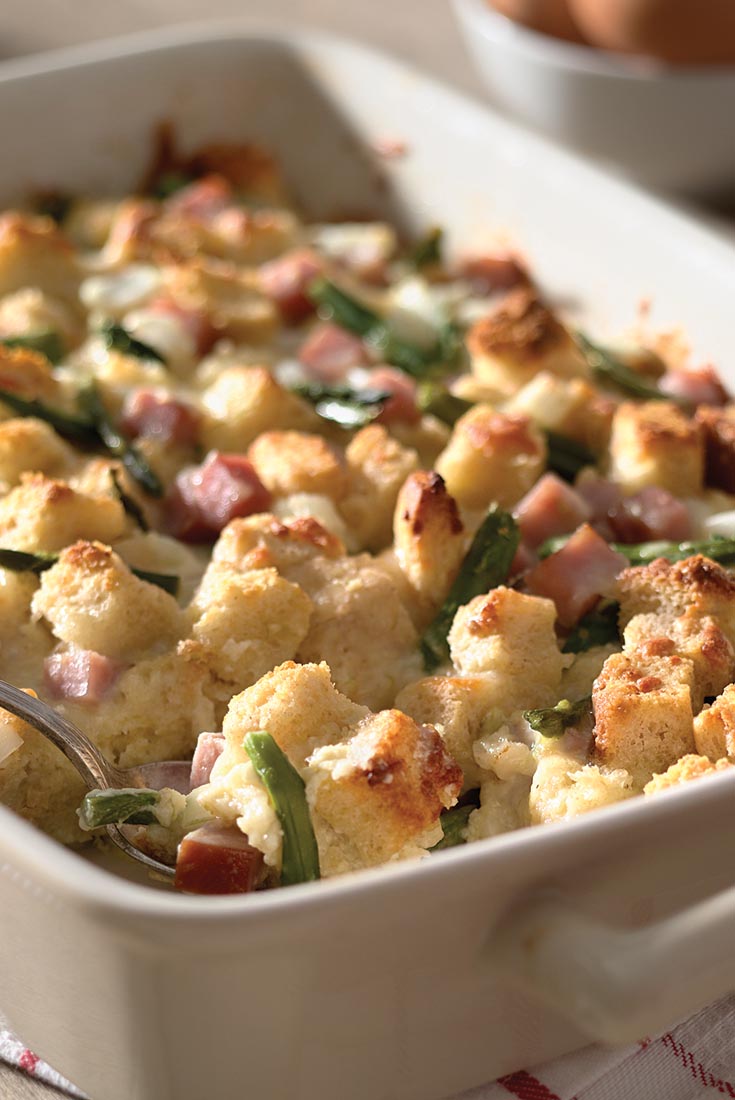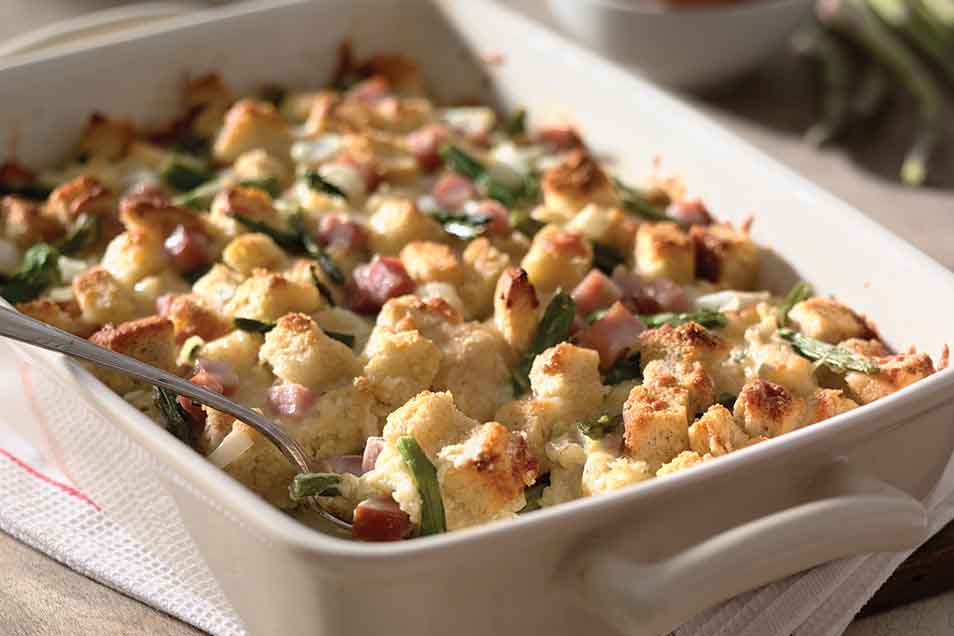 This smooth, rich dish is ideal for a crowd at brunch — especially in springtime, when fresh asparagus is in season.
Ingredients
10 to 11 cups sourdough bread cubes (3/4" cubes)
¼ cup (4 tablespoons) unsalted butter, melted
9 ounces frozen or 1 bunch fresh (15 to 20 medium stalks) asparagus, ends snapped off, cut into 1" pieces
1 small onion, peeled and chopped; a scant 1 cup
½ pound ham, diced
2 cups shredded sharp cheddar cheese, divided
8 large eggs
½ cup to 1 1/2 cups half & half (fat-free is fine)
½ teaspoon salt
Instructions
Preheat the oven to 350°F. Line a baking sheet with parchment, and grease a 2-quart casserole dish or 9" x 13" pan.

Toss the bread in a bowl with the melted butter, and spread evenly on the baking sheet. Heat the bread in the oven for 10 minutes; it won't color, but will dry out a bit.

If the asparagus are frozen, use them as is. If they're fresh, cook them very briefly; a couple of minutes in the microwave should be sufficient. You want them to be crisp, but not hard.

Toss the asparagus, onion, ham, and 1 ½ cups of the cheese with the toasted bread cubes. Spread the mixture evenly into the prepared pan.

Mix together the eggs, 1/2 cup of the half & half, and salt, and pour over the bread mixture, pressing the bread gently into the liquid. Add up to an additional 1 cup half & half if it doesn't come to within 3/4" of the top of the bread cubes.

Cover the pan, and refrigerate overnight, or for at least 6 hours.

Sprinkle the top of the strata with the remaining cheese. Bake the strata uncovered, in a preheated 375°F oven, for about 45 minutes, or until it's puffed and golden. A knife blade inserted into the center will come out clean. Remove the strata from the oven, and allow it to rest for 15 minutes before serving.

Yield: about 12 servings.
Tips from our bakers
Half a loaf of our Alaskan Sourdough Bread Mix works well in this recipe.
Why is there such a variation in the amount of half & half? Because a lot depends on the size and shape of your casserole dish. Use enough so that the liquid comes to within about 1/2" to 3/4" of the top of the bread.
Reviews
I made this for a Christmas Party cocktail & appetizer party. It was outstanding. Everyone complemented me. I nuked the fresh asparagus for 2 minutes. Used sharp cheddar cheese and lo fat milk. Was fantastic and very pretty.
No review yet, just a question: is there a particular sourdough recipe that you recommend for this strata?

Katerina, feel free to use your favorite sourdough bread recipe if you have one. If you're still looking for your perfect match, try our Rustic Sourdough Bread. It's simple to make, yet complex in flavor. Enjoy! Kye@KAF
I made this for a breakfast meeting and all.... Loved it! Will make again. I did use just Swiss cheese I thought ham, bread and cheese just called for Swiss!
I love recipes like this and this one in particular is wonderful. As usual, if you just follow the directions that KAF gives you, you get a Proven Winner. It was even good heated up later in the week for lunches! Five stars, easily.
Had some day old, early attempts sourdough bread. What to do. Found the recipe and baked some for Sunday brunch. It is delicious. I added some Swiss cheese and lightly sprinkled some dill on the bread cubes before the drying process. NOTE: if you want a yummy snack make the bread cubes with the dill and brown until lightly toasted. Yummy and crunchy.
I am so happy to have found this recipe awhile back, and now I make it for Christmas mornings- so easy to prep the night before and pop in the oven while we are opening gifts and sipping our first cup of coffee! It is the best strata recipe I have tried, and there have been many! SO flavorful, and you can mix up the veggies you throw in- we also like the orange, and other colors of peppers.I use a commercially available sourdough called California Goldminer, I buy the sliced loaf and use about 3/4 of that, cut in cubes. I do use more cream and a couple more eggs, to make it moist enough. Or just add more cream at the end to fill it up once it's all in the pan. You can't mess this up, really,we love it!
Made this yesterday with homemade sourdough. Oh, my! Good! (An aside here.... I think you have a typo in the total time for the recipe, unless you're counting the time making the bread, which I don't think you are.)
Hi there. Yes, the total recipe time is counted from beginning to end, including the making of doughs, batters, etc. plus resting and rising times, baking times, cooling times, etc.
Made this last night and had it for breakfast this morning! Really Delish!! I added 1 cup of diced zucchini as it just didn't look Like enough asparagus. I had to add the full amount of Half and half (my pan was deep) and baked for 1 hour next time I will add twice the ham (we barely noticed it). But very yummy and filling. Now, what to do with all These left overs!! I might try and freeze some.
I made this as a side dish on Christmas Eve and it really complimented the festive meal. I followed the recipe as written except that I cooked the onions a bit with the fresh asparagus. The dish was delicious and everyone loved it. I cut it up in squares and served it on a platter to make it easier to pass. Luckily there were a few squares left which my family was able to enjoy on Christmas morning! I will definitely make this again.
I served this for Christmas brunch with some diced red pepper for extra holiday color. I also sauteed the onions and substituted bacon for ham. Very tasty and very easy to prepare!! But I think that the strata is served as a main course with a fruit or green salad, the 9 x 13 casserole serves 8 people.