A customized print-friendly version of this recipe is available by clicking the "Print Recipe" button on this page.
Asparagus Strata with Sourdough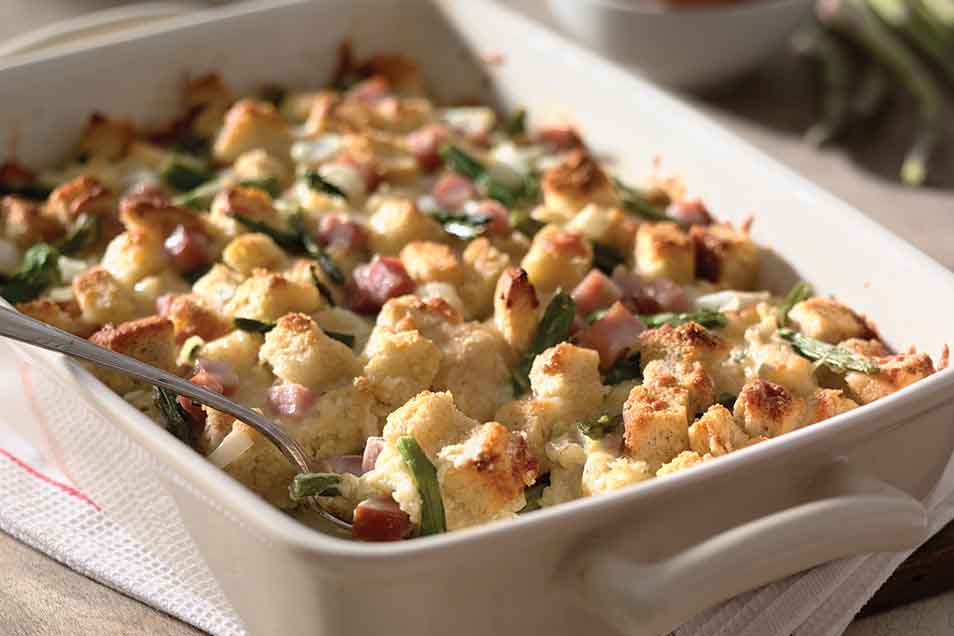 This smooth, rich dish is ideal for a crowd at brunch — especially in springtime, when fresh asparagus is in season.
Ingredients
10 to 11 cups sourdough bread cubes (3/4" cubes)
¼ cup (4 tablespoons) unsalted butter, melted
9 ounces frozen or 1 bunch fresh (15 to 20 medium stalks) asparagus, ends snapped off, cut into 1" pieces
1 small onion, peeled and chopped; a scant 1 cup
½ pound ham, diced
2 cups shredded sharp cheddar cheese, divided
8 large eggs
½ cup to 1 1/2 cups half & half (fat-free is fine)
½ teaspoon salt
Instructions
Preheat the oven to 350°F. Line a baking sheet with parchment, and grease a 2-quart casserole dish or 9" x 13" pan.

Toss the bread in a bowl with the melted butter, and spread evenly on the baking sheet. Heat the bread in the oven for 10 minutes; it won't color, but will dry out a bit.

If the asparagus are frozen, use them as is. If they're fresh, cook them very briefly; a couple of minutes in the microwave should be sufficient. You want them to be crisp, but not hard.

Toss the asparagus, onion, ham, and 1 ½ cups of the cheese with the toasted bread cubes. Spread the mixture evenly into the prepared pan.

Mix together the eggs, 1/2 cup of the half & half, and salt, and pour over the bread mixture, pressing the bread gently into the liquid. Add up to an additional 1 cup half & half if it doesn't come to within 3/4" of the top of the bread cubes.

Cover the pan, and refrigerate overnight, or for at least 6 hours.

Sprinkle the top of the strata with the remaining cheese. Bake the strata uncovered, in a preheated 375°F oven, for about 45 minutes, or until it's puffed and golden. A knife blade inserted into the center will come out clean. Remove the strata from the oven, and allow it to rest for 15 minutes before serving.

Yield: about 12 servings.
Tips from our bakers
Half a loaf of our Alaskan Sourdough Bread Mix works well in this recipe.
Why is there such a variation in the amount of half & half? Because a lot depends on the size and shape of your casserole dish. Use enough so that the liquid comes to within about 1/2" to 3/4" of the top of the bread.