A customized print-friendly version of this recipe is available by clicking the "Print Recipe" button on this page.
Back-of-the-Bag Oatmeal Bread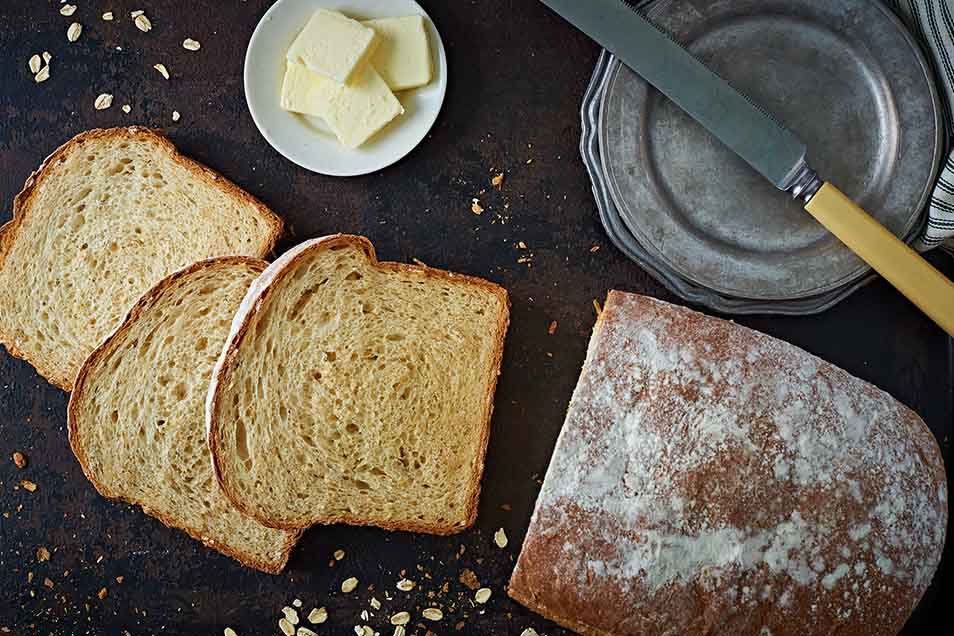 This tender, high-rising bread — a.k.a. Oatmeal Toasting and Sandwich Bread — makes wonderful sandwiches and great toast. The recipe was featured on our bread flour bag for quite some time, and is a reader favorite. Enjoy!
Ingredients
1 cup rolled oats (old-fashioned oats)
2 tablespoons butter
1 1/2 teaspoons salt
3 tablespoons brown sugar or honey
2 teaspoons instant yeast OR 1 packet active dry yeast*
1 1/4 cups lukewarm milk
3/4 cup raisins or currants (optional)
*If you use active dry yeast, dissolve it in the warm milk before combining with the remaining ingredients.
Instructions
In a large mixing bowl, or in the bowl of an electric mixer, combine all of the ingredients, mixing to form a shaggy dough. Knead dough, by hand (10 minutes) or by machine (5 minutes) till it's smooth.

Place dough in a lightly greased bowl, cover and allow it to rest for 1 hour; it'll become quite puffy, though it may not double in bulk. Shape as directed below.

Bread machine method: Place all of the ingredients (except the fruit) into the pan of your machine, program machine for manual or dough, and press Start. About 10 minutes before the end of the second kneading cycle, check dough and adjust its consistency as necessary with additional flour or water; finished dough should be soft and supple. Add the raisins or currants about 3 minutes before the end of the final kneading cycle. Shape as directed below.

Shaping: Transfer the dough to a lightly oiled surface, and shape it into a log. Place the log in a lightly greased 9 x 5-inch loaf pan, cover the pan (with an acrylic proof cover, or with lightly greased plastic wrap), and allow the dough to rise for 1 to 1 1/2 hours, till it's crested 1" to 2" over the rim of the pan.

Baking: Bake the bread in a preheated 350°F oven for 35 to 40 minutes, until an instant-read thermometer inserted into the center registers 190°F. If the bread appears to be browning too quickly, tent it with aluminum foil for the final 10 minutes of baking.

Yield: 1 loaf.
Nutrition Information
Serving Size

1 slice (61g)

Servings Per Batch

16
Amount Per Serving:
Calories

160

Calories from Fat

20

Total Fat

2.5g

Saturated Fat

1g

Trans Fat

0g

Cholesterol

5mg
Sodium

230mg

Total Carbohydrate

31g

Dietary Fiber

2g

Sugars

8g

Protein

5g
* The nutrition information provided for this recipe is determined by the ESHA Genesis R&D software program. Substituting any ingredients may change the posted nutrition information.
Reviews
Completely fool proof. ALWAYS turns out high and brown. Except when I try to double it and that's always a disaster.
This recipe was very easy to make. Mine also did not rise even one inch above the pan, even when sitting next to a heater. Also, for some reason, it never browns on the top but browns nicely where it hits the sides and bottom of the pan. I loved the flavor the first time, but for my second loaf (made one day later), there was an aftertaste that I can only describe as alcohol (maybe fermentation?). It's odd. I'm not sure what to make of it.

Jenny, it sounds like your dough is significantly over-proofed. The failing to brown and smelling like alcohol both indicate that the yeast ate up all the natural sugars in your dough, leaving them with nothing left to grow on. Is it possible your bread pan is slightly larger than advertised? (This is not uncommon with glass or ceramic pans.) In that case, you won't want it to rise quite so high over the top, which seems to be leaving you with too little yeast power to give you the brown and tasty bread this recipe should produce. Kat@KAF
Delicious!! Chewy crust. I added the raisins to mine. I had to add about 1/2 Cup more water because the dough way REALLY STIFF! Also my rise after I shaped the dough was less than 30 minutes.Could be because I live at high altitude and my breads almost always rise quickly.
Awesome bread..exactly followed the recipe and the bread came out really really well..For me, 1.5 tsp salt is a bit high and so will cut it down to 1 next time..great recipe..very quick n easy..
Even though I forgot to add the salt,it was very tasty.Also I haven't been measuring the flour correctly and had to add more warm milk so hence didn't rise very much,it is delicious.!
I failed the first 2 times. I followed your advice to use less flour, and gave it another try after reading more in depth about proofing the yeast and other information on this page, (mixing, resting, kneading, shaping and rising). I used the old school by hand method, and it turned out perfect! Thank you!
I'm on my 5th bake of this recipe and I am so happy to say that I double it and it has turned out beautifully every single time. I have used it as written but I also love to play with it and try adding whatever grain I have at hand. This time around, I added 3/4 cup pressed barley hot cereal grain and 1/4 cup oatmeal to keep the wonderful texture that it always seems to give it. I used 1/2 KAF White Whole Wheat flour and 1/2 KAF Bread flour. I also am experimenting with SAF instant yeast, and was a bit worried that I had affected my rise after my scale broke and I scooped my flour, so I increased my yeast to 3 tsp. I used a rounded TB of Sorghum and coconut milk, and I am even more impressed with how versatile the recipe is. Thanks KAF!
Followed this recipe to the letter. Twice. Both failed to rise completely. Only rose to about half of the described height. Baked them as directed and wound up with a dense waste. Flavor profile was excellent. Texture was not. Any advice?

James, thanks so much for reaching out to us! The good news is that your dough rose at least a tiny bit. This means the issue is probably not dead yeast, although you can try testing it (search our site for "how to test yeast" for instructions) just to be sure. What's probably happening is an excess of flour in your dough, which is making it difficult for your yeast to do its job. This is actually a really common issue for folks who measure their ingredients by volume rather than by weight. If you don't have access to a kitchen scale (we like to use grams for the most accuracy), then you will want to make sure you're filling your measuring cups correctly. Click on the orange "Recipe Success Guide" at the top of this recipe for details (including a video!) on how to do this. This should hopefully get you the tall loaf you're looking for. Happy baking! Kat@KAF
My husband and I love this bread so much, it became a favorite after the very first loaf, kind of surprising since our favorite breads are generally made, at least partly, with whole wheat or whole grains. I first discovered it on the KAF website about 4 months ago, while looking for recipes using bread flour. I've been using KA flours exclusively for over 25 years, but, for some reason, I was afraid to try the bread flour and had been wanting to try it for years. I used brown sugar the first few times then switched to honey which I'm still using. Everything else is as written in the recipe. One more thing: After years of using individual packets of yeast with inconsistent results my husband convinced me recently to order two bags of yeast from KAF, one each of SAF-Instant and Red Star ADY to experiment. I'm now alternating between them and, I have to say, I'm loving both of them...they're so consistent...but that's for another review. Thanks King Arthur!
We love this bread, which I make as written, except I sub KF malted wheat flakes for the oatmeal. It toasts beautifully and is amazing with avocado.