A customized print-friendly version of this recipe is available by clicking the "Print Recipe" button on this page.
Back-to-Basics Moist Yellow Cake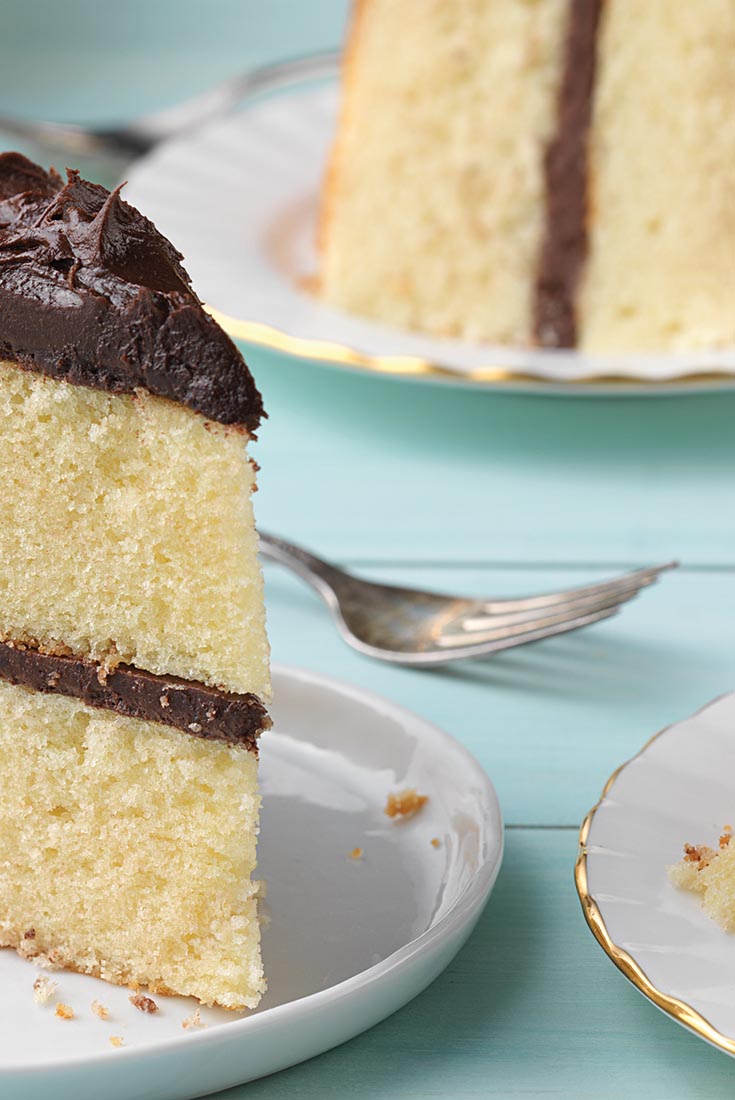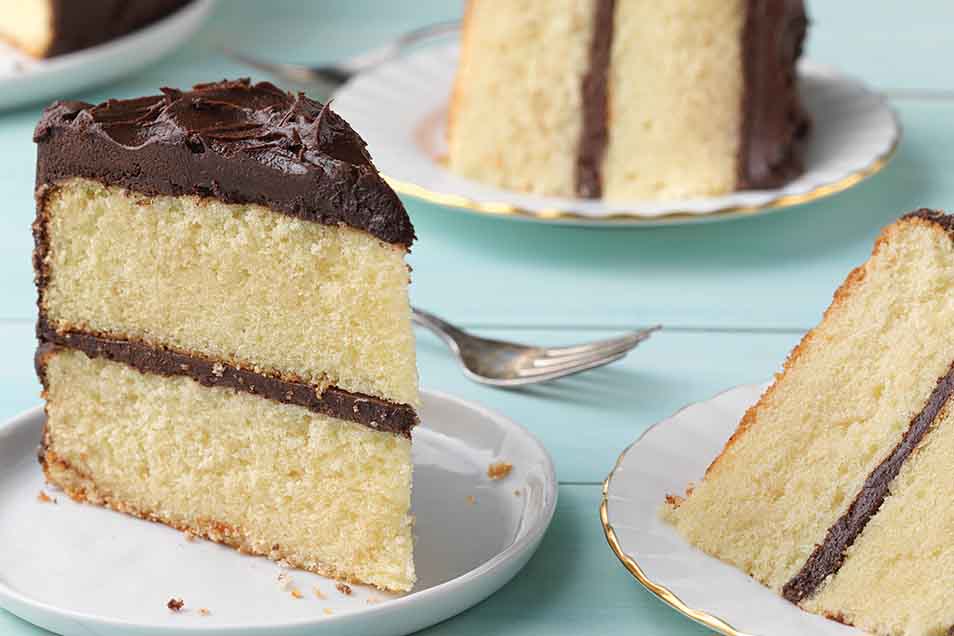 This cake is everything you expect of a classic yellow cake: moist, tender, and buttery rich, with a nice hint of vanilla. Enjoy it simply plain for an afternoon indulgence, or layer it with a sweet and creamy buttercream or a decadently dense fudge frosting for an ultimate birthday party treat.

Recipe revised 11/28/2017; see details in "tips," below.
Ingredients
1 cup (16 tablespoons) unsalted butter, softened
1 1/2 cups sugar
2 1/2 teaspoons baking powder
3/4 teaspoon salt
1 tablespoon vanilla extract
4 large eggs, room temperature
1 cup milk
Instructions
Place a rack in the center of the oven. Preheat the oven to 350°F.

Lightly grease your choice of pans: one 9" x 13" pan; two 8" or 9" round cake pans, or the wells of two muffin tins (24 muffin cups). You can also line the muffin tins with papers, and lighly grease the insides of the papers with non-stick spray.

Beat together the butter, sugar, baking powder, salt, and vanilla, scraping the bottom and sides of the bowl as needed, until pale and fluffy, about 3 minutes on medium-high speed of an electric mixer.

Add the eggs two at a time, beating the batter well and scraping the bowl between each addition, until fully combined and the batter has thickened.

Stir in half of the flour, then all of the milk, followed by the rest of the flour, scraping the bowl after each addition. Mix just until combined. The batter will look curdled after the milk addition; that's OK, it will come back together once the rest of the flour is added.

Divide the batter evenly between the prepared pans, spreading it level.

Bake the cake until golden brown — 40 to 45 minutes for a 9" x 13" pan; 36 to 42 minutes for 9" pans; 38 to 44 minutes for 8" pans, or 24 to 30 minutes for cupcakes. The center of the cake should feel firm when gently pressed, and a toothpick inserted into the center should come out clean or with just a few moist crumbs.

Remove the cake from the oven. Allow it to cool completely in the pan, then loosen the edges with a knife and gently remove from the pan. Allow the cupcakes to cool in the pans for 5 minutes, then turn out onto a rack to cool completely.
Tips from our bakers
We've made changes to this recipe to address flavor and texture concerns. If you'd like your cake to be similar in texture to a store-bought yellow cake mix, we recommend substituting 1/4 cup (1 3/4 ounces, 50g) vegetable oil for 1/4 cup (2 ounces, 57g) of the butter called for in the recipe. This will create an exceptionally soft and tender cake with the moist, golden yellow crumb of boxed cake mix cakes we've all come to know and love.
For a fancy ivory-colored cake: Replace the 4 eggs with 8 egg whites and add 3/4 teaspoon cream of tartar.
For a chai spice cake: Add 1 tablespoon of chai spice (or 1 teaspoon cinnamon, 1 teaspoon ginger, 1/2 teaspoon cardamom, 1/4 teaspoon cloves, and 1/4 teaspoon ground pepper) and steep your favorite black tea in the milk, if desired.
It's best to make this cake using a stand mixer. A hand mixer will work as well, but be careful not to overbeat the batter; some hand mixers blend more vigorously than stand mixers.
Reviews
Wonderful cake the 1st and 2nd day but after that (and well wrapped) dry.

It's true that homemade cakes tend to dry out faster than storebought (or made from a mix) cakes do. To compensate for this, you can try storing your cake in an airtight container with a slice of apple to maintain a nice moist environment. Or you can consider warming up the cake slightly before serving, and the never fail option? Top off with a scoop of vanilla ice cream or a dollop of whipped cream. Happy baking! Kye@KAF
Say it isn't so! Something from King Arthur that I don't like? Well, we can't be perfect all of the time, I still love you King Arthur Flour, but this was a complete fail ...wow! This was very flavorless and extremely heavy ...it reminded me of a cake-cornbread except cornbread has flavor.....I wonder if, maybe, it's about the part of country some people are in .. it's super humid here right now ...I don't know ...but I'm just gonna go back to my old stand by recipe. ..I still over King Arthur Flour ...y'all are awesome (just not this recipe) xo
Perfect! I followed the recipe to a t, but I did fold in some apple chunks I had tossed with a bit of sugar and cinnamon. I baked according to recipe in a 9x13 pan and it could not be better. Cake is tender, moist and the crumb is exactly what it should be. I'm confused about those who said the crumb was like corn bread and the cake dry. Not at all. I don't think it's the apples that make it moist though I'm sure it doesn't hurt. Anyway, I love it. The recipe is easy and delish!!
Quite possibly the worst yellow cake I've ever had. It was dry and tasteless. I used the oil as recommended in the recipe revision hoping that it would turn out, but alas, it didn't. My search goes on for a better recipe. I was careful not to over beat the batter and didn't over bake. Sorry King Arthur, not a fan of this one (but I use your flour exclusively and go to you first for baking recipes and ideas.

We're truly sorry to hear about the disappointing experience you had using this recipe. We appreciate your honesty, as well as your loyalty in the kitchen. Frank feedback like yours helps us look critically at our recipes and make (bake!) them even better. We hope you find the recipe you're looking for, and we always remind you that you're welcome to give our friendly Baker's Hotline a call at 855-371-BAKE(2253). Kye@KAF
I made this recipe twice with the oil addition. I was hoping that I just made a mistake the first time, but alas I did not. It was horrible. Heavy, dry and mot even close to moist. It was so bad that even my sweet toothed kids wouldn't take more than a bite, they just picked off the frosting. I would definitely not reccomend this recipe unless you're looking for a boat anchor.

Uh oh! We definitely don't want boat anchors, Jennifer, and we're sorry for the frustration. We'd love the chance to talk through the recipe with you, so we encourage you to reach out to our free and friendly Baker's Hotline staff to help troubleshoot at 855-371-BAKE (2253). Kindly, Annabelle@KAF
I spent hours scouring the internet for a great yellow cake recipe. I have the world's best chocolate cake recipe, and I needed a yellow cake to match that quality. It was my daughter's 18th birthday, and she wanted a cake with layers of chocolate and yellow cake. I read so many bad reviews of different cakes, so this one looked like the best. I used the version with the substitution of 1/4 cup oil for 1/4 cup of the butter. The choc cake I use, is oil only, and I wanted them to be a similar texture. I followed the rest of the recipe exactly. I made one 9' cake, and 12 cupcakes. Simply put, this cake is DIVINE. Warm from the oven, it has a delicious scent of butter, eggs, and vanilla, that smells just like custard. Mmmmm. I took it out of the oven when the top was still a little too moist to bounce back, but the toothpick was clean. The resulting cake was moist, and rich, but not dense or heavy. The texture was just perfect. I ended up slicing the one layer into two, and doing the same with the chocolate, to make four layers. I put homemade chocolate frosting between the layers, and buttercream on the outside. I had quite a few teenagers and adults, come up to me at the party, just to say how much they loved the cake. I will, without a doubt, make this cake again.
This tastes like cornbread. I should have read all the reviews first and the modifications. Maybe i would've liked it with oil. Now im discouraged and dont feel like making it again. Ill just go buy a cake from the bakery like i always do.
It would have been nice if you'd just add the modifications to the recipe. Just put it right there next to the butter in the list 'substitute 1/4 with 1/4 oil for box mix texture'. Super easy. I made the recipe before reading that. I'm pretty annoyed by the missed opportunity.
Hi! I am making a cake for a bride that wants a yellow cake close to the cake mix she's used to. I tried this with the modifications, and it fit the bill! However, I like tall cakes, so I converted it to make 3 layer 8' cakes. If anyone else is interested, here are my measurements. I just tested it and it is delicious! 3 layer 8' cake: 1 cup butter, 1/2 cup oi, 450 g sugar, 3 3/4 tsp baking powder, 1 tsp salt, 1 1/2 Tablespoons vanilla, 6 eggs, 542 g cake flour, 1 1/2 cup milk. Make as directed and bake on 350 for 33 minutes. I like to get my milk and eggs room temperature. Thanks for another great recipe! I am a big fan. Nichole's Custom Cakes.
Used the variation with the oil substitute. Helped me pass my ACF practical exam!!! Great easy recipe! Thank you so much