A customized print-friendly version of this recipe is available by clicking the "Print Recipe" button on this page.
Back-to-Basics Yellow Cake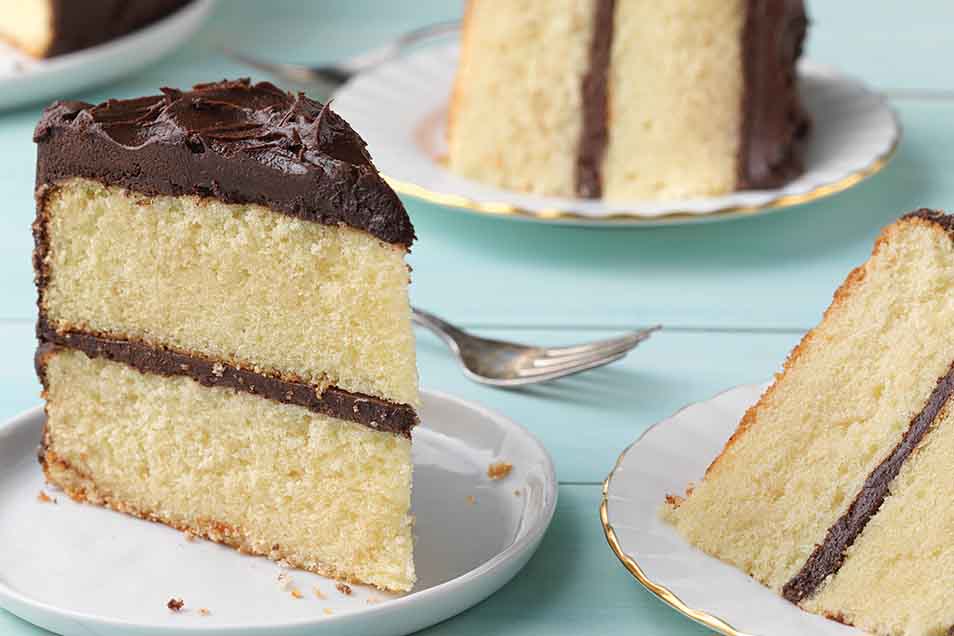 This cake is everything you expect of a yellow cake: tender and buttery, with a nice hint of vanilla. Enjoy it simply plain for an afternoon indulgence, or layer it with a sweet and creamy buttercream or a decadently dense fudge frosting for an ultimate birthday party treat.

This traditional butter cake may seem somewhat dry to those of you used to boxed cake mixes. For a moister cake, substitute vegetable oil for some of the butter; see "tips," below, for details. Also, be sure to serve it at room temperature; as with any butter cake, refrigeration will harden it up.
Ingredients
1 cup (16 tablespoons) unsalted butter, softened
1 1/2 cups sugar
2 1/2 teaspoons baking powder
3/4 teaspoon salt
1 tablespoon vanilla extract
4 large eggs, room temperature
1 cup milk
Instructions
Place a rack in the center of the oven. Preheat the oven to 350°F.

Lightly grease your choice of pans: one 9" x 13" pan; two 8" or 9" round cake pans, or the wells of two muffin tins (24 muffin cups). You can also line the muffin tins with papers, and lighly grease the insides of the papers with non-stick spray.

Beat together the butter, sugar, baking powder, salt, and vanilla, scraping the bottom and sides of the bowl as needed, until pale and fluffy, about 3 minutes on medium-high speed of an electric mixer.

Add the eggs two at a time, beating the batter well and scraping the bowl between each addition, until fully combined and the batter has thickened.

Stir in half of the flour, then all of the milk, followed by the rest of the flour, scraping the bowl after each addition. Mix just until combined. The batter will look curdled after the milk addition; that's OK, it will come back together once the rest of the flour is added.

Divide the batter evenly between the prepared pans, spreading it level.

Bake the cake until golden brown — 40 to 45 minutes for a 9" x 13" pan; 36 to 42 minutes for 9" pans; 38 to 44 minutes for 8" pans, or 24 to 30 minutes for cupcakes. The center of the cake should feel firm when gently pressed, and a toothpick inserted into the center should come out clean or with just a few moist crumbs.

Remove the cake from the oven. Allow it to cool completely in the pan, then loosen the edges with a knife and gently remove from the pan. Allow the cupcakes to cool in the pans for 5 minutes, then turn out onto a rack to cool completely.
Tips from our bakers
If you'd like your cake similar in texture to a store-bought yellow cake mix, we recommend substituting 1/4 cup (1 3/4 ounces, 50g) vegetable oil for 1/4 cup (2 ounces, 57g) of the butter called for in the recipe. This will create an exceptionally soft and tender cake with the moist, golden yellow crumb of boxed cake mix cakes we've all come to know and love.
For a fancy ivory-colored cake: Replace the 4 eggs with 8 egg whites and add 3/4 teaspoon cream of tartar.
For a chai spice cake: Add 1 tablespoon of chai spice (or 1 teaspoon cinnamon, 1 teaspoon ginger, 1/2 teaspoon cardamom, 1/4 teaspoon cloves, and 1/4 teaspoon ground pepper) and steep your favorite black tea in the milk, if desired.
It's best to make this cake using a stand mixer. A hand mixer will work as well, but be careful not to overbeat the batter; some hand mixers blend more vigorously than stand mixers.