A customized print-friendly version of this recipe is available by clicking the "Print Recipe" button on this page.
Back-to-Basics Moist Yellow Cake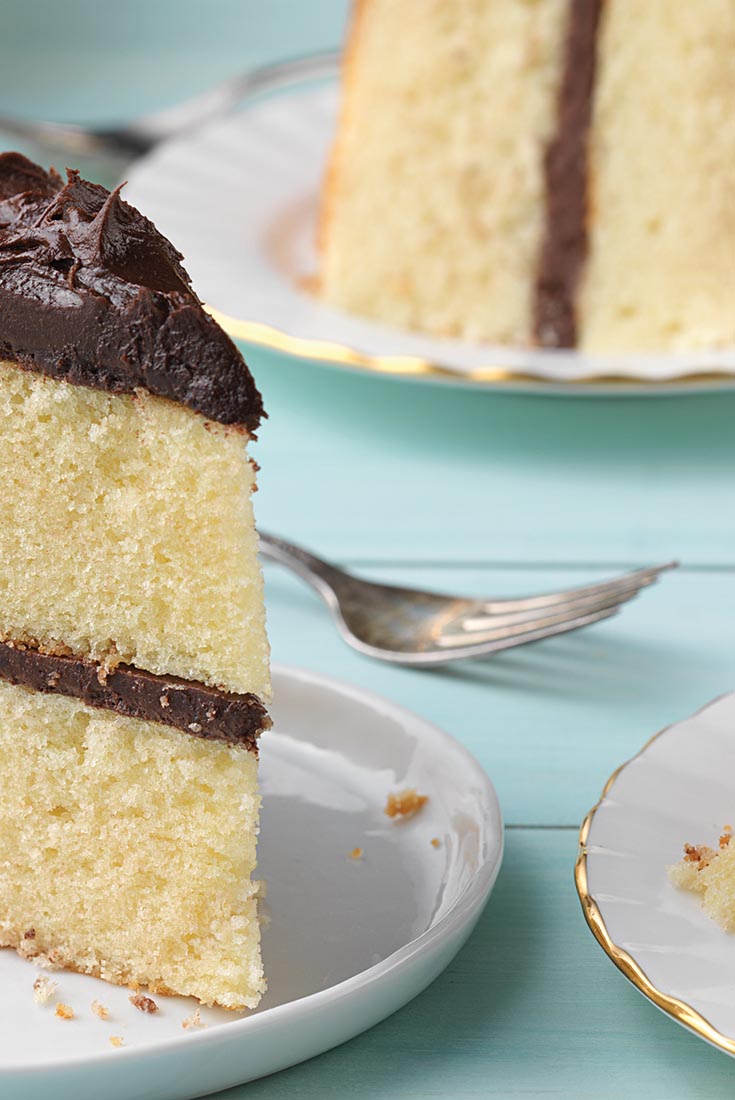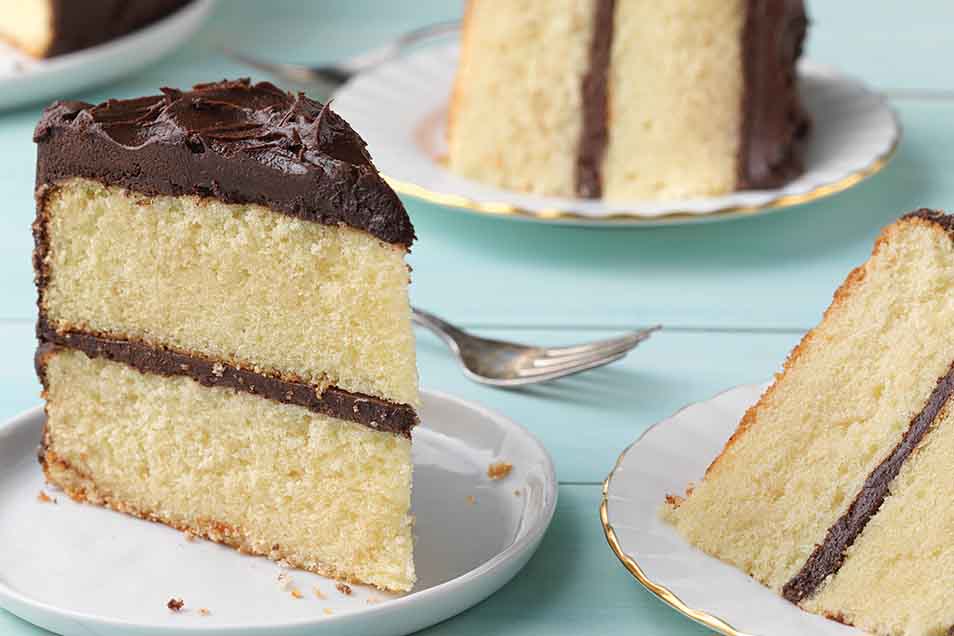 This cake is everything you expect of a classic yellow cake: moist, tender, and buttery rich, with a nice hint of vanilla. Enjoy it simply plain for an afternoon indulgence, or layer it with a sweet and creamy buttercream or a decadently dense fudge frosting for an ultimate birthday party treat.

Recipe revised 11/28/2017; see details in "tips," below.
Ingredients
1 cup (16 tablespoons) unsalted butter, softened
1 1/2 cups sugar
2 1/2 teaspoons baking powder
3/4 teaspoon salt
1 tablespoon vanilla extract
4 large eggs, room temperature
1 cup milk
Instructions
Place a rack in the center of the oven. Preheat the oven to 350°F.

Lightly grease your choice of pans: one 9" x 13" pan; two 8" or 9" round cake pans, or the wells of two muffin tins (24 muffin cups). You can also line the muffin tins with papers, and lighly grease the insides of the papers with non-stick spray.

Beat together the butter, sugar, baking powder, salt, and vanilla, scraping the bottom and sides of the bowl as needed, until pale and fluffy, about 3 minutes on medium-high speed of an electric mixer.

Add the eggs two at a time, beating the batter well and scraping the bowl between each addition, until fully combined and the batter has thickened.

Stir in half of the flour, then all of the milk, followed by the rest of the flour, scraping the bowl after each addition. Mix just until combined. The batter will look curdled after the milk addition; that's OK, it will come back together once the rest of the flour is added.

Divide the batter evenly between the prepared pans, spreading it level.

Bake the cake until golden brown — 40 to 45 minutes for a 9" x 13" pan; 36 to 42 minutes for 9" pans; 38 to 44 minutes for 8" pans, or 24 to 30 minutes for cupcakes. The center of the cake should feel firm when gently pressed, and a toothpick inserted into the center should come out clean or with just a few moist crumbs.

Remove the cake from the oven. Allow it to cool completely in the pan, then loosen the edges with a knife and gently remove from the pan. Allow the cupcakes to cool in the pans for 5 minutes, then turn out onto a rack to cool completely.
Tips from our bakers
We've made changes to this recipe to address flavor and texture concerns. If you'd like your cake to be similar in texture to a store-bought yellow cake mix, we recommend substituting 1/4 cup (1 3/4 ounces, 50g) vegetable oil for 1/4 cup (2 ounces, 57g) of the butter called for in the recipe. This will create an exceptionally soft and tender cake with the moist, golden yellow crumb of boxed cake mix cakes we've all come to know and love.
For a fancy ivory-colored cake: Replace the 4 eggs with 8 egg whites and add 3/4 teaspoon cream of tartar.
For a chai spice cake: Add 1 tablespoon of chai spice (or 1 teaspoon cinnamon, 1 teaspoon ginger, 1/2 teaspoon cardamom, 1/4 teaspoon cloves, and 1/4 teaspoon ground pepper) and steep your favorite black tea in the milk, if desired.
It's best to make this cake using a stand mixer. A hand mixer will work as well, but be careful not to overbeat the batter; some hand mixers blend more vigorously than stand mixers.
Reviews
I'm stunned to see the bad reviews. This cake is awesome! I'm saving the recipe to my favorite recipes file. I did admittedly double the amount of vanilla extract and added almond extract. Then I thought of cinnamon, so I put a tablespoon of cinnamon in there too - over the top! This was a HUGE hit! I always use whole milk, maybe low fat milks are not producing the desired results?? I also followed the directions closely about when to add things and not over-beating the batter, but I did it with a hand mixer. Made the cake yesterday and today it is already gone.
I have historically had poor results baking scratch yellow cakes. Always too dense, too dry, too heavy. Not this recipe! It created a perfect cake that was moist, light with that good homemade taste we are all searching for. I followed the revised directions calling for 1/4 c of oil and 3/4 c of butte, measured the flour carefully and did not over bake. Will be making this from now on! Thanks King Arthur!
I have tried a couple of yellow cake recipes in my lifetime and this turned out to be my favorite. It is moist and delicate. The only thing that I adjusted to this recipe was adding the pulp from one vanilla bean in addition to the vanilla extract in the recipe. Otherwise, I followed this recipe to the last detail.
Let's talk about this recipe! First off for those who complained about the moistness and flavor - all butter cakes tend to be dense (think pound cake) so their recommendations of replacing some butter with oil - spot on. I NEVER use vegetable oil I use butter infused olive oil or walnut infused olive oil in all my baking, this cake was super moist and far superior than a boxed cake mix. I used 1 TBSP of vanilla bean paste, not sure what the original recipe called for but I would have automatically upgraded the vanilla in the recipe based on the amount of flour. Wanted to try a different frosting - so I created a whipped cream frosting using my shaved hot cocoa mix (which was amazing and will be used as a filling between cake layers than frosted with chocolate buttercream the next time I make this). This is my go to yellow cake recipe. Super moist, nice soft crumb, and very flavorful.....
I made this recipe ,its on the back of the KAF unbleached cake flour box.Absolutely wonderful,I did use buttermilk instead of milk cause I didnt have regular milk and included cake enhancer too. It was awesome and Ill be making it again and again. So very moist and great tasting .I used milk chocolate buttercream ,but this would be great sans frosting, too.Next time I think Ill use raspberry buttercream ,as Ill be making this again and again. So happy with this recipe.
I'm sad to see all of these negative reviews... I first saw this recipe on the back of the KAF Unbleached Cake Flour box, and it's always my go-to when I'm making yellow cakes or cupcakes. The first time I made it I used convection and the tops came out hard and I clearly hadn't scraped down the sides of bowl carefully to incorporate the sugar, so warning! Also, that fluff and sprinkle method KAF is always recommending really makes a difference in the density and overall moistness of whatever cake recipe I'm baking. Definitely love this recipe, thanks!
absolutely delicious was my mistake of halving the recipe, but accidentally using four eggs instead of two. my husband and I only, I don't need no large cake looming all week long. This was sensational. I didn't try to modify the recipe following the mistake, I just crossed my fingers. The texture was quite nice, I may make a note of my mistake and bake it again the same way. a little whipped cream and fresh nectarines accompanied.
Baked this cake to celebrate a friend getting a new job. Came out beautiful and tasted great! Not a crumb left. Had several requests for the recipe. The rating stars aren't working but I give it 5 stars.
This is the WORSE recipe on the face of the Earth! I made this for My Mother's Day dessert! Big Mistake!! It was so dry! It exploded like other people said in their reviews! I have been baking all my life. I am 66 years old! My oven is fine! Take this off your site. I always thought homemade is best, NOT THIS! and, you should advertise that your mixes ARE NOT TREE NOT FREE!! My grandson is allergic, and all your mixes, after searching long and hard on your site, all have tree nuts!! Not good!! I will no longer USE ANY of YOUR RECIPES!!

Marlene, we're sincerely sorry to hear that you had such an overwhelmingly poor experience with this recipe. It's been our experience that it can be difficult to separate expectations created by the yellow cake box mixes with which most people are familiar and from-scratch recipes which stick to ingredients that home bakers can obtain. It can be quite a challenge to match this nostalgic taste using fewer, real ingredients. Even given this, we're sorry that you were left so disappointed, and on Mother's Day no less.

Thanks also for sharing your preference for seeing more allergen warnings on our mixes. While many of our mixes don't have tree nuts added to them as ingredients, it is true that our wheat flour-based mixes share production equipment with tree nuts. We include a statement about this on the product packaging of these mixes, at the bottom of the nutritional panel. We hope it will prove helpful to know that customers can also access this information online. When viewing a product on our website, click on the link that says "Nutrition + ingredients" under the orange "Add to Cart" button to see an electronic version of the packaging.

We recognize that this is an important topic to many families, and if we can ever answer any specific questions, please don't hesitate to reach out to our friendly Customer Support Team at 800-827-6836. We'll be happy to help however we can. Mollie@KAF
Not sure why there are so many bad reviews. This cake was really good ! Easy to make (beginner's cake recipe) and moist ! Slightly sweet and light - not rich. This is a cake I would serve with afternoon tea. Not sure if ppl were expecting a crazy sweet/rich cake but I don't typically associate yellow cakes with being super sweet and if it is, it's usually the frosting