A customized print-friendly version of this recipe is available by clicking the "Print Recipe" button on this page.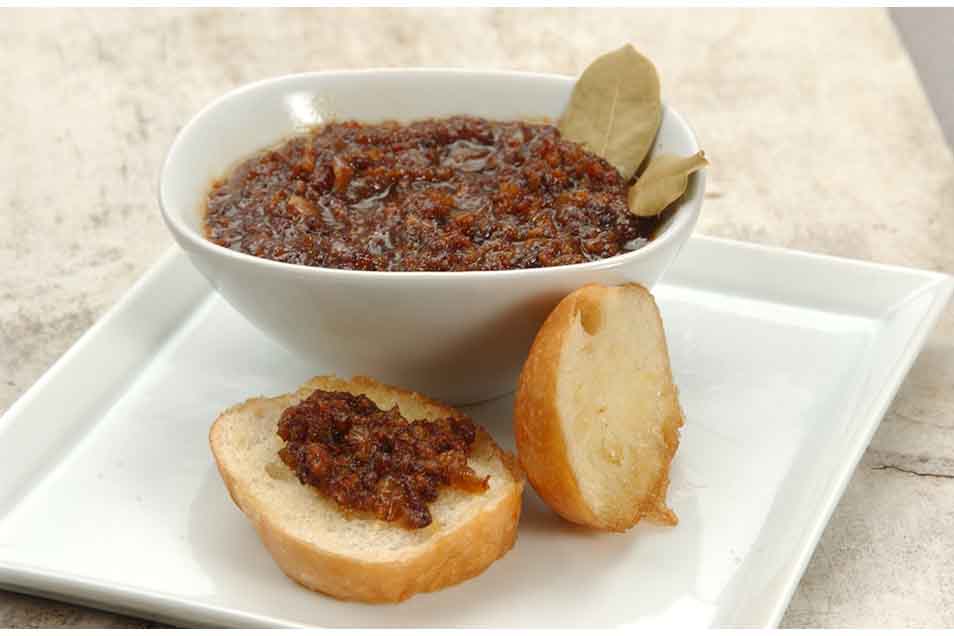 Whether you call it Bacon Jam, Bacon Onion Relish, or Devil's Delight, this sweet, salty, bacon-y spread is outstandingly good. Crisp salty bacon is simmered for hours with onions, maple syrup, brown sugar, and a couple of secret ingredients to create a soft, spreadable jam that's divine on crackers, toast, crostini or bruschetta, fresh vegetables, pita bread, new potatoes... the list goes on and on!
Ingredients
1 1/2 pounds bacon
2 medium onions, peeled and thinly sliced
3 cloves garlic
1/4 cup cider vinegar
1/2 cup dark brown sugar
1/4 cup maple syrup
1/4 cup boiled cider
3/4 cup strong brewed coffee
2 dried bay leaves
salt and pepper to taste
Instructions
Slice the bacon into 1" slices and cook in a large skillet until well browned. Drain the fat and reserve the bacon.

Place the cooked bacon and all other ingredients into a 2 quart or larger crock pot. Cover and cook over high heat for 3 to 4 hours.

Remove the cooked jam from the crock pot, fish out the bay leaves, and carefully transfer to a food processor or blender. Pulse until the consistency is to your liking, a soft spreadable jam. You can leave the bacon in larger bits or pulse until very small, your choice.

If you find the jam too liquid for your taste, transfer to a small saucepan and cook over medium heat until the liquid has evaporated and the jam is thick and syrupy. Adjust the seasonings and serve warm.

Store airtight in the refrigerator for up to 2 weeks. Warm in the microwave before serving.

Yield: 2 cups jam.
Tips from our bakers
Our list of things we want to use this jam in is ever-growing. Here are just a few to get you started: warm potato salad, grilled asparagus, fresh tomatoes, panzanella, grilled cheese, crackers and goat cheese, spinach salad, a spoon, fresh garden peas, scrambled eggs, bagels and cream cheese...
Reviews
We don't have a crockpot but I took a hint from the reviews that repeatedly referred to some of the flavors of baked beans. So instead of putting the mixture into a crock pot on high for 3-4 hours, we put it into a bean pot in a slow oven for about 7 hours. I can't eat many of the things in this recipe but it smelled great and given how quickly it disappeared, I think it came out fine.
This recipe was utterly fabulous. I baked mini corn muffins, cored slightly, filled them with the bacon jam, then garnished it with a bit of chive. It was a hit.
I made this for a New Year's Eve party and served it with fresh baked cheddar bay biscuit knock offs. It was a hit. I modified the recipe to ingredients I had on hand.
Like some others we thought it was on the sweet side too. The 2nd time we made it with regular cider instead of boiled cider and that made it less sweet. Reducing on the stove helped the "liquidity". Now the only "problem" is making enough to have left overs.......
Had it on baked Brie, and in a grilled cheese, what a great savory jam! Don't have a slow cooker did it on top of the stove, whizzed it and cooked it some more. Amazing.
It's got a special something to it that you don't get anywhere else. Part of me wishes I made half the batch with jalapenos in it. I'm not a patient person at letting things take time to cook down, so I added some liquid pectin to the batch. It jelled up perfectly. It's going to be so much fun experimenting! It's as much savory as it is sweet. I had our pizza guy make a stop while it was cooking (he's an admitted foodie), and he was drooling over the aroma.
Made this for the first time a few weeks ago for our granddaughter's 15th birthday celebration. What a hit! Tuscan crackers (light water cracker), mascarpone, with a dollop of bacon jam. Fantastic. We also enjoyed it on roasted asparagus one evening and another night as a topping for pan con tomate. It has sufficient sweetness, however, using just a bit for a topping is a nice accompaniment.
After reading several reviews and helpful comments, I went ahead and made the jam for my son (huge bacon fan). I cut the brown sugar to 1/4 cup and instead of the boiled cider, I reduced half a cup of unfiltered apple juice down to the required 1/4 cup. I added 1/2 tsp of dalmatian sage, 1/2 tsp pepper and 1/4 tsp chipolte pepper to the other ingredients (my son also like things with a bit of heat). I think this rounded out the flavor of the jam nicely and balanced the sweetness some people have complained of. It is fun trying it out in different recipes, but so far, our favorite use was putting the jam inside burgers before grilling - amazing! Since he often works late, when he comes home, he can use the jam for lots of quick dinner recipes, like mixing into some pasta with fresh tomatoes! It was definitely a hit!
I love your recipes & tips but this one didn't make my collection. Basically tasted like barbeque sauce which I only use when barbequing ribs and chicken. it's not a flavor we prefer in or on other foods. If you like that flavor this is for you. the other draw back was the entire house including its occupants smelled like a Texas Hot food stand. I will use it up but will not be making it again.
Very easy to prepare. But way to sweet for our taste.