A customized print-friendly version of this recipe is available by clicking the "Print Recipe" button on this page.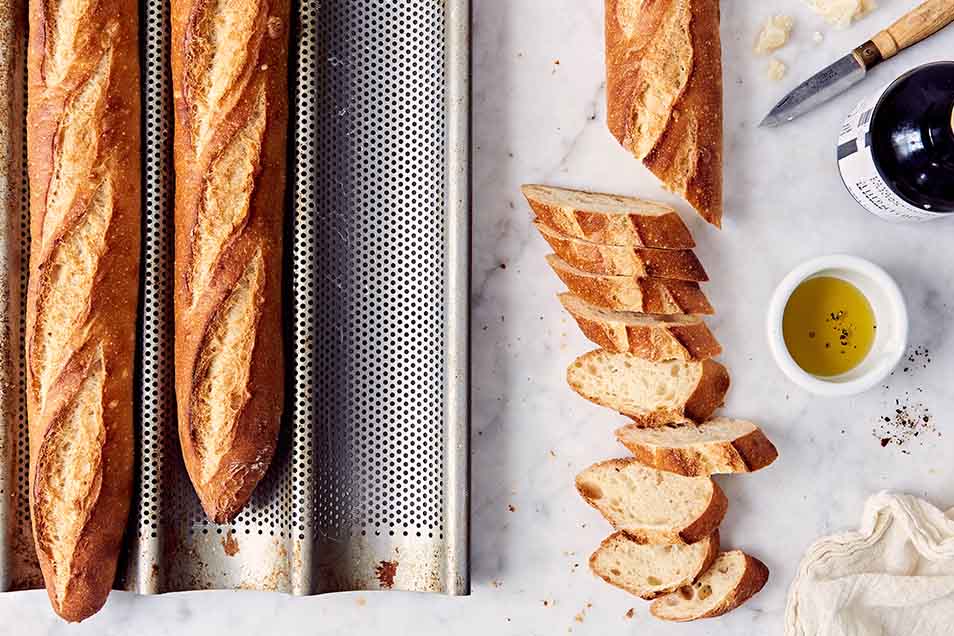 The first goal of every budding artisan bread-baker is a crusty, flavorful baguette. Let this recipe be the starting point on a journey that may last for quite a long time — the "perfect" baguette is a goal pursued by even experienced bakers. Just remember — the pleasure is in the journey, not the destination! This recipe will yield excellent flavor and texture every time you experiment.
Instructions
To make the starter: Combine the flour, water, and yeast; mix until well-blended. Let the poolish rise, covered, at cool room temperature for 12 to 24 hours. It should dome slightly on top, and look aerated and bubbly. Try to catch it before it starts to fall, as it will be at its optimum flavor and vigor when it's at its highest point.

Mixer method: Place the flour, yeast and salt in the bowl of your mixer. Pour some of the water around the edges of the starter in its container to loosen it. Pour the starter and water onto the flour. Using the flat beater paddle, mix the dough on low speed for 3 minutes, adding more flour or water if necessary to bring the dough together. The dough should look a little sticky, but should clean the sides of the bowl. Switch to the dough hook, knead for 4 minutes, cleaning the dough from the hook at the 2-minute mark.
Bread machine method: Place the flour, yeast and salt in the bucket of your bread machine. Pour some of the water around the edges of the poolish in its container to loosen it. Pour the poolish and water onto the flour. Program the machine for dough and press Start. Check the dough after about 10 minutes of kneading; add more flour or water if needed to create a sticky dough.
To mix by hand: In a large bowl, combine the dough ingredients with the poolish. Stir until the dough begins to come together. Oil your hands and use a dough scraper to knead the dough right in the bowl - this will help knead the dough without adding too much flour.

Transfer the dough to a lightly oiled bowl (or oil your mixer bowl, and leave it in there). Cover the bowl, and let the dough rise for 2 hours, folding it over after the first hour (or more frequently, if the dough is very slack or wet; this folding helps strengthen the gluten).

Divide the dough into three pieces and gently pre-form it into rough logs. Let it rest for 20 minutes, and then shape it into baguettes. Proof the baguettes, covered, on your baguette pan until they're puffy looking, 30 to 40 minutes.

Preheat your oven (and your baking stone, if you have one) to 450°F. Just before putting the loaves into the oven, slash the tops several times. Hold your knife at a 45° angle to the dough's surface, and slice quickly and decisively, about 1/2" deep. Spritz the loaves with water and place them in the oven. For extra-crusty baguettes, see "tips," below.

Bake the loaves for 20 to 25 minutes. Remove the loaves from the oven when they're a deep, golden brown, and transfer them to a rack to cool.
Nutrition Information
Serving Size

1/8 baguette

Servings Per Batch

24
Amount Per Serving:
Calories

70

Calories from Fat

0g

Total Fat

0g

Saturated Fat

0g

Trans Fat

0g

Cholesterol

0mg
Sodium

190mg

Total Carbohydrate

15g

Dietary Fiber

1g

Sugars

0g

Protein

3g
* The nutrition information provided for this recipe is determined by the ESHA Genesis R&D software program. Substituting any ingredients may change the posted nutrition information.
Tips from our bakers
For extra-crackly/crisp crust, add steam to your oven as follows: While the oven is preheating, place an empty cast iron frying pan on the oven rack below the stone. If possible, adjust stone and pan so that the pan isn't directly under the stone, making it easier for steam to reach the baking bread. Once you've placed the bread in the oven, pour about 1 cup of boiling water into the cast iron frying pan. Steam will billow from the pan upwards to envelop the baking bread; be sure to wear good oven mitts to shield your hands and arms. Quickly close the oven door to trap the steam.
Reviews
An excellent easy to follow recipe. Turned out fantastic. Just a bit of planning required to get the poolish going the evening before. Forgot to slash tops but no effect on taste, texture or characteristic baguette look. Going to experiment further. Twenty five minute bake time. Pulled them out of the oven 10 minutes ago and have already consumed one of three. Just awesome. Might add some rosemary and or thyme next time and coarse salt on top
I am baking this recipe. But it's unclear. Does it make any difference if you bake the bread in the pans or should they be removed?

Gonne, you'll want to bake the loaves in the pan, just like in the picture above. If you ever have a question while making a recipe, please call our free and friendly Baker's Hotline at 855-371-BAKE (2253) so we can answer you promptly. Happy baking! Annabelle@KAF
Made this today in the bread maker...........came out of the oven so nice and brown and crispy. Plan on having it with spaghetti tonight.........thanks again for sharing recipes
I just made this recipe today! It was a gigantic success! I started yesterday night to make the starter. It was my first time making it and it was actually extremely easy. I caught the starter at its bubbling stage after around 14 hours. I made the dough in a bread maker for 10 mins and the dough was of the correct sticky texture. The instructions are super clear and easy to follow. I used measurements and it was so much easier. Baked the bread at about 4 pm, I started at around 12.15 pm. It looked extremely gorgeous and had a beautiful golden crispy thin crust! Love this recipe and I will definitely make it again and again! I will recommend to all who want to make Baguette for the first time! Thank you to King Arthur for this amazing and simple to follow recipe!
Love this recipe and its been my go-to since I started baking baguettes. Thank you so much for this amazing resource!
The bread was wonderderful.............AFTER I was able to get it released from the Baguette pan..what did I do wrong?

You probably didn't do anything wrong, Pat — baguettes make one sticky dough! A couple things you can try are to lightly grease the pan with pan spray then wiping excess off with a paper towel. You could dust the bottom of your baguettes with semolina flour. You could even lay a thin strip of parchment paper into the pan, thin enough to still allow the air to move but large enough to keep the bottom from gluing itself down. We hope this helps! Annabelle@KAF
I had a number of problems with this recipe and would love feedback: - First, I found the baguettes to be extremely salty, almost with a salty aftertaste. It did seem to me that 2 tsp of salt was quite a lot, but perhaps because I use fine sea salt, this increased the salt level? Not sure but it was notable. The saltiness is what would prevent me making them again. - Then, while my baguettes looked lovely and were very crusty on the outside and soft of the inside, they never really expanded much in the oven. I'd shaped them as per the blog video on shaping baguettes (folding like envelope and then folding more to make a long roll). It may be that I did not let them rise enough at that point (only left them for 30 min in a relatively warm kitchen), but they were "pillowy" - the ideal that's been described for baguettes - and so I put them in. They remained somewhat skinny and so I wonder if I should simply have shaped them wider to fit the well of the pan. They also had small - rather than large - holes in them, so missed the bigger holes I'm accustomed to with baguettes.

We're sorry these baguettes didn't meet your expectations, fellow baker! This recipe is slightly more salty than some of our other baguette recipes, but only just barely. While sea salt and table salt contain the same amount of sodium, sea salt can have a more complex and distinctive flavor depending on where it originated and how it was processed, so that might be impacting the flavor of the bread itself. If you want a less salty baguette, feel free to decrease the amount! One of the most beautiful things about baking at home is that you can adjust things exactly to your liking. As far as wanting larger air bubbles goes, that's the same Holy Grail that all bread bakers are chasing, and it takes many professionals years to master it. If you search our site for "How do you make that bread with the big holes" (yes, that's really the title), it will take you to some guidelines to help you along. The example in that article is a ciabatta, but the same principles still apply with baguettes as well. If you have more specific questions, you should also feel free to call the experienced bread bakers at our Baker's Hotline at 855-371-BAKE (2253). They can help you figure out how to get those perfect baguettes you've been dreaming of. Happy baking! Kat@KAF
Ever since I found a baguette pan at a local second hand store for $3 (!!!) I've been excited about trying my hand at this recipe. I'm watching the second batch of baguette rise now because the first was gone so quickly! Being able to bake bread has been a goal of mine for decades. I'm EXTREMELY happy!
I'm interested to know just how LONG the dough should be kneeled using the dough selection on my bread machine. If I let it go, it would take an hour and a half to complete! I stopped it after about 15 minutes. Great recipe!

Dave, you'll see in step 5 that the recipe calls for letting the dough rise for approximately two hours. If you use your bread machine to mix the dough, you can leave it right in the machine to complete the rise (which you mentioned takes about an hour and a half for your machine). Or you can let the dough mix until it looks fully kneaded (usually about 10 to 15 minutes) and then let it rest in a bowl for about 2 hours at room temperature. We hope this helps clarify. Kye@KAF
I was amazed by this recipe! I measured the ingredients by weight and the baguettes came out perfectly crisp on the outside with a beautiful open crumb and delicious flavor. Definitely the best success I have had yet. I hadn't tried using my pizza stone underneath my baguette pan before and it made a world of difference. I will definitely be using this recipe again soon.