A customized print-friendly version of this recipe is available by clicking the "Print Recipe" button on this page.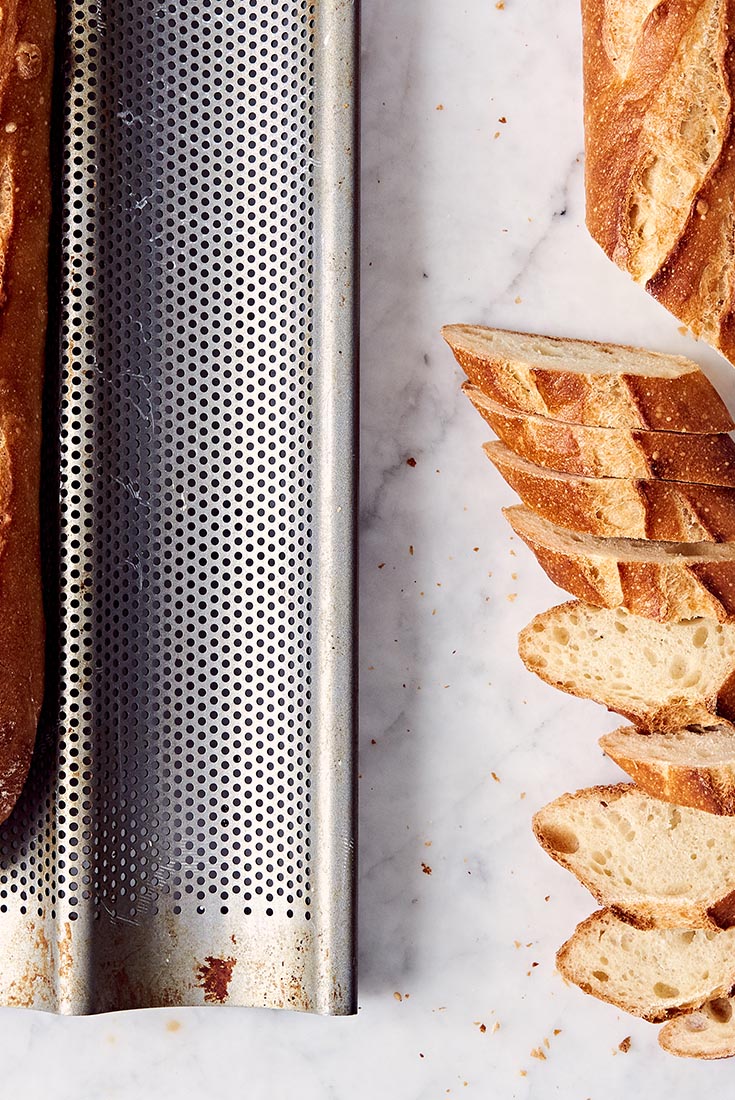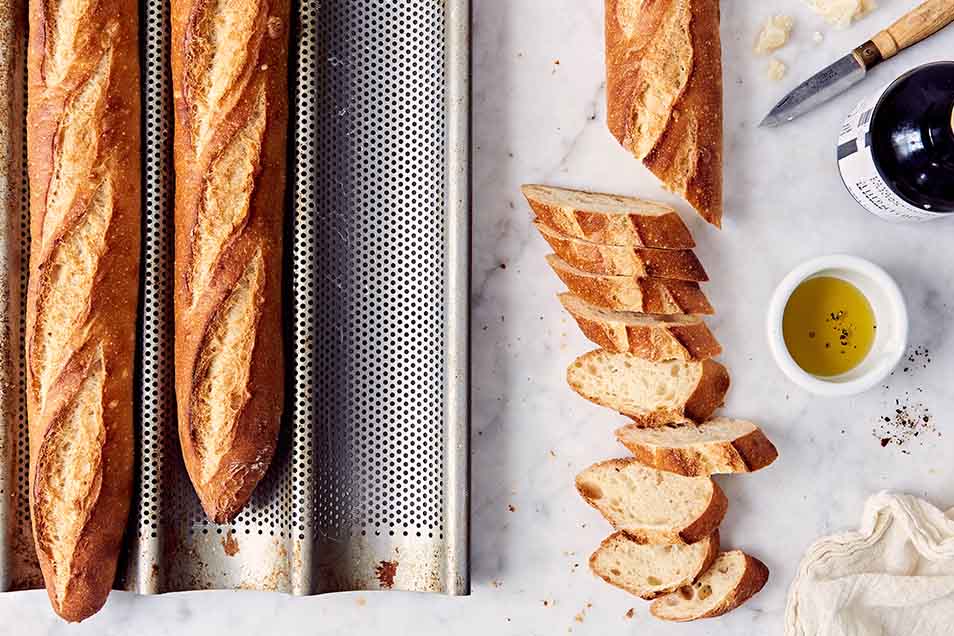 The first goal of every budding artisan bread-baker is a crusty, flavorful baguette. Let this recipe be the starting point on a journey that may last for quite a long time — the "perfect" baguette is a goal pursued by even experienced bakers. Just remember — the pleasure is in the journey, not the destination! This recipe will yield excellent flavor and texture every time you experiment.
Instructions
Poolish

Combine the flour, water and yeast; mix until well-blended. Let the poolish rise, covered, at cool room temperature for 12 to 24 hours. It should dome slightly on top, and look aerated and bubbly. Try to catch it before it starts to fall, as it will be at its optimum flavor and vigor when it's at its highest point.
Mixer method: Place the flour, yeast and salt in the bowl of your mixer. Pour some of the water around the edges of the poolish in its container to loosen it. Pour the poolish and water onto the flour. Using the flat beater paddle, mix the dough on low speed for 3 minutes, adding more flour or water if necessary to bring the dough together. The dough should look a little sticky, but should clean the sides of the bowl. Switch to the dough hook, knead for 4 minutes, cleaning the dough from the hook at the 2-minute mark.
Bread machine method: Place the flour, yeast and salt in the bucket of your bread machine. Pour some of the water around the edges of the poolish in its container to loosen it. Pour the poolish and water onto the flour. Program the machine for dough and press Start. Check the dough after about 10 minutes of kneading; add more flour or water if needed to create a sticky dough.
To mix by hand: In a large bowl, combine the dough ingredients with the poolish. Stir until the dough begins to come together. Oil your hands and use a dough scraper to knead the dough right in the bowl - this will help knead the dough without adding too much flour.

Transfer the dough to a lightly oiled bowl (or oil your mixer bowl, and leave it in there). Cover the bowl, and let the dough rise for 2 hours, folding it over after the first hour (or more frequently, if the dough is very slack or wet; this folding helps strengthen the gluten).

Divide the dough into three pieces and gently pre-form it into rough logs. Let it rest for 20 minutes, and then shape it into baguettes. Proof the baguettes, covered, on your baguette pan until they're puffy looking, 30 to 40 minutes.

Preheat your oven (and your baking stone, if you have one) to 500°F. Just before putting the loaves into the oven, slash the tops several times. Hold your knife at a 45° angle to the dough's surface, and slice quickly and decisively, about 1/2-inch deep. Spritz the loaves with water, place them in the oven, and reduce the oven temperature to 475°F. Bake the loaves for 18 to 24 minutes. Remove the loaves from the oven when they're a deep, golden brown, and transfer them to a rack to cool.
Nutrition Information
Serving Size

1/8 baguette

Servings Per Batch

24
Amount Per Serving:
Calories

70

Calories from Fat

0g

Total Fat

0g

Saturated Fat

0g

Trans Fat

0g

Cholesterol

0mg
Sodium

190mg

Total Carbohydrate

15g

Dietary Fiber

1g

Sugars

0g

Protein

3g
* The nutrition information provided for this recipe is determined by the ESHA Genesis R&D software program. Substituting any ingredients may change the posted nutrition information.
Tips from our bakers
If desired, you may create more steam in the oven by spraying water into it twice during the first 5 minutes of baking. This extra moisture will help to create a crackly-crisp crust.
Reviews
Absolutely delicious! I didn't have a baguette pan or a fancy oven for steaming, so I improvised with some pyrex containers and a regular baking pan, and a pan of boiling water on the rack below. They turned out fantastic though, with a great flavor, soft inside, and crunchy crust. My new go-to recipe!
I'm doomed. This recipe is so good, I'll be expected to make it every week! Either this recipe is fool-proof, or I lucked out. I'm a beginner to baking. This is only my fourth attempt to make bread! My baguettes came out wonderfully! My wife is French, so.... need I say more? She loved them. I did ad-lib one thing: I borrowed a part of the no-knead crusty bread recipe and put a pan of water on the bottom rack and the baguettes in a baguette pan on a rack over it. I also let my baguettes proof in the pan longer than recommended, by about 30 minutes. I had forgotten to cover them for proofing, so I covered them and let them rise 30 minutes more.
I had to use this recipe several times before it was a success. But it was worth the extra effort. Now I realize that I should have added more flour to the mixing bowl before the first rise. The end result is a delicious baguette which I have found is wonderful with fondue or cheese. The instructions are straight forward and the extra advice was appreciated. I only gave the dough a light mist before putting it in the oven and did not mist the oven. The crust was chewy and the bread was soft and tasty.
Quick question about the stone - should I place the pan directly on the preheated stone? Thanks, KR

If you're using a baguette pan, then yes: you'll want to put it directly on the preheated baking stone to help transfer heat effectively to the bottom. This will ensure you get a delightfully crispy crust on your loaves. Kye@KAF
can i add olives to this bread recipe?

You're certainly welcome to experiment adding olives to this recipe, Irene. While it isn't something we've tested in our test kitchen, feel free to use our Rustic Olive Sourdough Bread recipe as a reference on potential quantities of olives. Our Baker's Hotline is also available at 855-371-2253 if you have any additional questions. Happy baking! Annabelle@KAF
My husband has always liked this type of bread at a restaurants and had asked me to try to make it; I decided to try it the other day. My poolish sat for about 15 hrs and was quite "healthy". Made this in my breadmaker, the dough came together really well; I added about 1 tsp more water to make a rather sticky dough which cleared the sides of the pan. This was much easier than I thought though I can't slash the dough to save myself even with the lame. I put a pan of water in the bottom of the oven and spritzed the sides of the oven several times in the first 5 min. The finished product was nicely browned with a crisp, crunchy crust. My husband cannot stop raving about this bread and said I don't need to look any further for another baguette recipe.
Easy recipe to follow, Bread came out great! I made 2 loaves, and 3 rolls, instead of 3 loaves. The rolls baked as well as the loaves. It was really humid here today, but I believe that by measuring the flour by weight made a big difference. Lots of waiting, but not much real work involved. I'll eat these up so fast, I'll have to make more soon.
By far, this is my go to recipe when it comes to baking baguette. Though, I have to do things differently here as I live in a very hot and humid environment here. Room tell us at 30dc and humidity is 90% usually. Therefore, I have to bake my bread at lower hydration. However, my loaves are still difficult to score and it's full of bubbles. FYI, I only let the dough rise for 20 mins during bulk fermentation, 15 mins interval for folding and final proofing for 30 mins. Every bake turned out great but just couldn't score the dough properly. Would the problem be on shorter bulk fermention?

Sandy, it sounds like an issue of over-proofing. While shortening your rise times and reducing your hydration are likely helping, you may need to take additional steps to avoid over-proofing in your especially hot and humid climate. We'd suggest reducing the amount of yeast called for in the recipe and properly degassing the dough during each "fold". The video tip, "How to deflate risen dough", on the "Learn" section of our site can offer some guidance. Hope this helps! Mollie@KAF
I use this recipe to make a boule and it is perfect every time. This is my "go to" without failure. I follow all directions up to splitting the dough, slice the top and then sprinkle with sesame seeds or black salt before baking in a cast iron Dutch oven. It's HEAVEN!
I made this and 2 others in the last 2 days and I was extremely pleased with the results. I did hand knead the dough for a bit longer (using olive oil not flour to knead about 5 min) after checking for the windowpane after using the machine for the recommended time. But I do this with almost every recipe that says to do it with a machine. I got a really nice rise, great crust and a really airy texture while not having huge holes. I bake a lot of bread (4 to 5 times a week for 2 households) I Love your recipes I can add many different flavors to a lot of them without it having an adverse effect on the dough.