A customized print-friendly version of this recipe is available by clicking the "Print Recipe" button on this page.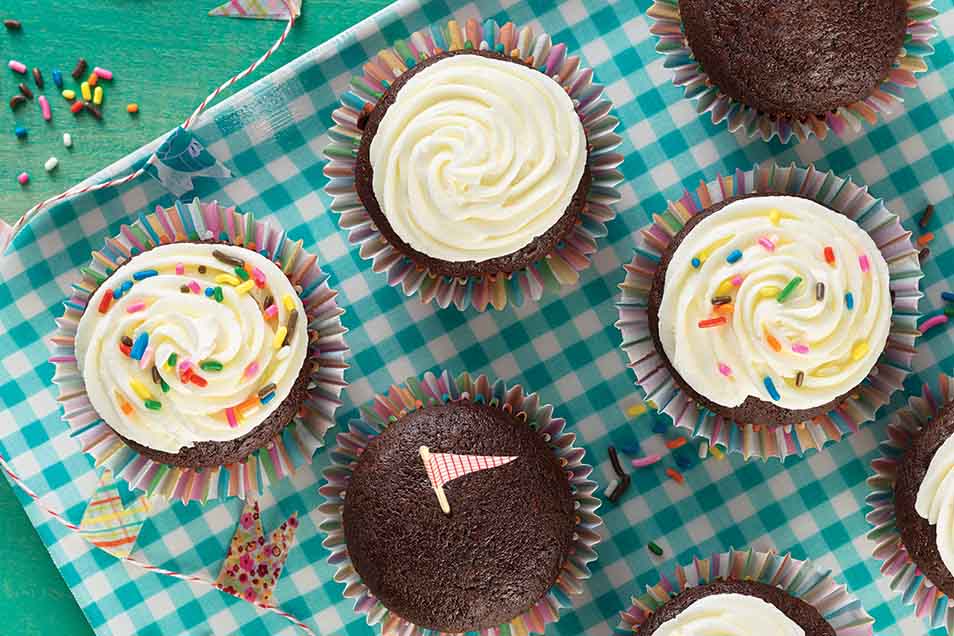 Deep-dark chocolate cupcakes, studded with melting chocolate chips... these cakes don't even need icing. And the recipe makes 2 dozen good-sized cakes, perfect for a class party or bake sale.
Instructions
Note: As a result of some of the reader reviews below, this recipe has been amended as follows: The baking soda has been reduced to 1 teaspoon; the melted butter has been replaced by vegetable oil, and the baking time has been reduced by several minutes. The result will be cupcakes that are moister, and that rise more evenly. Thanks for your input, readers, as always!

Preheat the oven to 350°F. Line two standard 12-cup muffin pans with paper or silicone muffin cups, and grease the cups.

In a large mixing bowl, whisk together the cocoa, flour, sugar, baking powder, espresso powder, baking soda, salt, Cake Enhancer, and chocolate chips. Set aside.

In a large measuring cup or medium-sized mixing bowl, whisk together the eggs, milk, vanilla, oil, and vinegar. Stir this mixture into the dry ingredients, mixing until everything is well combined.

Spoon the batter into the prepared muffin pans, filling the cups about 3/4 full.

Bake the cupcakes for 20 to 22 minutes, or until a cake tester or toothpick inserted in the center of one of the middle cupcakes comes out clean.

Remove the cupcakes from the oven, and as soon as you can handle them, remove them from the pan, and transfer to a rack to cool. Store cooled cupcakes airtight.

Yield: 24 cupcakes.
Tips from our bakers
While cupcakes are tasty just as they are, feel free to top with Super-Simple Chocolate Frosting, White Buttercream Frosting, Chocolate Ganache, or your favorite glaze.
For fancier decorated cupcakes, check out our blog post on fondant-topped cupcakes.
For more even doming, use cupcake papers. Cupcakes baked without papers tend to peak in the center, or spread like a mushroom; this is due to the edges of the cake setting way before the center. Cupcake papers provide insulation, yielding a more even bake.
Reviews
The first time I made these cupcakes with the original recipe they were perfect. Delicious cupcakes with perfectly rounded tops. I made them again today, same oven, same pans, same temp and time, for my daughter's birthday tomorrow and all of the them are sunken and just not as good. Probably a result of the lower amount of baking soda. Change the recipe back!
My usual go-to for chocolate cupcakes is Gemma Stafford's chocolate cake recipe (based on Ina Garten's) but this time, I wanted to use the Guittard Dutch-process cocoa I got from World Market... so I turned to KAF! This recipe was just what I was looking for :) I did make some substitutions: coconut oil for vegetable oil 2 cups brown sugar, 1/2 cup coconut sugar for 2 2/3 cup brown sugar (my cupcakes were still pretty sweet, but not overly so) half 1% milk and half coconut milk (because I ran out of 1%) used a mix of 3/4 Dutch process cocoa and 1/4 regular Trader Joe's cocoa no cake enhancer And I would have used dark chocolate chips but only had semisweet. Overall, great recipe! I would definitely make it again, and with a couple adjustments it could make a fabulous chocolate muffin recipe as well! By the way, I was really happy with the way they baked up! Yes, there were some cracks on all of them, but not big, and the doming was perfect. This recipe makes a batter that is pretty thick; the Devil's food cake recipes I've tried make a very thin batter which tends to overflow and bake flat rather than in a dome shape. I do not think these are dry at all... in fact, I found them slightly greasy (but that's okay). Finally, I topped the cakes with a Nutella swiss meringue buttercream and brought them to my summer literature class for our last-day party... they were delicious!
I made these for a friend who was coming over. They tasted good paired with vanilla butter-cream. Added chocolate chips. A bit dry.
So quick to make, and delicious! I only had about 1/2 C of full-sized chocolate chips in my pantry so used mini chips for the rest. I love the chunks of melty chocolate from the full-sized chips, so will be sure to use exclusively regular-sized chocolate chips next time. These were rich and moist. I frosted them with a chocolate buttercream, put some fancy sprinkles on top, and they were a huge hit at work today. Definitely recommended for when you need a hit of cake during a stressful time - minimal effort for excellent results.
These are delicious, but they're not cupcakes. I think calling them cupcakes is what prompted the majority of the comments: "dry," "cracked top," etc. The recipe is nearly identical to the Chocolate Breakfast Muffins. Muffins are not cupcakes without frosting! :) Still love them.
used the kaf mini chips and the cupcakes with moist all the through with a great crumb.
This is now my go-to chocolate cupcake recipe - I have never found one better or easier. I typically make mini cupcakes, and start checking them between 12 and 15 minutes. I take them out of the oven when they are juuuust shy of being fully baked, and they are always incredibly moist and tender. My go-to frosting is Italian Meringue buttercream, substituting brown sugar for the white sugar in the recipe and using salted butter instead of unsalted. They are a hit every single time.
I have baked these cupcakes several times and did not find them dry as reviewed by others. My mother taught me to whisk the flour before spooning it into the cup measure. She then used a sieve over a bowl and all of the dry ingredients were passed through to catch any lumps before combining. However, I will try the amended version today for National Chocolate Cake Day. To frost, I put both chocolate and peanut butter frosting in a piping bag with a star tip, and the combination is amazing.
Nice work, Nancy! Thanks for sharing your success tips to bring these cupcakes to your #1 rating. Irene@KAF
Delicious! I think this recipe is what sold my house! I made mini cup cakes and froze them (something about freezing them made them even yummier) But it was easy to pull them out and frost them when I had a showing and the people who bought it were in love with these, and so am I. Took some to a baby shower and people raved about them. I didn't have any espresso or enhancer so I left them out, and I used mini chocolate chips since I was making mini cupcakes. other than that I made it according to directions then froze them. Then I frosted them with either cream cheese frosting or chocolate butter cream.
Nice and easy to prepare. I made these as mini cupcakes for a party, and baked for about 15 minutes. One batch of the batter made 6 dozen minis. Frosted with the quick buttercream, and they were a big hit! Definitely keeping this recipe