A customized print-friendly version of this recipe is available by clicking the "Print Recipe" button on this page.
Baked Cinnamon English Muffins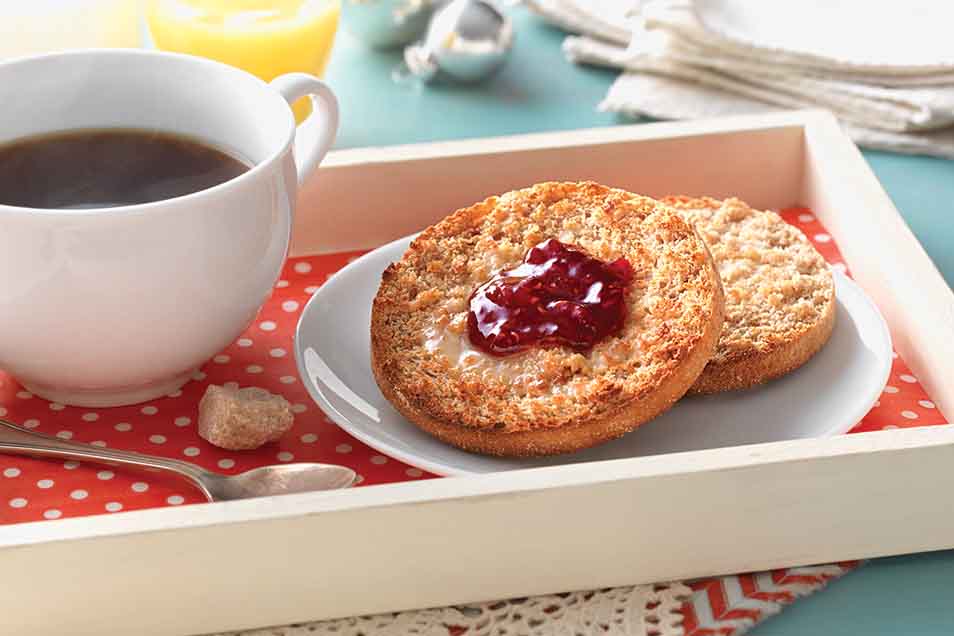 These baked English muffins are sweet, subtly cinnamon-y, and don't need much enhancement to become a favorite breakfast or snack. Their nooks and crannies may be less pronounced than their griddled counterparts, but we promise that they'll more than soak up a generous slathering of butter.
Ingredients
1 1/4 cups King Arthur Unbleached White Whole Wheat Flour
1/2 cup Hi-maize Fiber*
3/4 teaspoon salt
1 tablespoon ground cinnamon
2 teaspoons baking powder
3 tablespoons sugar
2 teaspoons instant yeast
1/4 cup Baker's Special Dry Milk
1 cup + 2 tablespoons lukewarm water
2 tablespoons melted butter
2 teaspoons vinegar, white or cider
cornmeal or semolina
*Substitute additional white whole wheat flour for the Hi-maize, if desired.
Instructions
Beat all the ingredients (except the cornmeal or semolina) at high speed for 1 minute, until the dough is fairly smooth.

Let the dough rise in a greased, covered bowl for about 60 minutes, until puffy.

Place 12 greased 3 3/4" English muffin rings on a greased or parchment-lined baking sheet. Sprinkle cornmeal or semolina into each ring. Don't have English muffin rings? See "tips," at left.

Divide the dough into 12 pieces, shape into balls, and place each into a ring, flattening it somewhat. Sprinkle the top of each with cornmeal or semolina.

Top the entire pan of muffins with a greased baking sheet; this will prevent them from doming as they rise. Let the muffins rise for 60 to 90 minutes, until they're puffy. Towards the end of the rising time, preheat the oven to 400°F.

Bake the muffins (still with the baking sheet on top) for 10 minutes. Flip the pans over, and bake 5 minutes more. Remove the top pan, and bake for another 3 to 5 minutes, until the muffins are a light golden brown, and the interior of one registers about 200°F on a digital thermometer.

Remove the muffins from the oven. Remove the muffin rings, and transfer the muffins to a rack to cool.

Yield: 12 muffins.
Tips from our bakers
Tip: If you don't have Baker's Special Dry Milk, replace the dry milk and the water with 1 cup + 2 tablespoons (9 ounces) lukewarm milk.
Don't have English muffin rings? Fashion the dough into balls, flatten, and place on the baking sheet without the rings. They may be a bit thinner than muffins baked in a ring, but will still taste just fine.
Reviews
These were so good! I had to sub in old fashioned oats for the hi-maize, but they were wonderful. I love being able to bake them in the oven rather than having to spend time cooking on a griddle. I only have 8 muffin rings, so I divided the dough into eight pieces...they were beautiful and my family loved the giant size as they were so very tasty!
I made these yesterday. I added raisins to the recipe. Although they have a good flavor, they are too thin. I think the next time I'll leave the cookie sheet off the top for awhile while they are rising...keep an eye on them and put it on while baking or before if they become to poofy, but need them to be thicker than they are. They are certainly good and worth the trouble and the best part, your not eating a bunch of unhealthy additives.
I have printed this recipe several times with expectations of making it...finally have done so and it did not let me down, just sorry it took me so long! These were a huge hit in our house and I expect they will be even better next time if I should remember to add in the melted butter BEFORE I place the dough in the bowl to rise :( !! No matter, they were happily eaten and I sure will make them again in short order...with the butter properly added in!
I thought I had messed these up because I ended up with batter that didn't seem likely to produce a bread. I scooped into the rings anyway. I am so glad I did! They turned out great, and the flavor is terrific. These will be a regular in our house.
I love this recipe! It is both very simple to do and tasty. I do not have the hi-fiber maize so added 1/4 c to both the flour and white whole wheat flour per recommendations of the baker's hotline. It is a recipe that lets you change it up as well-- I have baked it with raisins as well as dried cranberries and lemon peel both of which came out yummy. I plan to try it with blueberries, also. It is definitely one of my go-to recipes!
They look beautiful, but the taste was just not what I anticipated. Next time, I intend to use honey instead of the white sugar called for in the recipe. I agree with the previous poster who said raisins would add more flavor. I'm also going to use my grandmother's tip and add 1/2 tsp of ground ginger. It acts as a natural preservative.
The first time I made this recipe, I made them exactly to the recipe. They came out fine, but I sensed a little "sour" taste from the hi-maize fiber. So the second time around, I substituted Coconut Flour for the hi-maize fiber. The dough was a little more slack, but the first rise went just fine. Once I got them in the rings, they did not rise at all. I let them rise for over 1-1/2 hours and they just puffed a little bit. The first time they filled the rings. I finally put them in the oven after 2 hours and of course they did not turn out well at all. Ended up trashing the whole batch. So sad. Is Coconut flour the culprit here, or could I have done something else wrong?
Use all purpose flour in place of the hi-maize fiber. We hope the water was baby bottle warm (technically 90'-110') and that you'll try this recipe again. Call our Baker's Hotline 855-371-2253 if you'd like more trouble shooting before the next bake. Happy Baking - Irene@KAF
I made these a month ago, they were great split and used for my version of the egg mc muffin. I just need to practice more in cutting/splitting them. lol
Just made these and they are delicious. I wish I had followed my instincts and put in raisins, but nevertheless, they are tasty. I used the dough cycle on my bread machine and was a little worried by the stickiness of the dough, but it rose nicely and was easy to handle with cooking spray on my hands. The recipe made 12 nicely filled out english muffins.
I just made this recipe of Baked Cinnamon English Muffins and ate one with butter and little strawberry preserves. They are so good and were easy to make. I did not have the Hi-maize fiber so I used half white whole wheat and half the regular unbleached flour in place of the Hi-maize fiber. The dough was so soft. Did not have the muffin rings so I rolled the dough out and cut with chicken can. Put on cookie sheet and followed the recipe from there. They cooked up good, I turned them over after the 10 minutes baking and baked another 7 to 8 minutes. They will be good for sandwiches too. I love them. Thanks King Arthur for you delicious recipes.