A customized print-friendly version of this recipe is available by clicking the "Print Recipe" button on this page.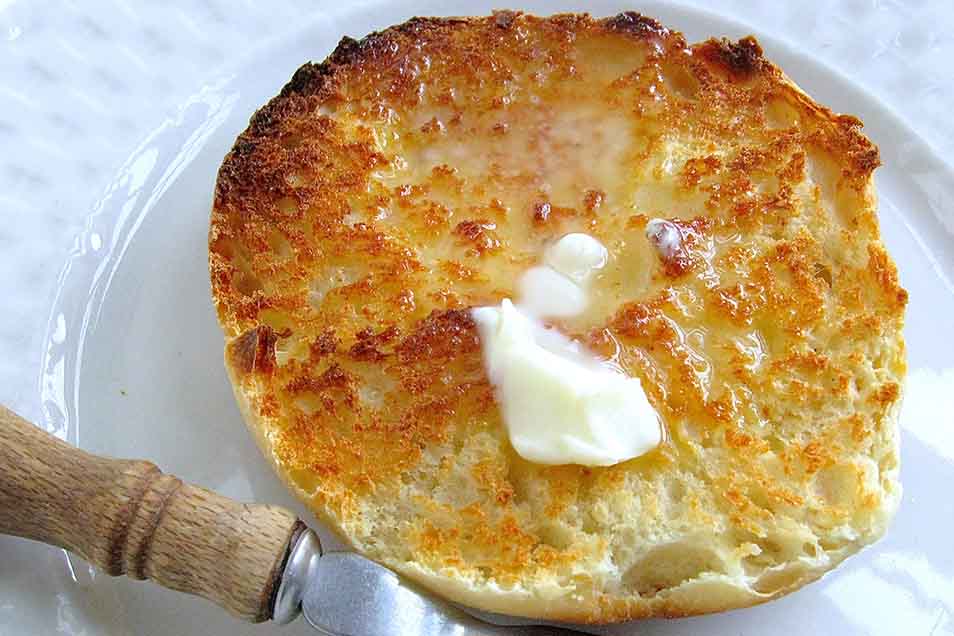 These beautiful, high-rising English muffins are baked, not cooked on a griddle. While their interior isn't filled with the signature fissures of a griddle-baked English muffin, their texture is still craggy enough to trap and hold butter and jam — which is the point, after all.
Ingredients
2 1/4 cups King Arthur Unbleached All-Purpose Flour
1/2 cup Hi-maize Fiber
1 teaspoon salt
1 tablespoon Pizza Dough Flavor, optional
2 teaspoons baking powder
2 tablespoons sugar
2 teaspoons instant yeast
1 cup + 2 tablespoons lukewarm milk*
2 tablespoons melted butter
2 teaspoons vinegar, white or cider
cornmeal or semolina to coat the muffins
*Or substitute 1/4 cup (1 1/4 ounces) Bakers' Special Dry Milk, and 1 cup + 2 tablespoons (9 ounces) lukewarm water; don't mix them together, the dry milk doesn't reconstitute.
Instructions
Stir together all the ingredients except the semolina or cornmeal. Beat for 1 minute at high speed of an electric mixer; the dough will become somewhat smooth.

Scrape the dough into the center of the bowl, cover, and allow it to rise for about 60 minutes, until it's quite puffy.

Grease a large (18" x 13") baking sheet; or line with parchment. Grease twelve 3 ¾" English muffin rings, and place them on the baking sheet.

Sprinkle semolina or cornmeal into each ring.

Turn the dough onto a lightly greased or floured work surface. Cut it into 12 equal pieces; each will weigh a scant 2 ounces, or about 54g.

Shape the dough into balls. Place each ball into a ring, pressing it down to flatten somewhat. Sprinkle with a bit more cornmeal or semolina, and top with a greased baking sheet (or a sheet of parchment, then the baking sheet). The baking sheet should be resting atop the rings.

Let the muffins rise for about 60 to 90 minutes, until they've puffed up noticeably. While the dough is rising, preheat the oven to 400°F.

Bake the risen muffins for 10 minutes. Flip the pans over, and bake for 5 minutes more. Remove the top pan, and bake for an additional 3 to 5 minutes, until they're a light golden brown, and the interior of one registers about 200°F on an instant-read thermometer.

Remove the muffins from the oven, and transfer them to a rack to cool. Remove their rings as soon as you're able. When completely cool, store muffins in a plastic bag.

Yield: 12 muffins.
Nutrition Information
Serving Size

1 muffin, 59g

Servings Per Batch

12
Amount Per Serving:
Calories

124

Calories from Fat

22

Total Fat

2g

Saturated Fat

1g

Trans Fat

0g

Cholesterol

6mg
Sodium

423mg

Total Carbohydrate

24g

Dietary Fiber

3g

Sugars

1g

Protein

4g
* The nutrition information provided for this recipe is determined by the ESHA Genesis R&D software program. Substituting any ingredients may change the posted nutrition information.
Tips from our bakers
Don't have English muffin rings? Fashion the dough into well-shaped balls, flatten, and place on the baking sheet without the rings. They may be a bit thinner than muffins baked in a ring, but will still taste just fine.
Reviews
That's it. I am never buying English muffins again. This recipe is wonderful. I added a little spelt flour to give it some interest in these turned out much better than griddle baked English muffins. Yes it is a little fiddly but definitely worth it. By the way, I used the dry milk powder instead of whole milk. I think that may account for the excellent rise I got all these. Thanks King Arthur!
I made this recipe today for the 2nd time, this time using the muffin rings. They turned out perfect...but...have a problem with the flipping of pans. Half of the muffins slid off onto oven rack. It took awhile to "gather" them up! Don't they need to end up on the inside of top baking sheet? not the underside? Anyone else have a problem with this? I think I will "skip the flip" next time. Anyway, they did turn out well. We love them. Highly recommend this recipe. Thank you KAF for another great recipe.

We're glad you enjoyed this recipe, fellow baker! The flip can be a little challenging if you're not used to the technique. As when learning to juggle or ride a bike, there's really only one solution: plenty of practice! We're sure you'll get the hang of it if you keep trying. Happy baking! Kat@KAF
I loved this recipe! They looked and tasted like any English muffin I ever had. Recipe was easy, I don't have a cast iron skillet so was happy to try this. Glad I did.
This is a tasty recipe, and I haven't bought muffins at the store since I started using this. BUT, something about it doesn't match the directions. I've never had a dough that was firm enough to pat out and cut as the instructions say - it's always REALLY loose and more like a batter than anything else. I use my spring-loaded cookie scoop to dish it into the rings on the pan.

Hi Martha, the dough should be soft and tacky but still shapeable. We're wondering if you perhaps used another kind of flour that was "softer," or had a lower protein level than the flour used to develop this recipe, King Arthur All-Purpose Flour. Other kinds of flour tend to have less absorbency and may produce a more slack dough (or even a batter). If you are in fact using King Arthur Flour, the dough might be a bit soft due to the way the flour is being measured and/or a humid environment. Regardless, feel free to add additional flour until the dough starts to come together and feels tacky. Happy baking! Kye@KAF
I have been making your "fried" English muffins for quite some time, so when this recipe appeared on Facebook, I had to try it! I just finished a batch, and I found them much easier than the fried. I am wondering about the lack of egg in the baked recipe. Have you tried it with the egg, and would it make a difference?Thanks for the great recipes! I always have some English muffins in my freezer, homemade of course.

We're happy to hear that this baked version held up to our classic version, Valerie! An egg generally makes for a more tender and enriched dough, and whether or not one is included really comes down to preference. Feel free to experiment with adding an egg to this recipe too if you like! Mollie@KAF
I have made this recipe many times the past few years and they always turn out wonderfully. I've never used the maize flour, I substitute whatever else I have on hand...today I used sorghum flour. I also don't have muffin rings, so I substituted the aluminum rings for quart canning jars ( and a box of a dozen only costs five dollars). Just make sure they're well greased, and pop the muffins out with a small spatula before they cool. I'm thinking of making a batch with the smaller pint jar lids so I can use them for mini sandwiches. Thanks for another great recipe.....haven't found a bad one yet!
This was my first shot ever at making English muffins. In all honesty, this was a very forgiving recipe, and they turned out great! Instead of the two baking sheet method, I used a pre-heated pizza stone in my oven, and slid the muffins, in their rings and on parchment paper, directly onto that. Immediate sizzle, like on a griddle, and they turned out very tasty. The stone also seemed to help increase the "cragginess" as well. The next time I make these, I will use a minute or two less baking time on the first side, due to the heat of the stone, so that the other side will be less "done" when I flip them. Husband has been asking all week "When are you making English muffins again?" Take that, Thomas' brand English muffins! As an additional note, I used KA's whole wheat flour in place of the Hi Maize, and also subbed in some white whole wheat in place of the AP. Worked great!!
I just made this recipe, I will never buy English muffins in supermarket again, they are the best . Easy to follow recipe.
Made them for the first time yesterday. They were SOOO easy to make and they came out beautiful. I used semolina flour in place of the hi-maize flour and it worked out great. I did not get a lot of nooks and crannies; however, the outside, when toasted, had a wonderful crust. Visually, they looked BEAUTIFUL! Will definitely make again. . .just wondering if there is anyway to get more nooks and crannies by varying rise time and conditions. b

We're glad to hear you like these. You can increase the nooks and crannies by increasing the water a little bit. And make sure not to deflate the dough too much, be gentle with it to keep some air pockets in there. And lastly, make sure you're not overloading on flour. Each cup should weigh 4.25 ounces. Simply scooping or pouring the flour will be too much and make them dense. Bryanna@KAF
Oh. My. These English muffins are amazing!! I made them yesterday to divide among my family...but mostly to take over to my daughter/SIL's when I went to see their new (1-1/2 week old) little one (my first grandchild:-) They were a HUGE success...and tasted divine! I'd perused different recipes, noting that some had you grill them before putting in the oven, supposedly producing more 'nooks/crannies' for the butter. I made them just like the recipe, except substituting durum flour for the hi-maize flour (because I didn't have any). I fork-split them while still warm and there were plenty of nooks & crannies for the butter. I will soooo make these again...soon.