A customized print-friendly version of this recipe is available by clicking the "Print Recipe" button on this page.
Baker's Grain Sourdough Bread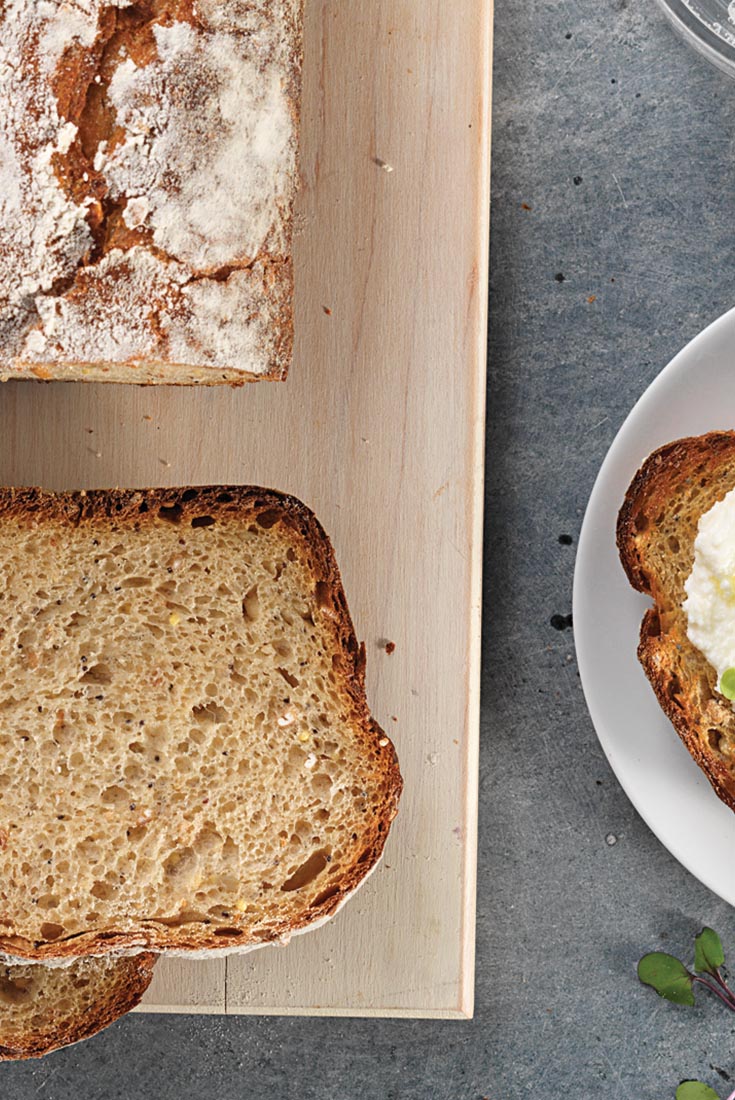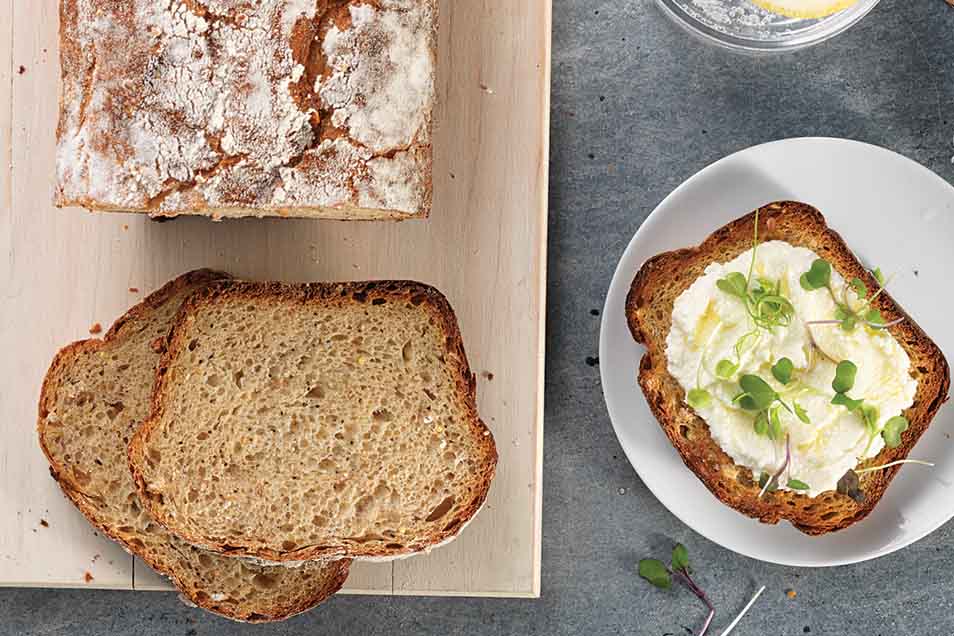 The unique flavor of our Ancient Grains Flour Blend lends a subtle nutty/earthy flavor to this bread. The flavor, and the bread's soft, moist interior and tender crumb, make it a great toasting and sandwich bread.
Instructions
Mix and knead all the ingredients — in a mixer bowl or the pan of a bread machine — to make a smooth dough. The dough will be a little bit sticky; but as long as it's firm enough to hold its shape, no more flour is necessary.

Cover the dough and allow it to rise for 1 1/2 to 2 hours, until noticeably puffy, though not doubled in bulk.

Lightly grease the base pan of a long covered baker. If you don't have a covered stoneware baker, see tips, at left.

Gently deflate the risen dough, and shape it into a log. Place it in the baker, put the lid on, and allow it to rise until it crests 1" over the rim of the pan, about 1 1/2 to 2 hours. Towards the end of the rising time, preheat the oven to 350°F.

Bake the bread for 35 to 40 minutes with the lid on, then remove the lid and bake for 5 to 10 minutes longer, until the bread is golden brown and the interior registers 190°F on a digital thermometer. Remove the bread from the oven, and turn it out of the pan onto a rack to cool.

Yield: 1 loaf.
Tips from our bakers
If you don't have a long covered stoneware baker, form the dough into a log and place it on a greased or parchment-lined baking sheet. Bake the bread on the baking sheet for a total of 35 to 45 minutes, until the interior registers 190°F on a digital thermometer.
Reviews
i didn't have such great luck with this recipe. it didn't rise very much and the crumb is quite dense; definitely not sandwich bread. i used a cup of harvest grains blend and no artisan grains flour blend. maybe that was my mistake.

Thanks for giving this recipe a go. It does sound like the grains absorbed most of the water, more than the flour would have, so that would lead to the dough not rising and being dense. Next time, we recommend either holding back some of your flour, or, being ready to add additional water until your dough is tacky like tape and soft like your cheek when you poke it. happy baking! Annabelle@KAF
Absolutely delicious! I do not have the stoneware baker and tried to cook it in a cast iron pot. The bread was so good despite the fact that it did not have a great rise. I spoke to someone at the baker's hotline (thank you!!) and think we figured out what I did wrong. I am looking forward to trying this again but honestly, if it turns out exactly like it did yesterday, I am ok with that. This recipe is really worth a try.
I love this bread! I use bread, rye and spelt flours and six-grain cereal blend and poppy and sunflower seeds and substitute agave for honey. It has a wonderful texture for sandwiches and great flavor and allows tons of flexibility for add-ins.
This is our new favorite recipe. Really good toasted. I make 1 1/4 recipe in long covered baker. Bake 40 minutes with lid on 10 mins with lid off. Then take out of pan and leave in closed oven til cooled for crunchy crust. I use bread flour with a heaping T of vital wheat gluten, potato flour. I spray with water and sprinkle either millet seeds or oatmeal flakes on top before baking.
I loved this recipe. I added half a cup of raw sunflower seeds, which was a delicious addition. I didn't have potato flour and simply omitted it without consequence. I baked it in a regular loaf pan. Easy to follow recipe that yields a really nice loaf of bread.
I followed the recipe to the letter. It is probably one of the most delicious loaves of bread that I have ever eaten. It rose perfectly, this is the first time I used the long baker, and I greased it with unsalted butter, it released perfectly. It is a jeeper.
I baked this bread with recipe has written except for the following substitutions: 9-grain flour blend vs. (Ancient grains flour) Bread flour vs. (High gluten flour) The dough did a fine job raising actually too good. I had to switch out the dough from the Long Covered Baker to the (Romertopf) as the dough rose to high and stuck to the LCB cover. In spite of the changes in ingredients and clay baker the bread turned out beautifully and the taste is sublime!
i do like this recipe, but have a few questions from those who've experienced the same problems: 1) how do you keep the dough from spilling out over the edge of the clay baker when you check to see if it's risen enough to start baking? i cannot imagine how to keep it together in the bottom of the clay baker long enough to slack cuts in the top. 2) this recipe calls for putting the clay baker into a pre-heated oven. But the clay baker's instructions say to start it out in a cold oven. Is it safe to put in a hot oven?
To prevent the oozing loaf and make the slashing easier, work with a slightly drier dough. It sounds like your dough is very soft, with a good rise, but difficult to corral! Just a couple tablespoons extra flour should help you with this. We tested the clay baker in the preheated oven as suggested in the directions for this recipe and it performed just fine. Happy Baking! Irene@KAF
Excellent bread with deep, complex flavor from tthe Ancient Grains Blend. Rose nicely in the covered baker and yielded a loaf that's terrific to have with soups and stews.