A customized print-friendly version of this recipe is available by clicking the "Print Recipe" button on this page.
Banana Cupcakes with Peanut Butter Frosting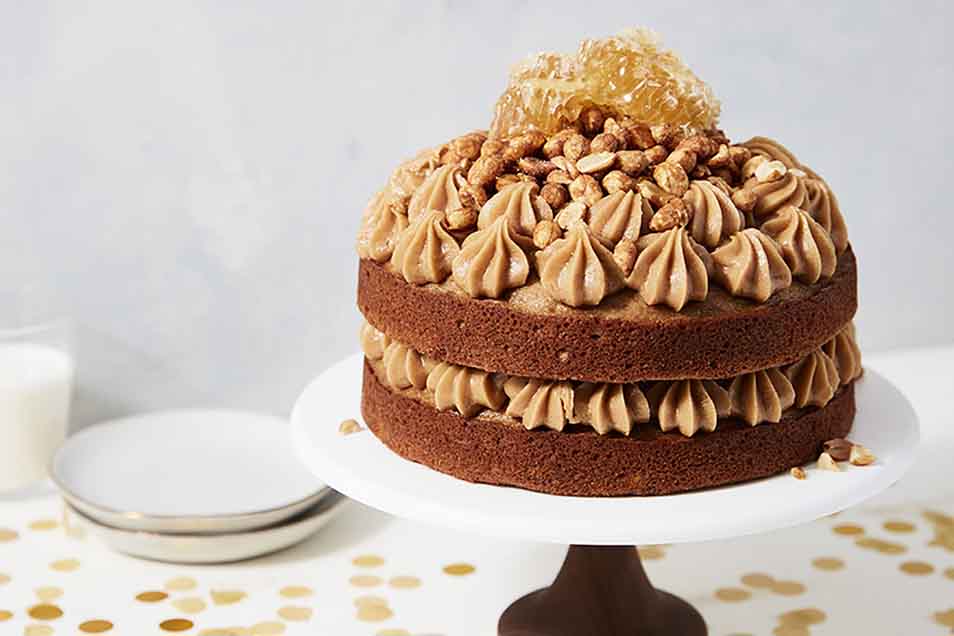 Who doesn't love a PB & B sandwich? This classic flavor combo makes a great cupcake: moist banana cake, peanut butter frosting, and a blizzard of crushed salty/sweet honey roasted peanuts on top. To make as a layer cake, as pictured here, see the bakers' tip at the bottom of the recipe.
Ingredients
Cupcakes
1/2 cup (8 tablespoons) softened butter
1 1/4 cups granulated sugar
2 large eggs
3 small or 2 medium very ripe bananas, peeled and cut into chunks
1/4 cup honey
1/4 cup yogurt or buttermilk
1 teaspoon vanilla extract
2 1/3 cups King Arthur Unbleached All-Purpose Flour
1 teaspoon baking powder
1/2 teaspoon baking soda
3/4 teaspoon salt
1 teaspoon ground cinnamon
1/8 to 1/4 teaspoon ground nutmeg, optional
2 tablespoons Cake Enhancer, optional, for moist texture
Frosting
2 cups confectioners' sugar
3/4 cup peanut butter, creamy or chunky
1 teaspoon vanilla extract
1/8 teaspoon salt, optional, to taste
1/3 to 1/2 cup milk or half & half
1 1/3 cups crushed honey roasted peanuts, to garnish
Instructions
Preheat the oven to 350°F. Lightly grease a standard muffin or cupcake pan; or line with papers, and grease the papers.

For the cake: In a large bowl, cream the butter and sugar together until smooth.

Add the eggs, and beat well. Stir in the banana, honey, and yogurt(or buttermilk), and vanilla. The mixture may look lumpy or curdled.

In a medium bowl, whisk together the flour, baking powder, baking soda, salt, cinnamon, and nutmeg and Cake Enhancer (if using).

Add half of the dry ingredients to the banana mixture and mix until combined. Scrape the bowl and add the remaining dry ingredients. Mix until the batter is uniform; scrape the bowl and mix at medium speed for 30 seconds.

Scoop the batter into the prepared pan, filling the wells almost full; a muffin scoop works well here.

Bake the cupcakes for 24 to 27 minutes, until a cake tester or toothpick inserted into the center of one comes out clean, or with a few moist crumbs clinging to it.

Remove the cupcakes from the oven, and place the pan on a heatproof surface. As soon as you're able, tilt the cupcakes in the wells of the pan; this prevents their bottoms from steaming.

When the cupcakes are completely cool, make the frosting. Beat together the confectioners' sugar, peanut butter, vanilla, and salt until crumbly.

Add 1/3 cup of the milk (or half & half), beating to combine. If the frosting is too thick to spread easily, add more liquid a tablespoon at a time, beating after each addition.

Put the crushed peanuts in a bowl. Frost the cupcakes, using about 42g (1 1/2 ounces) frosting for each. As you frost each cake, dip it into the crushed peanuts, turning it to cover the frosting completely.

Transfer cupcakes to a rack to set briefly; then cover and store airtight until you're ready to serve them. They'll stay fresh for a day or two; longer, if you've used Cake Enhancer.

Yield: 12 cupcakes.
Nutrition Information
Serving Size

146g

Servings Per Batch

12
Amount Per Serving:
Calories

504

Calories from Fat

198

Total Fat

22g

Saturated Fat

7g

Trans Fat

0g

Cholesterol

52mg
Sodium

338mg

Total Carbohydrate

71g

Dietary Fiber

3g

Sugars

46g

Protein

11g
* The nutrition information provided for this recipe is determined by the ESHA Genesis R&D software program. Substituting any ingredients may change the posted nutrition information.
Tips from our bakers
Use any peanuts — regular or dry roasted, salted or unsalted — in place of the honey roasted peanuts, if desired. Or leave the nuts out altogether. Or crush just 1/2 cup, and garnish sparingly. It's all up to you.
Bake this into two 8" layer cakes, if desired; or a thin 9" x 13" cake. The baking time will be about 25 minutes for the round layers, or 30 to 35 minutes for the sheet cake. Test by inserting a toothpick into the center of the cake; when it comes out dry, or with a few moist crumbs clinging to it, the cake is done.
A single batch of frosting is enough to fill and top the cake as shown; to fully frost the sides, you'll need to double the frosting.
Reviews
I did not like this recipe. The cake was very dense and too sweet, especially combined with the peanut butter frosting. On their own, they were actually better. No one in my family liked them. Fortunately, there are people I know who did like them, so they didn't go to waste, but this was too sweet for my taste. There was no need for the honey. I would have preferred making banana bread instead of this.

Claudia, we're sorry this recipe turned out not to be a good fit for you! You might be more interested in some of our banana muffin recipes, which are less sweet but still delicious with the addition of a frosting if desired. You can find them by typing "banana muffin" into the search bar of our site. Happy baking! Kat@KAF
I wasn't sure about this recipe when I decided to try it, but it is an absolute keeper! Holy cow, they are amazing. I'm not even going to admit how many I had and my office mates adored them. The only change I made was to the icing. I made the icing per the recipe, but wanted more peanut flavor when I tasted it. I added some (maybe 4 tbs?) peanut butter powder plus enough milk to maintain the consistency and it was perfect.
Did this recipe as it is mentioned, with full fat yoghurt. Too good for kids, I found it little sugary. It's lot of batter. however for 2nd batch, I added choco scraps and raisins. Third Batch was with one more egg and a quarter cup oats flour, 2 tbsp yoghurt to have a little less sugar. excellent taste. It was loved by all.
I baked this recipe following the directions for a sheet cake for my son-in-law's birthday. I made a batch and a half of the frosting using all chunky peanut butter and split the cake into two layers to get the most peanutty deliciousness. Several people requested the recipe, which I take as a seal of approval.
Yum!!!! I made these GF with Measure for Measure flour. I did decrease the sugar a bit because I always do when baking. SO GOOD!!!
These were awesome beyond expectation. Loved by both kids and adults. And me! Very definitely cake texture, not muffin-e at all. I did not use this frosting recipe however but made a Nutella buttercream, which was a perfect complement. Cut the sugar to one cup. Added about 1/2 cup finely chopped dark chocolate chunks. Used foil liners which I lightly greased and cupcakes released very nicely. I used full fat yogurt, not buttermilk, and 3 medium bananas. This makes a lot of batter. Filled each cupcake tin to the very top and maybe even a bit more. Still had a bit of batter left (yum). With such large cupcakes they baked up with muffin tops which made for a nicely large surface for frosting. You could easily make more normal sized ones and likely get 18. This is my second recipe from this site and I couldn't be more pleased.
Wow, amazing cupcakes. I love how the bananas are kept in chunks. It really adds to the texture of the cake. I used half KAF white wheat/half KAF white flours. As for the frosting, it is, as other have said, very rich. Rich and delicious, though. Just don't overfrost. I did use more than the recommended amount of cream to make the frosting a little lighter/fluffier. Love this recipe and I can see making it as a full-size cake, too. Thanks, KAF!
These were a big hit at work and were described as childhood in a cupcake. I do think they take more time to do start to finish by an extra half hour to 45 minutes. I made the most modest of modifications. For base, I did both vanilla extract and banana flavoring. I cored the inside and added strawberry jelly. For frosting, I added a touch of peanut butter flavoring. Next time - I won't use natural peanut butter as it was harder for the frosting to set up and may skip the crushed peanuts on top and do bacon (regular or candied) and call them Elvis Cupcakes.

We like the tweaks you made to this recipe to make it even more fun! You've got the right idea about avoiding natural peanut butter in baking. It tends to separate and cause textural problems. Stick with a generic store brand for your baked goods next time, and save the natural stuff for when you're enjoying it with a spoon! :) Happy baking! Kye@KAF
I share the opinion of many posters that it is on the verge of being too sweet. However, I must mention that I am used to lower sugar choices, and use NO processed food/fast food - so I have lowered my sugar taste tolerance from the American norm. The average cook should like these as-is. In my case, there seemed to be a slight graininess to the finished cake. I used unbleached organic sugar, which is the same grain as white granulated sugar. I had to substitute light agave syrup for liquid honey (works well as a 1-1- swap, usually). I made the recipe in 2 8' round foil pans. The cake does not rise a lot, as a commercial mix would, by comparison. It did not rise to be level with the edges of the pans. However, it browned nicely, and was done in the expected 25 minutes. Fluffiness is similar to what I used to love as a child about the old Sara Lee Banana Cake, with cream cheese icing. Fruit is noticable in the cake, and it is not overwhelmed by 'overripe banana' smell/taste as other recipes I have tried. It's very moist, crumbles in larger pieces, and can be eaten out of hand plain. A plus! With a bit of unsalted butter, and warm from the oven, it's a nice indulgence. I will try more with softened cream cheese later. I do not think it needs frosting...but a less sweet buttercream or sweetened cream cheese topping would be good. So would simple mascarpone! Rated a 4 for two reasons: the over-sweetness, and the lack of rise in the layers - it would be a thin layer cake if you wanted to make one of it. Use 4 of the 8" cakes if you do. (double the recipe)
BEST-BANANA-CUPCAKE-EVER! The batter looks a little bit odd at first, but when dry ingredients are added and you blend them, the consistency is prefect: not runny, not heavy. The taste is really amazing: soft, spongy, sweet -I used only 1 cup of sugar, no honey-, and delicate. I made cake pops in my holstein machine, and got 48 cake bites, perfect in size and flavor. It is a keeper, and great for those days when you have some overripe bananas