A customized print-friendly version of this recipe is available by clicking the "Print Recipe" button on this page.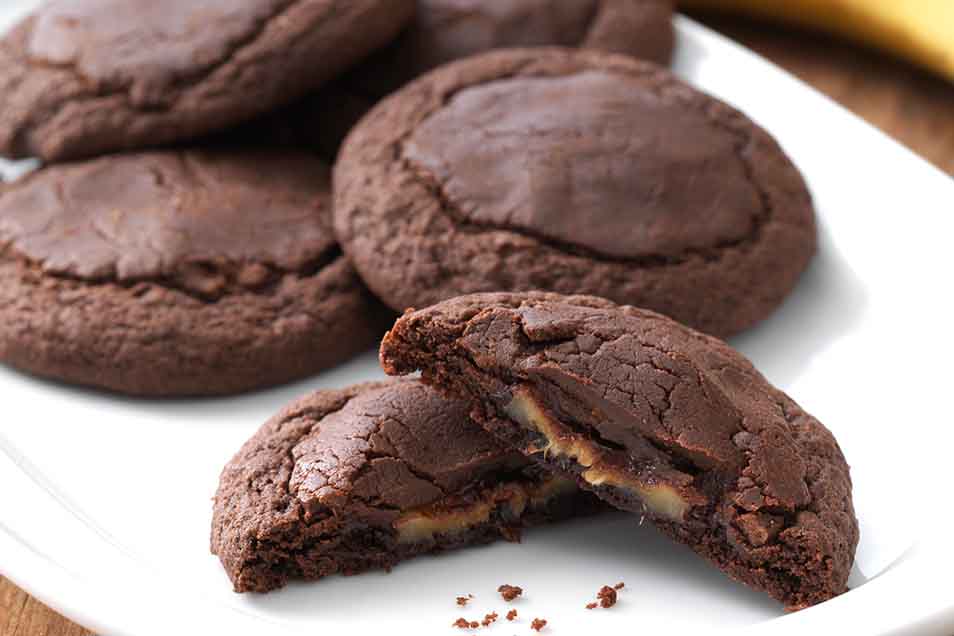 If you're a fan of chocolate-covered bananas, these cookies are right up your alley. Dark, rich cookies filled with fresh banana slices and topped with a thick fudge frosting get baked into choco-nana perfection. A tall glass of cold milk is mandatory!
Ingredients
Filling
2 medium-sized bananas, peeled and sliced 1/4" thick
Instructions
Preheat the oven to 350°F. Line two baking sheets with parchment paper.

Combine the soft butter and sugar in your mixer bowl. Beat on medium speed for 2 minutes. Beat in the egg and vanilla.

In a small separate bowl, whisk together the baking soda, salt, baking powder, cocoa, and flour. Add to the wet ingredients and mix on low speed until well combined.

Allow the dough to sit for a minute while you make the fudge topping. In a microwave-safe bowl, heat the chocolate chips and condensed milk for 40 to 60 seconds. Stir until smooth. Avoid over heating or the topping will dry out.

Scoop the dough into 24 balls, each about the size of a ping pong ball. Place the balls on the prepared baking sheets. Use your thumb to press an indentation into the center of each ball, then widen it to make a small cookie dough "nest."

Place a 1/4"-thick slice of peeled banana into the "nest" in each cookie. Cover with two teaspoons fudge topping. Rolling the topping into a ball and flattening between your palms is a good way to get a thin layer of fudge to cover the top of the cookie.

Bake the fudge-topped cookies for 10 to 12 minutes. The fudge will sink in a bit, creating a round ring on the cookies. Remove from the oven, and carefully transfer ot a rack. Serve barely warm or at room temperature, with ice cold milk.

Yield: 2 dozen filled cookies.
Tips from our bakers
Not a big fan of banana? Fresh or maraschino cherries, pecans, and walnuts all make great fillings.
If your fudge topping starts to firm up before you cover all the cookies, reheat it briefly in the microwave and stir in another 1/2 teaspoon of condensed milk.
Don't worry about weighing out your bananas. Any leftovers can be nibbled while the cookies bake.