A customized print-friendly version of this recipe is available by clicking the "Print Recipe" button on this page.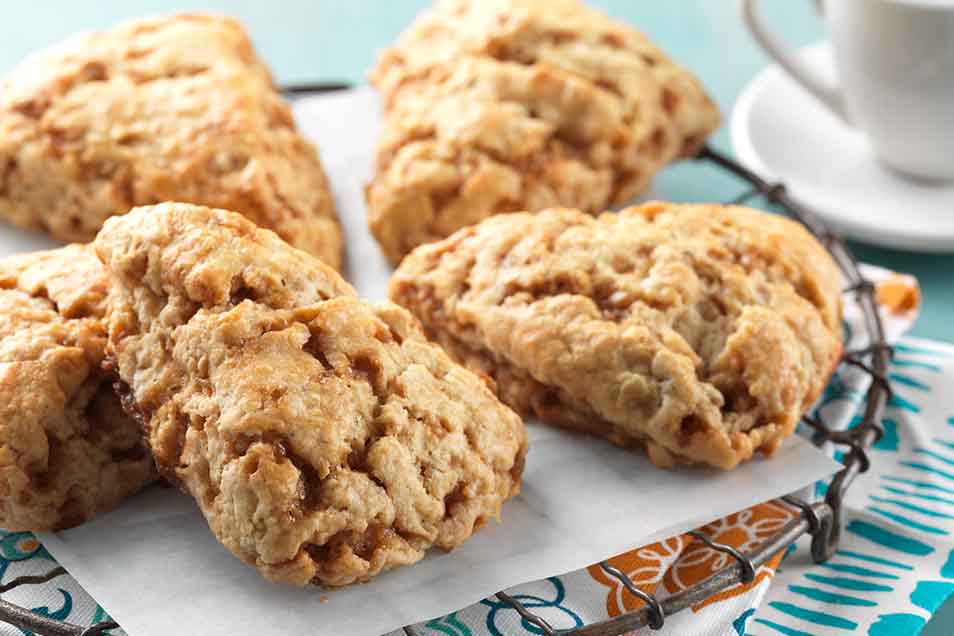 Banoffee stands for the banana-toffee flavor combination made popular by a sweet English pie of the same name. Our toffee crunch add-in has inspired us to experiment with this duo of flavors, and this scone was one of our favorite tested recipes.
Ingredients
1 cup King Arthur Unbleached White Whole Wheat Flour
1 tablespoon baking powder
1/2 teaspoon baking soda
3/4 teaspoon salt
1/4 cup sugar
8 tablespoons (1/2 cup) cold butter, cut in pats
3/4 cup toffee crunch or chopped Heath bars
1 medium very ripe banana (between 3 and 4 ounces, peeled)
2 teaspoons vanilla extract
1/2 to 3/4 cup milk or buttermilk
Instructions
Preheat the oven to 425°F. Grease a baking sheet, or line it with parchment paper.

In a large bowl combine the flours, baking powder, baking soda, salt, and sugar.

Work the butter into the dry ingredients until the mixture is unevenly crumbly. Toss in the toffee crunch until evenly distributed.

Mash the banana with the vanilla in a small bowl. Stir in 1/2 cup of the buttermilk or milk.

Add the banana mixture to the butter-flour mixture, stirring until the dough comes together into one mass, and adding more milk/buttermilk if needed.

Turn the dough out onto a well-floured surface. Flour your hands and the surface of the dough.

Knead the dough very gently about 10 times, just enough to bring it together, sprinkling on more flour as needed to keep the dough from sticking.

Cut the dough in half, and press each piece gently into a circle 6" to 8" in diameter.

Cut each circle into 6 wedge-shaped pieces with a bench knife, bowl scraper, or spatula.

Transfer the scones to the prepared baking sheet, leaving ½" or so between them.

Bake the scones for 14 to 16 minutes, or until golden brown.

Remove the scones from the oven, and serve hot, warm, or at room temperature. When completely cool, store any leftovers well wrapped, at room temperature, for several days; freeze for longer storage.

Yield: 12 scones.
Reviews
These were ok, but only on the first day, when warm. They just don't keep well, and toasting them didn't help. They were really quite dull. I've been happy with other scone recipes on this site, and wanted a new recipe to use up ripe bananas. Oh well.

If you wrap these thoroughly in plastic, they will keep for up to three months in the freezer. We hope that helps you keep these treats for longer. Happy baking! Kat@KAF
Delicious! I did use two bananas, as recommended by other reviews. Definitely going to repeat.
Delicious!! Would definitely recommend and make again.
While making the recipe I was skeptical as it did not look like my traditional scone recipe I have made for years. All my worry was for nothing. They baked up beautifully. Loved how it had a nice light banana and toffee taste to the scone. Was delicious served with plain butter. This will become part of my rotation going forward. Yum!
I made these scones last night and they were wonderful - so much better than any banana bread recipe I've ever made or any scone recipe either, for that matter. (I doubled the banana, too, as some of the other reviewers did). I'm adding them to my "baking gift list" because they are so easy and I think anyone would be delighted to get them. One question: How can I avoid getting the bottoms too brown before the top and middle are done? That's not unique to this recipe. It always happens with my scone and biscuit recipes. Any tips?

Susan, try doubling up your baking sheets next time you bake scones or biscuits. The extra baking sheet will provide additional heat insulation to the bottom of your baked goods and should help achieve that perfectly brown crust. Kye@KAF
I have made this recipe several times. It is so delicious. It has come out perfectly each time. I used Skor chips because i live in Canada and they are toffee chips without chocolate, which I prefer. The third time I made them, I substituted real maple syrup for the sugar. They were fantastic! I am sure I will be making them frequently, as a " go to" recipe. Thanks for this recipe.
I just made these and they are fantastic! I decided to make half the recipe, but ended up putting an entire ripe banana in it - tastes awesome! For those that don't feel there is enough banana flavor, try doubling the banana in it. I also used powdered buttermilk (I don't keep liquid in the house) and added it in with the flour. Despite forgetting to halve the amount of powder they still taste great! I am eating one now, and must might have to heat one up for breakfast tomorrow!
First time making scones and followed recipe exactly as written. They came out wonderful. Couldn't believe how easy they were to make and they tasted delicious.
These were good but not my favorite scone recipe. The banana flavor was very subtle and they were very tender. They didn't have the heath/or toffee bits at the store so I tried Butterfinger baking bits. I found these a little bland and had to spread some homemade cinnamon spread to add flavor. My scones did not have that crunchy outside that I love although the picture on the recipe looks like it should have. Maybe if I brushed them with milk before cooking I might get a more crunchy outside? Ok, but not my favorite.

Michelle, try brushing the scones with milk and then sprinkling with coarse sugar (our Sparkling White Sugar would be perfect for this). Also, if you want to heighten the banana flavor, consider adding 1/4 teaspoon of banana extract. This might be just the tweak you're looking for. Happy baking! Kye@KAF
Very pleasant flavor, not too sweet, and these freeze well. Just nuke 'em straight from the freezer for 25-30 seconds, and they're yummy. If anyone seriously still wants recipes for those ever-elusive "unexpected guests" (who are those people who would show up uninvited and expect home-baked treats??) these are the ones. I'm a Brit and usually turn up my nose at fancy sweet Murican scones, but these are helping change my mind.