A customized print-friendly version of this recipe is available by clicking the "Print Recipe" button on this page.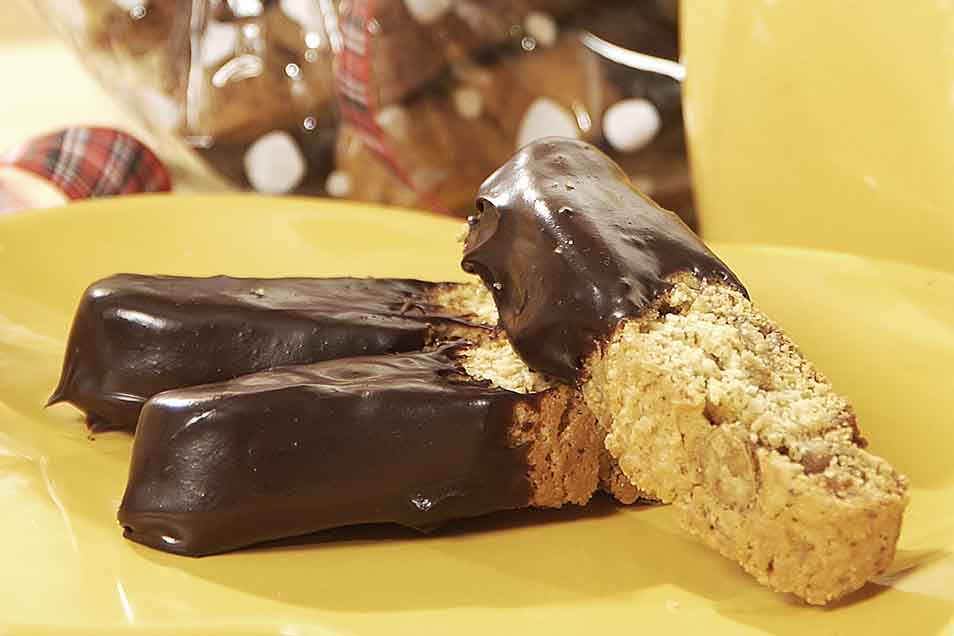 Starbucks has opened our collective eyes to the many flavors a cup of coffee can assume. These biscotti mirror some of our favorite complementary coffee flavors. They're shorter than the standard European variety, making them a perfect fit on the saucer next to your coffee cup.
Instructions
Preheat the oven to 350°F. Lightly grease (or line with parchment) one large (about 18" x 13") baking sheet.

In a medium-sized bowl, beat the butter, sugar, salt, flavor or extract, espresso powder, and baking powder until the mixture is smooth and creamy.

Beat in the eggs; the batter may look slightly curdled. At low speed of your mixer, add the flour and chips, stirring until smooth; the dough will be sticky.

Divide the dough in half, plopping each half onto the prepared baking sheet. Using your wet fingers, shape each piece into a rough log about 12" long, 2" wide, and about ¾" thick. Straighten the log, and smooth its top and sides.

Bake the dough for 25 minutes. Remove it from the oven, and allow it to cool on the pan anywhere from 10 to 25 minutes.

Using a spray bottle filled with room-temperature water, lightly but thoroughly spritz the logs, making sure to cover the sides as well as the top. Softening the crust just this little bit will make slicing the biscotti much easier.

Reduce the oven temperature to 325°F. Wait another 5 minutes, then use a serrated knife to cut the log crosswise into 1/2" to 3/4" slices. As you're slicing, be sure to cut straight up and down, perpendicular to the pan; if you cut unevenly, biscotti may be thicker at the top than the bottom, and they'll topple over during their second bake.

Set the biscotti on edge on the prepared baking sheet. Return the biscotti to the oven, and bake them for 25 to 30 minutes, until they feel very dry. They'll still feel a tiny bit moist in the very center, if you break off a piece; but they'll continue to dry out as they cool. Remove the biscotti from the oven, and transfer them to a rack to cool.

To make the chocolate ganache: Combine the chocolate and half & half in a microwave-safe bowl, and heat for about 45 seconds, or until the cream is very hot. Stir until the chocolate melts and the mixture is smooth and creamy, reheating briefly if necessary. Stir in the espresso powder and hazelnut flavor.

Dip about 1/3 of each biscotti in the ganache. Lay dipped biscotti on a piece of parchment that you've sprayed with non-stick spray; a piece of waxed paper; or on a cooling rack. Allow biscotti to harden for several hours, or overnight, before wrapping for storage.
Tips from our bakers
Variation: For longer, standard-size biscotti, cut the baked dough on a slant (at a 45° angle) instead of crosswise. The yield will be fewer; exactly how many depends upon how much of a slant you cut them on.
Reviews
I made the cookies as directed, however instead of the ganache I used a coffee-spiked glaze from a different recipe. Came out great and loved the coffee flavor. In the biscotti I used some caramel pieces, wpild definitely try with toffee bits, butterscotch or chocolate chips!
I made every possible mistake, (including mixing the ganache into the batter) and they came out amazing - kind of like a brownie/biscotti. Thank you for this fail safe recipe.
I made every possible mistake, (including mixing the ganache into the batter) and they came out amazing - kind of like a brownie/biscotti. Thank you for this fail safe recipe.
Definitely a keeper, perfect with coffee! I did modify the recipe somewhat; I didn't want it to be too sweet so I omitted the ganache. Instead, I replaced 1/4 cup of the flour with cocoa powder to make a 'mocha' version. Perfect! Not too sweet, and that chocolate + espresso flavor combination is one of my favorites. Would probably do very well with toasted walnuts and/or a simple glaze. I do underbake a little to keep the softer, more shortbread-like texture.
I made this in my new KAF biscotti pan. I looked for a recipe that would work in this pan and this was an excellent one to try. It was easy to mix up and bake. I ended up with 15 biscotti, as I didn't make "mini" ones. I used vanilla instead of hazelnut flavoring, the espresso powder really put these over the top. My husband loves biscotti (ok anything baked) and I haven't made any in years. He especially commented that the chocolate coating was particularly delicious and was just sweet enough. Will be making this again and again for sure.
This biscotti pan will hold one of our biscotti mixes or any recipe that uses 2 - 2 1/2 cups flour. Happy Baking! Irene@KAF
I baked my first batch the other day for my family and they LOVED it. I will definitely make this recipe again!
Very good biscotti recipe! Love the texture and flavor! Biscotti is easy to make once you get the hang of it! I never buy the store bought anymore! I always like to have a variety on hand, they freeze well and make great gifts!
The first time I made these bars I used the cappuccino chips, but was very disappointed in the lack of coffe flavor. The second time I made them I used coffee crunch chocolate bars that I chopped up. I used the chocolate ganache as well and received overwhelming compliments from friends who love the flavor of coffee as I do. Thank you KFC for the great variety of biscotti recipes you have to offer. I have made many of them for my family and fiends to enjoy!
Fantastic!! The best we have ever made! We didn't put the extra chocolate on it though as we felt like it was so good without!
I baked these in late afternoon, and the next morning a cozy, coffee shop aroma still lingered! The KAF cappuccino chips, hazelnut flavor, and espresso powder made the recipe outstanding, according to my taste buds. Not overly sweet, which I like with coffee or tea. This was my first time using the biscotti pan. I spread the dough to the edge of the pan, and cut in half vertically after baking, and sliced each side 3/4" wide horizontally, etc. Then the cut edge was what I used to dip, spreading with a pastry brush, the chocolate - semi-sweet and bittersweet chips. Another biscotti recipe described a different method of using the pan, so you might want to check.
You were so right to cut the loaf in half lengthwise to get a mini biscotti bite rather than a large slice. The original recipe calls to shape the loaf 2" wide, while the biscotti pan is more than double that (5 3/8" wide). Your variation sounds delish - Happy Baking! Irene @ KAF