A customized print-friendly version of this recipe is available by clicking the "Print Recipe" button on this page.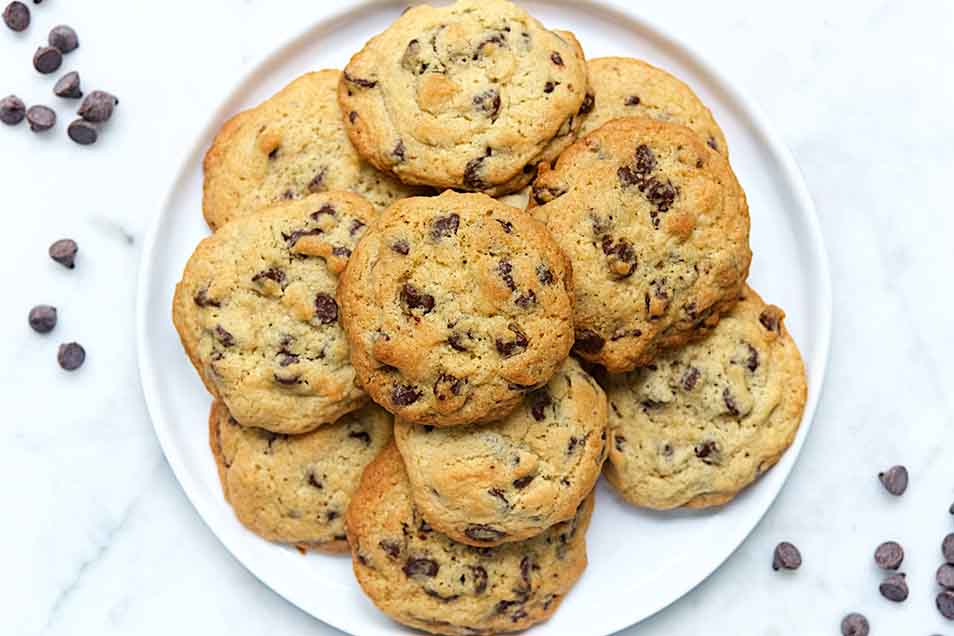 Add chocolate or other flavored chips, dried fruit, nuts, even small candies; this "mother cookie" is a perfect starting place for all kinds of wonderful variations.
Ingredients
1/2 cup butter
1/3 cup + 1 tablespoon granulated sugar
1/3 cup brown sugar, light or dark, packed
1/2 teaspoon salt
1 teaspoon vanilla
1/4 teaspoon baking soda
1/2 teaspoon baking powder
1 large egg
1 1/2 cups King Arthur Unbleached All-Purpose Flour
2 tablespoons milk, optional
2 cups chips, nuts, and/or dried fruit, optional
Instructions
Preheat the oven to 375°F. Lightly grease two baking sheets, or line with parchment.

Beat together the butter, sugars, vanilla, salt, baking powder, and baking soda till well combined.

Add the egg, beating till smooth. Scrape the sides of the bowl, and beat again till smooth.

Add the flour, mixing it in completely.

If you're making cookies using chips, nuts, etc, beat in the milk, then the add-ins.

If you're making plain cookies, without add-ins, omit the milk.

Drop the cookies by the traditional "tablespoonful" (actually about 4 measuring teaspoons) onto the prepared baking sheets, spacing them about 2" apart. A tablespoon cookie scoop works well here.

Bake the cookies for 10 to 14 minutes (or up to 16 minutes; ovens may vary). The cookies should be a light golden brown, and a bit darker around the edges. For softer cookies, bake the shorter amount of time; for crunchy cookies, bake longer.

Remove the cookies from the oven, and cool right on the baking sheets.
Tips from our bakers
Substitute 1/2 to 3/4 cup King Arthur White Whole Wheat Flour for an equal amount of all-purpose flour, if desired.
Reviews
Absolutely fantastic! A tablespoon of chai spice blend and good vanilla extract flooded my house with the most decadent aroma! I baked these for my family earlier today and half the batch has already been munched up. I think this recipe will become a regular in my kitchen xoxo
While these aren't my favorite chocolate chip cookie recipe (and I bake them a lot!), they're a good basic cookie. The addition of a little milk interested me ... the dough was a little softer than most chocolate chip cookie recipe, and I did like the texture ... a little more cakey than thin and crispy. Only changes I made were using half butter and half shortening, and refrigerating the dough overnight before baking ... I almost always do this, as it gives the dough a chance to rest and meld the flavors - not to mention it seems to take less time when you do it in two steps!
These are the best chocolate chip cookies I've ever made. The recipe doubled well, the dough was easy to handle at room temperature and they rose nicely. They look great and they are delicious. Total time, including clean=up, was just under two hours.Be sure to use parchment paper. Yield for doubled recipe 48 three inch cookies. I baked them for 12m30s. I'll be making these again. My family is very happy to eat them.
I have always liked King Arthur Flour recipes (I HIGHLY recommend trying the cinnamon star bread) and LOVE how they are willing to answer any baking questions you may have. I added 1 cup of oats and 1/2 a cup each of white chocolate chips and macadamia nuts. I adjusted the temperature due to some of the comments and they turned out well. I love having a base cookie recipe to experiment with! Thank you for the recipe!! I will be using it again in the future!
I was hesitant to try this recipe after reading all the reviews about the oven temperature at 375. But I love the King Arthur recipes and decided to make these cookies exactly as the recipe dictated. They are AWESOME!!! 375 for 12 minutes was perfect! I used 4 teaspoons of cookie dough and it was perfect! BEST chocolate chip cookie recipe EVER! Can't wait to make a batch for all my college grandchildren (4) and send them to their dorm!!!! I let you know how they liked the surprise!!
It was super simple and took almost no time. I added chunks of chocolate and kit-kits. they tasted good , but were a little to round for me. Great recipe over all.
LOVE this recipe! I have made this half a dozen times and do something different each time... I think my favorite version has been to use 1 cup of regular sized chocolate chips and 1 cup of mini morsels (I was making smaller than usual sized cookies for a kid birthday party). I have also done 1.5 cups of m&ms and half a cup os mini morsels which was also terrific. I love how puffy and light they are! thanks for the recipe KAF!
Great recipe. I made it with wheat flour, 1 1/2 c. choc. chips and 1/2 c. walnuts. Next time I think I will try less sugar. Will do this again.
Made these today and they almost burned as oven was too high at 375 per your recommendations....you have to start watching after 10 minutes. .... They were very puffy and chewy...they don't spread. I prefer a thinner crisper cookie...I Might try one more time and adjust the recipe for a more crispy, thinner cookie.