A customized print-friendly version of this recipe is available by clicking the "Print Recipe" button on this page.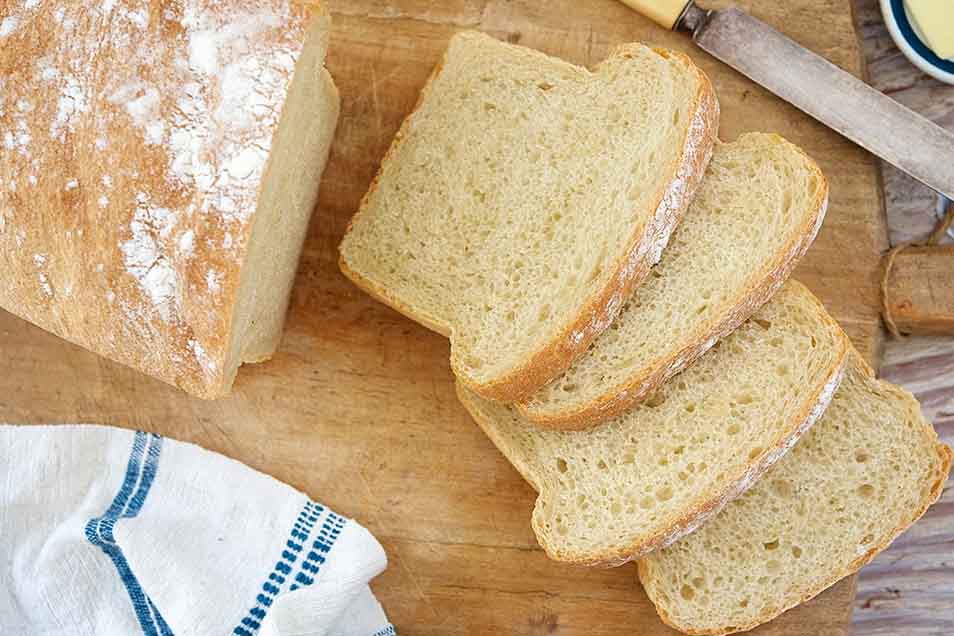 This tangy, soft sandwich loaf recipe was originally developed for the bread machine; we've tweaked it here for those of you without a machine. See our recipe for Bread Machine Sourdough Bread for the original, machine-baked version.
Instructions
Combine all the ingredients and mix and knead — by hand, mixer, or bread machine — to make a soft, smooth dough; about 15 to 20 minutes by hand, 7 to 10 minutes in a mixer, and 20 to 30 minutes in a bread machine.

Place the dough in a lightly greased bowl and let it rise for 45 to 60 minutes, until puffy but not necessarily doubled in bulk.

Lightly grease a 9" x 5" loaf pan.

On a lightly greased work surface, gently deflate the dough, and form it into a 9" log. Place the log in the prepared pan, cover, and let it rise for 60 to 90 minutes, until it crests about 1" over the rim of the pan.

Preheat the oven to 350°F.

Bake the bread for 40 to 50 minutes, until it's light gold and a digital thermometer inserted into the center reads 190°F.

Remove the bread from the oven, and after a couple of minutes turn it out of the pan onto a rack to cool. Store, well-wrapped, at room temperature for several days; freeze for longer storage.
Nutrition Information
Serving Size

49g

Servings Per Batch

18
Amount Per Serving:
Calories

110

Calories from Fat

5

Total Fat

0g

Saturated Fat

0g

Trans Fat

0g

Cholesterol

0mg
Sodium

200mg

Total Carbohydrate

23g

Dietary Fiber

1g

Sugars

0g

Protein

4g
* The nutrition information provided for this recipe is determined by the ESHA Genesis R&D software program. Substituting any ingredients may change the posted nutrition information.
Reviews
Great recipe. Makes fantastic sandwiches
A great basic sourdough. The taste is definitely mild, not a tangy sourdough. Hard to mess up as it has a good amount of instant yeast. A nice same day loaf, no overnight proof required. I baked a double batch and increased entire recipe in volume by 25 percent. At my house, we like the options of making GIANT sandwiches haha. I baked for 50 minutes and they came out great. Will definitely become a regularly used recipe in my kitchen.
This was my first bread in a year or more and my first ever in a loaf pan. My results were pretty good but the texture was really soft to the point that it was hard to cut. I left it in too long - 205deg - but obviously that's my fault. The rise was good and the crumb was even but there was no chew. I've been feeding the starter for about a month and it seems pretty robust. Any suggestions on how to get more chew? Thanks!

It sounds like you might have tried to cut the loaf while it was still warm, which makes it very difficult to slice. If you're not already doing so, be sure to let the loaf cool completely before slicing. As for getting more of a chewy texture, consider using flour with a higher protein content next time. We like using bread flour when we're looking for a chewier texture, so you might consider giving it a try in this recipe. Use it to replace the all-purpose flour in the recipe 1:1, adding slightly more water to the dough if it feels stiff or dry. Happy baking! Kye@KAF
I used this recipe. It is closer to an actual full loaf, and guided me to a closer understanding of starter to flour ratio. I baked it up and on the way i put bullion dill pickle juice, ry flour, caraway, dill, and flax seed in the dough, i have a thing about listening to seed pop in the toaster. Its wonderful. Ive decided my yeast jar or stater is getting anything that will ferment thrown in, any kind of flour, choppee up slices of baked failure bread, coffee, bacon fat, leftover gravy and potatoes. Ittl all get fermented. A starter like this im sure is closer to what a family in 2018 B.C would have done. Bread came out wonderful smell of fresh air from the pickle juice.
I gave this recipe 4 stars for what i lyearned. I havent been using near enough starter, and followed the tangy recipe here wich has just enough yield to make a hoagy bun. Im waiting for it to cool it smells like fresh air!!! Lol a note about starter, i put myself in a poor farmers shoes sowing and harvesting each grain of wheat and decided i will not throw away all but 1/2 cup of starter, and feed it new. In fact if i was a poor farmer, anything and everything that makes yeast or adds flavor goes in the yeast jar. I put pickle juice, chicken bullion, caraway seeds dill seeds rye flour, and have chopped up two slices of an earlier loaf and.put that in the yeast jar. Yeast the beast that dont care what it eats. Also bacon drippings and the last two swallows of a cup of coffee i didnt finish. Im sure the vinegar in the dill pickle juice is what makes it smell like fresh air. Oh i will also be puttng in left over gravy, dumplings and tail ends of baked potatoes.
I love this recipe, and make it a couple of times a month. I am wondering if it can be converted to using the tangzhong technique to extend the shelf-life, and keep it softer longer?

We haven't experimented with using the tangzhong method to make sourdough bread, but it's certainly on our list of things we hope to soon try! Tangzhong is best applied to recipes that make soft, tender, moist bread rather than lean/crusty bread, and sourdough lends itself to the latter. However, tangzhong may in fact prove to be favorable in recipes like our Buttery Sourdough Buns or our Cinnamon Raisin Sourdough Bread, which are soft, enriched doughs. We'll give it a go in a crusty recipe too (like our Rustic Sourdough Bread) to see if it stays fresh longer, though it's worth noting that sourdough already stays fresh longer than regular loaves. We'll be sure to report with our findings soon, and we hope other tangzhong bakers will do the same! Kye@KAF
I made four loaves of bread today, all in a 30 year old oven that is cranky as can be. All loaves were edible, some better than others but this loaf, this loaf was perfection. It is not Artisan bread, it is simply a beautiful loaf of very tasty bread. I made one adjustment: my sourdough starter is new and I have to be stingy with it so I used one cup of starter and 1 cup of warm water. It will be even better next time when the full sourdough flavor is matured in my starter. Wish I could post the picture, it's perfection. THANK YOU!
We love this quick and easy sourdough bread. It's great for more than sandwiches (try it toasted for BLTs--yum!). We try to eat organic, as much as possible, so we use KAF organic flours and use this bread to make our own homemade croutons, bread crumbs and toasted bread crumbs. This bread is so versatile, and so yummy, that we keep a sliced loaf in our freezer, ready for anything! Thank you, KAF, for another great recipe!
I am a newbie at Sourdough. Today I made this because it called me for something perfect that I would devour (e.g. consistency, recipe yield, ease of steps). I realized I should at least start off with a recipe like this one so I did. Easy, and totally absolutely heavenly to eat. Please try- it is a total winner for any household. No one won't not love this bread! Thank you King Arthur for all you do for at home!