A customized print-friendly version of this recipe is available by clicking the "Print Recipe" button on this page.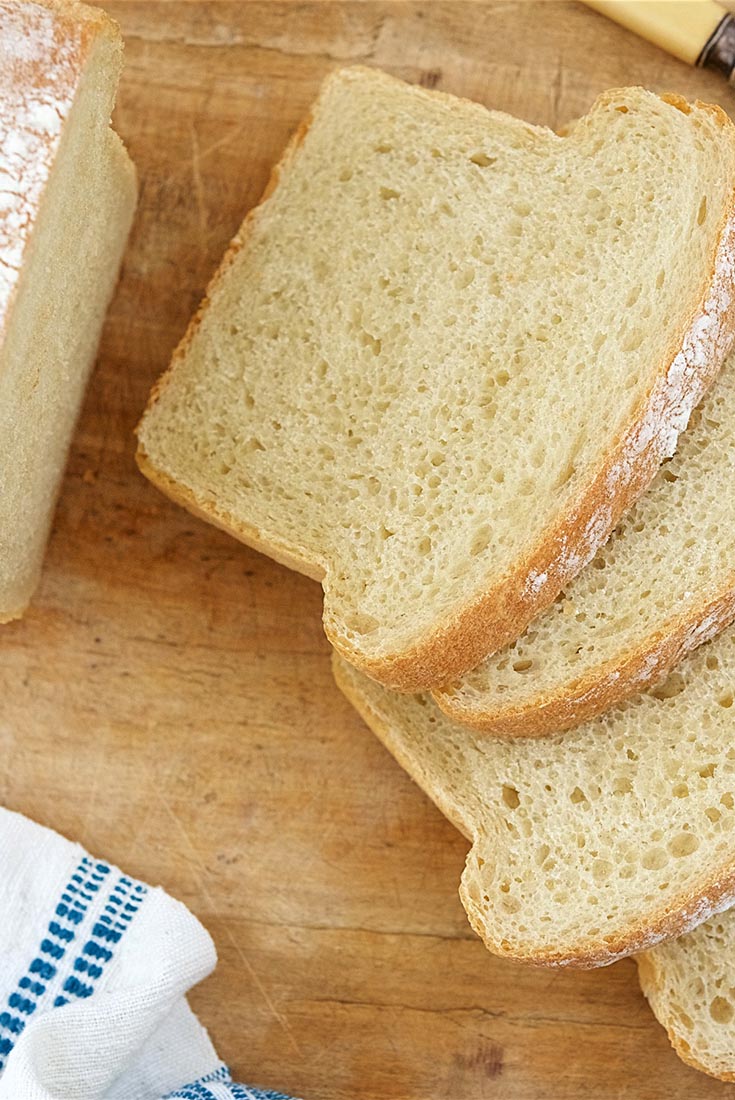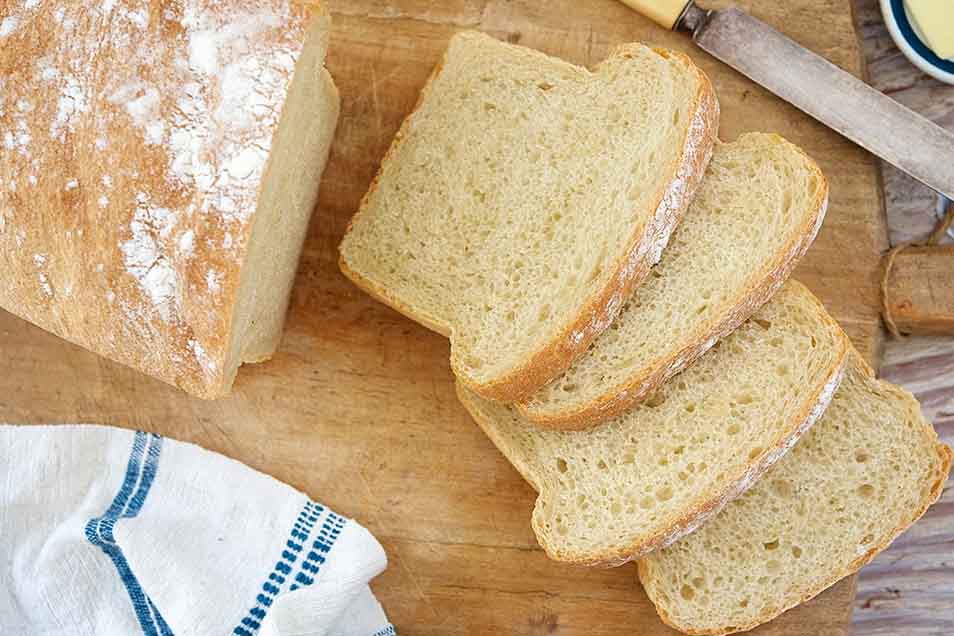 This tangy, soft sandwich loaf recipe was originally developed for the bread machine; we've tweaked it here for those of you without a machine. See our recipe for Bread Machine Sourdough Bread for the original, machine-baked version.
Instructions
Combine all the ingredients and mix and knead — by hand, mixer, or bread machine — to make a soft, smooth dough; about 15 to 20 minutes by hand, 7 to 10 minutes in a mixer, and 20 to 30 minutes in a bread machine.

Place the dough in a lightly greased bowl and let it rise for 45 to 60 minutes, until puffy but not necessarily doubled in bulk.

Lightly grease a 9" x 5" loaf pan.

On a lightly greased work surface, gently deflate the dough, and form it into a 9" log. Place the log in the prepared pan, cover, and let it rise for 60 to 90 minutes, until it crests about 1" over the rim of the pan.

Preheat the oven to 350°F.

Bake the bread for 40 to 50 minutes, until it's light gold and a digital thermometer inserted into the center reads 190°F.

Remove the bread from the oven, and after a couple of minutes turn it out of the pan onto a rack to cool. Store, well-wrapped, at room temperature for several days; freeze for longer storage.
Nutrition Information
Serving Size

49g

Servings Per Batch

18
Amount Per Serving:
Calories

110

Calories from Fat

5

Total Fat

0g

Saturated Fat

0g

Trans Fat

0g

Cholesterol

0mg
Sodium

200mg

Total Carbohydrate

23g

Dietary Fiber

1g

Sugars

0g

Protein

4g
* The nutrition information provided for this recipe is determined by the ESHA Genesis R&D software program. Substituting any ingredients may change the posted nutrition information.
Reviews
I have used this recipe many times with both my homemade 7 yo starter and the starter I inherited from my grandmother over 20 yrs ago. Both make a great loaf, wonderful flavor and texture. Even my non-bread eating daughter loves this breat for toast.
I have made this quite a few times (letting a loaf rise as I write) and everyone LOVES it! A fun variation is made by adding 2 tbls of chopped rosemary and stretching out on a cookie sheet to make a baguette. I draw a knife lengthwise and brush mine with melted butter when I put it in the oven to give it a "craft bread" look and extra crunchy top crust. A hint for your starter: the older the better, and let it sit out on the counter (I store mine in the refriferator) for a day before you want to bake. Feed it 1/2c flour, 1/2c water, and 1/2tbl 3-4 hours before you start the recipe. This will make the yeast in the starter very aggressive and will help to create big airy loaves. I live at 6000' and bake for 60 minutes. Lastly, in my experience, making sourdough with gluten free flour doesn't work. Tried it a few times for a GF friend and my dog turned her nose up to it.
Worked for me. I have made this sourdough bread several times in the past couple of months. The last 2 times l added 2 tablespoons sugar and 1 tablespoon honey along with the other ingredients, kneaded with the machine 5 minutes, added 2 tablespoons canola oil, continuing to knead another 3-5 minutes, then follow your recipe as written. It turned out great as did my own sweet bippy recipe. *Note: Sourdough doesn't rise as fast as others, but don't be discouraged. It comes out fine, just be patient and give it time. It comes out crusty on the outside, chewy on the inside. My husband loves it! Thank you!
I had been thinking about a sourdough starter for a long time. Last week during a January cold snap, I decided to give it a try. I used your directions for a sourdough starter and it worked just like the directions said it would. Today I made my first loaf of sourdough bread using this recipe and it came out perfect!!!! I will be making it again and can not wait to try some more recipes.
Made the starter from scratch and have made 3 loafs and a batch of cinnamon rolls. All turned out great. Question though. The water I had to use just 3oz. And I had to add about 4 extra ounces of flour to get the dough to come together. Since I'm not a baker (my second attempt at baking bread - first one wasn't good) I had to eyeball the dough. Just kept adding flour until it looked like food network shows dough. Now I live in Hawaii and it is very humid here is that the reason I had to add flour and less water? And if so is there a rule for adjusting for humid weather?

Congrats on your sourdough success, Ron! Temperature and humidity both affect yeasted doughs, and you're probably right to think that your more humid environment is what necessitated the reduction in liquid and addition of flour. This could also be the result of your starter being wetter than the 100% hydration starter we write our recipes for. How large any adjustments are may even vary from bake to bake, depending on the environment in your kitchen at the moment and how you measure your flour. For this reason, there is no set adjustment to recommend, other than to hold back a bit on adding the full amount of liquid called for until you can tell if it's needed. It may take some time to develop a sense of the exact texture you're aiming for, and therefore how to adjust to achieve it. This is part of what makes bread baking both science and art, a balance that comes more easily with practice. Bottom line, have patience as you get the feel for it - that patience and practice will pay off! Mollie@KAF
Tried this recipe twice. Twice! And both times the dough was a sticky, gummy mess. I measured out the ingredients according to grams. I used King Arthur flour, and followed the recipe to a T. It was still a sticky and gummy mess. The initial dough never formed into a ball. I was afraid to add more flour because I did not want it to become too dense. Ugh, I'm not willing to give this a third try after so much wasted starter and flour. KAF please retest this recipe for home cooks or take it down. It IS a resounding mess!!!

We're so sorry to hear that this recipe wasn't cooperative either time you made it and thank you for letting us know. We encourage you to reach out to our friendly Baker's Hotline staff to help troubleshoot at 855-371-BAKE(2253). Kindly, Annabelle@KAF
Well, I have been making the KAF rustic sour dough recipe for years and it is a family favorite, however after making this today, I believe I have a new winner! I fed my starter and then used it 2 hours later to make this bread. It rose nice and high and was the right combination of light but spongy. So so good! We just ate it warm with some salted butter. Going to make some more tomorrow. Thanks for yet another great recipe!
Thanx King Arthur!! I have now made this Loaf MANY Times (in a few short months--heck, I've got a loaf on the rise now) -- I was all new to Sourdough (made my 1st starter from scratch late summer early fall This year so I could have a decent pizza--I use your' recipe for That Too LOL) -- It's an awesome/easy loaf (although for MY location I found holding back on the water a "touch" is Really helpful--just a 1/2-3/4oz or so depending on weather) , and I'd recommend it to Anyone with a passion for good Known Home Foods. AND, best part IS, once you get a feel for it, you start making it twangier (by like making your' fed starter in advance and refridgerating a few days, then refeeding with some of the recipe flour and water and letting that feed an hour or two before adding the Rest of the ingredients, kneading, rising etc) But truth Is : It is just great the way Written, and if Nothing Else, It WILL be the BEST Toast Ever (except for my pennsylvania dutch mom's-but it's close)...Thanx Again.
I hadn't used my starter in a couple of weeks so it had a lot of liquid on the top. Plus, I did not have quite 2 cups for this recipe. So, I stirred the liquid in and added 4 oz. flour (weighed) and 1/2 cup water and let it sit on the counter for a few days. It came back to life so I tried this recipe. This bread rose better than any I have made before. I took another viewer's advice and rubbed butter on the top about 10 minutes before done and loved the result. Using an electric slicer, as we like our bread sliced thinner than what you get in the store, I sliced the whole loaf when cooled. It is delicious. A mild tang and chewy but not heavy. It has also kept well. Will be making this recipe weekly.
We finished off last weekend's baguettes yesterday, but I hadn't planned ahead and was in a bind. The starter was in the fridge on hold because we were over-run with 'discard'...nearly a gallon! I decided I wanted to make two loaves, and I wanted to use spelt. I dumped out enough 'discard' for one loaf, and fed it with 50% spelt and 50% KA bread flour, figuring the bread flour would compensate for the lower protein content of the spelt. Put this now fed levain into a warmed (but turned OFF!) oven for about two hours to give the starter a chance to wake up. After noticing some decent activity, I built up the rest of the dough using 50% KA bread flour and 50% spelt...but I failed to double the commercial dry yeast! No matter, the dough rose really well both in the bowl and in the loaf pans. They're on the cooling rack now and I'm hoping to get a definite sourdough zing out of using the 'old' discard as the basis for the build.