A customized print-friendly version of this recipe is available by clicking the "Print Recipe" button on this page.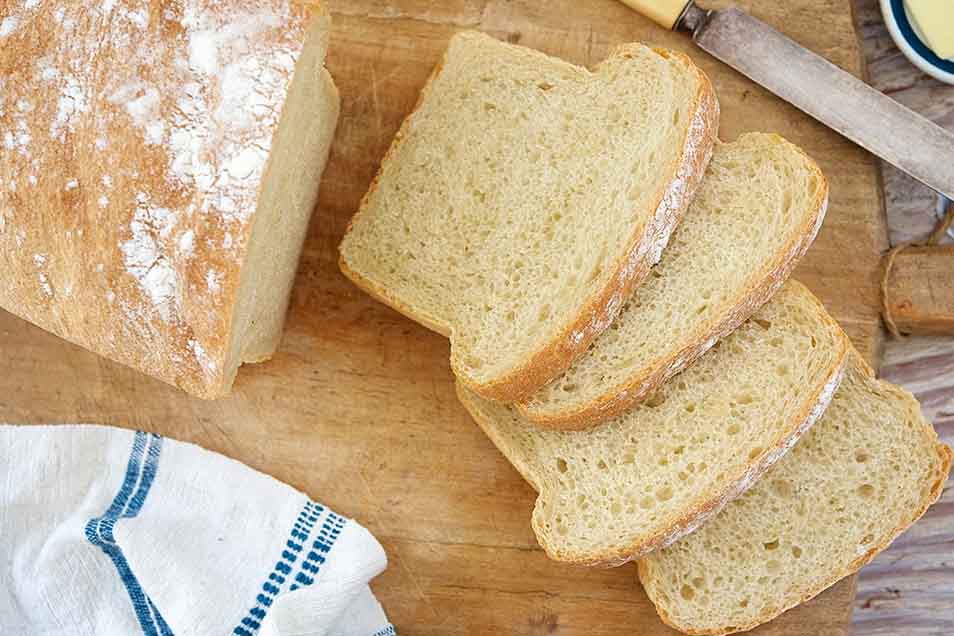 This tangy, soft sandwich loaf recipe was originally developed for the bread machine; we've tweaked it here for those of you without a machine. See our recipe for Bread Machine Sourdough Bread for the original, machine-baked version.
Instructions
Combine all the ingredients and mix and knead — by hand, mixer, or bread machine — to make a soft, smooth dough; about 15 to 20 minutes by hand, 7 to 10 minutes in a mixer, and 20 to 30 minutes in a bread machine.

Place the dough in a lightly greased bowl and let it rise for 45 to 60 minutes, until puffy but not necessarily doubled in bulk.

Lightly grease a 9" x 5" loaf pan.

On a lightly greased work surface, gently deflate the dough, and form it into a 9" log. Place the log in the prepared pan, cover, and let it rise for 60 to 90 minutes, until it crests about 1" over the rim of the pan.

Preheat the oven to 350°F.

Bake the bread for 40 to 50 minutes, until it's light gold and a digital thermometer inserted into the center reads 190°F.

Remove the bread from the oven, and after a couple of minutes turn it out of the pan onto a rack to cool. Store, well-wrapped, at room temperature for several days; freeze for longer storage.
Nutrition Information
Serving Size

49g

Servings Per Batch

18
Amount Per Serving:
Calories

110

Calories from Fat

5

Total Fat

0g

Saturated Fat

0g

Trans Fat

0g

Cholesterol

0mg
Sodium

200mg

Total Carbohydrate

23g

Dietary Fiber

1g

Sugars

0g

Protein

4g
* The nutrition information provided for this recipe is determined by the ESHA Genesis R&D software program. Substituting any ingredients may change the posted nutrition information.
Reviews
I've made this recipe twice, and both times it was easy and delicious. I used my stand mixer to do the kneading and let it go for about 7 minutes. The dough was still tacky after kneading, and when it came to shaping the dough into a log shape to go into the pan, the log kind of sagged, but I just patted it back into shape. Rose nicely in the pan and in the oven as well. After baking, I brushed some melted butter on top. Thanks for the recipe KAF!
I made this plain, simple loaf because we wanted/needed ordinary sandwich bread. I must say, I think this is the best sourdough bread I've ever had. It went together really easily and I'm very pleased. And, so is my picky partner!!! Making this bread will definitely become part of my routine....
This recipe as posted must bewrong, extremely dry dough, I had to add water and reduce flour to make it resemble bread. Needs updated

Chris, were you by any chance measuring your ingredients using volume instead of weight? If so, getting too much flour in your dough is a super-common issue of folks using that measurement method. We always recommend using grams, but if you don't have access to a kitchen scale, we'd suggest reading the instructions for how to measure flour in the Recipe Success Guide at the top of the recipe. This should help you get just the right amount of flour in your dough, so that you're not left having to add a ton of extra water to compensate. Happy baking! Kat@KAF
Love the texture and flavor of this bread. Nothing like a warm slice of bread with butter. Much better than store bought. Wondering if you can freeze the starter for later use.

Hi Donna! We're glad to hear that you enjoyed this recipe! We wouldn't suggest freezing your sourdough starter, but if you'd like to take a break from maintaining your starter we'd recommend drying it. You can find detailed instructions on doing this in our blog article, Putting your sourdough starter on hold. Happy baking! Morgan@KAF
It took me a few tries with this recipe but I finally nailed it today. This recipe makes the best toast and grilled cheese-nice and crunchy. 5 stars! Kaf is my go to for all my recipes. Thank you!
I double the amounts for four loaves How much yeast for double.

Hi Pat! Since this recipe only makes one loaf, and we recommend not going any higher than a double batch for yeast breads, you'd want to make two double batches to get four loaves. Each double batch would use twice the amount of every ingredient, including the yeast. That would equal 1 tablespoon of yeast per double batch. Happy baking! Annabelle@KAF
I make this bread about once/week. My starter has the "pancake batter" consistency and the bread always turns out fine. But...I always end up adding anywhere from 1-2 cups more of flour (weighed). If I follow the recipe as written, the dough is much too wet and sticky. Just wondering if others add flour. The liquid-to-flour ratio seems off.

Hi there, Sally! We've not heard from other bakers that so much additional flour is required. We wonder if your sourdough starter is a little too thin? It should be the consistency of a thick pancake batter. We might suggest mixing the starter and dry ingredients together, kind of like an autolyse and then add the 1/2 cup (4 ounces) of water slowly after that. The dough should be slightly sticky, similar to touching the back of a piece of tape. We hope this helps and happy baking! Morgan@KAF
I am new to sourdough baking, having just received my KAF starter just about two weeks ago. I have made the Rustic Sourdough using my KAF purchased cloche. And now this recipe yesterday - in fact I increased my starter so that I could get 2 recipes of this one baked, one as written and one as suggested in one of the reviews using 1/2 KAF AP flour and 1/2 KAF white whole wheat. The AP loaf was beautiful. The WWW was as well, only did not rise quite as high, but was still good in texture. My question is that in all 3 of these loaves, the sourdough flavor is not very pronounced. While not discouraged from further sourdough baking (next up is your buttery rolls using the discard), I would like a bit more tang. Do you have any suggestions? Is my starter not ripe enough perhaps?

That's a great question, Michelle! In generally, the longer the rise, the more pronounced the sour flavor of sourdough will be. For this reason, lots of bakers like to do their first rise as an overnight rise in the fridge instead of an hour or so at room temperature. We think you'll find it helps quite a bit! You may also be interested in our Extra-Tangy Sourdough Bread recipe, which you can find by copying that into the search bar of our site. Happy baking! Kat@KAF
This is an update to my earlier review. I took the advice of the KAF experts and substituted 1/2 of the APF with KAF White Whole Wheat flour and it is phenomenal. Hands down my favorite sandwich loaf I've ever made. Not only does it toast nicer, the crumb is a little more dense and I still have all the rise I could want and then some. I highly recommend. Seriously, try this!
Got my crock and starter a short time ago, retirement gift to myself. I love it!! This loaf is the best sandwich and toast loaf ever!! Having a great time with sourdough. The pretzels, pizza dough and pancakes are outstanding using the discard, and how can we forget those Buttery Sourdough Buns! They are rising right now for our hamburgers tonight :)