A customized print-friendly version of this recipe is available by clicking the "Print Recipe" button on this page.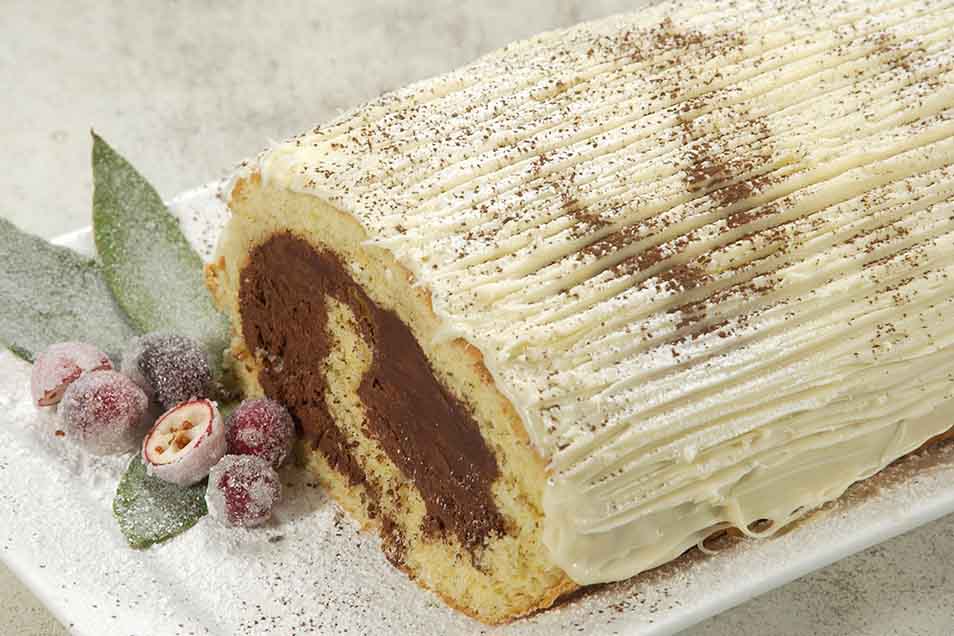 This vanilla twist on the holiday classic Yule Log cake is inspired by bonfires used to celebrate the Winter solstice. A light sponge cake filled with whipped chocolate ganache becomes a pretty log when decorated with white chocolate and dusted with cocoa. It's a delicious way to welcome the season.
Ingredients
Cake
7 large eggs, separated
1 1/2 cups granulated sugar, divided
2 1/4 teaspoon baking powder
1/2 teaspoon salt
1/2 cup vegetable or canola oil
3/4 cup milk (2%, whole or fat-free, or half & half)
1 teaspoon vanilla extract
1/8 teaspoon creamy hazelnut flavor (optional, but very good)
simple syrup or hazelnut syrup or hazelnut liquor for brushing cake
confectioners' sugar for dusting the towel
Chocolate Ganache Filling
3/4 cup heavy cream
1 cup chopped bittersweet or semisweet chocolate
1/8 teaspoon creamy hazelnut flavor
Frosting Bark
1 1/3 cups white chocolate chunks
Instructions
Preheat oven to 325°F. Line a half sheet pan with parchment paper and spritz with cooking spray.

To make the cake: In a large bowl, whip the egg whites to soft peaks. Gradually add 1/2 cup of sugar, continue beating the whites until medium peaks form. Set whites aside.

In a small bowl whisk together the dry ingredients, including the remaining one cup of the sugar. Set aside.

In the bowl of a stand mixer, mix the egg yolks, oil, milk, vanilla and hazelnut flavoring until blended. Mix on medium speed until lightened and pale lemon colored. Add the dry ingredients and continue to mix, about 1 minute until well incorporated.

Remove the bowl from the mixer. Using a large spatula, gently fold the egg whites into the batter, 1/3 at a time. Use gentle motions to preserve the air in the whites.

Pour the batter into the prepared pan and bake for 15 to 18 minutes or until golden brown on top and the cake begins to pull away from the sides of the pan slightly.

To make the ganache: While the cake is baking, heat the cream until just simmering. Add the chopped chocolate and remove from the heat. Stir gently until the chocolate melts completely. Remove from the pan and place in a large bowl to cool. You may refrigerate or freeze the ganache to speed the cooling.

Once the ganache is cooled to pudding consistency, whip with a whisk or hand mixer until fluffy and frosting like.

Remove the cake from the pan by lifting the parchment paper. Place cake side up on the counter and trim off the edges of the cake to make rolling easier. Turn the cake over on a large, clean kitchen towel dusted with confectioners' sugar. Peel off the parchment paper.

Roll the cake up as though the towel were the filling. Cool the cake, rolled up, for 20 to 30 minutes.

Unroll the towel and remove it. Brush the cake with the simple syrup; let it sit for 5 minutes so the syrup can soak in.

Spread with the prepared ganache filling and re-roll. Place in the fridge to chill for 20 to 30 minutes. The roll can be wrapped tightly and frozen at this point for up to 3 months.

To decorate the cake: Melt 8 ounces of white chocolate very slowly over low heat in a double boiler. Remove the cake from the refrigerator and spread a thin layer of chocolate over the entire surface. Return to the fridge to set up, about 10 to 15 minutes.

Add a second layer of white chocolate to the cake, spreading the chocolate to resemble tree bark. A fork may be used to add texture by dragging the tines through the cooling chocolate. Once the chocolate has firmed, decorate as desired with a dusting of confectioners' sugar, cocoa or chocolate curls.

Cake will keep for about 3 days in the fridge, well covered. Let it warm up on the counter before serving.
Tips from our bakers
For a chocolate bûche, sift 1/2 cup (1 1/2 ounces, 43g) dutch-processed cocoa in with the other dry ingredients. Proceed as directed.
To make simple syrup, bring a cup of water and a cup of sugar to a boil for 3 minutes, then remove from the heat and chill before using. Kept crumb free, it keeps for months in the fridge.
To sugar cranberries and leaves for decoration, dip the fruit in lightly beaten egg white. Wipe off any extra white and roll the fruit in granulated sugar. Set aside on parchment to dry. Use the same technique on edible leaves (bay leaves were used in the photo) to add sparkle to your plate.
Reviews
I agree with some of the reviews above -- that the batter seemed like too much for the pan. It was so thick, that my cake didn't have that beautiful jelly roll circle. Even though I'm sure I slightly underbaked, the cake got a big crack in the top (perhaps because the cake was so thick?). Despite the large size of the cake, the flavor and texture were delicious! If your cake has any defects, the white chocolate glaze will not cover them, so I did what I saw in another review-- made white chocolate ganache. Follow the same directions for the chocolate ganache, and it made a perfect amount of frosting for the top.

Hi there, Sadie! We're happy to hear that you enjoyed the flavor and texture of this cake! Though we are sorry to hear that you encountered some bumps along the way. If you ended up with a thicker cake as you described, that could have caused the cracking that you experienced while rolling your cake. Thank you for bringing to our attention that the amount of batter seemed like a little too much. This is appreciated feedback and gives us the opportunity to revisit and ensure the amount is correct. We're happy that your baker's instincts led you to a solution to resolve the issue of the crack in the top of your cake roll. Kindly, Morgan@KAF
The quantity of batter was too much even for a half sheet pan. It made a very thick cake which is hard to roll over. I ended up with rolling just one time around when rolling on the long edge. The cake batter also had too much sugar. The chocolate ganache filling is really heavy, especially with a cake that only ends up with one round of rolling. I didn't put white chocolate on top - that would make it impossible to cut slices. Will look for different recipe next time.

Chrissie, we genuinely apologize that this recipe was unsatisfying or difficult to work with. We encourage you to reach out to our friendly Baker's Hotline staff to help troubleshoot at 855-371-2253. We hope your next baking experience is a more positive one. Kindly, Annabelle@KAF
I made this tonight and was disappointed with the results. I followed the instructions and weighed all my ingredients. The volume of batter almost filled my half sheet pan. During baking it rose over the sides of the pan. I rolled it without difficulty, but it cracked when I unrolled it. The cake tasted good, almost like a fluffy Dutch baby. I will try a different recipe next time with fewer eggs.

We're sorry to hear you had some trouble with this recipe, Rebecca. Buche de Noel can be a tricky cake to master. Typically if it cracks, it means it's just a bit overbaked, so air on the side of caution next time. You'll also want to make sure your sheet pan is at least 3/4" to 1" tall to prevent the batter from overflowing. Also feel free to try using the cake part of our Chocolate Cream Roll recipe, which is moist and quite flavorful. We wish you good luck with your next attempt! Kye@KAF
Heavy. Cracked. Tasteless. Ended up in the trash.

It sounds like you didn't have the experience you were hoping for with this recipe, which we're sorry to hear about. We'd love the chance to help you troubleshoot and improve your future cake undertakings: 855-371-BAKE(2253). Our Baker's Hotline is here to help. Kye@KAF
Help!!! How do you invert the cake without it cracking and breaking? When I started to roll the cake with the tea cloth it cracked where I then had pieces of cake.

Keys to preventing the cake from cracking include not over-baking it (you can even air on the side of under-baking), using the right amount of flour (be sure each cup weighs 4 1/4 ounces), and working quickly while the cake is still warm. If you still end up with cracks, don't panic; you can patch any cracks with frosting when you fill and re-roll the cake. Check out our blog showing how to make this recipe for more tips. We hope that helps in the future! Kye@KAF
I made this at Christmas this past year, and had a lot of success. I had a little bit of cracking, but I think it was more due to my unsteady hands than to the cake itself. I used my own mocha cream filling instead of the filling in the recipe, but made the cake and the ganache according to the directions. The ganache with the hazelnut flavoring is absolutely amazing. A must-try!
I have successfully made a chocolate buche de Noel for the past few years and decided to change to a vanilla based cake this year. I was excited to try this recipe because I am quite a fan of King Arthur flour. Although this cake is tasty, there are a few challenges with it. #1) the quantity specified is far too much for a standard jelly roll pan, which is what I have and I imagine more home cooks would have vs. The half sheet pan specified. As a direct result I realized too late that my jelly roll pan was overfilled and the 15-18m baking time was far too little and the cake was way too large to possibly roll. Sally I had to throw away my first attempt at the cake and tried again using just 5 eggs and 3/4 quantity. #2) I really think this recipe uses too much flour. The jelly roll sized cake I made baked well, but sadly, like other bakers reported, I experienced cracks in the cake. Yes I just filled them in with chocolate ganache but it was disappointing.

Hi Jane- I'm sorry to hear you had so much trouble with this recipe. The recipe is designed for a half sheet as you mentioned which is nearly twice the area of our current jelly roll pan, so we would certainly recommend a reduction if you are not using the pan called for in the recipe. In regards to the cracking, you may have added a bit too much flour if you used a different method of measuring flour than we do here and it also may have resulted from a bit of over-baking. If you would like to give our Baker's Hotline a call a 855-371-2253, we would be happy to further discuss the recipe with you and figure out how to get everything back on track for a beautiful roll on your next attempt. Happy baking! Jocelyn@KAF
Had some trouble with rolling (first time) but the cake and filling were delicious! I used a bit of orange rum in my filling and syrup. Instead of white chocolate I used another chocolate frosting recipe (with butter, cocoa, melted chocolate and powdered sugar and more orange rum). Used rosemary coated with egg-whites and sugar to make pine boughs. Will use this recipe again next year.
This buche was delicious and a lovely presentation. I did have trouble rolling it without cracking the cake, but it didn't affect the finished look and gave me extra crevices to fill with chocolate! I made an almond simple syrup to brush the cake with and used 1/2 tsp almond extract in place of the hazelnut flavor throughout, which was just the right amount of almond flavor. I will definitely be making my own again next year, if not sooner!
I had never made a rolled cake, didn't have an offset spatula, and was baking at midnight. It came out great! Much easier than I thought it would be, and so tasty. My only difference was I made a white chocolate ganache instead of just white chocolate. Forgot all the hazelnut stuff too. But so good.